A Note from Fatty: I know, I said last week that this week I was going to start my series on the Breck Epic. I have to be honest, though: it's hard to write the story of a six-day-long race, and I have a lot more work to do on it to do it justice. So today, I'm going to write about something that's a little easier to wrap my brain around: the one-day, 50-mile race I did last Saturday. Thank you in advance for your understanding.
A word of caution before you begin today's story. It ends with a visit to the doctor. And with blood. And with the removal of a foreign object from my right leg.
And there will be photographs.
The Calculus of Racing
There are a number of factors that impact whether you're going to do a given endurance race. How far do you have to travel to get to the race? How interesting or challenging is the course? How much recon do you have to do to figure out the course? How much work will it be to set up crewing for the race? How much specific training will you have to do for the race?
In the case of the Draper Fall Classic — a 50-mile (two 25-mile loops) mountain bike race in Corner Canyon — the calculus was easy. I know the trails inside-out, I could get from home to the starting line in about fifteen minutes, and setting up my race food would consist of putting six Honey Stinger gels in my jersey, two bottles of sports drink in my bottle cages, with two more bottles placed on the side of the trail to pick up at the beginning of the second lap.
I figured my fitness is pretty much where it's going to be, since I've been racing practically every weekend for the whole summer. And this would be a good final hard ride before the Leadman Tri next weekend. Although, obviously, on a bike that's exactly as opposite as can be and still be called a bike.
For The Hammer, it would be even simpler: she was going to do the one-lap version of the race, because she needed to do a 20-mile run the following morning, since she's now got to focus on the St. George Marathon in a few weeks (not to mention the Leadman Tri this Saturday!).
What bike would I ride? Easy. I'd be riding the same bike I almost always ride when I'm at Corner Canyon: My Stumpjumper singlespeed with the Niner carbon fork. With the same gearing I always rie when I'm at Corner Canyon: 34 x 19.
It's nice to know a place so well that you don't even have to think about what the right bike setup is for racing it.
Best of all, though, thanks to the days getting light a little later, the race wouldn't start until 8:00am. Which meant we got to sleep in 'til 6:00. On a race day! That's luxurious.
Before the Race
With the quick, easy drive to the race start and the low-key, low-stakes nature of the race (which means that I only needed to nervous-poop twice instead of four times before leaving the house), The Hammer and I got to the starting line about an hour before the race began, and had enough time to get our bikes set up at a leisurely pace.
Even then, we had 45 minutes to kill before the race began. Nice!
So we took the time to get a photo of us modeling the brand-new 2013 Team Fatty gear that had arrived in the mail the day before: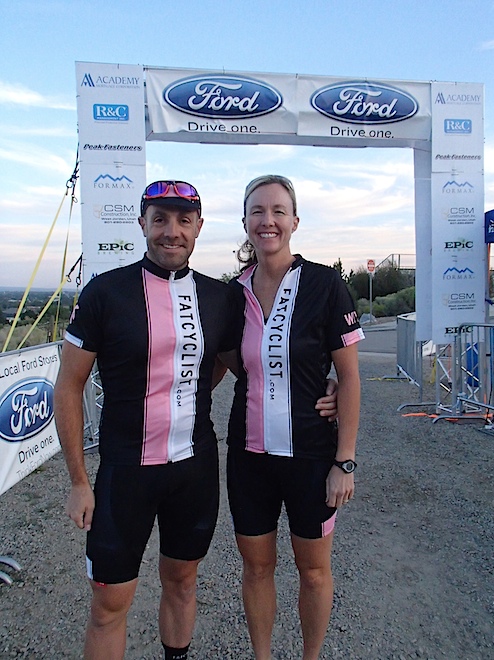 I like it. I like it a lot. (By the way, those of you who pre-ordered the kit: yours will be shipping out by the beginning of next week.)
Then, as we were standing around, Grizzly Adam approached, and immediately asserted that I had cut today's course.
"The race hasn't even begun!" I protested.
"Yeah, whatever. Cheater," he said, dismissively.
Over the next fifteen minutes, this theme would repeat. Different people asked me things like
"Planning on taking any shortcuts today?"
"Have you been up here scouting for places to cut the course?"
And, from the race director, Bob Saffell, "Don't think we're not watching you, buddy."
And with that, I moved from my plan A (a nice little set of shortcuts that would have comfortably set me up for the win) to plan B (go ahead and do the race on the actual specified course).
Sigh.
Starting Lap 1
The race started in waves, with the 40+ experts and the singlespeeders starting right behind the pro men and women waves. I situated myself in the back of the wave, figuring that since the first couple miles were on flat trail, I'd be spun out on my SS and would just get in the fast guys' way. Even so, I managed to hang on to the tail end of the first group for the first 1.5 miles, and then we turned uphill, which is where the SS riders have a chance to either do better, or much much worse.
I found myself caught up in a good group — a SS racer right in front of me, another right behind. We were all working very hard. Riding really fast. Probably set up in fifth-seventh place for SS.
The thought occurred to me, "I think we're going too fast for a 50-mile race that's nothing but hard climbs and quick descents."
I didn't listen to me. Everyone else was going fast; I certainly didn't want to ge left behind. I settled in and followed the next racer's wheel. Just hanging in there, trying not to get sorted to the back.
A quick descent led us to a sandy hike-a-bike climb; I dismounted and prepared to trudge.
To my horror, the rider — the same SS guy (I didn't know his name, so called him "Red Shirt, Blue Camelbak" in my mind) I had been following from the get-go immediately began running up the hike-a-bike.
Ugh.
Dutifully — but knowing full well that I would pay for this level of effort later in the race — I began running, too.
Somehow, I managed to stay behind Red Shirt Blue Camelbak.
The trail firmed up, and I climbed back on my bike; it was time to ride again. Oddly, though, Red Shirt Blue Camelbak was still running and pushing his bike.
"Hey, mind if I come on by?" I asked.
"Go for it," he replied, and thus typified one of the things I love about local races: everyone is racing hard, but nevertheless manage to stay courteous.
Canyon Hollow
This led to a dirt road climb and a chance to pass a few people, after which there was a quick easy singletrack descent to the Gasline and then my favorite climb in Corner Canyon: Canyon Hollow.
Canyon Hollow is a singlespeeder's dream. Just steep enough that a standing climber (me) can really stomp on the pedals, but rarely with pitches that are so steep that you lose your momentum. The switchbacks are nice and wide, letting you keep your pedaling rhythm and just go.
I passed another singlespeeder. Possibly two. Then I had open trail — the people who were ahead of me now were out of sight and getting further ahead by the moment.
Forty five minutes into the race, I figured I had reached my likely best-possible placement: the place where, barring a crash or a bonk, I would finish.
If, that is, I could keep all those other SS riders behind me on the descents.
You Kids Keep That Noise Down
I knew that my position in the race was tenuous. I might be a stronger climber than a lot of the guys I had just passed, but I also knew that I'm an extremely poor descender. If I didn't build a good-sized lead by the time I got to the biggest technical descent of the day — Rush (yes, named after the band) — I'd wind up behind all of them at the finish line.
While I was wrapped up in these thoughts, suddenly, a voice called out behind me, "Hey, it's 17-pound bike guy."
Huh. Sounded like a kid.
"You want by?" I called out?
"Nah, we're good. Just having a great day riding Corner Canyon today. Can you believe what great shape these trails are in?"
Actually, I thought to myself, what I can't believe is that you have the lungs to have a casual conversation while I am at my absolute outer limit.
"So," he continued, "does your bike really weigh just seventeen pounds even with those heavy Chris King hubs?"
"The weight's worth it for such good hubs," I gasped back. "I really think you should come on by."
"OK, there's two of us," he called back, cheerfully. And the two of them — both of them looking very youthful and energetic indeed — just rocketed by me.
Suddenly, I felt old.
Still, nobody else passed me as I climbed Canyon Hollow. I got to the dirt road that goes to the hub of Corner Canyon — Peak View Trailhead — and began my first attack on Anne's Trail.
Anne's is a dangerous trail, precisely because it doesn't seem at all dangerous. It looks wide open — fast, moderate turns, great visibility, good consistent trail.
It lures you into going as fast as you possibly can.
And then you hit a sharp left hander with exposure on the right. And you hope hope hope that you'll somehow get your wheels to hook back up with the trail before you go shooting off into outer space.
And so, fully occupied with staying alive and not riding my bike into the atmosphere, I am surprised to hear someone say, "Whenever you can let me by, I'd appreciate it."
"Come by on my left," I reply, giving him some space.
The racer expertly slides by, but then the trail turns uphill and I'm with him again. "You want to come by?" he asks.
"Nope, we'll be going downhill again in a moment," I reply. "I can't hold you."
"Hey, weren't you at Bountiful Bikes last week getting a bike fitting?" he asks.
"Yup, Taylor was fitting my Shiv for me," I said, noting for the first time that this rider was wearing a Bountiful Bikes kit.
"Cool. Hey, the next singlespeeder's about one minute back," he says. "Wearing a red shirt and a blue Camelbak."
"Yeah, I think I know who you're talking about."
And then he was gone.
One minute. That's all I had on Red Shirt Blue Camelbak. Something told me that if I didn't pick it up, I'd be losing that advantage when I came down Rush.
A Very Minor Crash
I got to the bottom of Anne's with no singlespeeders passing me, which was a big relief. But as I raced across the rolling singletrack to the hardest climb of the day — Clark's — I was panicking. I needed to add to my advantage, or I'd wind up behind the four or so SS riders I knew were no more than a couple minutes behind me.
Now, I had promised The Hammer that I would take no risks during this race. After all, we have a much bigger race coming up next week; I don't need to be injured for that.
But when you're in the middle of a race and you know that about half of your competition is withing two or three minutes of catching you, the "play it safe" mentality stops sounding smart. You're at a race, dammit. You're not here to be safe, you're here to see if you can be fast.
And so I went hard. Took some risks. Maybe even had a few close calls.
But everything was OK. My risks paid off.
And then, in the middle of a completely straight and non-technical piece of trail, I hit a soft patch of sand, my front tire washed out, and I fell on my right side into a sagebrush-like bush (I put the "-like" there because I know absolutely nothing about botany and the bush may have been something completely non-sagebrushy).
Apart from scratches from the bush's twigs and branches, I registered no pain at all. On the crash awesomeness scale of 1 – 10, I'd put this crash at a 1.5. And I'm only giving myself that extra 0.5 because I suspect I looked comical trying to clip out of my pedals while laying on my right side and thrashing around in a bush.
I got back on my bike and got to racing again, figuring I would never even mention this wreck to anyone.
And yet, here I am, mentioning it, at some length. There must be a reason why.
Clark's
I got to the bottom of Clark's, which I knew would be the toughest climb of the day. But I also knew that it wouldn't be the toughest climb yet. On the first lap, Clark's is a rough climb. On the second, when you're tired, it can get in your head and just brutalize you.
I'd deal with that problem when I had to, I figured, and rode up with everything I had. I just did not want those other SS-ers catching me.
Nobody passed me, and I'm pretty sure I passed nobody. I knew the trail, though, and that kept it from getting too deeply into my head.
Partway up Clark's, it occurred to me: my right leg stings. I looked down, and noticed it was bleeding, just a little bit, from the crash.
I never thought about it again for the rest of the race.
I got to the top of Clark's, where Sly handed me a couple dollars ("Get PAID, Fatty!" he called out), and I started the descent down Rush.
After Rush
Rush is a technical descent. Fast and flowy, it's designed for a completely different kind of rider than me.
That said, I still enjoy it every single time. And I stayed upright. And I don't think — I could be wrong here, but I'm pretty sure — nobody passed me.
I was almost to the end of the first lap, but first there was a short hike-a-bike (for singlespeeders, that is — it was climbable on geared bikes) and the runout to the end of lap / finish line.
I dismounted and started pushing. While I was pushing, I chanced a glance over my shoulder.
Right there, twenty feet behind me, was Red Shirt Blue Camelbak.
Fantastic.
I stepped it up, but never really got ahead of him. Politely, he stayed behind me and didn't ask to get around, 'til I got to a bridge and fumbled it, accidentally pulling out of my pedal.
He and another singlespeeder went on by.
"That's plus two," I thought.
We got to the last bit of flat singletrack before the lap counter, with the two riders gapping me. And then another went by. And another.
As we crossed the line to start the second lap, I had completely lost the advantage I had worked so hard for.
Lap 2
I wasn't ready to give up quite yet. Where most of the racers stopped and grabbed something to eat, getting help from their crews at the beginning of the second lap, I just pulled up to where my two bottles were. Luckily, a woman was standing right there, so I didn't even have to get off my bike — I just put one foot down.
"Could you grab those two bottles for me?" I asked. She did, and five seconds later I was off.
And in the process, I had re-passed two of the SS racers.
As we got to the sandy hike-a-bike section, though, that advantage evaporated. They were right behind me and — like last time — they were running it.
I stepped aside and let them by. I had no intention of running this time.
But as I got to the top of this climb I could see that Red Shirt Blue Camelbak had pulled off to the side for a pee break.
"That's what you get for being well-hydrated," I thought, re-passing him, and noting that I had passed him on the first lap in very nearly the same place.
As I climbed Canyon Hollow, the first lap scenario repeated itself. I passed the same riders, in essentially the same places. The oddness of it struck me.
I had a moment of sadness as I looked at my bike computer and realized that by now, having completed her 25 miles, The Hammer was almost certainly sitting in a lawn chair and enjoying the first of the cold beverages we had brought along in a cooler.
Then, coming out of the Canyon Hollow climb, I saw a rider I hadn't seen since the starting line. A single speeder, wearing a kit that read "Panther" on the back. I managed to catch up with him just before we began Anne's Trail.
"Do you know how we're doing against other single speeders?" I asked.
"I think we're in second and third; Corey Larabee's in first," he replied.
That gave me a little jolt of energy.
"Are you a fast descender?" I asked.
"Pretty fast," he replied.
"You go on and take Anne's first, then," I replied. "I suck at descents."
He took off and I pursued as closely as I could, energized by the possibility that I still had a shot at getting on the podium. To my surprise, I managed to keep him in sight for almost the entirety of the first part of Anne's, after which the trail goes through a tunnel.
The Panther kit guy pulled over and stopped in the tunnel. This is where drop bags were stored, and I guess he needed something from his.
So my two remaining gels and one remaining bottle — which I figured were plenty for the rest of the race — moved up a place.
Clark's 2: The Mental Game
I didn't think I'd stay ahead of Panther Kit guy for the entirety of the Anne's descent. I really didn't.
And yet, somehow, I did. And no other SS racers passed me, either.
So I made it to Clark's, feeling fast, feeling strong.
At which point I discovered I was neither.
At the base of the climb, a racer passed me. I tried to hang with him, but he rapidly disappeared off the front.
And then I cracked.
Suddenly, instead of being able to turn the pedals over — tick, tick, tick — I was having to stand up and sloooowwwwly rooooow each pedal stroke.
Each stroke hurting. Each push down taking multiple seconds.
"Everyone's going to catch me and pass me any moment," I thought to myself.
And then I looked forward. The guy who had passed me a few minutes ago was back in sight. He was hardly moving, either.
And that's when it occurred to me: everyone had to be hurting on this climb. Nobody would be flying up Clark's.
So I slowed down a little more, on purpose this time. I gave myself two minutes to regroup. Sucked down my last gel. And then I tried riding hard again.
This time, it — more or less — worked. I battled to the top of Clark's, and nobody caught me (though I also never caught the guy who was just ahead of me, either).
If I could just stay ahead during the Rush descent, I could do it. I had a shot at the podium.
So I hit Rush hard. Or at least, as hard as a guy on a rigid hardtail who's terrible at descending could hit Rush hard.
I got to the bottom. Nobody passed me.
I got to the hike-a-bike and looked over my shoulder. I couldn't see anyone.
I got excited. Like, really, really excited.
I got to the final stretch of flattish singletrack, and looked back when there was a switchback. Nobody in sight.
I had done it. I had held them off.
I crossed the finish line in 4:22: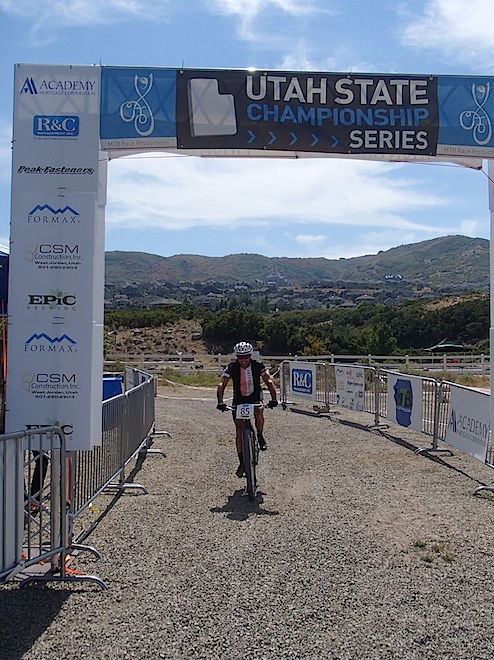 The Hammer — who had finished her race two-plus hours ago — ran up to me. "You did it!" she shouted. "You took third!"
And it was true. Check it out (full race results here):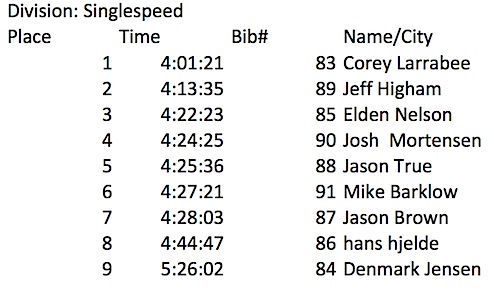 Sure, first and second place had more-or-less crushed me, but still: third. That put me on the podium. Or at least on the curb, where the podium would be if there were a podium:

Jeff on the left, Corey in the center, me on the right. Descending order of height purely coincidental.
Just a point of interest: If, instead of registering in the singlespeed category, I had instead registered in my age category, I would have taken second place (and been much closer to first place), instead of third. Which kind of (sort of) validates my theory that the singlespeed was a great choice for this course. And which (anecdotally) supports the "singlespeed should be regarded as an equipment choice, not a racing category" hypothesis.
Another point of interest: places 4 – 7 in the SS category were all within four minutes (in a 50-mile race!) of me. In other words, the race for third place was an extremely hard-fought contest. I owe the group of SSers I raced with a big thanks for pushing me to go at my absolute limit.
Oh, and how did The Hammer do? Well, she won her division: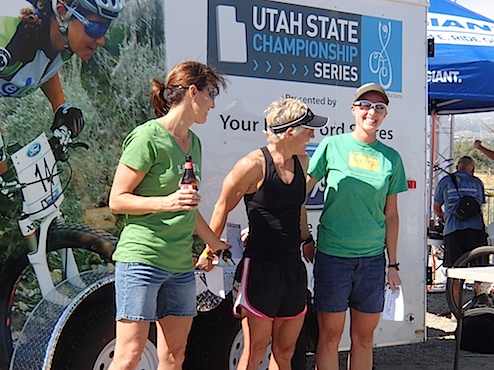 Not a bad day. Not a bad day at all.
Oh The Horror
I got home and got into the shower for my post-race cleanup. As I attended to my very minor cut, I noticed something:
It hurt like crazy.
Gingerly, I poked and prodded. Under my skin, adjacent to a very small hole, was a hard little bump.
I was pretty sure there was a rock or something in there.
I tried to prod it out. No luck. I tried to squeeze it out. Ow. I tried to tweeze it out.
I passed out.
"I think I need to go to an ER, Lisa," I said. "There's something under this cut on my leg, and I definitely need to get it out before the race next weekend; I can't afford to have an infection right now."
"Let's just go to my brother's house," she replied. "He's a doctor."
So we did. And instead of a waiting room and an uncomfortable cot, I got to sit on a comfy couch and put my feet up.
Scott (The Hammer's brother) numbed me up with Lidocaine, I averted my eyes, and The Hammer (remember, she's a nurse) helped dig out the foreign matter.
Here, the red dot on the left is from the lidocaine shot. The one on the right is where the foreign object went in: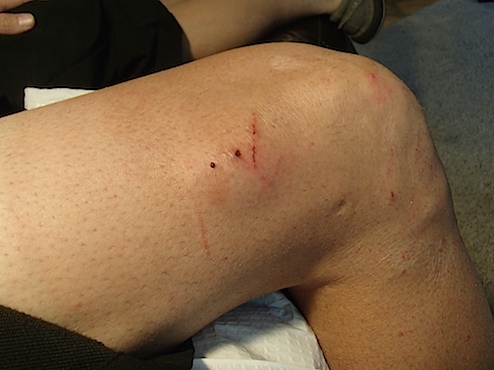 Then, after a little cutting . . .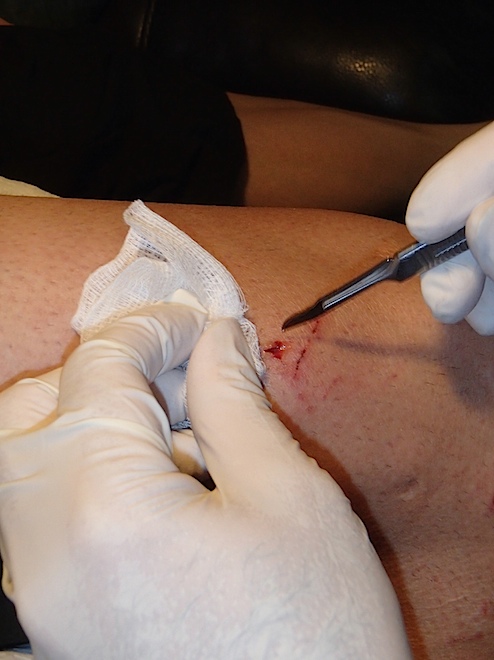 And a little tweezing, they had found the offender: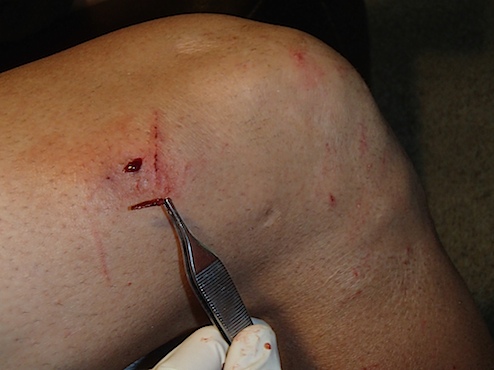 One piece of Steri-tape, and I was good to go: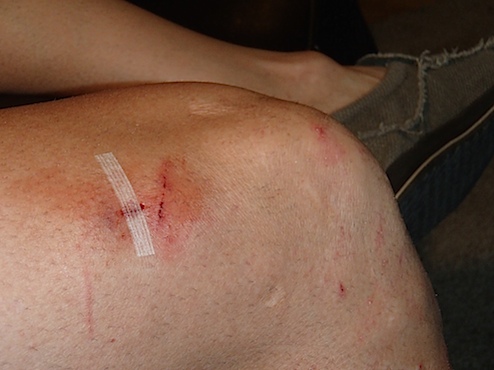 What was it? A twig from that bush I had crashed in, about 1/2″ long: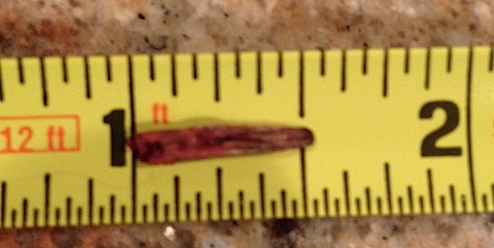 Which I declare to be the most awesome race souvenir ever.