It was two in the morning. Or maybe it was three. Really, I don't know. I was just grinding along, riding with The Hammer. And we were having a conversation about how many laps we would end up riding during this race.
"At the rate we're going, I think we're going to do about eighteen laps," she said.
Which sounded really good to me. Eighteen laps would be a huge number.
Then, a couple hours later, The Hammer gave me a revised prediction. "I think we're going to ride sixteen laps."
Which sounded really good to me. And I was happy to have her make predictions, though I was long past having any idea of how many laps we had ridden, nor how many we would end up riding.
My goal was much simpler, and I stated it for The Hammer: "I think we should just keep riding nice, steady laps, taking reasonable eating breaks in between."
The Hammer agreed. But you know, it's still fun to predict. It gives you something to think about. A way to —sort of — start counting down the laps, instead of just counting up. You know, like, "Just four more laps to go!" 
Then, at four in the morning — or maybe it was three, I really don't know — we came into the pit, and found out that Kenny had blown up. He was wiped out, suffering, and needed a rest. 
"Awesome," I said, very charitably. And The Hammer and I kept going. 
Tortoise
And on that lap, we saw nobody. Really: nobody. As it turns out, most people like the idea of riding their bikes through the night more than they like the reality of riding their bikes through the night.
But we kept plugging away. Not fast, but not really slowing down much, either. I was enjoying — and slightly awed by — the way I no longer needed to hold back for The Hammer at all (well, except for the switchback drop-in, where you go over a grate, then a couple of tight switchbacks on a technical downhill). We were just riding together, with me pulling ahead a little in one or two places, and her pulling ahead wherever there was a rocky descent, due to the fact that my wrists were killing me.
Then we'd regroup and keep riding. Just ticking away the hours and laps together. Even though The Hammer didn't need to ride any more at all to win her division, and even though I had no chance at all in podiuming in my division. 
We were just living our shared philosophy: if you're going to do a 24 (or 25) hour race and you can keep pedaling, you should keep pedaling.
Here Comes the Sun
If you ride in the dark, you learn to either love or hate your lighting system. And I can say now, without reservation, I love NiteRider. The Hammer and I were each equipped with Pro 1800 Race lights on our helmets and Pro 3600 DIY lights on our bars. (Full disclosure: While I bought our light systems at a regular retailer, NiteRider set us up with extra batteries for for our use at both this race and the Salt to Saint race.)
We never ever ever ever had too little light; even on the low setting our lights were more than sufficient for riding on both climbing and the technical, rocky descents. And the batteries lasted for hours and hours. We each only had to swap batteries once during the whole set of night laps, in fact. 
And in short, I strongly recommend NiteRider lights to anyone who's going to get into night riding (although if I were to make my purchases again, I'd probably go with Pro 1800 Races for both bar and helmet; the 3600 is overkill).
But no matter how good your lights are, when you've been riding in the dark for twelve solid hours, your world starts feeling really closed-in. Small. Time elongates. You have a hard time remembering what the terrain looks like in the light.
So when the sun comes up, it is wonderful. Somehow, in spite of the fact that you haven't gotten any sleep, you suddenly feel renewed. Like you've somehow punched a reset button.
Plus, I knew that we only had a few more hours to go. 
Sixteen Plus One
And then, as we got close to the pit—where we'd be taking our traditional eating break—The Hammer told me, "We need to start taking shorter breaks." 
That didn't sound all that great to me.
Here is a picture of The Hammer, telling me it's time to go, even as I am clearly in the middle of eating a muffin and drinking a Redbull.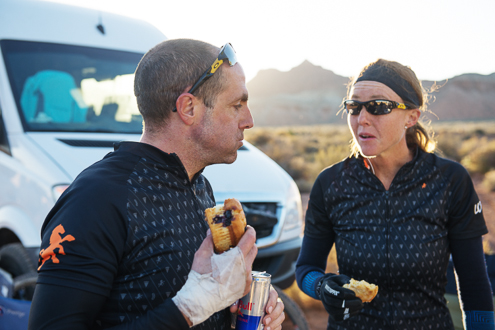 "Why do we need to hurry?" I asked. "We're going to have no problem getting sixteen laps in."
"Oh, I changed my mind. We're back to seventeen," she said. "I don't want to just win the women's solo singlespeed division, I want to win the women's solo division outright."
That woman can be a pretty darned tough taskmaster.
But I still finished my muffin before I got back on the bike.
Which is where we'll pick up (and possibly conclude) tomorrow.
PS Bonus Picture: Here's Kenny, starting his morning lap, dressed as if it were freezing cold out. Note that at this point, The Hammer and I were down to shorts and short sleeve jerseys with arm warmers.