The Hammer is stopped on one side of the trail. I am stopped at another. We are both within ten feet of crossing the Pipeline aid station timing pad, 75 miles into a 103.5-mile race.
Maybe I've had a more surreal moment in my life, but none come to mind.
Why is she stopped here? When did she pass me? Where is Rebecca? Is something wrong? 
I wanted to ask all of those questions. But expressing complex thoughts is a genuine problem for me when I'm racing. And yes, "What are you stopped here?" qualifies as a complex thought.
So, for the second time that day, I went with this:
"Hey!"
The Hammer, however, was better-prepared to say what was on her mind:
"WHERE IS OUR CREW?!"
"Behind you, about fifty feet, on this side of the trail!" I said, relieved to find I  both knew the answer and was able to express it. Also, I was relieved that the problem was simple and solvable: she had ridden past the crew.
She took off, backtracking toward the crew.
Should I Stay or Should I Go?
I stood there, a new dilemma on my hands. We were now 75 miles into a race, with about 28 miles to go. Wouldn't it make sense for us to ride together now?
Yes, the nice husband part of my brain said. It was meant to be.
No, my voice of reason told me. That is the dumbest thing you have ever said.
Why? my nice husband brain-part asked, a little taken aback that the voice of reason part was so impolite.
Because you're going to be riding on the flats for the next five miles, and you have no chance whatsoever of hanging with her. If you wait for her for one minute now, she'll feel obligated to wait for you for the next big chunk of road, and she'll lose boatloads of time she's going to need if she wants to finish in under nine hours.
So I did the nice thing. I took off without my wife.
Good Timing
As I rode along, I considered how many times The Hammer's and my path had crossed so far.
When she passed me on the pavement at the very beginning of the race
When I passed her going up St. Kevens
When we crossed paths at the top of Columbine
Just now, stopped at the Pipeline aid station.
I knew that very shortly, we'd run into each other again, as she and Reba, working together, would sail by my singlespeeding self before we got to the base of the Powerline climb.
And after that, what? Would I catch and pass them again? Or would they stay ahead of me for the rest of the race? 
Either way, I knew we'd be looking at a difference of a minute or two either way.
And — unless something went horribly wrong — we'd all be finishing in under nine hours. I know the course and split times well enough that I was sure of it.
She is going to do it, I thought. Lisa is going to finish The Leadville 100 in under nine hours on her tenth year of doing this race. She may well even beat me when she does it.
And right then, rolling along on the pavement by myself, that thought just overwhelmed me and I started crying a little, I was so happy. 
Your emotions tend to run a little bit hot when when you're at the edge of doing what you're capable of for so many hours.
But then I stopped thinking about any of that, because my right quad seized up. The cramps were back, brought on by — I'm speculating of course — the unfamiliar and very strenuous high cadence I was turning.
I was suffering. Bad. 
And I was worrying, too. If I'm hurting this badly on the flats, what's going to happen to me in a few minutes, when I start the hardest climb of the day?
And it was while I was wrapped up in my misery that — as I knew they would — The Queen and the Hammer pulled up alongside me, pulling a long train of riders, all of them men, and all of them larger than the two women pulling this train.
"How are you doing?" The Queen of Pain asked me.
"I'm riding through a pretty bad cramp right now," I said. 
"Have you been taking electrolyte capsules?" Reba asked. 
"I've never used them. I worry about trying new stuff during races," I said.
"Take some now," Reba said, reached into her jersey pocket, and handed me a cylinder with a flip-top lid. 
"They really work," The Hammer affirmed.
That was good enough for me. "How many should I take?"
"As many as you can fit in your mouth. Half a dozen or so," Reba said.
I kind of doubted that was what the good folks at Gu would recommend, but  you know, I figured The Queen of Pain knew her stuff. So I shook a mouthful of pills into my mouth, chased them down with Carborocket, and hoped they'd do the trick.
Soon.
"OK, we've got to go," said The Queen of Pain, and ramped the pace up again.
I watched The Hammer sail past, her face grim, her eyes down. I have never seen a person so obviously in the pain cave. Deep, deep in the pain cave.
I was so proud of her I almost started crying again.
A Coke and a Smile, Courtesy of Strava
I was still in pain, now compounded with the disappointment of being on my own again; it had been nice to have company for a minute. But within a few minutes, the cramp faded. So that's a piece of good news.
And I knew I was heading toward another piece of good news: the Strava tent, a mile or so before the beginning of the Powerline climb.
Why is that good news? Because at the Strava tent are Strava-ites, standing on the side of the road, handing out little cans of ice-cold Coke to anyone who wants one. 
And I wanted one. Oh, how I wanted one.
"You want a Coke?" a girl shouted.
"Yes!" I called back, and she popped the top open. I slowed down enough to get the handup without fumbling it and said "Thanks" with more sincerity than you can possibly imagine.
Cornball at 10,000 Feet
I got to the end of the pavement and took the left turn onto the beginning of the Powerline climb.
I always feel a little dread when I take that turn. It's a "deep breath" moment. You know, sort of like the deep breath you take before diving into a swimming pool full of battery acid.
The thing is, though, it's only four miles long, from when you turn off the pavement, to when you get to the summit. And it takes less than an hour, if you push hard. And the first mile isn't even very hard. 
So it's really not a big deal, right?
Right?
Yeah, it's kind of a big deal. Because in that 3.2 miles of hard climbing, you go up about 1500 feet. And that's not easy to do, when you've already got 81 miles of hard racing in your legs. 
For one part in particular, the smartest thing you can do — the only thing you can do, for all but the most elite of the elite — is get off and push.
Which I did. Early. Before I had to. Because I did not want to visit the Land o' Cramps again if I could help it.
And then I could see The Hammer. And the Queen of Pain. They weren't very far ahead of me. 
So I hiked a little faster. 
I got within a few feet of them. But there was a guy between The Hammer and me.
"Excuse me," I called out. "That's my wife right in front of you. Can you let me by?"
Of course he let me by. (You would too. You know you would.) 
Finally, we were together! Not actually riding together, because we were hiking our bikes at the moment, but still: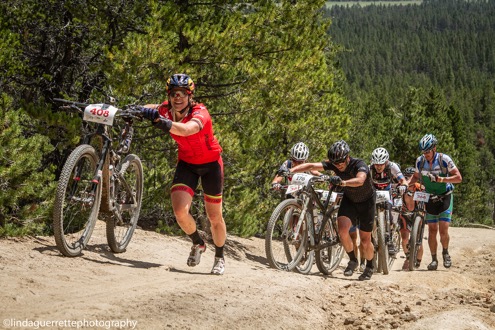 Reba in front, The Hammer (hidden behind my elbow) and me behind. Photo taken by Linda Guerrette. Used with permission.
"We're together!" I said, taking the opportunity to verbalize the obvious.
I continued, "We're eighty miles into this race and we're together! Isn't that incredible? I am so proud of you!" 
The Hammer did not answer. I looked over at her. Pain cave. Deep.
The Queen of Pain, however, did answer. "I can't believe you're being mushy here, on the Powerline," she said.
Come to think of it, I couldn't either. 


Photo taken by Linda Guerrette. Used with permission.
I felt like I could go faster, so I did. I didn't say goodbye, though, because I knew we'd see each other soon.
Real soon.
The only question, really, was whether we'd see each other before the finish line.
Which you'll find out in tomorrow's installment of my part of the story.
PS: For those of you who are wondering whether The Hammer is going to write up her experience, let's just say that as of yesterday evening, she has written eleven pages, and has a lot more to write. And it's a compelling story.