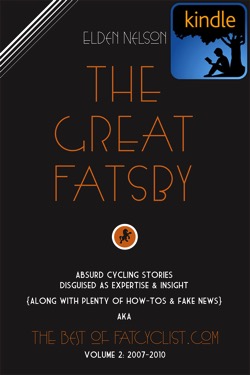 A Great Fatsby Note from Fatty: I'm happy to announce that as of this morning, The Great Fatsby: The Best of FatCyclist.com, Volume 2, is now available on the Kindle. Please go check it out. And then buy a copy, for crying out loud. It's been years since I've won an award or been invited to a fancy dinner party as the guest of honor, and if I don't get some kind of validation soon I'm going to crumble.
Please make me feel good about myself. Buy a copy of my book, or I'll cry.
You don't want me to cry, do you?
Oh, and if you pre-ordered the Kindle version of The Great Fatsby, check your email. You should have the code for downloading it in your inbox right now.
A Donation Note from Fatty: If you're looking to make a donation to WBR, and would like to have a chance at winning some awesome bike gear by doing so, allow me to recommend you check out Jordan Rapp's RappStar Charity Challenge. His contest works (more or less) like my contests, though he sets his minimum prize-worthy donation quite a bit higher: $134 (the cost of a bike). 
And this is pretty exciting: The Great Fatsby is currently the #1 top-selling cycling book in Amazon.com's Kindle list: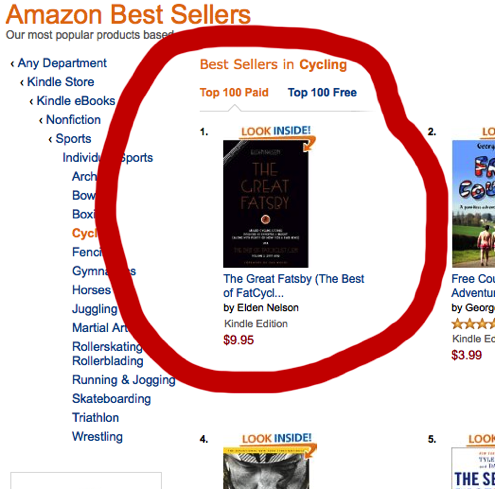 About which I proclaim: Huzzah! And also: go buy a copy!
How to Pedal Your Bike Properly
As a cycling expert, I am frequently asked what the best way is to be faster and win races. The answer, of course, is to always wear a matching cycling kit, have the most expensive and newest bike of anyone in the race, and—above all—to enter in the least-populated age / gender / equipment / experience level group you possibly can.
I, for example, am very excited about my chances in the 80+ novice singlespeed women division when I race this year. Indeed, I expect to crush the competition.
But believe it or not, there is actually more to being fast and winning races than just how you dress, what you ride, and finding racing category nobody else has found.
And that is: pedaling. 
Oh, I know what you're saying. You're saying, "Well of course we have to pedal if we want to go fast!
[Unless we have an e-bike, in which case all we have to do is sorta-kinda make a pedaling motion at all! But let us dismiss e-bikes from our thoughts. They are too ridiculous, even for this blog.]
But pedaling isn't enough. No, not at all. There is a proper way to pedal. An efficient and smooth way. A correct way. A way that is vastly different than the way you are doing it right now.
Fortunately for you, I will now instruct you in the proper technique to pedal your bicycle.
Pedal in Circles
The most important thing you can do when riding your bike is to remember: pedal in circles. Only when you pedal in circles will you achieve the speed and grace of a pro cyclist. 
You can prove the truth of this statement by climbing onto your bike right now and pedaling. But do not pedal in a circle. Instead, pedal in a square. You'll find, thanks to the fact that your feet are attached to a device that has both a fixed center and radius, that it is very difficult to pedal an actual square.
Now try a rhombus. It's not easy, productive, or comfortable, is it?
Now try pedaling in a figure-8 motion. Still no good, right?
OK, now pedal in a circle.  Suddenly, your bike moves forward. In fact, it moves forward with considerable ease. The difference is astonishing.
Well, it moves forwards as long as you pedal circles in the correct directions.
Yes, I said directions. Plural. Because the number of directions your feet must go in describing circles is as important as it is complex and counterintuitive.
Luckily for you, I am here to help you understand.
First of all, you must realize that you must turn your feet in opposite directions, simultaneously. I know, how strange is that? But you must trust me: the circle you describe with your right foot is clockwise, while the circle you describe with your left foot is counter-clockwise. 
Here. I'll illustrate: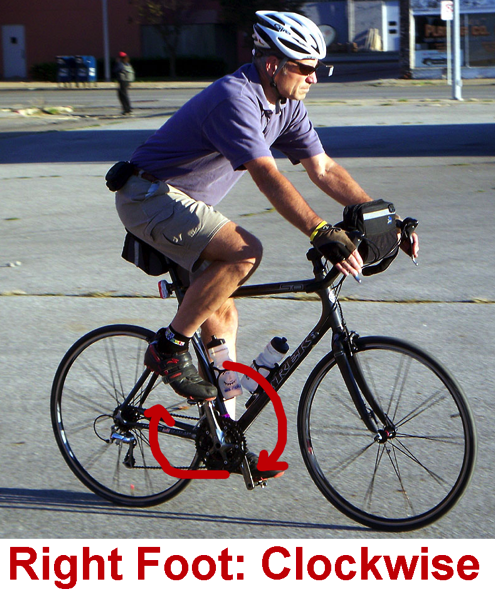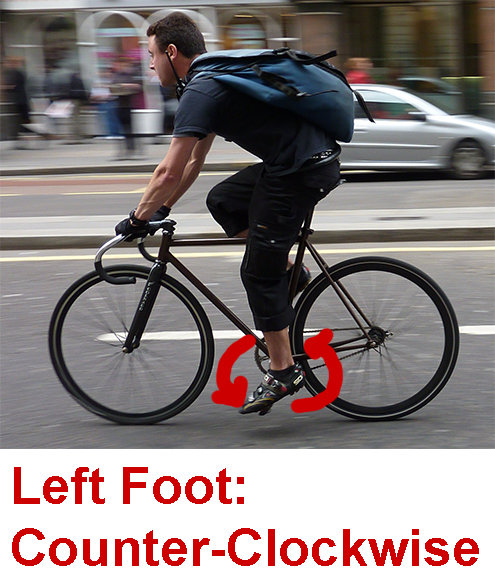 You see what I mean? You'd think each of your feet would go around in the same direction, but the truth is demonstrably the opposite. This seems like madness. If you will follow this top-secret tip, though, you'll find your bike goes so much faster. 
Pedaling With Power
Of course, it's not enough to merely make your bike go forward. You want to go forward fast. Toward this end, I have several secrets the pros use. 
First, try the Wipe Your Foot Off technique. This means that as each foot reaches the bottom of the pedal stroke, you should perform the same action as you do when scraping gum off the bottom of your shoe. Specifically, this means you should follow this sequence with each turn of the cranks:
Push down to nearly the bottom of the pedal stroke.
Kick back, as if wiping your foot on the street / grass / carpet to get a piece of gum off your shoe (but hopefully not actually on the carpet, because that's gross).
Curse at the way some people spit gum out onto the street. Why would they do that? Why not just throw it away? Don't they know someone's going to step in it? Don't they have any consideration at all?
Go find a stick or something to try to scrape it off your shoe, because scraping it off on the curb didn't do much good at all.
Ask yourself why anyone even chews gum. It's not like the gum keeps its flavor for more than twenty seconds anyways. And there's probably nothing in the world that makes someone look cow-like as chewing gum does. Plus, it makes you hungry. Resolve to never chew gum yourself. Or if you do, to at least never just spit it out on the sidewalk.
Repeat this process ninety times per second. 
The second technique to use is to Pull Up With Your Foot. Did you know that when you pedal a bike, up to 50% of your effort can go toward just lifting the leg that's going up? It very well might be true! 
That's wasted effort. And if there's one thing you don't want when you're riding a bike for exercise, it's to expend unnecessary effort. 
So: with every stroke, as soon as your get to the bottom of the rotation, begin pulling up. By doing so, not only are you not forcing your other leg to lift it, but you're actually sending additional power to the wheel.
Or maybe you're not. Maybe you're just unweighting the crank. 
Or maybe you're not even doing that, either. Everyone seems to disagree how much you're accomplishing by trying to pull up on your pedals as well as push down on them. 
But beware of the dead spot at the bottom of the stroke—the spot where you don't have much power, and also it sounds kind of ominous.
Except there's really nothing much you can do about that dead spot. It's not like you can skip past it or anything. In fact, forget about this part altogether.
Just push down on the pedals really hard and really often on the pedals and you'll probably be OK.
Advanced Techniques
There's more to proper pedaling technique than pedaling fast and hard in the correct direction, however. Advanced cyclists also know and religiously adhere to these three top techniques:
Bring your feet to a level position at the bottom of each stroke, then stretch and flex your calves on the upstroke. This may or may not actually improve your cycling performance, but it is guaranteed to show your calves off to maximum advantage. 
Keep your legs together, so your knees graze your top tube with every up and downstroke. If you do this properly and consistently, you should wear through the bike's finish before the end of the season. 
Remain seated when riding. This is the most effective way to pedal. Although it's okay to stand during climbs. And sprints. And during hard efforts. Or when you want to switch up positions. Okay, never mind. Sit or stand, whichever you prefer. It's all the same to me.
With strict adherence to these pedaling techniques, you'll soon (over the course of seven or so years, generally) find that you have more power and speed on the bike than you could have ever imagined.
Or you could just get an e-bike. Those things make you go fast.