An "I Have a Lot of Notes Today" Note from Fatty: This is just a note to say that I have quite a few pre-story notes today. But I also have a story. And also, every one of my notes is worth reading. So do.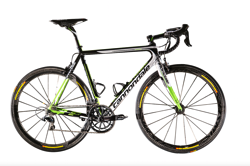 A "Sign Up for Something You Should Sign Up For Anyway and Maybe You'll Win a Free Bike" Note from Fatty: I'm a big fan of The Feed, a service that makes it easy to get the energy food you want for cycling at a good price, at the right frequency, with excellent guidance. And right now, they're having a contest where if you give them your email address, they'll enter you in a contest to win a Cannondale SuperSix EVO Hi-MOD road bike. This is a serious road bike, with a value of around $7500. It takes roughly thirty seconds to enter, so you should. Click here.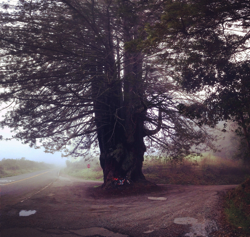 A "Hey, Read This" Note from Fatty: I believe I am Janeen McCrae's (aka The Noodleator) biggest fan. I have in fact recently begged her to start writing for Fat Cyclist. She declined, politely. So for now we'll all have to be happy with whenever she writes something in her own blog. Which she has. "Tour de Tree: Groundhog Day Edition" is a wonderful ride report about an incredibly bad idea for a race. Click here to read.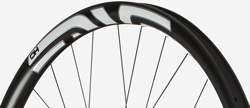 A "Yes the Contest is Still Going" Note from Fatty: I'm not going to browbeat you today about the WBR Fundraiser I've got in progress, except to assure you that, yes, it is in progress. And also that you should enter it. And even more also that upon entering this contest, you will be doing a lot of good for people who need it. Read here for details. 
Honesty
Let me start this story with a rare piece of honesty: it centers around a boast I will make.
More honesty: I shouldn't care about the event around which this boast is made.
Still more honesty: I do care. Deeply.
And now for the story.
Training
More often than not, The Hammer and I ride together. It's been that way for the five-plus years we've been together, and I love it.
It's rare that anyone joins us for our rides, because when The Hammer and I ride, to most people it feels like we are training. Even when we're just — truly and honestly — just riding along, recreationally.
As it so happens, The Hammer and I like to kind of flog ourselves to within an inch of our respective lives when we ride our bikes recreationally.
So, as I said, not many people ride with us more than once.
But my niece Lindsey and her fiance, Ben, have been riding with us. Mostly, this is because The Hammer and I are wonderful people to converse, ride, and otherwise be with.
It's also possible that Lindsey and Ben are planning to race the Leadville 100 this year, and are looking to their elders for experience and wisdom and stuff.
Though I kind of doubt it.
Regardless, out of the three most recent Saturdays, Lindsey and Ben have been riding with us twice: the first time on a long road ride, and last Saturday, on a big ol' long tour of most the trails of Corner Canyon.
Here the four of us are, being smiley and adorable together: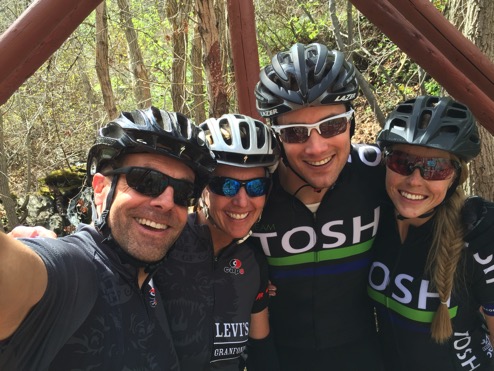 Seriously, folks, is there anyone in the whole world who takes selfies as well as I do?  
The Plan
We were there to ride together. Just ride together. To put in a bunch of miles at a good solid pace.
And that is, no kidding, what we did. Except on the downhill sections, where I needed to show that I was the boss. 
Why? For several very excellent reasons, none of which I choose to reveal at this time. But I guarantee that it was not because Ben is half my age and looks to have about twice my fitness and I thus felt like I needed to prove something to him.
No, that was not the reason at all.
Anyway. We rode up Jacob's Ladder, down the other side. Down Ghost, across Rattler, over to the BST and blah blah blah blah blah. Seriously, I don't know why people (by which I mean me) write detailed lists of the names of the trails they rode. It means nothing to anyone except locals. Here's the Strava of the ride, however, which makes it plain that our main objective in this ride was to diagram a triangle wrench: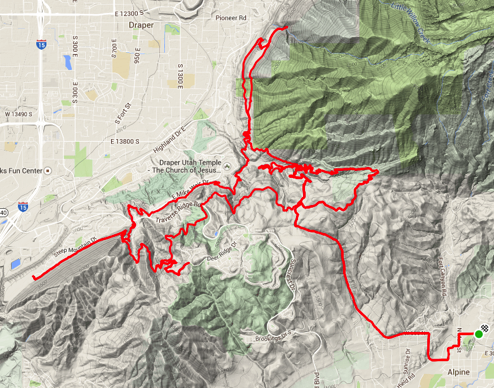 And also, to go up and down a lot, and to carefully avoid ever going on an even reasonably flat trail: 

These are very good objectives. Very good indeed. But as the day went on, I noticed that — more and more often — our ride broke up into two groups: The Hammer and Lindsey riding together and talking in the back group…and me riding out in front of Ben, with him scant inches behind me.
Which I interpreted in a certain way. A much different way than I interpret this same distance when on a road bike. See, when someone is right on my tail on a road bike, I interpret this as good riding technique: drafting and conserving energy, so that I can pull over sometime in the next thirty seconds and trade places.
On a mountain bike, however, when someone is right behind me, I interpret it as a challenge. 
"You want to come around?" I asked. The gentlest form of a call-out.
"No, this is a good pace," Ben replied.
Which would be fine, except I was going out of my way to ensure that it was not a good pace. More to the point, I was gradually ramping up my effort, trying to crack him.
Hey, I've finished Leadville in 8:18 before. He's on record as wanting to finish it this year in 10:30. I should be able to crack him easily.
Except Ben wasn't cracking. He was staying on my wheel, our respective better halves no longer anywhere in sight (they were happily chatting about weddings, not to mention racing LoToJa together this year). I was, with Ben's help, proving the old maxim that there is no such thing as two men riding together. You get two guys on bikes, and it's a race.
Anyone who says otherwise is just trying to disavow the incontrovertible fact that he just lost a race.
Which brings us to my plan: to prove to Ben that I am the alpha male, once and for all, in the Maple Hollow spur: a one-mile grind of a singletrack climb.
The Sound
The four of us regrouped at the turnoff that marks the beginning of the Maple Hollow climb, where I assured the group that I was done pushing it for the day, and that we should just get to the top. 
A lie, and everyone knew it. If by no other reason, by the way I didn't make a faux-courtesy show of asking if anyone else wanted to lead out. I led out from the sound of the gun, heard in my head…and, judging from the way he immediately grabbed my wheel, heard in Ben's head too.
This climb, I didn't make a show of just riding along. No. I stood up, using singlespeed climbing tactics, even though I was not riding a singlespeed. Big gear, low cadence, edge of agony. Use your whole body to power up the climb.
Ben stayed right with me, as I expected him to. 
I listened for a very particular sound. But it wasn't there.
I went harder. 
Ben stayed with me.
I listened for that sound. Still not there.
So I went harder. Listening, listening.
And then: there it was. The sound I had been straining my ears to hear:
"Tzclnk."
I swear, that is the correct phonetic pronunciation for the sound I was listening for: the ever-so-slight sound a brand-new Shimano XTR drivetrain makes when you shift up the cassette one single gear.
It's not a loud sound. But it is a distinctive one. And it is incredibly significant. In English, this sound translates to, "I need to go just a little bit easier."
It is, in short, a flinch.
It was my cue to gut myself. Which I did. I gutted myself with what I like to describe as "joyful alacrity."
And thus did I vanquish Ben and prove…well, nothing. 
But one last piece of honesty here: I would — and probably will — do it again.
Every single time.
Which may be why it's so rare that anyone wants to ride with me.