A "Quick Links to Previous Installments" Note from Fatty: Here's where you'll find the parts to this story:
The night before the 2015 Leadville 100, Jeff Dieffenbach — my co-racer from Boggs and now an extra-good friend of Fatty — had done something wonderful. He had made a chart: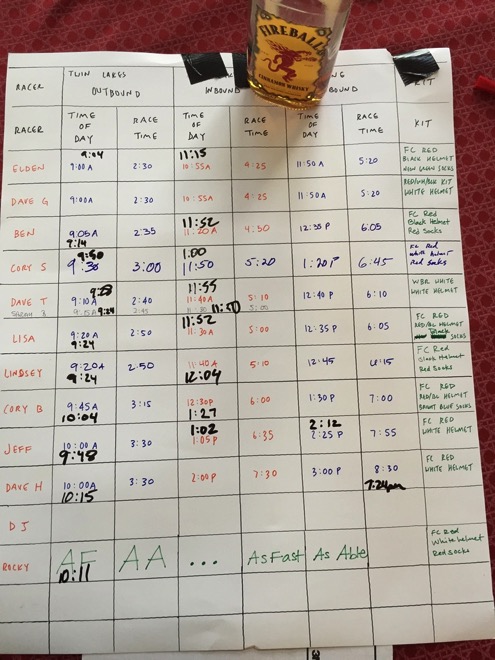 Now, try to ignore the numbers in black (the actual times) and just look at the color numbers; these are the guesstimate times everyone staying at the house we had rented, as well as how to recognize us one from another as we pulled into our community aid station / tent / hangout. 
The problem for me was: I really had no idea of what kind of numbers I ought to put down. I tried figuring out aid station times that added up to under eight hours, but when I did…well, they just didn't look realistic. I'd have to reach the turnaround at the top of Columbine in four hours, more or less.
That just sounded ridiculous. I mean, hitting the turnaround in 4:30 is a dream scenario. Half an hour faster than that? Pffff.
But I wrote those numbers down anyway. In fact, I wrote down numbers that more or less had me hitting the top of Columbine in under four hours. Because that's a totally plausible thing that could actually happen. 
And now I was racing the race. I was at the top of Powerline, one of two parts of the race I just do not enjoy. 
Because I am a mediocre descender.
Let's Get This Over With
When you are a mediocre descender on the Leadville 100 Powerline descent, you are acutely aware of four things as you descend: 
You are not going very fast
Lots of people are passing you
There are many bikes with flat tires on the side of the road, acting as object lessons as to what could happen if you go any faster than you are currently going
Your hands are going numb from pulling on the brake levers nonstop since you were seven years old
Both of these happened all the time as I came down the Powerline. And also, I set a world record for "Longest Amount of Time Anyone Has Held an Expression of Shock and Dismay on One's Face."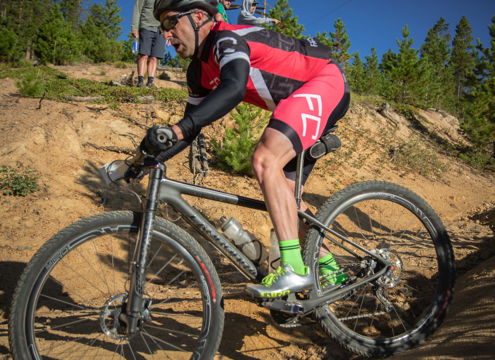 Huge thanks to the amazing Linda Guerrette for this photo
Of course, I need to be honest here and say that this photo is the most humblebraggy humblebrag I've ever humblebragged, because while I'm self-deprecatingly poking fun at my expression, I'm really hoping that you'll notice that for a 49-year-old, my legs do not look half bad. 
In fact, my legs do not look half bad for a 25-year-old.
Furthermore, the Cannondale F-Si Black Inc I'm riding is almost without question the sexiest bike I have ever brought to a race, and it was handling better than I had any right to expect.
And also, my socks and shoes go rather fetchingly together and make me easy to distinguish from the rest of the Fatty Army on the course.
All that said, my game face still sucks pretty bad. By way of comparison, this is what it looks like when everything comes together, from legs to outfit to race face: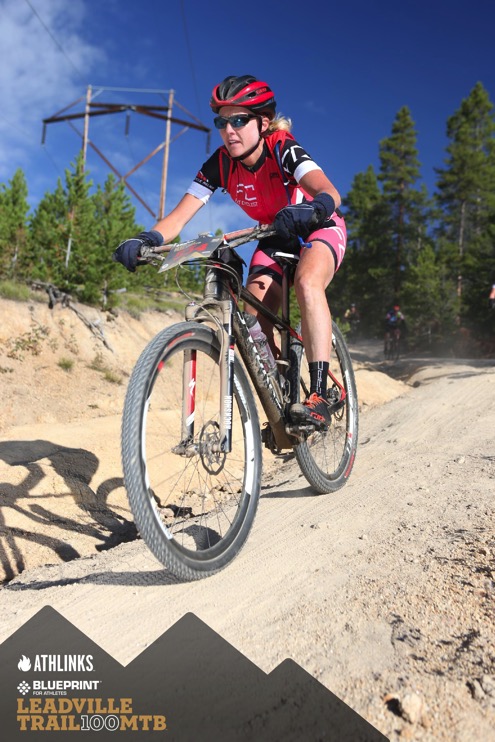 Kudos, by the way, to the race organizers for providing free photos to racers for download this year. That's a nice (and unexpected) touch.
Back to the Story
Right, I was going to talk about descending the Powerline. Except I'm not really going to. Because while I was nervous the whole way down and was grateful when I reached the bottom, I raced according to my plan for this descent: treat it as one of two places in the race where time does not matter. Let people by when I could, hold my line when I needed to, and get to the bottom safe and ready to catch and slaughter those who had just passed me.
And in fact I reached the bottom safe, sound, and with legs that felt like they could and would do anything I asked of them.
Choo Choo
Powerline empties onto a few miles of pavement, followed by fifteen miles of rolling dirt road, so I knew that very soon I'd be riding hard in a paceline. So I had a gel early, had a quick drink, and then looked down the road.
There's a guy. Riding solo. He'll be looking to start working.
I spooled up, caught him, passed him, pointed at my back wheel, and ratcheted back my effort just a smidgen.
My train was formed.
Pulling him along, I hammered to catch another guy, then a group of two. I had built a train of five just by pulling for a couple minutes. Now it was my turn to put it to work. I pulled off left and drifted back, hoping, hoping the guys I was with knew what to do.
The guy right behind me pulled through, then drifted back immediately. Then the next guy did, and so did the next guy.
They knew. All five of us knew. I had stumbled into a Christmas Miracle of a paceline: four complete strangers who either knew how to ride a paceline or were able to quickly figure it out by example.
We flew along the pavement at a near-obscene pace, getting to the right turn in what felt like mere moments, closing in on a much larger group ahead of us. 
We caught them, they joined up, and…that ruined the train. This new group hadn't been doing a fast, efficient rotation. Who knows what they had been doing, in fact. It was no wonder our group had swept them up.
With the rotation messed up, the whole train fractured. Some racers shot ahead, others drifted back. I looked to grab a wheel of anyone who was going hard, made my choice, and joined up.
As it turns out, that was Jason. We had agreed — as far back as the True Grit Epic last spring — that we should try to work together in the Leadville 100, and now we were getting the chance. 
"Let's do this!" I whooped, feeling the intense joy of someone whose race is going impractically, impossibly well. I knew Jason's fast. Faster than I am. Maybe this guy was going to be my ticket to a sub-eight-hour race.
We began quick rotations, which kept up for the remaining couple minutes 'til we hit the dirt. 
Warrior
I'm not sure what happened after that. Maybe someone got in front of Jason, holding him up. Maybe I was just feeling too good, racing out of my head. But I lost him before we got to the first meaningful checkpoint in the race: Pipeline.
I looked at my GPS: I had done this first section in 1:56. 
One hour, fifty six minutes. More or less exactly the amount of time it had taken me to get to this point in 2011, when I had finished the race in 8:18. Not exactly on track to do this race in sub-8.
Which did not even occur to me a little bit. In fact, I just thought to myself "UNDER TWO HOURS TO THE FIRST CHECKPOINT!" 
In my own mind, thanks to a failure to correctly do year-to-year time comparison, I was doing awesome. Maybe Han Solo was right; sometimes it's better to not know the odds.
I blew through the first checkpoint, howling aloud; dozens of spectators joined me in my cries.
I was in full Joyful Warrior race mode, and there was nothing I loved more than racing my bike.