Hi there. 
I'm taking this week off from blogging so I can take care of some blog-related stuff. Specifically, I need to take care of some logistical and tactical 100 Miles of Nowhere stuff. 
And also, I need to write a story I promised I would write for Ride 3 (I'm not going to finish it by when I said I'd finish it, but I don't want to bail on the responsibility altogether).
I know, I know. It's a long time, but I need all of it. 
Luckily for you, a story I wrote for Mountain Flyer was just published in their Issue #45. It's called "Holy Trinity." And here's what the opening two-page spread looks like: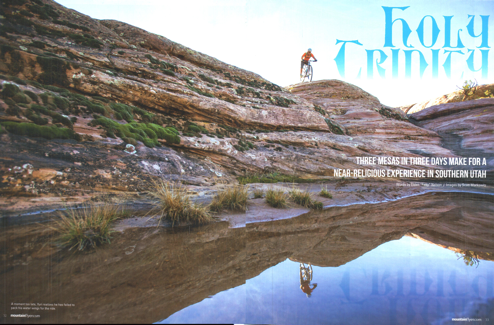 It's a twelve-page, beautifully-photographed feature about how about this time last year, Yuri Hauswald, Kenny Jones, and I rode all three of the St. George mesas in one amazing three-day weekend.
I'm very proud of the story and astonished at the amazing photographic work the incredible Scott Markewitz did for it. This article is available only in the print version of the magazine, so allow me to recommend you go pick yourself up a copy.
Or three.