A Note from Fatty: This is Part 3 of my race report on the 2013 24 Hours in the Old Pueblo race. You can read Part 1 here, and Part 2 here.
Before I get to telling today's installment, I'd like to give you a little bit more information about NICA Executive Director Austin McInerny, the guy on our team who turned in an incredibly fast first lap, only to be injured right at the end of that first lap. 
First of all, here's a great shot of Austin during his lap: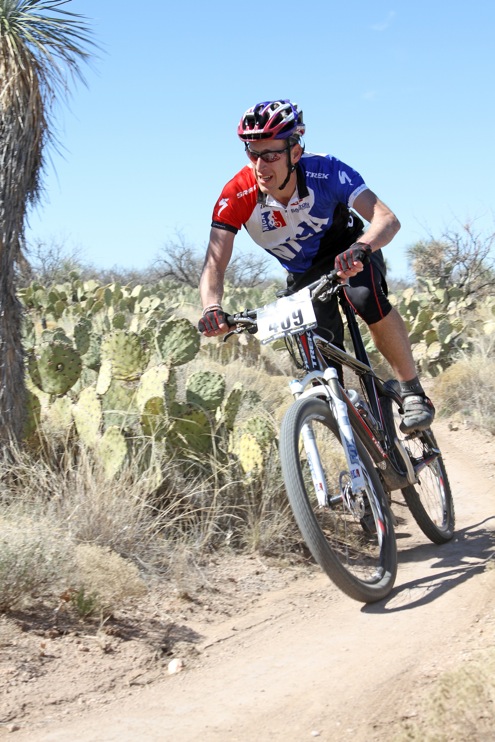 Photo courtesy of Zazoosh Media
Obviously a fast guy, right? Not to mention a guy who's seriously involved in making the world a better place for both kids and bikes. 
And so it was especially a bummer to find out that Austin's X-ray looks like this: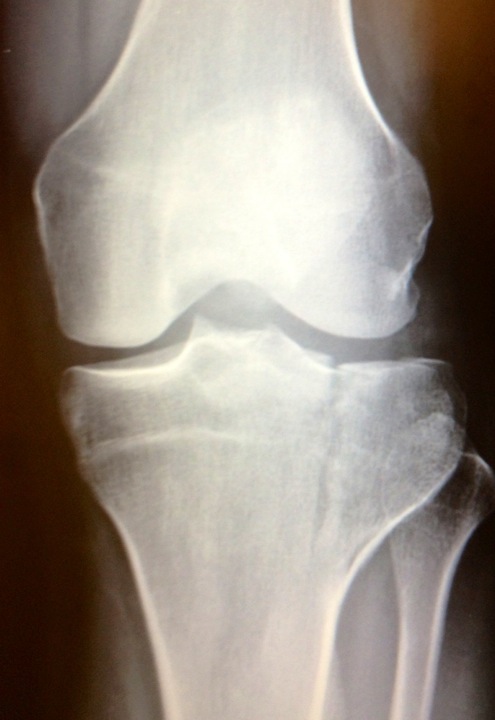 That's a tibial plateau fracture, and it means surgery (plate and screws) within the next couple days, and then about three months of no weight on that leg.
As another guy who loves and pretty much lives for biking, I feel for Austin, and hope he gets through this quickly and is back on his bike as soon as possible. 
I wonder how many times he's said to himself, "If only I'd made sure I was wearing the right shoes!"
I'm going to guess ten million.
It's Always Darkest Just Before It's Almost Just As Dark
As the fifth person to ride on the team, I finished my first lap pretty much as the sun was setting. Oh, and guess what: I caught video of the lap (then forgot to turn off the camera, using up my battery and filling my memory card, so would not be able to get any more video of the rest of the race). 
Check it out, if you'd be so kind (or maybe watch it all biggish-like over at Vimeo, where you can see it in all its HD glory. It'll give you a much better sense of what the course was like:
While I was riding, the rest of the team decided that Stan and Bob would go ahead and do single night laps, after which we'd do a rotation where each member of the team did double laps, hence giving us each a better shot at getting more rest during the night.
Stan continued to show he was the alpha rider of the group by turning in a 1:10 — only four minutes slower than his first lap, and that included doing half the lap with the sun in his eyes and the other half in the dark.
Bob then did the first full night lap for the team. Check him out, getting ready to ride: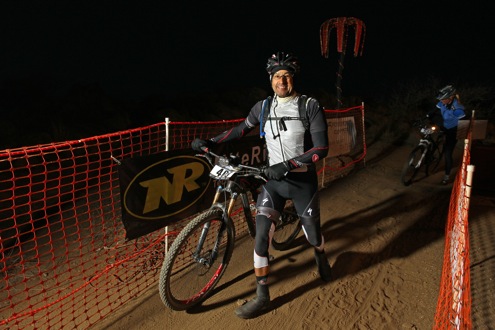 Photo courtesy of Zazoosh Media
No, wait a second. That's actually a photo of him as he finished his night lap. Yeah, he was that fast — only ten minutes off his day lap pace.
And then it was The Hammer's turn. She'd be doing two laps back to back, in 1:20 (only six minutes off her day lap time) and 1:23 (only three minutes slower than the one she just did).
While she was doing those two laps, I paid a visit to the NiteRider booth, hoping to get a replacement cable for my setup. They took care of that without any hassle. 
Seeing as how they were so friendly, I decided to ask for some additional help. "When I power my 3600 up to its brightest setting," I said, "the battery status immediately says that the battery is almost dead. That can't be right."
They told me it was a software problem and that they could fix it right there if I'd leave the light setup with them for an hour or so.
Which I did, then went back to my tent and changed into my riding clothes — bib tights (no chamois is necessary for rides under five hours as far as I'm concerned), Smartwool tshirt base layer, long sleeve jersey — and ate another one of the Subway sandwiches we had brought along.
I noted to myself that I had hit the point of diminishing returns for Subway sandwich enjoyment.
Finally, I picked up the light setup on my way back to the exchange tent, set it up on my bike, and was ready to go. 
It was my turn to do two laps, back to back.
Night Lap 1
The Hammer came in within three minutes of when I expected her. Seriously, I have never seen a team that had such incredibly consistent lap times, even during the night.
"Running your lights at medium is perfect," she said, as she handed me the baton and gave me a kiss.
I'm pretty sure I saw the volunteer at the table roll his eyes. Hey, whatever.
Having learned my lesson from my first lap, I immediately located my bike, hopped on, stepped up both my helmet light (a NiteRider Pro 1800 LED Race) and bar light (a NiteRider Pro 3600 LED) to medium, which was in fact plenty of light.
The wind had calmed. The temperature was mild. I had enjoyed a five-hour-long break since my last lap. It was clearly time for me to go at full tilt, racing as if I were only going to do a single lap, instead of two.
Because I am a moron.
Most people were riding a little more conservative at night, possibly because they're tired, probably because they can't see as well. But I could see great, and I had all kinds of energy. And since people could tell I was coming up behind them — thanks to the blindingly bright wash of light I was suited up with — I hardly ever even had to say a word as I approached. People would just move out of my way.
They probably thought I was an 18-wheeler or something.
Night Lap 2
I felt triumphant as I finished my first night lap, having knocked it off in only 1:13 — only five minutes slower than my first day lap!
But then I had to do another lap. 
Which, as it turns out, I probably should have taken into account when I attacked my first lap as if it were the last ride of the day.
I first noticed a surprising lack of power as I rode The Bitches. Instead of just standing and sprinting by other riders, I sat and rode in a conservative gear — not being passed (at least not constantly), but certainly not passing people very often either.
And then I started feeling a pit in my stomach: the feeling that I was getting hungry, and would soon — if I didn't do something about it — be bonking.
"I don't want to take off my gloves to get food out," I said to myself, and kept riding.
Because I am a moron.
The thing is, though, it's really hard to tell how fast or slow you are when riding. I knew I was slowing down, but by how much? Was I really going half as fast, like I felt, or was most of my slowdown just in my head?
Regardless, I was feeling beat and just wanted to get to the exchange tent, where I could send Stan on his way for his two night laps.
And yet, I continued to not eat anything. I expect you can guess why. (Hint: because I am a moron.)
Bring On The Dark
With about a quarter of the lap to go, I started to notice a problem: my vision was blurring. I had a harder and harder time focusing my vision, and no matter how much I blinked, I couldn't see sharply. 
"Maybe," I thought to myself, "I just need more light." Since I only had another 20 minutes to ride and my bar light battery indicator showed I still had plenty of juice, I figured I could step up to full power.
So I did. And it helped. For about two minutes, after which — with no warning at all — the bar lights shut off altogether. 
And they wouldn't turn back on. 
Fantastic, I thought. But at least I still had my helmet light. 
And so I struggled on, closer and closer to a bonk (but stupidly unwilling to just grab something out of my jersey and eat). My vision poor. My lights about a third of what they had been. 
Then, without seeing what caused it, I crashed. 
"GAAAAHHH!" I yelled. Or maybe I said "GAAARRRGGH!" I can't remember exactly. 
The truth is, though, I wasn't really hurt. I just didn't want anyone to crash into me as I collected myself and my bike off the trail.
I got back on the bike and continued. But more tentatively.
In the end, I finished this lap in 1:20. Seven minutes slower than the one right before. Which, objectively, is not too bad. 
But it felt like I had been out there for days.
G'night Everybody
I rolled up to the table in the exchange tent…but Stan wasn't there. Should I wait here for him? I wondered. 
No. If he wasn't here, I reasoned — it is now amazing to me that I was able to reason so clearly — it was because he didn't know he needed to be here right now.
So I rode back to camp, found Stan's tent, and yelled, "You in there, Stan?"
"Yeah," Stan said.
"You're up. Time to ride," I said.
"Is Elden going to finish his laps soon?" Stan asked.
"I just did," I replied.
Stan was up in a shot, getting ready and on his bike in just a few minutes (the handoff miscue happened because Stan was hoping for a wakeup call, and The Hammer didn't know where to find him to wake him up).
Meanwhile, I found the tent and climbed into my sleeping bag. Suddenly, my hunger wasn't anywhere near as important to me as getting out of these clammy, cold clothes and getting some sleep.
"I'll get the lights off our bikes in a few hours," I told The Hammer. "I've got to get some sleep now."
And in fact, I was already fading — strange, when you consider how hard it usually is for me to sleep right after a race — when The Hammer said, "You're wheezing."
It was true, although I would have said the more generous description of the weird sound my breathing was making would be "rattling."
"Sorry," I replied. "But you've got earplugs in, so that shouldn't matter."
I set my alarm for my best guess of how long it would take Stan and Bob to each do their two laps, and then I was asleep.
It'd be daylight before I had to ride again.
Which is where I'll pick up the next installment of the story.