A Note from Fatty: Next week, November 25-26, I'll be doing a special pre-order for the new Fat Cyclist long-sleeve t-shirt. Check it out: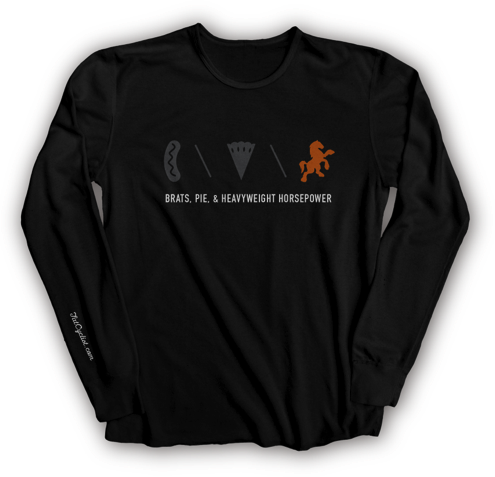 I love this design. It's both beautiful and an excellent mission statement. 
In addition to this new design, I'll be bringing back the painted-look FatCyclist.com design, this time as a long-sleeve T. And the FatCyclist holiday sweater-ish long-sleeve T. 
So, look for the announcement and links to the Twin Six site this Monday, November 25. You'll only have two days to pre-order, and once they're gone, they're gone. 
The t-shirts will ship 12/12 to 12/17, so if you're in the US, they will be arrive by Christmas. 
And when you buy one, you're going to be helping me make ends meet while I'm writing Fight Like Susan. Which is awfully cool of you.
25 Hours in Frog Hollow, Part IX: Podiums and Ill-Timed Naps
It is such a strange feeling to be done with a big race. Somehow, by riding my bike for just under 26 hours, racing around this loop had become my whole universe. Somehow, suddenly not having to race seemed strange. Foreign.
And incredibly luxurious.
I cleaned up, got into some jeans, a t-shirt, and a jacket — so exquisite to not be wearing a jersey and bike shorts with a damp chamois — and walked around (I had tried to help tear down camp, but Zach, Trisha, and Brooks laughed at my uselessness and told me to go relax).
There was a free lunch — loaded up tostadas from Costa Vida. The Hammer and I picked ours up, then sat down in the dirt to eat, killing time 'til the awards ceremony.
Within moments my head was nodding forward. My food mostly untouched. I have a singular ability to fall asleep instantly, and that ability was asserting itself, big time. 
Then I was startled awake by The Hammer, who was squealing, "That's Jill Homer!" You see, The Hammer is Jill Homer's biggest fan.
So we went and talked to Jill, finding that — like us — she and her boyfriend Beat had done the race solo and ridden it together. Unlike us, Jill had crashed out of the race, finishing ten laps. 
Meanwhile, The Hammer used all her willpower to not ask for an autograph.
Which makes me think: the coolest Spreecast I could ever do would be one where I just have The Hammer and Jill swap stories about what it's like to be really nice, normal women who also happen to love doing monster endurance events.
Don't you think?
On the Podium
It was time for awards to be handed out. Of course, it was no surprise at all that The Hammer won her Women's Solo Singlespeed division: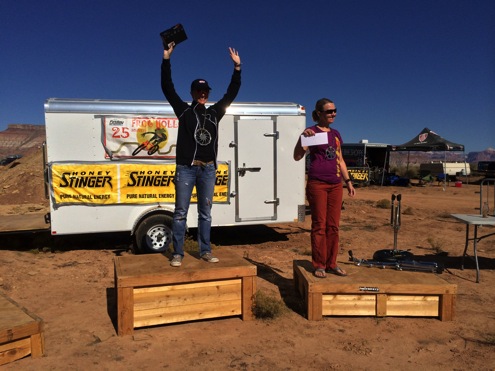 What we didn't know for sure — and which the announcer was very cool about announcing — was that The Hammer had also put in the fastest overall women's solo time. Since she wasn't registered in the geared solo division though, she wasn't on that podium. So I have taken the liberty of slightly modifying the official results:

And for the singlespeed men? Well, they called Jamon up for first place — no surprise.
Then they called Kenny up for second place — no surprise.
And then they called me up for third place.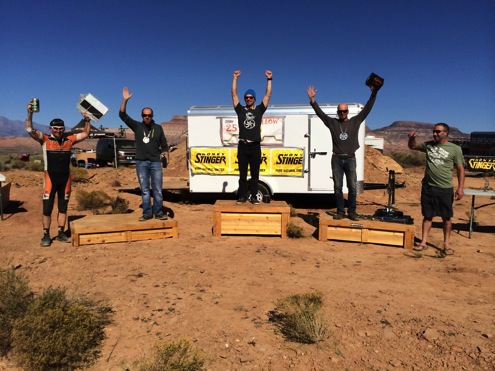 Which was a surprise. 
I had — without knowing it — finished my 17th lap just five minutes ahead of El Freako:

To be clear, El Freako's (aka Jeff) lap times are consistently faster than mine. But sometime during the middle of the night, he did a 4:33 lap. Was he sleeping? Fixing a mechanical? Tending to an injury? I dunno. But this was definitely a tortoise-and-the-hair moment. 
And as a result, I got this very cool Lezyne Port-a-Shop toolkit as a prize.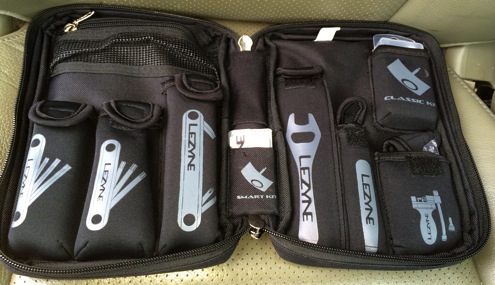 With a retail value of $139, that's by far the nicest third prize I've ever seen at a race. And now this lives in my truck, and I have pretty much every tool I could need to fix anything.
So now it's especially sad that I'm such a miserable mechanic.
Inopportune Naptime
And then it was time to head home. Now, we were smart enough not to attempt the four-hour drive back to Alpine. No. We instead were just going to do the forty-minute drive back to Kenny and Heather's house.
By the time we got on pavement, I was having a really hard time keeping my eyes trained. "I think I may need to pull over," I told The Hammer. 
And then my head drooped forward. Followed by The Hammer screaming. 
Which woke me up pretty thoroughly. 
You know what would be a good idea at 24-hour races? Designated drivers for afterward.
Weeks Later
And now, for the first time since Spring, The Hammer and I have no races coming up. Nothing to train for. 
It feels wonderful.
The only problem is, I still can't feel my index or middle fingers in my right hand.