"I reserve the right to call this off," I told The Hammer. "And if I call it off, I want you to respect that I'm making the call in absolute, utter seriousness. I'm not calling it off because I'm looking for an argument, or to be convinced that we should not call it off. I'm calling it off because it needs to be called off."
It was six in the morning, we were driving to Moab for our annual Ride Around White Rim in One Day (RAWROD) ride. And the wind was so strong I was literally having a difficult time keeping the truck in the correct lane.
So sure: I was being a little hyperbolic. But only a little.
Anticipating that the wind would be a part of this story, I sagely took a screen grab of the hourly weather forecast on my phone:
I just wish I had taken a screen grab of the more detailed forecast I had seen online the night before…the one that said we could expect gusts of up to 45mph.
And in short, I had concerns about riding in the desert, against harsh winds, unsupported, for 100 miles, in one day.
I know, I know: call me a pessimist.
Long Ride, Short Time
You've got to give us credit, though: we did show up. The Hammer and I got to where we traditionally begin the ride — at the end of Mineral Bottom road, the top of Horse Thief climb. We unpacked and were ready to roll by the 7am starting time.
But not a lot of other people were ready.
Now, I'm not saying that the people who were there weren't ready. Because they were. What I'm saying is that there weren't a lot of people there. 
As it turns out, I was not the only person who had checked the weather and found it wanting. Others, however, had elected to do things with their weekends that did not involve harsh winds while mountain biking unsupported in a sandy desert all day.
However, Kenny and Heather were there, on their tandem. And Kenny's and Heather's friends, Kathleen and Lucas, were also there.
And Ryan Thompson, to whom the laws of physics don't apply even a little bit. And Jaoaoaaooa. Whose name I am pretty sure I am misspelling, but I think it has pretty close to that many vowels.
And in short, I am not good with names.
We began on time, more or less. I was chatting with Kenny and Heather, while noticing that The Hammer was beginning to pull away.
Hey, she's The Hammer. It's what she does.
I stood up and chased, managing to catch her. I looked over to my right, and there was Ryan. Thanks to a nice tailwind, the elevenths miles of straight dirt road warmup climb went by fast, and The Hammer claimed the QOM of Mineral Bottom as her own — even with a pee stop.
I looked back. Kenny, Heather, and the rest of the gang were nowhere to be seen.
"Should we wait for them here?" I asked?
"No," The Hammer answered. "They're all much faster than we are when descending. They'll catch and pass us by the time we get to the bottom of Schafer.
We turned right…and into a ferocious headwind.
Safe Words
The three of us took short turns pulling as we climbed and battled the wind. I thought to myself how incredibly unfair it is to be the largest person in a pace line. 
I thought to myself how I didn't want to spend a whole day fighting a hard wind like this.
I thought to myself how it would be really easy to turn left and ride the Mag 7 trail instead of riding the White Rim today.
"Hey," I said, brightly, "What if we ride the Mag 7 trail today instead of White Rim?"
"That's a good idea," Ryan said.
"That's not a good idea," The Hammer said.
We kept going.
The wind got worse.
"I have nothing to prove," I said to Ryan and The Hammer. "Let's end this ride while we still can."
"That sounds good," said Ryan.
"We're already out here; we may as well keep going and see if the weather improves," said The Hammer.
We kept going. I thought about how cycling needs safewords: words that we use when we're not joking around. When we seriously want to cut out this nonsense RIGHT THIS MOMENT.
We approached the toll booth, where we'd each need to pay $10 to continue on and do the ride.
"Oh, I'm afraid I forgot to bring any money," said Ryan, cleverly.
"We only brought enough for us to get through," I said, wishing I had also been smart enough to forget our money.
"It's free pass day!" said the woman at the toll booth, helpfully.
Ryan said something, but it's not the kind of word I generally allow in this blog.
Something Is Amiss
Let me say this: The Hammer was not being silly when she said that we should keep going and let everyone catch us as they descend the Schafer road. It's a long, twisty, scary descent, and The Hammer and I aren't good at that kind of thing. 
We figured that by pressing on and staying ahead now, we'd all be together and could ride the rest of the White Rim.
And that's how it should have been.
But that's not how it was.
Instead, we got to the bottom of Schafer…and it was still just the three of us. 
But the wind was Blowing. So. Hard.
"I just don't want to wait around," I said. "If we're going to do this, let's just keep going to Musselman's Arch. They'll catch us there while we eat."
And so we went, the three of us, fighting the wind. Heads down. All three of us wondering where everyone else was. And at least two of us wondering how we had gotten into this mess.
We got to Musselmans. We ate. We looked at the arch. We took pictures.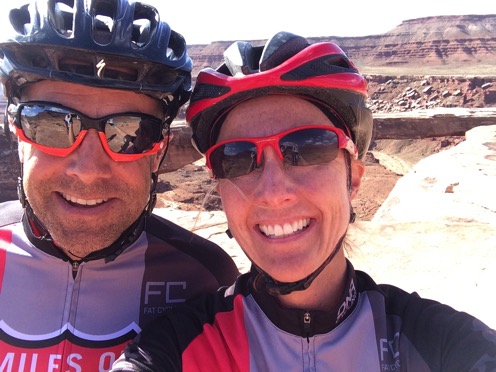 We even took time to take silly pictures.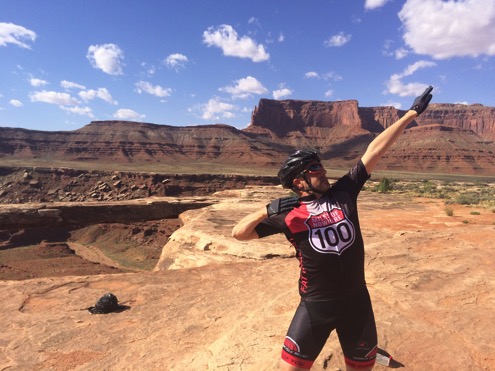 But neither Kenny nor Lucas nor Heather nor Kathleen appeared.
And in fact, we would never see them again that day.
Which seems like a pretty good spot for us to pick up in the next installment of this story.