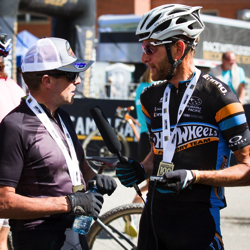 A Podcasty Note from Fatty: The latest episode of The Paceline is out, and — like all episodes of the Paceline — it's fantastic. I should warn you, however, that I talk about the Leadville 100 a lot in it, and I give away all kinds of things. So you may want to hold on a little if you like your race reports spoiler-free.
If, on the other hand, you are more interested in hearing the short version of the story before reading the long version — and you'd like to hear how I sound when being interviewed moments after the race is over — head on over to Red Kite Prayer and give it a listen.
2016 Leadville 100 Race Report, Part 2: Can't Explain
First of all, let me apologize for calling my second part of my race report — which was in fact the second part of my report, but only the first part of the part about the race — "part 2."
Hence, I am calling this part "Part 2." The previous Part 2, which was originally called "Part 1" is now once again called "Part 1." In spite of the fact that it was the second part.
I'm glad I could clear that up for you.
Now, on to (a very small piece of) the story.
Against Type
I had big plans for this day: I was going to keep The Hammer on my tail and pull her the entire day, keeping her safe right from the beginning of the race as the thousands of people tried to crowd around.
So of course, within a few seconds of the race beginning, I had ridden up through the field, juking my way past rider after rider, more or less completely losing my wife: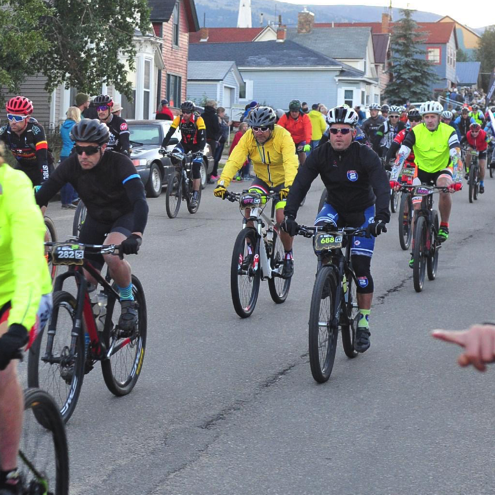 Yep, over there on the left, that's me. Meanwhile, waaaaaay back — like, ten racers back — The Hammer (on the far right, wearing a red vest) was dodging racers, doing her best to thread her way back to me.
In my defense, whenever we do a running race, The Hammer does the exact same thing to me.
Also in my defense, we had talked about the likelihood that this would happen, and might even happen often. I'm bigger than The Hammer, and therefore pick up speed more quickly on descents (I'm not sure if physics says this should or shouldn't happen, but it does happen). I brake later and harder than she does, and am more willing to take risks.
For this race, we'd both learn to do some adapting and communicating so we could stay together.
For this first part — a very crowded and fast paved descent — we knew I wouldn't want to turn around to look for her, so we agreed I'd feather my brakes from time to time, and we'd regroup when we got to the dirt if necessary.
As it turns out, it would not be at all necessary.
About three or five minutes into the race — after the first right turn on pavement, but before the second one — I sensed I had few enough people around me that I could risk looking back without veering into another rider. I touched my brakes, then looked over my left shoulder…just in time to see The Hammer fly by me in a deep, low tuck.
To be frank, I had no idea she could get into that tuck, much less bomb it during an early-morning race.
I laughed — this kind of aggressive riding on her part was a great sign — and revved up my cadence until I was crazy-legging fast enough to accelerate a little bit. It's the absolutely most ridiculous way to make it clear to everyone around you that you are on a singlespeed.
Then I went into my own tuck, bringing my hands and nose in close to the stem. I was sure I'd catch her in a moment.
I did not catch her. In fact, I'm pretty sure her lead increased.
I laughed harder. The Hammer always climbs strong and aggressively; this kind of descending was new. Maybe she had been inspired by The Monster?
We hit the dirt. I caught up with The Hammer, moved up front, and began playing against type. By which I mean that both in size and inclination, I am not an imposing person. But today, I would be imposing. My job was to make a path for The Hammer, to be vocal and assertive, asking people to move aside so she could concentrate on riding.
Unfortunately for me, everyone was being so darned polite and accomodating that I didn't need to sweep them aside with my booming, authoritative voice. A simple "Hey there, on your left" was pretty much all that was necessary.
Mountain Bikers are good people.
Approaching St. Kevin's
We drew up to St Kevin's: the first climb of the day. The first mile or so of it is steep, but people in general don't think of it as one of the serious obstacles of the day.
The Hammer and I, however, were afraid of it. And I don't mean we were afraid to begin the ride in earnest, or that we were afraid of what the day might bring.
We were very specifically afraid of the St. Kevin's climb, and we were afraid of it because we'd learned to be afraid of it a few days earlier.
Let me flash back for a moment to explain.
The Bugaboo
Back on Monday, not quite a week ago, The Hammer and I were doing our final pre-ride of any substance. We were taking The Monster out to ride up St. Kevin's.
"I'm going to hit it with everything I've got," I had told them. "I'll meet you at the hard left turn a mile into the climb."
And I had taken off, just attacking St. Kevin's like I could sprint it.
As it turns out, I could not sprint it. Not even close. In fact, by the time I got two-thirds up this steep mile, I was utterly smoked. Just destroyed.
As I hit one of the steeper pitches, I cracked. And when you crack on a climb on a singlespeed…you're off your bike. Walking. 
Which is what I did. I got off and walked a big chunk of the final quarter of that first mile of St. Kevin's. I then stopped and looked back…to discover that The Hammer was learning the same lesson I had just picked up:
Don't you dare disprespect the St. Kevin's climb. It may be the first climb; it may be the shortest. But it is steep and it is all above 10,000 feet.
"I can't believe I had to walk that," I said. 
"I've never had to walk that before," The Hammer replied. 
"Is something wrong with us? Are we weaker than we used to be?" I asked, absolutely serious.
"I was wondering that exact same thing," The Hammer said.
"We should come back and ride this climb more sensibly before this race," I mused. "Get this bugaboo out of our heads."
"OK, good idea; let's do," The Hammer agreed.
But we hadn't. And the St. Kevin's Bugaboo was now fresh in our minds as we reached the base of it.
Which seems like a good part to continue in the next installment of this story, this Monday.