Today's stage has a big ol' monster climb — about 5000 feet in tennish miles. At least, that's what it looks like when I eyeball the topo chart for the day.
And that summit would be the end of the stage, if there were any justice in the world. But instead, there's a big descent down the other side of the climb, a couple of smaller climbs, and then a chance for everyone to catch up at the end of the stage so that the guy who shows he's the strongest climber doesn't get to win the stage.
Seriously, why no mountaintop finishes?
Housekeeping Awesomeness
Al Maviva will be joining me for liveblogging today, which means you can expect a lot of liveblogging weirdness this afternoon.
I'm looking forward to it.
Also, I wanted to post a photo Matt sent me yesterday from near the finish line in Pasadena.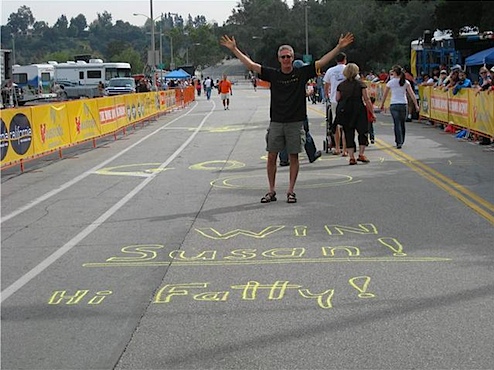 I like this so much that it's my new site banner. Thanks, Matt!
LiveBlogging begins at rrrrrrrightnow.
1:53 I'm starting a few minutes early because it looks to me like Team Ouch is setting itself up to catapult Landis forward for this current climb.
I can't help myself, I'm hoping for a giant kamikaze ride for glory from Landis. We've seen it happen before, and it was one of the most glorious stages I have ever seen.
1:55 Team OUCH has separated from the main peloton and is trying to bridge to the large breakaway, which is about 40 seconds up.
1:56 Up front, the breakaway group has splintered.
Floyd has shed his his teammates and is trying to bridge.
This is my favorite kind of bike race.
1:58 I wonder what went into the decisions to tiptoe around the fact that Landis was suspended. "Floyd is back from his time off," etc. You know that this was a concious decision. I'd love to know how they arrived at it.
2:00 Floyd's caught the back splinter of the breakaway. Now we'll see if he can recover for a second and leap to the next.
2:01 When Al gets here, I have a question for him: where has Ivan Basso been for THIS ENTIRE RACE? Is he even in it anymore?
2:02 The front group of four have crossed the top of Lk. Wolford road. Not caught on film.
2:04 Frankie and Joe are interviewing someone, but they have chosen to not give her a microphone. Hilarity ensues as they ask a question and then there's the sound of dead air for twenty seconds.
2:05 The lead four of the breakaway are thirty seconds out front. The rest (including Floyd? I think) are back in the Peloton. Alas.
2:08 Here are the four people left in the breakaway, copy / pasted from CyclingNews: Andy Schleck (Team Saxo Bank), Jason McCartney (Team Saxo Bank), Serge Pauwels (Cervélo TestTeam) and Ben Jacques-Maynes (Bissell Pro Cycling).
2:09 Joe Silva prounounces Liquigas as LIH-kwi-gas. Frankie pronounces it LEE-kee-gas. I'm pretty sure Frankie's right, but they should confer among themselves and go one way or another.
2:12 The lead group is now 3 people. Schleck is exploring other options.
2:15 Check out the photo Scot Nicol just sent me!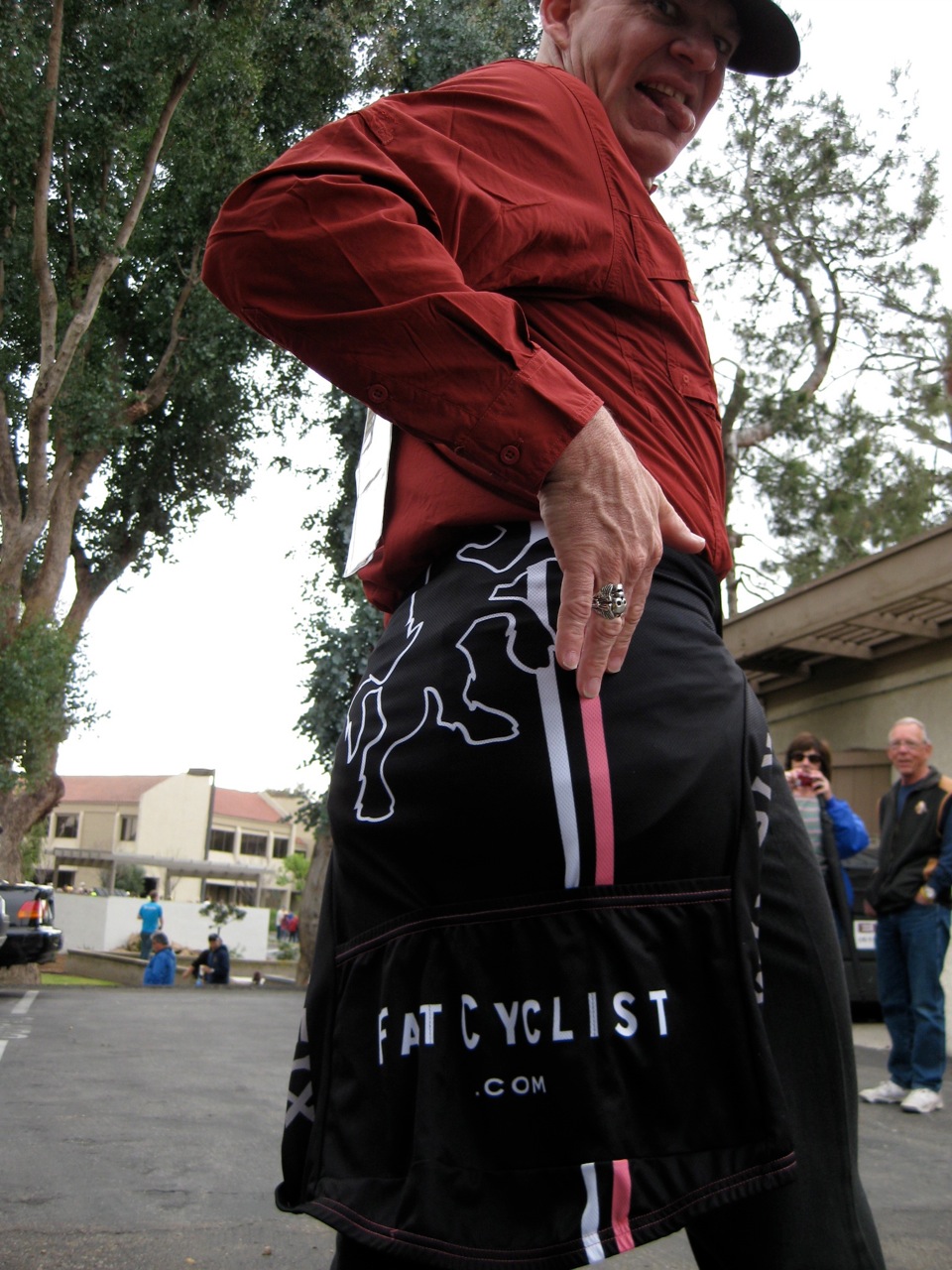 I love this. Love it love it love it.
And here's one of Scot and Bob together.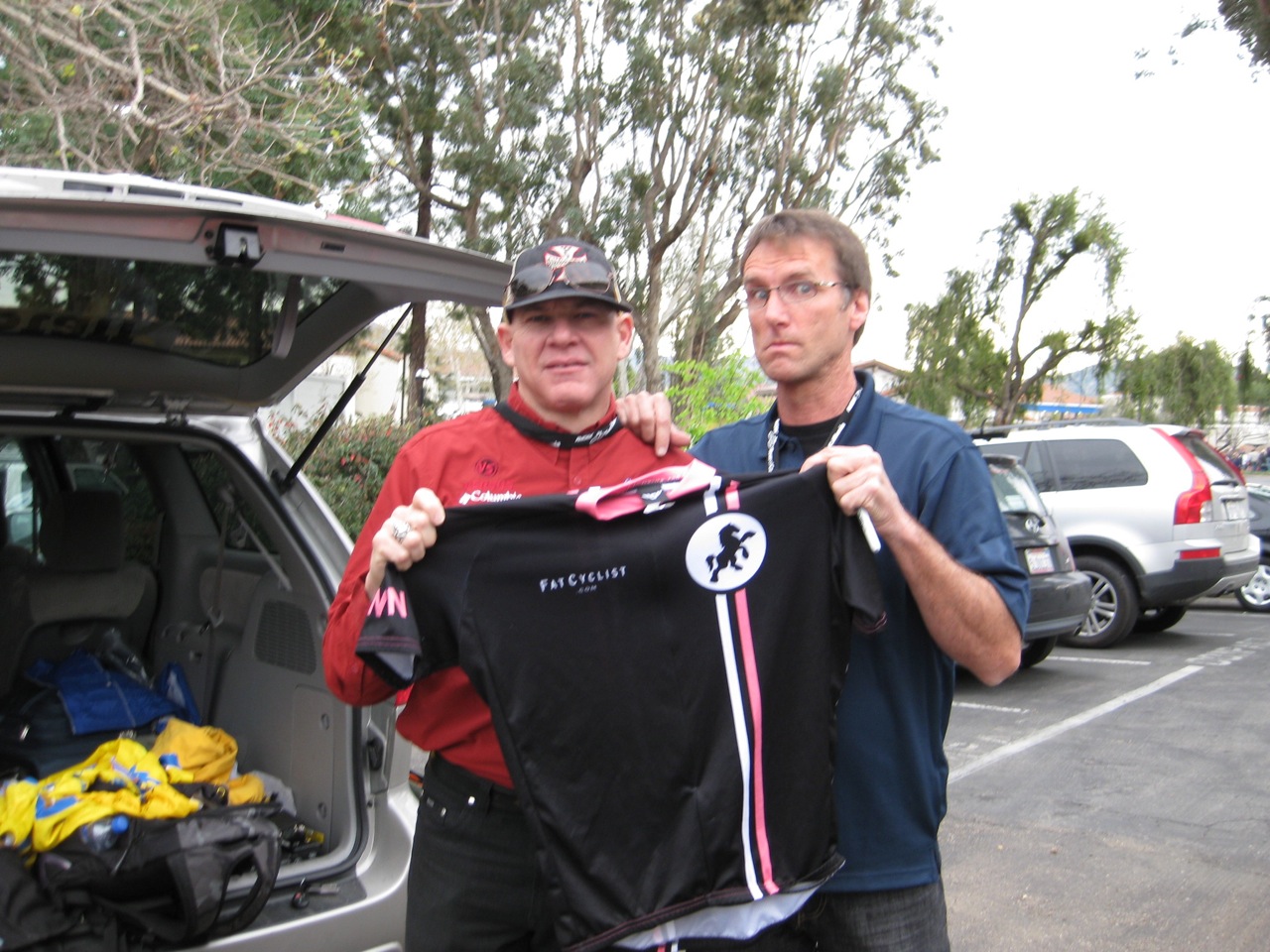 This seems like a good moment to mention that Bob's LiveStrong Fundraising page (http://austin09.livestrong.org/bobroll) has raised $8365 — way more than the $5000 we originally targeted.
I am incredibly pleased to have Bob Roll on Team Fatty.
Also, I need to give double-plus props to Scot Nicol of Ibis Cycles. While I've been sitting and writing here at home, Scot's been working his butt off and making this happen.
Chuck Ibis may be the clown prince of bike manufacturers, but he's got a heart of gold.
Thanks, Scot!
2:26 OK, we're now at the base of the big climb of the day.
2:28 The lead group is # Jason Mccartney (Team Saxo Bank), Serge Pauwels (Cervélo TestTeam), Ben Jacques-Maynes (Bissell Pro Cycling), Andy Schleck (Team Saxo Bank), Stef Clement (Rabobank), Carlos Barredo (Quick Step), Mathias Frank (BMC Racing Team) and has 1:20 over the peloton.
Has Schleck been in every single breakaway during this tour? Schleck is the new Vinokourov.
2:29 No implication meant by that, Andy.
2:30 The Palomar climb is about twelve miles long, with about 4300 feet of climbing.
This should be fun to watch.
Racers should summit just about the time Versus coverage begins. Sheesh.
2:32 And that reminds me, I should — once again — give big kudos to the folks who built and serve content to the Tour of California tracker on the web: http://tracker.amgentourofcalifornia.com/. It's got video (including the option to switch which camera you're looking at), textual play-by-play, a real-time topo chart, info on who's in the breakaways, and a course map. Speed, distance, everything's there.
Really, it's just incredible. I believe this was created by Adobe, in which case: Very nice work, Adobe!
2:37 Lead group has about 1:45 over the peloton and is working together.
Attack, darn you!
2:46 Needed to take a minute to help Susan move out to the family room so she can watch the TV coverage with me.
Did I miss anything?
2:47 The lead group has about 2:35 on the peloton.
Wasn't Floyd supposed to be making a big power play today?
2:49 Cavendish has begun riding backward. Rumor has it that he has lost interest in the climb.
2:50 The breakaway is riding a 6.x% degree climb at 13+ mph.
Wow.
2:51 A streaker wearing a big wig and nothing else is shown onscreen running up alongside the lead group. Frankie and Joe giggle.
2:52 1:45 gap.
2:54 I'm surprised at how un-attacky the lead group has been. Nobody's going to take a flyer?
2:55 Here are the folks leading the race. c/p CyclingNews: Jason Mccartney (Team Saxo Bank), Serge Pauwels (Cervélo TestTeam), Ben Jacques-Maynes (Bissell Pro Cycling), Andy Schleck (Team Saxo Bank), Stef Clement (Rabobank), Carlos Barredo (Quick Step), Mathias Frank (BMC Racing Team)
2:56 Barredo and Pawels lose the break.
2:57: Sevilla rides off the front of the peloton. Floyd's with him.
Frank Schleck, too.
3:00 If Al Maviva doesn't show up soon, he's going to incur a demerit.
3:01 That Sevilla / Schleck / Landis thing evidently didn't work out.
Try, try again?
3:02 Many people have asked me how I'm going to follow up the Shave Bob Roll's Head fundraising stunt.
Well, how much would you pay to have a chance at Craig Hummer and a dunk tank?
I'd pay quite a lot.
3:04 5K to the summit, with the leaders gapping the peloton by 1:10.
3:06 On the television, Paul and Phil are talking about the big climb today as if it weren't almost over. Which is to say, they're talking about the most important part of the stage, instead of showing it.
Sorry Versus, but you've got to learn to break format when something big's happening.
Now they're talking about Boonen and Armstrong, two complete non-players today.
3:09 Why look, I'm not talking about the race right now either. 'Course, nobody's really expecting me to deliver actual information.
3:10 Down to fewer than 5K left to the top of Palomar.
3:12 Leipheimer is no longer protected by his team. he's riding off the front of the Peloton with Rogers and Zabriskie.
Can they bridge?
3:13 We're at the first set of ads from Versus before they show any racing, and we're right at the end of the big climb.
3:14 If Leipheimer and Zabriskie were to try to bridge, I'd have a rough time typing, what with the whooping and hollering.
3:15 And Al has joined me! He was reluctant to leave the kitchen.
3:16 (Al) So Elden, seeing this is the world's greatest training race series, I haven't been paying close attention. I heard that cyclist chap, Lance Armstrong, may be making a comeback. Care to bring me up to speed?
3:20 Yeah, Al, I understand he's a promising young rider with a bright future.
3:23 Is it actually possible that Leipheimer and Zabriskie have bridged?
(Al) I tune into 20 minutes of the ATOC, and it's in the middle of the biggest hill in the whole race.
This is like Dracula walking into the supermarket only to stumble onto an enormous garlic sale right in front of the door.
3:24 Oh good. Ads! That's good, because I didn't want to see how the summit of the big climb works out.
3:25 (Al) I wonder if we get the same ads. I'm getting these ads for G4, which, near as I can figure, is run by a bunch of Intel interns on their lunch hour. Like it's the Gamer network or something. As if gamers would be watching television…
3:26 I get to watch the Castor Oil ad. And a hair-loss ad.
I have a suggestion. Go bald gracefully, live with it. Sheesh.
3:27 (Al) Hmmm… here's the rodeo. Tic tacs. An ad for McDonalds featuring distance runners. Motor oil with a Scotsman whipping the spokesman… Bosley hair replacement. Yeah, they got the cycling demographic nailed there.
Perfect. We saw ads while the leaders crossed the summit.
(Al) Now we're back in time for the helicopter to lose track of the leaders on the descent.
3:28 Really, an interview with Lance? Have they decided to not cover the race today?
(Al) Hey, there's an interview with Lance. Apparently he's racing again. Who knew?
3:29 (AL) I love the riders on Saxobank but that team name is just one excited Phil Liggett verbal slip away from getting the team banned in the middle east.
3:31? I'm getting a weird time distortion thing here. Is Versus on a time delay here?
(Al) Wife to me: "Was that a naked man chasing the pack up the hill?"
Me to wife: "I dunno. It wasn't anybody we know, was it?"
If you knew my friends, my "core group," you'd understand why that is a plausible question.
3:32 (AL) Time distortion? I know there's a 15-30 second gap between east and west coast network broadcasts. Kind of like a doomed breakaway in the last 5k.
Me: No, I mean that on Versus they're climbing. On the web, everyone's descending.
3:35 (Al) So has anybody on Versus mentioned that this is basically a training race for the BigBoyTour riders? That their season doesn't begin until la Primavera, Milan-San Remo?
ME: yeah, definitely a big time delay going on here. On Versus, Sevilla is just making his move — the one I talked about minutes ago.
AL: They probably have to run on time delay in case Bob Roll sees something exciting in his roving reporter position and starts dropping F-bombs.
3:36 Al I see Tim in comments says he'd like to see Jens derail the Astana team, for no apparent reason. Ironically enough, that's exactly why Jens usually launches an attack – no apparent reason.
AL: I respect Bobke's achievements; along with all the great riding, I respect him for strangling his internal censor and burying it in a shallow grave.
3:38 AL HBO could have an R-Rated series about cycling and call it "Fredwood." Bob could star as the Al Swearengen-type character.
3:40 OK, we're going to go with the Versus timeline for now, and I'll cope with my massive cognitive dissonance at a future time.
3:42 (Al) Man, isn't it sick seeing Astana taking charge on the hills? Having 1-2 riders to shepherd a guy is impressive, but when you have a 6 rider train, as if it was a bunch sprint up the hill…
3:43 (Al) You can climb Elden – at least your mini-me version can. Can you launch accelerations and punish your friends? Or are you a grinder like Leipheimer – no acceleration but capable of just steadily motoring up a hill?
Me: By way of answer, let me just say what my climbing chant is: "I am Ulrich."
3:45 OK, Zabriskie, Leipheimer, Schleck grinding up to the top.
I'm getting a weird sense of deja vu.
3:46 Al Knowing that a lot of these guys train together in the off-season, how many times in his career do you think Zabriskie has ridden up this particular hill on Leipheimer's wheel? Do you think they're getting to a point where Zabriskie is thinking, "I know he's going
3:46 to try something just up around this next turn…?
Of course knowing Zabriskie it's highly probable he's thinking about something totally random.
3:47 Phil's talking about "the slightly built Levi Leipheimer."
When you combine that with how his wife was comparing Levi to a chihuahua, Levi's going to get a complex.
3:49 Al I'm surprised he didn't call him "nearly bald Levi Leipheimer."
"Multiple riders are a threat to Levi Leipheimer." True, but in most races, Levi is the biggest threat to Levi. He seems to undo himself in the grand tours with exceedingly cautious riding; he doesn't seem to have the confidence to attack whe others are hurting and could be decisively dropped.
3:50 So where's Armstrong? Shouldn't he be launching Leipheimer?
3:51 (Al) Sherwen: "The reason [the Schlecks] are so good is because they will fight." By "fight," Sherwen means Andy and Frank will pedal harder. If either of them actually threw a punch, their upper bodies would probably shatter.
3:52 Hummer says Levi's showing no emotion, like Armstrong. Phil and Paul, in unison, say, "Uh, no."
3:53 Al: "Lance is looking comfortable." No he isn't, folks. Look at the face, that's the rictus of Lance's race face. He isn't in agony, but it's early in the season, he isn't all that fit yet, and it hurts to try to stick with guys who are superb natural climbers. If Lance was comfortable he'd be looking around and not glued to the rivet.
3:55 Al: "Jens Voigt snapping on the pedals up front just to remind you who's boss." That's why I love Phil.
3:56 Al The guy with the horns! The guy with the horns! The guy with the horns! He may be a schlub Cat 3, but he has a good start on becoming the Sidi Zenft of U.S. cycling. For what that's worth.
3:57 Incredibly narrow alley for the riders.
3:58 Annd we go to ads. I think it's pretty clear that Al types approximately three times as fast as I do.
What all of you readers don't see is that I'm only posting 20% of his comments.
Al: Hummer just asked a good question of Sherwen about whether Levi has done enough to win. That's a good good non-racer questions and teed things up nicely for Sherwen. Trautwig would never show humility and that's what grated worst.
If I was the producer I'd tell Hummer to ask lots of questions and stay humble. It would work to clue in the everyman, and make the tifosi happy by getting some technical discussions out into the open – kind of like how John Tesh is a halfway decent gymnastics commenter.
4:01 He is?
No way. It's Michael Ball. Says the man who has "F@K Off" printed on his team knickers, "We're not here to be arrogant.
4:02 (Al) Hummer didn't pay me to say that. I'm still suffering from PTSD – Post Trautwig Slavering Disorder. Every time Trautwig started his "I'm ignorant and you'll like it" routine I'd start screaming at the TV set. It was like Cosell, except without Cosell's intelligence or insight.
4:03 Annd we go to ads.
I never get sick of that unicycle ad. I want a unicycle.
4:05 (Al) I saw a Basso question. I won't speculate. I love the races and a lot of the racers but the prevalence of doping makes me suspect every fishy excuse for leaving a race. Funny how many guys drop out, even at the high amateur / low pro level, when the USADA guys. show up.
Al: You'd die if you had a unicycle. Or you'd have an excuse for a whole new blog where you make fun of yourself. "Fat Injured Unicyclist." I think it'd work.
ME: I am heading off to reserve the domain RIGHTNOW.
4:06 We're back! 4 guys up front, with a good-sized group (including Leipheimer) about a minute behind.
Annnd we go to Bob Roll. Hey, where'd that hair come from?
4:08 OK, so we've got a big descent left, with a bump of a climb in between.
I feel an anticlimactic conclusion coming.
4:12 Al's keyboard has melted and will return shortly. I mean Al, not his keyboard.
4:13 (Al) I like that Pepsi ad with Dylan and Tight Eyez. Nice re-working, reminds me a little of Kid Rock re-doing some rap songs – he usually goes a little krump too.
4:14 Nobody's told Hummer how to pronounce "Palmares" yet.
4:15 OK, at this point, apart from a massive pileup or a terrible case of ennui, is there any way Levi can lose this race?
4:16 (Al) Nice explanation of stage racing timing there. Mainly for the podium girls. The ATOC girls could almost give the Giro d'Italia podium girls a run for their money. Almost. But not quite.
Al: Dude, this is Levi you're talking about. Don't even say stuff like that.
4:17 I'm thinking of opening an account at Rabobank. Just so I have frequent excuses to say "Rabobank!"
Al Ad for Rabobank. Awesome. Safe. Secure. Growing. What I want to know is if they'll give a loan to help some people bail out from this loan they're way under water on.
They had no idea when they took it out that they'd have to repay the $6 trillion dollars. No idea whatsoever. Now they're looking for a re-fi.
4:19 Four leaders working on killing each other in the final climb of the day.
4:20 (Al) In comments: ~ where's Danielson? Um, I hate to break the news to you, but he's modeling his career on Levi's. He's not going to attack until he's 32.
4:21 Schleck and Nibali have shed the other two leaders.
I'm going on record as rooting for Schleck. But I'm not super excited about it.
Al: Andy Schleck – throwin' down. "Hey, check this out. You think you can climb? Let's dance, fatboys!"
4:23 (Al) Nibali could break away and win the race but the thing I'd remember would be him looking over at the Sumo suit, stunned like he'd been hit with a cattle prod.
Me: You know, I once got paid to wear a Sumo suit. At a trade show. That's a story for another day, though.
Although I will tease with the fact that I did actually wrestle people as part of my job.
And I was in my 30's.
4:26 Now might be a good time for me to mention that we're going to give away some very cool prizes to some randomly lucky people who donated to the Bob Roll LiveStrong page.
For example, today Bob Roll recorded outgoing voicemail messages for three of you. I haven't heard back from 2 of the 3 people who won this prize, so you might want to check your voicemail.
Oh yeah, I asked him to do one of those messages for me, too.
It's not too late to donate and maybe win some other cool prizes. Click here to donate to the Shave Bob's Head LiveStrong Challenge page
4:32 Al: Nibali and Schleck aren't any GC danger right now – Nibali is 2:21 down on Leipheimer and Andy Schleck is down 19:00.
4:33 You know, Versus is not doing a great job of clueing us in as to where everyone is in relation to each other. How far ahead is the lead group? We don't know from the TV, and I can't check on the web because of the time delay.
4:34 Al: So it's not too soon to talk about looking forward. Show of hands – who is really interested to see how Lance does in the Giro?
Me: I am. A lot. Can we get the same people who did the ToC Tracker do a website for the Giro?
Al: The Giro is the racers & hardcore tifosi's grand tour – the promoter isn't tradition bounds so you see crazy stages (25% grades, dirt road mountain climbs) and fans that bleed love for the race.
Me: I don't bleed love, but I DO ooze. I'm oozing right now. Going to go fetch a paper towel to clean it up.
Al: I know he was always about the TdF but it makes me a little sad he didn't give himself the chance to enjoy the Giro before now. The Italians and their love of roadracing… it's like the forklift and the fiat, Luigi and Guido in "Cars."
Me: I can't believe you know the name of the characters in that movie. That was the only lame Pixar movie. How did it get made? The whole thing looked like a Chevron ad.
4:38 Al: In comments – BigBoned says "My prediction is that Lance abandons at the Giro…" I disagree. He's always trained for the TdF by doing mountain repeats, and the first and last week are just that. Plus the speeds between mountains are lower in the Giro. They ride a lot of "piano" and then ride really hard on the hills. Different tempo than the TdF.
Me: Lance won't abandon the Giro. I think he'll podium.
4:41 Al: I liked Cars. It said a lot of important things about preserving the good parts of the past, community, etc. Plus I was hot for the Porsche. Didn't she play Al Bundy's wife in Married with Children?
4:42 This stage should have ended half an hour ago. Kind of a lame end to what's been a very exciting race.
Al: You're right about needing a mountain top finish. It looks like the organizers have tried to make it really friendly for casual spectators, hence the in-town finishes and no mountain top. Palomar pretty much begs for it, no?
Al: I liked Cars. It said a lot of important things about preserving the good parts of the past, community, etc. Plus I was hot for the Porsche. Didn't she play Al Bundy's wife in Married with Children?
Me: OK, I'm going to go on record as having overreacted re: Cars. However, it was strictly OK, as opposed to fantastic. It's hard to even believe that the same people that made Wall-e also made Cars.
And it also goes to show how exciting this stage is that we're now talking about the relative merits of animated movies.
4:46 We go to ads with Nibali and Schleck ahead of the Peloton.
I will personally buy any racer who shakes this thing up a pizza.
4:47 Al: The gap between domestic pros and the BigBoyTour is really clear right now. Take a look at the finishing order of the GC and the stage today. As of yesterday, the closest the true domestic teams are getting to the GC podium is Jelly Belly domestic pros, Reistad and Reijnen, in 13th and 14th. BMC doesn't count as purely domestic any more, nor does Rock Racing with its roster of many old ProTour pros.
Me: Sure, but the racing has been a lot of fun to follow.
4:50 Hummer observes that the riders were going a lot slower when they were climbing than when they descend.
Thanks for the beta, Craig.
4:53 (Al): I like the scenery but now that they're into Escondido…
Al: Lay offa Craig, willya? He's trying which is about 200% more than Trautwig ever did. And then some.
I'd like to see something for the TdF where Bob Roll takes Hummer out drinking, and generally causes a ruckus, Bobke style. It has enormous "odd couple" appeal.
Maybe Bobke goes riding bikes with Hummer… it would be nice filler for the flat TdF stages – Bobke killing Hummer on Alpe d'Huez, for instance…
4:56 Just six miles to go. Schleck and Nibali about one minute ahead of the peloton.
So, in the absence of a catastrophe, Levi will win the Tour.
So, let's consider what it would take for Levi to lose.
Wrong turn!
Serious and very sudden gastric distress due to bad sushi distributed by a malicious fan!
Body check by the entire Rock Racing Team, under the direction of Michael Ball
Spontaneous combustion!
Al: Well hey, I have to sign off for the evening. It's been great fun, but I have to go cook some dinner. Thanks for the chance to liveblog Elden and to interact with your tifosi.
Me: Thanks, Al. Enjoy your buffalo schnitzel.
5:02 Schleck comes around Nibali and kills the stage. Very nice.
Levi wins the tour.
He couldn't have done it without me.
OK, maybe he could have.
5:06 That's it for me. Thanks for reading what has been my wordiest week ever!