A Note from Fatty to Locals Who Don't Want to Lose Their Fitness and Get Fat Over The Winter This Year: Every year, I work so hard to get in shape during the Spring and Summer. And every year, I completely lose it during the Autumn and Winter.
I'm sick of this, and plan to do something about it this year. 
Specifically, among other things (which I'm going to be talking about in this blog), I've joined Plan 7 House of Watts. Starting in November, The Hammer and I are going to be going to the Orem SBR on Tuesdays and Thursdays for the 5:30pm training sessions. Our intention is to come out of this Winter faster and fitter than we've ever been, and Coach Dave Harward says he's going to make that happen.
You should join us. Seriously, you should. 
On August 9, The Hammer and I raced the Leadville 100 (we've written a little bit about that event).
The following Saturday (August 16), we raced the Jordanelle Triathlon. 
Then we had a week off. Because, you know: recovery.
Then — on August 31 — it was time for Rebecca's Private Idaho — Rebecca Rusch's eponymous 90+ mile gravel grinder.
Because, evidently, The Hammer and I had not had enough racing yet.
And yes, I want to emphasize this point: we did in fact plan to race this thing. You see, unlike in 2013 — where I was careful to call my writeup (part 1, part 2, part 3) a ride report — The Hammer and I had an objective: to get her on the podium. And to do the race considerably faster than in the 6:37 we had done it in 2013. 
But first, we had some business to attend to. 
Clown business.
The Power of a Wig
Rebecca's Private Idaho is timed to coincide with a big western celebration — called "Wagon Days" in Sun Valley, Idaho. The centerpiece of this a parade, described as the largest non-motorized parade in the country.
I have not verified whether this is accurate. Let's just trust them on it.
There are lots of entries that look like this: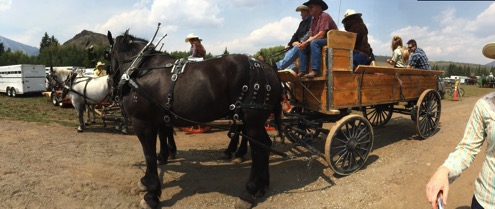 Like last year, Rebecca's Private Idaho was invited to be a part of the parade, making it the first bicycle-powered entry ever in the parade. And like last year, Rebecca used her entry to publicize World Bicycle Relief.
Why? Because Rebecca is awesome. And so is WBR.
Robbie Ventura — shown below here on the right — was there in support of Reba, her parade, and all that's good in the world: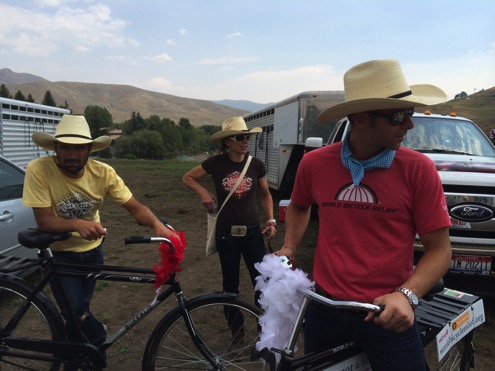 Also like last year, The Hammer and I were invited to come be a part of the parade. The Hammer dressed the part, wearing her WBR jersey: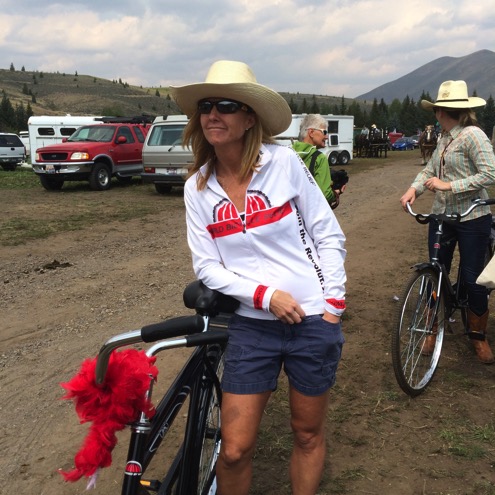 Having learned my lesson from the previous year (when I did not bring any costume elements at all), this time I came prepared. 
Specifically, I wore bright orange compression socks and bright orange Altra Paradigms: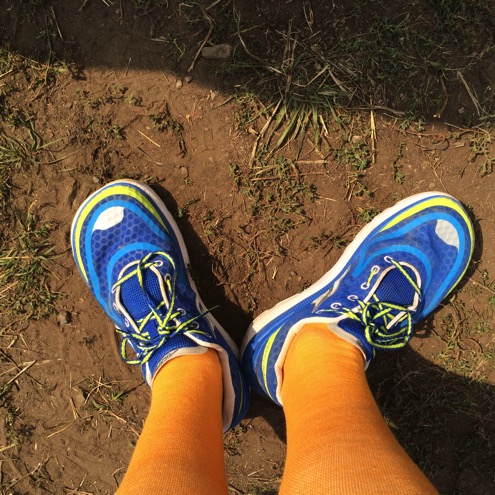 Even more importantly, however, I brought this wig: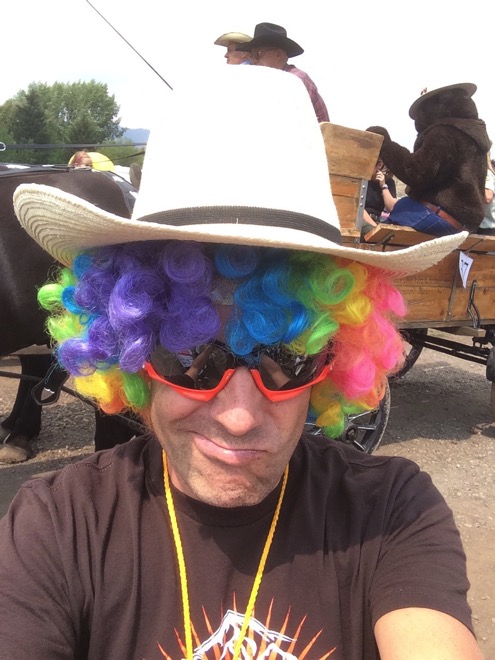 Yeah yeah. I know, it's hard to recognize me, what with me having hair and all. And I'm doing my best to make a wry face and all.
But here's the thing: That wig gave me superpowers. Clown superpowers.
As soon as the parade started, I was running up and down the street, laughing and shouting. Jumping and clicking my heels.
Dancing. Yes dancing in the street to the tunes the marching band in front of us played.
I had a giant stack of World Bicycle Relief stickers in hand, and anytime I saw a child I would run over and make sure she or he had one. "Stick this on your bike!" I'd yell. "Or your parents' bumper! Or their fridge! Or their windshield!" I'd say.
I was laughing and clapping. I was honking the plastic horn someone had given me. I was staring and pointing in mock horror whenever the camels (in the group behind us) got too close. 
I was not trying to be this way. I was simply being this way. Everyone in our group looked at me in wonder. This is not who I am. Sure, it's how I write, but in real life I'm pretty low key.
But not during the parade.
Some people need a drink to loosen up and become silly.
Evidently, I just need a wig.