A Note From Fatty:  You'll want to be sure to come visit the site this upcoming Monday and Tuesday.
Monday, I'll be posting about a new partner I have for my World Bicycle Relief fundraising. I think you're going to be as excited about them as I am.
And then on Tuesday, I'm going to launch a contest for World Bicycle Relief. There's going to be a few things you'd expect, and some you don't. And I think you're going to want to participate.
As a hint, you may want to score yourself some of the 2015 Fat Cyclist gear. Cuz if you do, you'll already be entered for something I'm pretty sure you're going to want to win.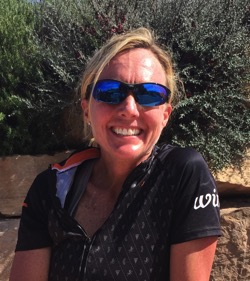 For each of the past sixteen years, I have committed myself to running the Moab Canyonlands Half Marathon. It was the first race I had ever competed in; it held a very special place in my heart. Over the years, many memories have been forged with my kids as they cheered me on at the race, then as we continued on for the weekend exploring Arches National Park.
This race has also motivated Blake, Melisa and Brice to enter and complete the accompanying five mile race.
This year, however, I was ready for a change.
I have several other running goals this spring, so repeating a race that I had done so many times seemed redundant. So what could I do instead on a beautiful weekend in the Spring? Something new and challenging on the mountain bike seemed like an excellent idea, especially since I knew I wouldn't be able to ride the 6 hours of Frog Hollow race this year because I had decided to run the Boston Marathon with some friends.
So…how about The True Grit Epic?
Trepidation and Preparation
The True Grit had always seemed like a race that was "a little" (by which I mean, "a lot") out of my league. After all, this race includes the dreaded "Zen" course.
Why do I say "dreaded?" Because I am not a real mountain biker. Sure, I can turn the pedals all day and climb whatever is ahead of me, but I am not technically savvy, nor am I  good at maneuvering over rock obstacles…especially down hairy descents!
The fact that the Zen trail is conveniently located in Heather and Kenny's backyard, yet Elden had never suggested we ride it, says a lot. Specifically, it meant Elden was scared to take me out on the Zen trail. Why scared? Because he was worried I wouldn't like it…and when I don't like something, I tend to get grumpy…and nobody likes to be around me when I'm grumpy! (Believe it or not, I don't always have a smile on my face.)
So on a beautiful weekend in January, Elden and I downloaded the GPX of Zen onto our Garmins and headed out. Elden and I are both horrible with directions, but we were surprised to find that we could easily follow the Garmin's directions. We slowly rode Zen…and I was pleased to find it wasn't nearly as bad as I was worried it would be. In fact, I rather enjoyed myself! (I didn't get even the least bit grumpy.)
That said, I think it took us about 2.5 hours to do twelve miles. That was a cause for concern; since Zen is only a small part of True Grit, we were looking at having a very…long…day.
Kenny suggested we come back in February and ride the whole course during Lynda Wallenfel's training camp. I liked that idea; there's nothing like pre-riding a race course to boost your confidence.
The LW training camp turned out to be an excellent idea! I never saw Lynda,  but the True Grit race director, Cimarron Chacon, was at the starting line, giving out advice and directions.
Thanks to Kenny's patience in waiting for me, I had an excellent day, learning  a lot about the course and how I was going to need to pace myself: the first half of the race was technical and slow moving, but the second half was fast…and fun!
I left the camp feeling confident. I knew I was going to be able to complete the race, as long as I stayed safe. Taking the technical moves of Zen too fast could result in my season coming to a quick, painful end…and I want none of that.
The Starting Line, The Early Miles
The race started on time with the pro men and women leaving at 0900. After rushing to find a parking place for the truck, Elden made it back in time for his 0907 departure. I felt bad for him; I could tell he was stressed. Not a great way to start a race!
As I waited for my wave to leave, I looked around, checking out my competition.
Heather was next to me, looking terrified. I've started races with her before — every year at the Rockwell Relay — she always looks this way at starting lines! I may get stressed, but Heather takes it to a new level.
Next, I assess Sally F: a woman with massive calves and biceps: she is a women to be taken seriously. 
Meanwhile, the woman next to me (I'll call her "Poot," even though it's not her real name…but it is what she calls herself on Strava!) is chatting up a storm. She's from Boulder she says, and hasn't been on her mountain bike at all this year. She's ridden Zen only once, and that was yesterday.
She continued talking, but I wasn't hearing much. At starting lines, I don't like to talk much; I actually have a hard time processing anything. Then the gun went off (Or was it Cimarron just saying "go?" I really don't remember) and I started pedaling.
The race starts with a mile of pavement, which then turns to dirt and quickly sends you uphill. Poot took off at a super fast pace. As we hit the dirt, I watched her disappear quickly from view. I thought to myself, "Poot is going to win this race. My only hope of seeing her again is if her endurance isn't as good as mine." I reminded myself: fifty miles is a long way, especially for an early season race.
I hit the first climb of the day, my legs heavy. Maybe it hadn't been such a good idea to run nine miles two days earlier. "Ugh," I thought, "This is going to be a long day." I crested the first hill, maintaining my postion in the pack. That, however, fell apart as we started the first descent.
I really suck at descending.
We were descending on a wide dirt road, me trying to hug the right line, watching rider after rider pass me. I felt nervous and panicky. "How do these people go so fast?" I asked myself.
Then — like a streak of lightning — Heather passed me, with two girls hot on her tail. "There goes half  the women's field, passing me within three miles of the start," I thought.
I was a little demoralized.
Just Racing Along
I pedaled along, thought, I decided: I had nothing to be sad about! After all, it was a beautiful day with unbelievably nice weather for the early season…and I was out racing!
"I don't have to be the fastest to have fun," I thought to myself. "This course is not suited to my abilities. I just need to enjoy myself."
It worked.
My confidence in descending started to improve, and there were more than a few little climbs to help me feel good about myself. My legs seem to be waking up, too.
I crested a hill and caught Heather and another woman rider — who had velcroed herself to Heather's rear wheel. I "woo-hoo"-ed Heather and told her she was doing amazing. Heather looked flabbergasted at seeing me — where had I come from? She hadn't realized she had passed me early on during a fast descent.
We chatted briefly, with me doing most of the talking. I told Heather that I must be doing extremely well to be up with her. My goal, I told her, was to keep her in sight  the entire day.
I knew that wouldn't be easy; this is Heather's backyard, and she is an amazingly fast and accomplished technical downhiller. I knew Heather would  drop me on each descent; if I could re-catch her on the climbs, I would be having an amazing race! And then Heather and her "attachment" were gone — and out of view — as we started the next descent.
For the next ten miles we played this game of leapfrog. And it was a really fun game! I loved seeing Heather and would yell words of encouragement to her whenever I saw her. I don't know how much she loved seeing me…but it's all about me, anyways.
Right?
Zen
There was a long fast descent into the Zen aid station, which we'd access twice: once when we started Zen, and again when we finished the loop.  Heather and her "attachment" had long since disappeared. I stopped and drank some Coke. My camelback still had water in it, so I quickly left; I knew I had a mile-long climb on singletrack to the overlook of Zen.
After the overlook, the technical stuff begins: hairy descents, followed by hairy climbs. Rinse and repeat!
I climbed for about a tenth of a mile by myself before I caught up with a string of slow-moving riders. It was a familiar pattern (i.e., it had been happening for ten-plus miles): I would get stuck behind a line of riders on climbs, but if I passed them, I knew they would be passing me again…as soon as the trail turned downhill.
It was frustrating, and I had a lot of pent up-energy that needed to be released.
I pulled up behind the last rider in the train, noticing "SBR" written across his shorts; I had caught up with one of the guys (Rich) that was staying at the same house I was. Cory and Lynette Borup are our good friends, as well as owners of the triathlon store SBR (swim, bike, run). They own a second house in St George  we frequently stay in during our winter weekend excursions to find warm weather. It's nice having rich friends!
I sat back and listened to Rich talk…incessantly! I thought, "If he would turn off the motor running his mouth and use it to turn the pedals, he could win races."
Finally, he took a break in his monologue and I jumped in with a friendly "Hello!" He had had no clue I was back there, much less that I had been back there for a few minutes.
I let him know it was "just Lisa," and that I would love to pass whenever he had a chance. You see, I could see Heather and her "attachment" a few switchbacks ahead of me…and I really wanted to catch her before the descent.
Rich and his entourage — a group of three from SBR riding the race together — quickly complied, moving behind me. Which is where they stayed for the rest of the Zen trail, making the Zen loop really fun. They weren't chomping at the bit to pass me on the descents, and kept a decent distance behind me. It was awesome, being literally surrounded by a group of friends as we traversed the difficult Zen trail!
Meanwhile, Heather and her "attachment" were ahead by a few riders, but I managed to keep them in sight. As we crested the top of the climb on a wide trail, we merged onto singletrack, where I knew the "real" descent was starting.
As I was a few riders back from Heather, I watched an interesting story unfold in front of me…and I couldn't help but comment.
You see, I saw a male rider see Heather approaching the singletrack, then sprint to get ahead of her before she reached it. I couldn't believe my eyes: so typical of a man, trying to get ahead of a woman so as not to be "stuck" behind her.
But he obviously had no clue whom he had pulled in front of, so I took it upon myself to inform him: "You better be fast if you cut in front of Heather! She is a dang fast descender!" I yelled.
"Are you fast?" Heather asked. He said he was.
Then, moments later, I heard her say, as as she was hugging his wheel on the descent, "Dude, I thought you said you were fast!"
It was poetic.
Needless to say, when we came to the next climb, I noticed Heather was now in front of the male rider.
Toward the end of the Zen loop, we passed my friend Lynette, who had come out to the trail to cheer us on. It's always uplifting to see a friend.
I was still moving along well with SBR riders, but had long since lost Heather on the technical descent. I hoped I could catch her on the next long climb leading to Bearclaw.
I went around the next rock and…there was Heather! But things weren't going well for her. In fact, she was at the side of the trail fixing a flat.
Bummer.
She had been riding exceptionally strong and I had been having a blast trying to keep up with her. I yelled that Lynette was right around the corner and could at least offer moral support. Heather said she was disappointed, but confident she had the situation under control. I thought about how amazing she is; if I had flatted, I'd be a basket case without Elden to take care of me.
Lisa Saves a Life
As I pulled into the Zen aid station, It was a reunion of sorts. I saw Kurt from my Plan7 bike class. He was riding strong, but looked a little tired. I also got to say thanks to my SBR buddies for making the Zen loop so fun. Finally, I was celebrating because I had not wrecked: I had made it through Zen without a mishap, and I even had fun!
I refilled my Camelbak and headed up the Bearclaw climb. "This is the stuff I shine on," I thought to myself, as I started what I considered the second half of the race.
I felt amazing. My legs were alive, my energy levels were soaring. And I really need to thank GU for that! I cannot say enough about Roctane and GU packs! I love how they taste, and I love how they make me feel.
As I turned on the turbo blasters on this mile-long, non-technical climb, I came upon a guy barely staying atop his bike. He was barely turning the cranks. He looked miserable. As I slowed and pulled alongside him, I asked if he was OK.
He replied, emphatically, "No." He was suffering from terrible leg cramps. I asked bluntly if he had taken any "pills." (I didn't say "electrolyte pills," just "pills.")
Again, he muttered, "no."
"Well, you need some, and I have some," I said. So I stopped pulled out my flip top canister of Roctane Electrolyte Capsules and filled his hand full of them. I simply said, "Swallow these and you will fill better in about ten minutes."
And then I was gone.
As I was riding away, I thought of that weird conversation. Would I have swallowed a handful of pills if someone told me to? It is a thought to ponder!
Unlike Elden — who had a weirdly similar experience during the same race and wondered the same question afterward — I am unaware if I saved his life, or his race. For all I know, he called me crazy and threw down my pills as I rode away. But in my mind's eye, I had just done a good deed; good karma would be shining on me.
Bearclaw / Poppy: Not Just Pastries
At the top of the climb, I saw Heather's "attachment"…though she was no longer riding attached to Heather's wheel. And I had almost caught her! She  started the descent down Bearclaw mere seconds before me. There were two men also starting the descent with me.
Bearclaw starts with the infamous "Three Finger Drop" — three very steep, sketchy lines, all of which look scary. I do not go over any of the 3 fingers, instead taking the long way around. Obviously this takes a little longer, but is much safer.
The two men, on the other hand, had taken the "Three Fingers" line, and had gotten ahead of me. As I caught up with them, they were very considerate and offered to let me pass them. I declined; I do much better if I have someone's wheel to follow.
They were a little slow on the flat section after the Fingers, and I could see "the attachment" pulling away. I yelled to the two riders I was following that it was their job to "bridge" me to girl in front of them.
As we started the next flowing rollercoaster section of the trail, I knew I had made a good choice to stay behind these guys. They seemed to be moving slightly faster than I would by myself, and they seemed to know the right line down the descent!
I think Bearclaw / Poppy is the best, funnest descent in Utah; I had a blast! 
As the trail flattened out toward the end of this section of the trail, I could see the "attachment" again. I yelled to the two riders that they were not doing a good job bridging the gap…and could I please pass? They laughed and quickly pulled over.
Catch and Pass
I really don't remember very well what happened next. I do remember that I knew if I was to have any chance of getting in front of this girl, it had to be now on the Stucki Springs climb.
Stucki Springs is a five-mile-long, gradual climb. Nothing technical…just very long. That made it different than every other climb to this point; they had all been relatively short.
We were twenty-six miles into the race, and I was hoping "The Attachment" (as I still called her in my head) was tired.
TrainerRoad and Plan7, the two training programs I have been following all winter, have taught me to spin faster, at a lighter gearing. It is supposed to use more of my lungs and save my leg strength. It took a while to retrain myself to spin fast. I was using this new technique and it seemed to be working. My legs and my lungs felt great and I was flying!
I kept turning the cranks fast, feeling fast. Feeling invincible. The longer the race, the better I do.
I passed "The Attachment" and told her I'd see her on the next descent (but was secretly hoping I wouldn't see her until the finish line). I whizzed on.
The racers had spread out; we were no longer riding in trains. I would see a single rider, catch him, then pass him. I played that game for all five miles of the climb. Then as I approached mile 30 of the race, I could see a rider in orange.
Could that be Poot, from the starting line?
I dug deep and caught her. Sure enough it was Poot. I said something about how happy I was to finally catch her, even if it had taken me thirty miles to do it.
In response, she made a noise.
The trail had turned into a short descent, and she motioned for me to pass. I declined, saying she probably had far superior descending skills than mine.
As we slowly descended the trail I knew something wasn't going too well for Poot. She looked a little….ill. I passed her and wished her well. She didn't have much to say in return. Not every race goes the way you want: Heather with a flat tire, Poot feeling ill.
But sometimes you do have good luck, and I was relishing the fact that I was having a banner ride. I hoped that my luck would continue. I reached the top of the Stucki Springs climb. I rolled over the top and started the descent behind a fellow rider.
During my pre-ride of this section back in February, Kenny, Brad and Elden started in front of me and within literally seconds they were gone…completely gone. I couldn't even see them in the distance. It had been a little disheartening. I know I am slower on descents when I'm by myself. I spend too much time worrying about the line I should be following. If I could hang with this guy in front of me and watch his back wheel and not the trail, I might do better. I had to do better…..Poot and "The Attachment" were just minutes — maybe seconds — behind me!
To my relief, I was able to hang with this rider and I had a ball! We were flying, and I wasn't even scared. I was feeling relaxed and enjoying myself. At the finish line, I found out that the rider was Larry Tucker, a friend of Fatty. I hate to say it, but all cyclists look the same to me from behind. Sorry for not recognizing you Larry, but thanks for the awesome pull down the road!
Rim Runner / Barrel Roll
After the descent we headed out on the Rim Runner loop: a fun switchbacked climb, followed by a fun, flowing descent. The loop is fairly short; I think it took about ten or fifteen minutes to do. As I exited the loop, I was able to look up at the switchback climb and could see "The Attachment" making her way up the trail. "Phew," I thought, "I have about a ten-minute lead on her as I go into the last section of the race (Barrel Roll)…but I have no idea where Poot is."
I couldn't let up now. I still needed to ride as fast as I could.
The Barrel Roll aid station was like the Zen aid station in that we would go through it twice: once on the way into the loop, and again when we exited.
I decided to take a Coke break, but made the executive decision to not fill my Camelbak. I was sure I had enough water in it. The problem with Camelbaks, though, is that you never know you're out 'til nothing comes out. So at the last second, I grabbed a water bottle and stuck it in my bike frame.
While I was taking care of this, Kenny came barreling through the Barrel aid station. He was flying! "Wow!" I thought, "He is almost done racing!" Kenny just had a 3-4 mile descent down to the finish line. I have to admit I was a little jealous. 
I wasn't sure how long the Barrel Roll loop was going to take me. Forty-five minutes? Sixty? I was still feeling good, and was hoping that trend would continue.
I caught up with a rider who was going at a really good pace. He might have been a little slower than I would have gone, but it would keep me in check; I settled in and followed.
I often wonder if this pisses people off.
He eventually asked if I wanted to pass; I declined. I knew he would leave on the descent…and he did.
Snake!
You know you're tired and low on blood sugar when you look down and see…a big fat snake curled up at the side of the trail! You gasp! Your adrenaline surges, you brake hard!
Then you realize the snake is not a snake…just a big rock. This happened twice to me on the pre-ride back in February, and now it was happening again.
"So weird," I thought. "I honestly thought it was a snake!"
Eventually I came to what I thought (and hoped) was the top of the Barrel Roll loop. All I needed to do now was hang on for a pretty technical descent.
But I was wrong.
For some reason the trail would descend…then climb again. This viscious cycle repeated many times. The day was definitely warming up. I was really glad I had grabbed the extra water bottle at the aid station, because I found out pretty quickly that the Camelbak was empty.
Eventually, the aid station came into view. I decided I didn't need to stop, because — as I had learned during the pre-ride earlier this year — it really was all downhill to the finish. I gritted my teeth and descended as fast as I possibly could.
I really had no idea what place I was in, but I didn't want whatever it was stolen from me now.
My day and my ride had been perfect. I had a blast and had not injured myself.  I crossed the finish line and was greeted with a huge sweaty hug from Elden.
Kenny and Heather were also there. Which made me confused — I had passed her, shouldn't she still be out on the course?
No, unfortunately she had ripped the sidewall on a tire; her race had come to a quick end. Such a bummer. 
But for me: what a fantastic and fun ride. As I rehydrated myself, Elden could hardly wait to tell me the story about how he had save a guy's life! I laughed and said I had saved a guy's life too!
Podium Interruptus
I ended up winning the sport women division (which is all the women except the pros). I was really proud of my accomplishment…but embarrassed by the way the podium was announced.
You see, somehow they forgot about me.
After the race, Elden had gone up to the timers, and they assured him they had me listed with a finishing time. But somehow that wasn't passed onto the race director. Cimarron called out the podium and I watched as all the women I had passed during the race climbed up onto the podium.
So I had to walk up — in front of everyone, including the poor girls who were standing on the podium, getting photographed and holding trophies— and tell her that her podium was wrong and that I had won!
I was mortified, both for myself and especially for the girl who had been on the third-place spot and would now be moved off the podium! (That cute girl was Sally F.; I actually saw her at Corner Canyon a few days after the race and  apologized profusely. She was very kind and a good sport!)
Second place went to Poot, and third to the woman I had been calling "The Attachment," who of course actually has a name: Jeanette!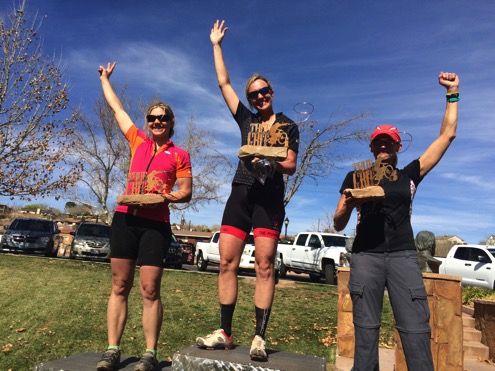 Congrats to all the riders that day. True Grit is a great race and a really fun ride! And kudos to Cimarron, the race director, for beautiful trail markings and a great post-race feast!