For some reason, today I found myself in a nostalgic mood, thinking back to the bike I raced my tenth Leadville 100 in back in 2006, when this blog was young, which I called The Weapon of Choice.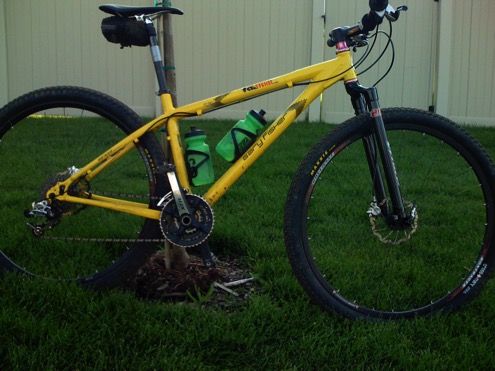 It was an aluminum Gary Fisher Paragon, heavily-modified—I pretty much replaced everything, making it as light as possible.
Back then, "as light as possible" was 22.5 pounds. I would finish this race in a disappointing 10:06, in spite of the fact that I was the lightest I had been in my adult life (154 pounds). Not that 10:06 is an objectively bad time. I had just thought I was a lock for sub-9.
Eventually, I'd get that sub-9. But not on that bike. Nor the next. Nor the next. Nor the next.
Each time I get a new bike, I am sure that this is going to be the bike that makes the difference. The one that really makes me fast and capable. And so I have justified my new bike addiction with a ridiculous number of bikes.
You know that "N+1" cliche? The one that says something along the lines of "The number of bikes a cyclist needs is N+1, where N is the cyclist's current number of bikes."
Well, that gag doesn't even start to work with me, because it's rare that I don't have at least two bikes I'm planning out. And it's usually closer to three or four: a road bike, a geared mountain bike, a singlespeed mountain bike, and something for The Hammer.
I am not joking. Not even a little bit. 
The result is a garage that looks like this: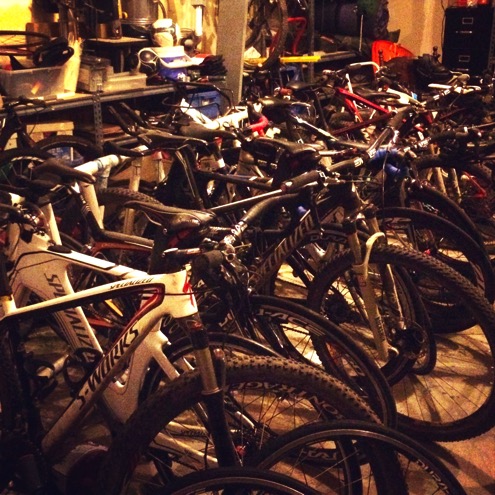 How many bikes is that? I have no idea. I will say, though, that this doesn't represent all the bikes I've owned in recent memory, because I tend to be pretty free with my bike loans to friends. Dug's got my old Waltworks. Kenny's got my Specialized TriCross. 
And how many have there been that have come before? Good question.
In truth, I I'm not sure I can even remember how many bikes I've had since I've started riding seriously. Clearly, I've got a problem.
But let me take a swing at it. Order isn't strictly chronological or anything, because that would be too overwhelming, to be honest.
The bikes up 'to 2007: Bridgestone MB5, Specialized Stumpjumpoer M2, Ibis Steel Mojo, Ibis Bow Ti, Ibis Ti Mojo, Fisher Paragon, Bianchi ??? (low-end road bike: Campionissimo?), Ibis road Ti, Gary Fisher Sugar 2, Gary Fisher Sugar 1. I'm cheating here, because I did a post in 2007 listing my bikes up to that point. 
Lemond ???: I owned a Lemond road bike very briefly after my Ibis Road Ti died. Honestly, I recall it only very vaguely.
Ibis Silk Carbon: This was my road bike 'til I got the Orbea with the Di2. But I still have this, and have converted it into my singlespeed road bike.
Lemond Fillmore: A steel singlespeed road bike. Incredibly heavy, incredibly inexpensive. I gave it away in a fundraiser when I converted my Ibis Silk Carbon to a singlespeed.
Bianchi Pista: When I lived in Washington, I rode by the Marymoor velodrome on my way to work every day. I bought the Pista with the hope of starting to race track. But then I moved and gave the Pista away as part of a fundraiser.
Fisher Paragon: A light-for-its-time aluminum 29er. Finally sold it locally.
Dahon Flo: The first bike I ever got as a perk for being a blogger. Eventually it became the bike I used to pull trailers and tagalong bikes. Now that my kids are all grown up, I finally sold it.
Gary Fisher Superfly: My first carbon bike. The frame cracked, so it was also my second carbon bike. I still have this; The Hammer rode it for a couple years and now The Swimmer rides it.
Matt Chester Dinglespeed: Back before I started this blog, I had a website called "Epic Rides," where I wrote about my long rides and invited others to do the same. Matt Chester contributed and eventually I built a website for him when he started building bikes for a living. He built me this really cool dinglespeed (double singlespeed) titanium bike, but I got it before I really understood or had the strength for singlespeeding. I still have the bike, though, and think maybe it's time I get it conditioned and give it another try. I've lost touch with Matt and wish I hadn't. I hope he's doing great.
Gary Fisher Superfly Singlespeed: This was a hard bike to get ahold of when it first came out; it was not sold at retail. I sold this when I got the next year's version. I wish I wouldn't have. 
Gary Fisher Superfly Singlespeed 2nd Year: This bike was a mix of awesome and tragic. The good folks at Gary Fisher did a custom paint job for me. Unfortunately, the swinging dropout is notoriously slippery and won't stay put. I still have this bike and will never sell it, but I don't ride it (in part because of the dropout, but mostly because the frame is too awesome).
Waltworks SS: A cool singlespeed custom-decaled by Twin Six. the frame cracked and has been repaired, and I let Dug's son ride it 'til he outgrew it. I think Dug has cannibalized it for parts on other bikes now.
Some Cheesy Tandem: I bought a super-cheap tandem for a few hundred bucks. It's a terrible, Walmart-quality bike that was fun for some laughs but now sits rusting in the backyard.
Orbea Orca: A gorgeous carbon road bike, outfitted with the then-brand-new Shimano Di2. I still own this bike; it lives in Austin and I ride it when I am at the office there.
Gary Fisher Superfly 100: I wanted to see how I felt riding a full suspension carbon cross country racer. I never really fell in love with it though, and it sat around mostly unused for years. I finally sold it a few months ago.
Specialized Stumpjumper: Specialized wooed me away from Fisher with this incredibly light, fast, sophisticated carbon hardtail. Riding it, I got my first sub-9 Leadville time. 8:18 in fact. Specialized congratulated me / rewarded me by letting me keep this bike. 
Specialized Stumpjumper Singlespeed: This is the fastest, lightest singlespeed I could ever imagine. I built it up with crazy-nice ENVE wheels and cockpit and I am still in love with it. I did an 8:25 on it at Leadville a couple years ago.
Ibis Tranny 29: My current favorite go-anywhere, do-anything machine. I originally had it built up with a belt drive, but prefer it with gears and the incredible Ibis 941 wheels. Built with a dropper post, this is not my lightest hardtail ever, but it may be the funnest, most versatile bike I've ever owned.
Specialized Shiv: I've never gone so fast as on this bike. And I might start racing more with this this summer…I'm kind of thinking it might be fun to start racing some time trials, and I understand there's a local time trial series in SLC.
Specialized Tarmac: My gorgeous, exquisite, rocket-fast, incredibly light, silver road race machine. I cannot imagine a better, faster road bike.
I think that's it. I didn't cheat by looking in the garage or checking old posts in my blog, so I don't know for sure. 
And you know what? Now that I've written this, out, I've changed my mind. I don't have a problem. Sure, I've had a lot of bikes. But I've had an extraordinary amount of fun on almost every single one of them. They've each reflected something I wanted and was at the time.
I started this post thinking I was going to poke fun at how many bikes I've had. But I'm finishing it happy. These bikes are all part of who I am and what I do. 
I expected to finish this post with some kind of jokey "I'm going to change, I'm going to repent" tone. Instead, I'm finishing nearly in tears (I'm serious), grateful for the joy these bikes have all bought me.
At some point, all these bicycles—the ones I have and the ones that have moved on—have become members of my family.