My April Fools post yesterday actually had a lot of truth in it. One of those truths is that I haven't had much time to post lately. I'll get to the the "why" and the implications of that in another post (soon, I swear), but for right now, trust me: I currently have very little spare time. Many days I have to choose between writing and riding. Writing (almost) always loses.
So it's really great, once in a while, to be able to get away for a few days. To decompress, ride, hang out with some great friends, and to have — for a couple hours — nothing to do. 
And that's what the weekend at the Gooseberry Yurt was for me. 
The Riding
I'm not going to go into the riding a ton here. I've written about riding Gooseberry before, and the video I posted earlier this week tells the story pretty well. Oh, and I'm going to embed it below again, because I'm shameless.
So to recap, Gooseberry is awesome for riding. But it's the hanging out I want to talk about.
Relaxing
Until this weekend, I had never been in a yurt. I didn't even realize what one was. So this is what a yurt looks like from the outside: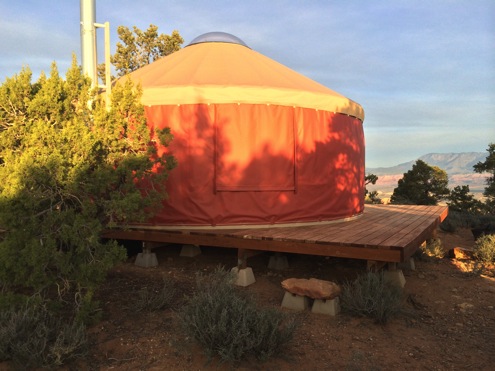 It's a round, semi-permanent structure. Thick, insulated canvas is built around a wooden frame with a domed roof above it all.
This yurt is just a couple dozen yards away from the edge of the Gooseberry mesa, which means I was able to take this picture literally from out the front door: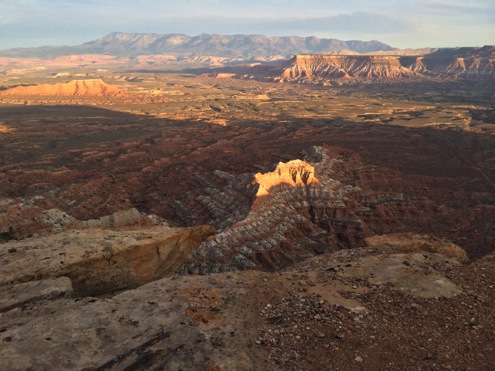 But it's the inside that makes this particular yurt awesome. Here's a panorama of the inside, after we had all settled in and spread out:

OK, it's hard to tell what's going on, so here are a few details. There's a nice wood-burning stove: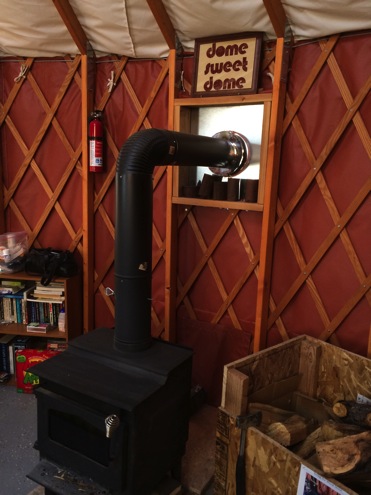 This, combined with the thickly insulated walls, keeps the cold out at night easily.
And the yurt will sleep nine people — not in cots, but in beds. Here's The Hammer, playing a little Candy Crush (yes, she's obsessed) early in the morning.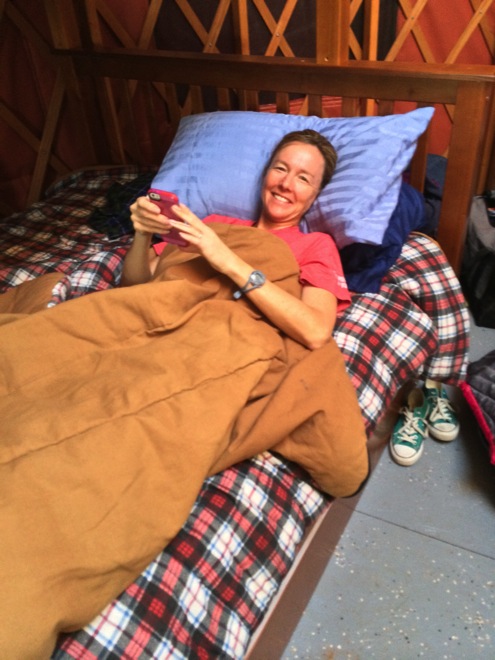 There's also a nice gas stove, a bookshelf full of books, and immediate access to all the amazing biking and hiking trails Gooseberry has to offer. All while being in a private, secluded setting.
I've been given to understand that the sunsets there are spectacular.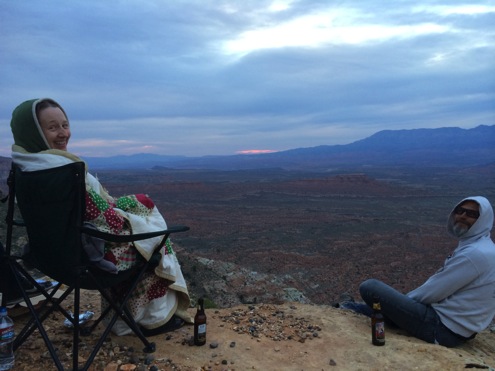 Okay, this one wasn't. But it's still not like the view sucked.
My Point
So my Core Team friends Kenny and Brad have spent years getting the land for this yurt bought, the permits secured, and the yurt built. 
Now it's ready to go. It's open for business. And it is an incredible place to spend a couple days and nights. Riding (or hiking) during the day, and maybe reading, eating, and talking at night. 
Or, sure, playing Jenga.
It's a beautiful, homey, relaxing spot (with a strong LTE phone / data signal, by the way, in case you don't want to fully unplug). And I cannot wait to go back.
And in the next couple of days, I'm going to unveil a little contest where one or two of you will get to come out to the yurt and hang out / ride / hike / relax / eat with us, all expenses paid.
Meanwhile, be sure to check out the Gooseberry Mesa Yurts for yourself, and reserve your spot. My guess is they're gonna fill up quickly.