A Note from Fatty: I love this very funny, self-deprecating 100MoN account from John, a guy who clearly has serious cycling endurance cred. Enjoy
This was to be my third 100 Miles of Nowhere…but I had a problem. On the day of the official 100MoN I was doing 100 miles of somewhere, specifically La Ruta De Los Conquistadores (http://www.adventurerace.com/), one of the most epic rides anywhere!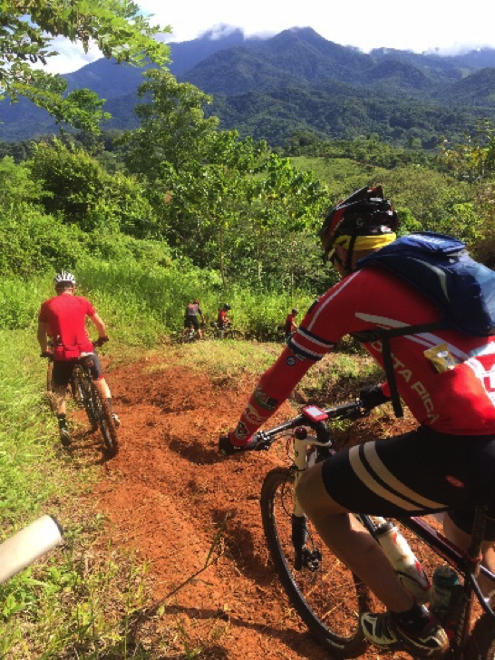 La Ruta was a fantastic experience on many levels, from great riding, seeing the Costa Rican jungle, and getting to know the terrific country and people of Costa Rica. We covered mud, rivers, relentless climbing (25,000 feet in the first 2 days) and the finale on railroad tracks.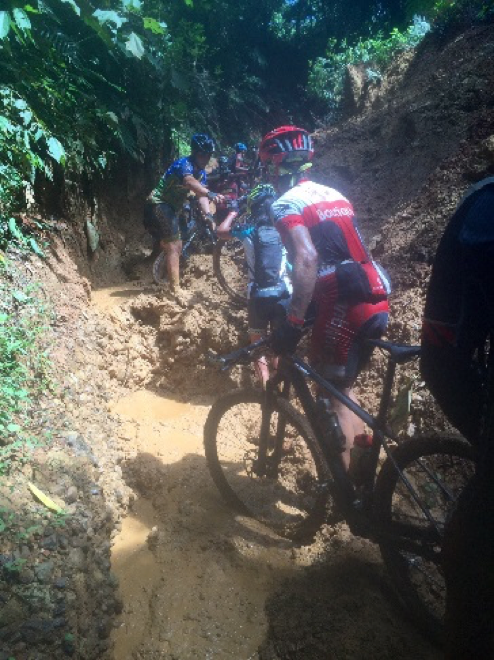 All great fun, something I would recommend to any adventure-minded cyclist who likes to climb (I'm looking at you Fatty), but definitely not Nowhere: The race cross the entire country from the Pacific to the Caribbean coast.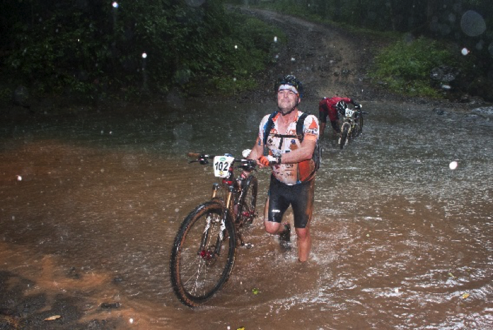 I came back to Colorado and there was the 100MoN goodie box, staring at me accusingly.
"Sure you had your fun," the stare said, "but how could you wear this super-cool T-shirt without earning it?" That would be stolen valor, a grievous sin to a Marine like myself.
Still, it was now cold and my motivation to break the trainer out of the back room was…low. I had just finished my season! My first race had been in April and I had been in training since about February. So sitting in the pain cave was not an option.
I decided to head to the gym and settle in for some college football and knock it out. I had hopes of finding one of those bikes with the skewed speedometer that showed you averaging 28-30 MPH at a conversational pace. Certain my plan was a good one, I headed out one Saturday morning to go Nowhere.
This was where the insidious nature of the swag kit revealed itself. To support me for what I was now certain would be only about 3 hours, I grabbed gels and some of the snacks from the swag kit, also headphones, my iPad in case the game(s) sucked, a water bottle and more. This could be a handful and there was the musette bag – another great addition to my plan! I dumped all and sundry into the musette, put on my cycling kit and shoes and clopped out to the gym floor.
Marine Wears Man-Purse, Rides Indoor Recumbent, Feels Self-Concious
On my way out I passed the mirror and realized – FATTY HAD SUCKERED ME INTO CARRYING A PURSE! Sure, I knew it was very 'pro' to have a musette, but to everybody else I was a dude with a murse.
My ego and self-esteem punctured, I headed to the rows of cardio  machines and realized my shame was only going to get worse. The half-dozen or so Spin bikes were all taken, as were the dozen or so LifeCycles with their semi-respectable upright position; my only option was…a recumbent.
Only a week ago I was a proud finisher of 'The toughest mountain bike race on the Planet.' Now…I was on a recumbent, carrying a man-bag, sitting next to wheezing geriatrics.
I could only hope not to be recognized.
I settled in, arranged my purse and started flipping through the dozen channels available on the attached monitor. I found a game, adjusted my headphones and popped open the 'workout' screen looking for the highest possible speed. I don't ride these bikes much anymore, but in the past I remember seeing irrational speeds like '28 MPH' over decent workouts.
On my particular steed for the day, this was not the case.
My comfortable pace was only generating about 14 MPH, I played around with resistance levels, cadence and was disappointed to find the best I was going to do on this machine was maybe 17MPH. No Joy…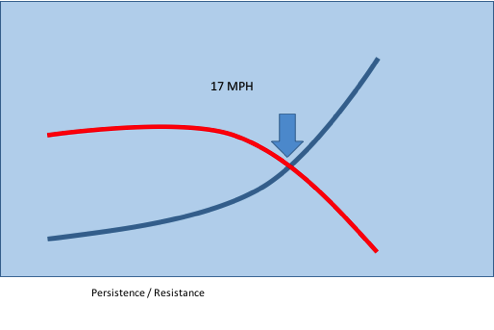 Grim faced, I pedaled on, avoiding eye contact and occasionally reaching into my purse for a treat.
I got through the second half of the game, flipped open my iPad and dialed up an episode of Sherlock with Benedict Cumberbatch (a really excellent series!), that usually run a bit more than an hour. I did manage to move to an upright bike for this portion, and the pace picked up maybe 1 MPH, and my dignity got a bit of a boost from sitting on a bike like I meant it, despite the little black purse hanging from my handlebars.
As Sherlock once again bested Moriarty, I hopped off to go refill my water bottles and check for a suitcase of courage. Finding water —but no courage — I returned to my steed trying to convince myself to get back on. With a clammy shirt, a few empty gel and chew wrappers accurately representing my energy levels, I knew I was done for the day.
I resolved to return on the morrow to complete the task, and took note of my combined stats: 3 ½ hours, 56 miles. Tomorrow I would certainly find the fabled 'fast bike' and polish of my 100MoN Century.
Interlude
OK, so I didn't make it back the next day, but I seriously considered it.
It was actually a week before I went back to the gym. Still smarting from the purse incident, I considered my options to carry my necessities. I considered brining my gym bag to the floor with me, but it is a nasty thing at this stage of its life, misshapen with non-functional zippers, odd stains and straps stiffly protruding at odd angles.
That would not improve my image or self-respect.
I similarly considered and discarded the ideas of: high-jacking one of my kids' school backpacks, a grocery bag or my bare hands – before once again electing to sling my man-bag over my shoulder.
Part 2
Stage 2 of my 100 MON was not terribly different from the first, though I had an earlier start, and my choice of bikes. The retired Schwinn SPIN bikes (from a simpler era, before the cycling studio added computerized 'bikes') looked fast and had a proper saddle on them, but no TV screen and didn't even have a real odometer on them.
I went back to the upright LifeCycles and chose a different one than last week, praying for a loose speedometer. Sadly, this one seemed as reluctant as the last, settling in at a mulish 17.5 MPH. My personal batteries had recharged a bit more from La Ruta, and in the interests of finishing sooner, I made intervals out of the TV commercials during the game and pushed over 20 MPH for those frequent 2 minute intervals.
So another 2 ½ hours or so and I had my additional 44 miles in. The interesting thing was, that while I have done many 4, 5 & 6 hour solo rides, this ride in a public place felt lonelier than any of them. People came and went next to me over the course of the 6 hours or so of riding, but few even said hello.I'd see friends bump into each other around the gym, sometimes leaning against a machine for a good long chin-wag for 20-30 minutes, so it is a friendly place overall – but no one I knew happened by, nobody was curious about my pile of towels or man-bag, no questions about the 100MoN paraphernalia I had with me. I've read lonelier sounding 100MoN stories (the guys who did it on an aircraft carrier comes to mind), but I expected a bustling gym to be a little more engaging than a trainer in the basement.
So – it was great to help Camp Kesem, I was able to get back on a bike when most of my La Ruta buddies had still not even unboxed their sleds and I could finally pull on that cool T-Shirt with a clean conscience.
I don't think I can claim first place in some obscure indoor-recumbent category, and breaking this into 2 indoor sessions in front of a TV screen doesn't qualify me for any hardman points – but I did avoid the DNF tag…even if it took me a week.
Thanks for keeping a strangely compelling event rolling, Fatty!