Suppose, for a moment, that you are falling off a cliff. A nice, long cliff. One that base jumpers and hang gliders and photographers flock to.
But you, unfortunately, are neither base jumper nor hang glider nor photographer. You're just a person who's affected by gravity in an unfortunately average way.
But wait!
You land on a precarious ledge, just eight feet from the top of the cliff. You're not dead. 
But wait!
The ledge — besides being precarious — is also crumbling, and doesn't seem like it's going to hold out for long.
But wait!
Someone peers over the ledge and offers to help…but it turns out they can't quite reach you. The ledge crumbles a little.
But wait!
That person says another person is coming by, and it looks like that person's a well-equipped rock climber. The ledge crumbles, this time quite a lot.
But wait!
You hear the rock climber just keep on walking by, whistling a merry tune as the ledge begins to feel like it's done its part in this metaphor and just about (but not quite) gives way completely.
But wait!
It turns out that the rock climber is turning around and coming to rescue you after all.
Saved
The most recent episode of this story ends with the truck — which was not a tow truck, but a heavy-duty sign-construction truck — maybe slowing down. And I left it there on purpose, mirroring my own sense of suspense that lasted what felt like forever.
Then the truck stopped — about a hundred yards up the road — and my hopes went up. Then it backed up and my hopes went up even higher.
And then it began the longest, most excruciatingly fraught series of back-and-forth turns imaginable. This narrow road wasn't exactly designed with the expectation that big trucks should be able to make easy U-turns.
"How'd you get into this mess?" The driver asked through his window as he pulled up.
A fine question. A fine question indeed.
Without a lot of fanfare, he then pulled forward and back so he was good and close to the back of the van, facing the other direction: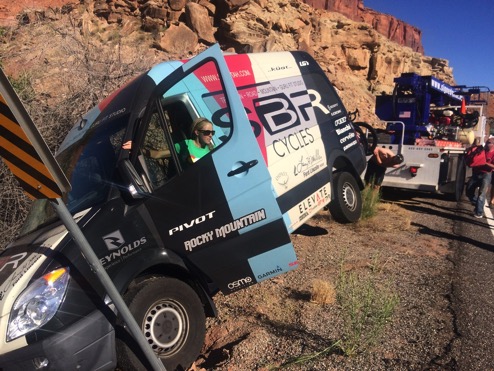 He handed me a stack of orange cones and told me to set them up alongside the road, thus giving the otherwise-useless me something to do.
Then he unpacked a set of straps and hooks — everything you'd need to pull a vehicle out of a ditch — and expertly hooked up the van to his truck. 
I watched in awe and wonder at his competence, and with an almost ridiculous amount of gratitude and relief.
"Keep your foot on the brake, but put the car in reverse," he told Lindsey. "And don't let up on the brake at all until I have the rope taut and tell you to release.
Then he pulled forward and got the rope taut, Lindsey put the van in reverse, and — pop, like it was no big deal — he pulled the van back onto the road.
What Was Ruined
With the same lack of fuss he had done everything else, the driver unhooked the van while I thanked him relentlessly. And — let's be honest here — probably excessively. "Well," he replied, "I'm glad I took the out-of-the-way route today."
As our rescuers pulled away, Lindsey walked up. "You're not going to believe this, but the van looks totally fine," she said. "Maybe a couple of tiny scratches at the very bottom right side from the bush the van scraed against."
"But," she said, "these didn't do as well."
And she showed me Ben and my helmets. Here's Ben's: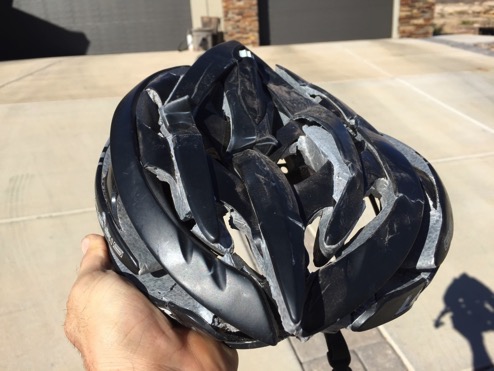 And here's mine: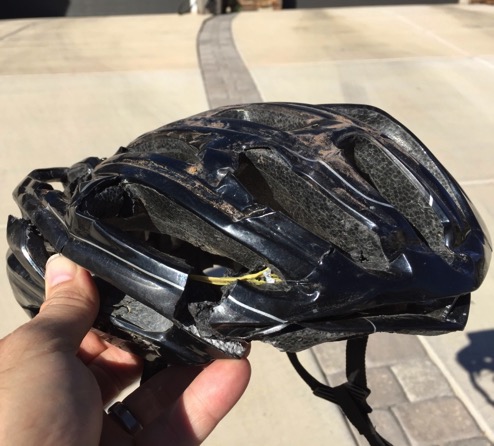 Both had — understandably — fallen out of the open van door as it was tipped far to the right. And then been crushed by the van wheels as the van was pulled back onto the road.
So now we had some new problems. 
First, both of our helmets were crushed, and Ben and I don't wear the size Small helmets our wives wear.
Second, what is not shown with my crushed helmet is the fact that I had already fastened my beloved NiteRider Pro 1800 Race to my helmet (my next race leg would end in the dark)…and it was crushed too.
Somehow, none of us could bring ourselves to get too worked up about any of this.
Having just confronted — and somehow escaping — the overwhelming probability of destroying a friend's beautiful, beloved Sprinter and injuring Lindsey in the process, $800 worth of helmet and light damage just didn't seem like that big of a deal.
"Let's go find out how mad Lisa is," I said.
Repercussions
It was a weird, jarring shift, to suddenly have everything be back to normal. The van wasn't destroyed, wasn't even really harmed. Nobody was injured. Our racer was still — presumably — racing. Albeit almost certainly thirsty and wondering where we had disappeared to.
I tried to wrap my mind around this new-old normal: we were in a race, and we were doing well. There was no crisis. 
And in less than an hour, it would be my turn to ride again.
I grabbed a slice of pizza — I needed to start fueling now, since I hadn't really eaten much since my last turn to race. 
"She is going to be so mad," I told Lindsey and Ben.
"Probably," Lindsey replied. "But she won't be once she understands what just happened."
And we were both right. Lisa was mad when we caught up with her, saying she no longer needed anything from us, that other teams had taken care of her while we were MIA.
For two or three passes, she didn't acknowledge us at all as we asked what she needed. My heart sank; I had ruined everything about this race: nearly destroying the van, nearly injuring my niece, destroying Ben's helmet, making my wife feel abandoned and angry.
It wasn't a great moment for me.
The Race Must Go On
Here's the thing: racing in general — and the Rockwell Relay in particular — isn't just for when you're having fun and doing well. Racing is a test you choose for yourself. By saying you're going to race, you're saying you will take whatever comes your way, and you will deal with it.
So I dealt.
First, the helmet issue. That wasn't as bad as it seemed. See, I had brought two helmets. No, this wasn't a prescient move; I always bring two helmets to the Rockwell Relay, so I can have my light setup already mounted on one of the helmets.
Now, Ben and I would just have to take turns using this spare. Ew, for sure. But it would work.
Second, the light issue. This was a bigger problem, but still not too serious. It moved us from having four light setups (two helmet lights, two bar lights) to just having three (two bar lights, one helmet light). And we could do some recharging in the car for whatever setup wasn't currently in use. While it wouldn't be the deluxe setup I had hoped to use, we could make it work.
Third, there was my physical and mental state. My wife was mad at me, I was slower than last year, I had a painful hernia (I don't think I've blogged about that yet, but I probably will at some point) and my opponent in Beauties and the Beasts had demonstrated he was much faster than I am. I was basically the weak link in the Fatty Family chain. If we were going to lose, it was going to be because of me.
Too bad. I'd just do the best I could, and hope the rest of the team could make up the difference. Racing is racing, and excuses don't matter.
The Hammer yelled at us to go on, get ready for my leg of the race. It seemed ridiculously early to go, but I figured she just didn't want us around.
The Race Must Go On…Maybe
Ben took over driving while I changed in the back of the van and set up a light on my helmet. We got to the gas station that doubled as a checkpoint, and Ben filled up the tank while Lindsey went to buy ice and I took care of getting myself ready.
Bike clothes: check. Bike ready to roll: check. High-viz vest: check. Lights: check.
Ben went to the ice cream shop next door to buy The Hammer a strawberry milkshake — a request she had made before starting this leg of the race, and now one that seemed doubly important.
One of the guys from Team Z5R came over and asked me about what had happened to the van. I had plenty of time before The Hammer was due to pull in — half an hour, I guessed — so I gave him the long version of the story.
I walked over to my bike, looked up the road, put my helmet on. I thought about how The Hammer wasn't due for another fifteen minutes or so. I took off my helmet and sat it down on the van's bike rack, watching up the road from the dirt parking lot.
Then The Hammer appeared, yelling, "Elden! Where's Elden?! Elden!" 
Astonished — how did she get here so quickly? (answer: she did this leg faster than any woman has before) — I plopped my helmet on my head, stuffed the helmet light battery into my jersey, picked up my bike, and began running out to the road. 
It was a little embarrassing, but not too bad. I would lose us few seconds, tops, by not being there as she crossed the line. Surely that wouldn't be the difference between a win or loss, right?
Then — as I easily ran across the dirt parking lot, holding my bike aloft — I realized something: I should not be able to run easily across the dirt parking lot. 
"Oh no," I said, as I realized: I was wearing my tennis shoes, not my riding shoes. 
And that was just the start of a whole new cascade of problems.
Which I'll describe in the next installment of this story.