A Note from Fatty: If you just want to get straight to the ordering already, click here.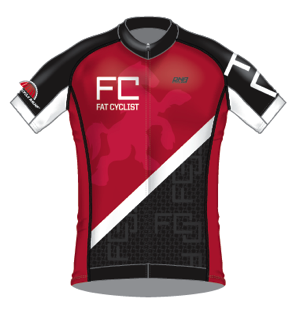 This is an exciting time to be a Friend of Fatty. For one thing, this is the year I'm actually officially a World Bicycle Relief Ambassador, so 50% of all 2015 FatCyclist.com proceeds are going to World Bicycle Relief. We're going to put a lot of kids on bikes.
And that matters. Because every bike we buy changes at least a few peoples' lives. Right away, and in a big way. I've seen it. I believe it. And I'm excited to be a part of it.
Which makes this a really great year to go with WBR colors — red, black, and white — for all FatCyclist gear. 
This year, I'm also stepping up my FatCyclist gear quality game, having my friends at DNA Cycling bring their top-quality, Italian-made cycling clothing to the Fat Cyclist community. 
I spent a lot of time testing out different fabrics and fit, and I think you're going to agree that this is the best-made gear I've ever sent…at prices that are still in line with what I've charged before.
Greater Range in Sizes and Patterns
Instead of a single jersey pattern with sizing topped out at XXL, this year I'm offering two different kinds of short sleeved jerseys: a casual, relaxed-fit jersey, and a race-fit jersey. Both are technical, both are well-made. I'm getting one of each, to be honest. 
But the race-fit jersey if made to be skin-tight, and it's incredibly lightweight material. It's going to be your hot-weather, wicktastic, race-your-brains-out jersey.
Meanwhile, the relaxed-fit jersey is going to be what you love as your go-to ride anywhere, anytime jersey. And to be honest, it doesn't show off extra pounds quite as explicitly.
Regardless of which you choose, there's men's and women's sizing, and a huge range (XXS – 5XL) of sizes. Check out DNA's sizing charts for info on what's going to fit you. 
Timing
The pre-order for all Fat Cyclist gear starts right now, and ends April 6. 
Products will begins shipping at the beginning of June.
Questions
Got a question? Post it in the comments and I'll answer it (if I know the answer). Or email me at fatty@fatcyclist.com.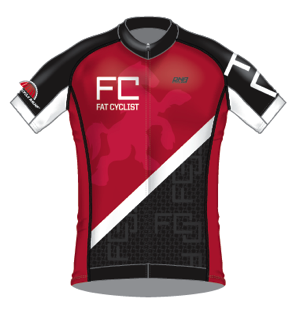 RELAXED FIT Short Sleeve Jersey: $84.95
You don't want to be vacuum-packed into your jersey? I totally get that. I'm the same way, most days. This jersey has a comfortable, relaxed fit, making it great for long rides and mountain biking, and just as your go-to good looking jersey.
But just because this jersey doesn't try to be your second skin, don't think it isn't a well-made, high-tech jersey. It is. It's outrageously high-quality fabric, it de-sweatifies you, it's made in Italy, and it's sweet as…well…pie. And it comes in both men and women fit. Nice!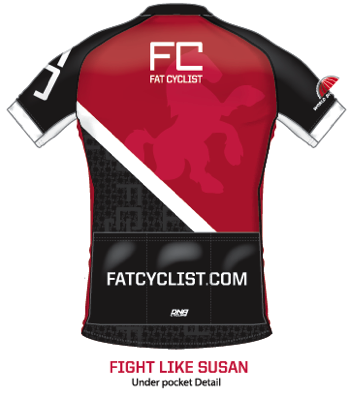 Fabric: Hydro Fit
Respire Moisture Management
Ergo Stretch Performance
Front Comfort Banding
Relaxed Fit
Full Hidden Zip
3 Full Back Pockets
Silicon Grippers for Men's Jersey (ladies jersey does not include silicon gripper)
Men's and Ladies Cuts Available
Audio Port
RACE FIT Short Sleeve Jersey: $99.95
A form-fitting jersey shouldn't be this comfortable, according to most clothing manufacturers, as well as the laws of physics. And yet, it is comfortable. And it's ridiculously light. Like, this will almost certainly be your lightest, most comfortable jersey.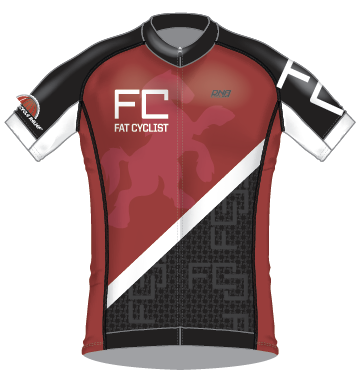 You will wear this jersey so often, in fact — and not just when racing, but when training — that your racing buddies will begin to wonder whether you burned all of your other jerseys.
The cut and fabric of this jersey is, in short, the reason I fell in love with DNA Cycling. Both men's and women's fit.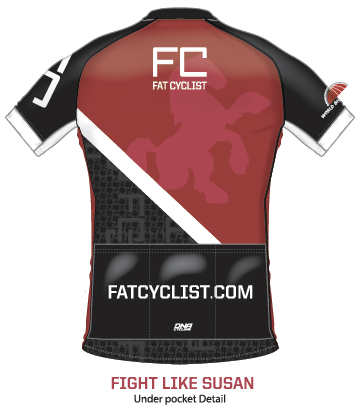 Fabric: Light Weight Air Flow
Respire Moisture Management
Front Comfort Banding
Race Fit
Full Hidden Zip
3 Full Back Pockets
Audio Port
Race Bib Shorts: $124.95
The chamois matters. Oh yes, it matters so very, very much. And the chamois these bib shorts comes with by default is really good. Seriously, it's really, really good.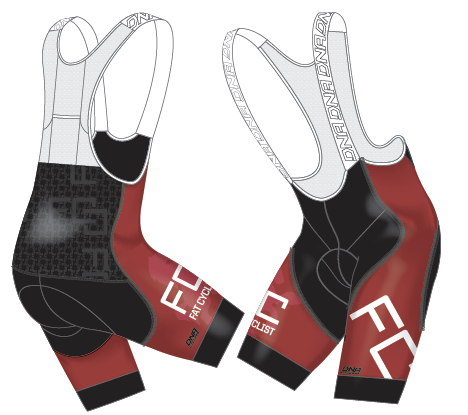 But I upgraded it anyway.
Why? Because while I was testing out different shorts, I went on one ride where I was suddenly certain I was wearing some $400 bibs. "That's the Cytech Multi D Comp chamois," the DNA guy told me.
"This is what we're using," I said.
"It's a little more expensive," the DNA guy said.
"This is what we're using," I said. And we are. And you'll be so glad I made this decision.
These are made in Italy, they fit beautifully, and they feel like they cost about three times as much as they do. And let's cap this whole thing off with this: both men's and women's sizing.
Fabric: Performance Lycra / Shield
4 cm Elastic Compression Technology
Smart Panel Design
Suspension Braces
Radio Pocket
Cytech Multi-D Comp Chamois
Women's Shorts: $94.95
Some women don't want to wear bib shorts. And who am I to argue. These are the same shorts that the DNA women's pro cycling team wears.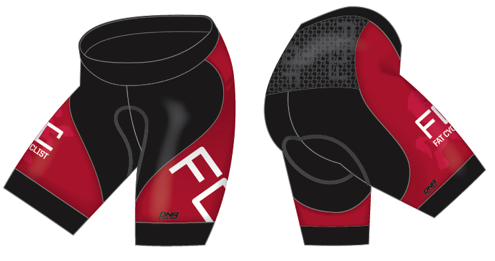 And if they're good enough for the pros, they're probably good enough for you. 
Fabric: Poly Merino Tec Blend
Respire Moisture Management
Ergo Stretch Performance
Relaxed Fit
Chamois: DNA HD Ergonomic Chamois
Thermal Long Sleeve Jersey: $119.95
Here's something that's never made sense to me: long-sleeved jerseys that aren't any thicker than short-sleeved jerseys. This long-sleeved jersey isn't like that. It's fleecy. It's warm. It's gloriously comfortable: a little bit looser than race cut — so you can fit a base layer underneath — but not so loose that it flaps around and lets the wind in.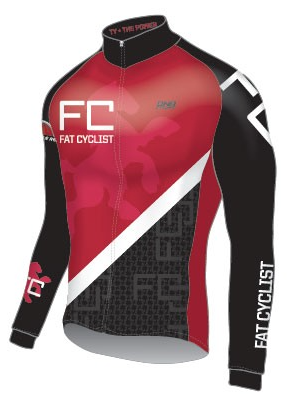 If you've got cold-weather riding ahead of you this Fall and / or Winter, get one of these. Especially if you have a fat bike, because then you'll have a Fat Cyclist jersey on as you're riding your fat bike, and I'm almost certain to RT your selfie. Because how could I not?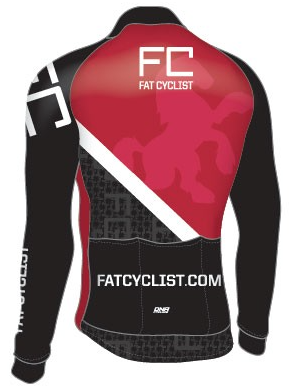 Fabric: Roubaix Thermal Fleece
Ergo Stretch Performance
Full Zip
3 Full Back Pockets
Silicon Grip
Back Reflective Safety Panel
"Fight Like Susan" Under-Pocket Detail
Arm Warmers: $34.95
I've worn some pathetic arm warmers in my time. They look like they ought to keep your arms warm, but instead they just slouch, guiltily, toward your wrists. Which is just as well, because it's not like they were doing any good on your arms anyway.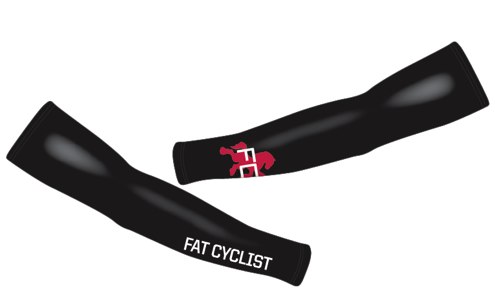 These arm warmers, on the other hand, are the same Super Roubaix fleece-lined fabric as the long-sleeve jersey I'm so excited about. And they stay up. And they go really really well with the Fat Cyclist jersey. As well as with pretty much everything else you own (Fashion Tip for Ladies: try them with a strapless gown!).
Fabric: Super Roubaix
Silicon Grip
Vest: $89.95
You've killed yourself climbing to the summit, and you're sweating up a storm. Now it's time to ride the downhill, which means all of that sweat plus wind is going to instantly give you hypothermia. Which sucks quite a bit.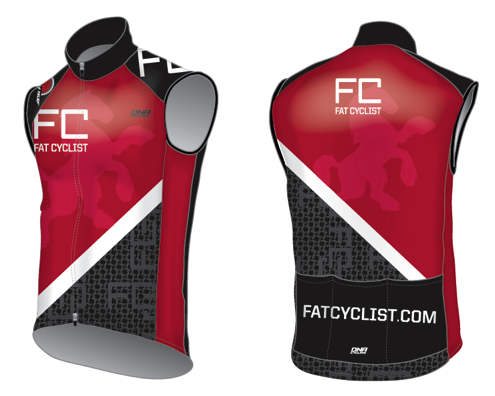 Except you were smart enough to score this vest, which rolls up nice and small, easily fitting in your jersey pocket on the way up…and saving your bacon on the way down.
Wind & Water Resistant Front
Hydro Back Fabric
Silicon Grip
3 Back Pockets
Two Way Zip
"Fight Like Susan" Under-pocket detail
5" Performance Cycling Socks: $12.95
Of course you can wear these while riding your bike. And you will. But these socks are so snappy that you'll find yourself wearing them to your place of business. These will, in effect, become your business socks. And you know what that means.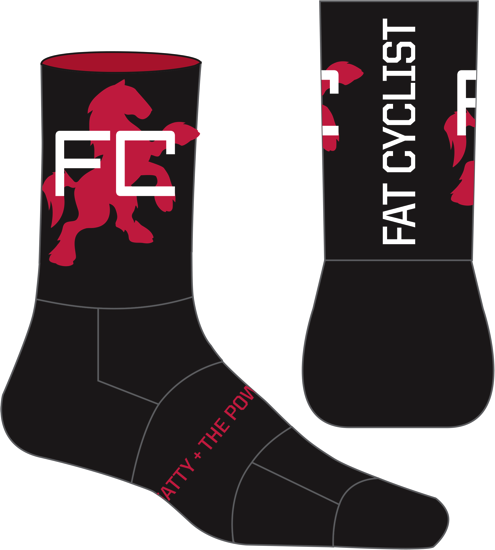 Double welt top for comfort and fit
Arch support reduces foot fatigue and increases circulation
Smooth toe-seam adds comfort
Mesh instep aids in breathability
Flat-knit construction for an ultra-lightweight fit
Cycling Cap: $14.95
This is what I wear instead of having hair. But I have it on good authority that you can wear this even if you have hair.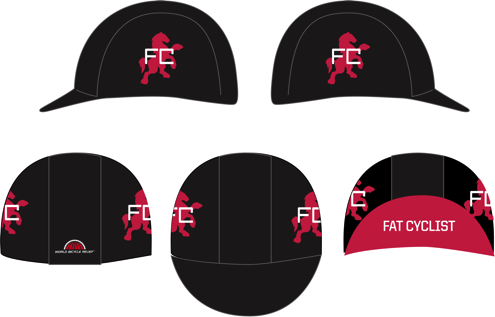 This traditional Italian cycling cap is made in Italy, which makes it a lot more traditional Italian than most traditional Italian cycling caps.
Oh, and it's 100% cotton, and one size fits most.
T-Shirt: $19.95
It's cotton. It's a t-shirt. It has men's and women's sizing. Black because black goes with everything, and it's slimming.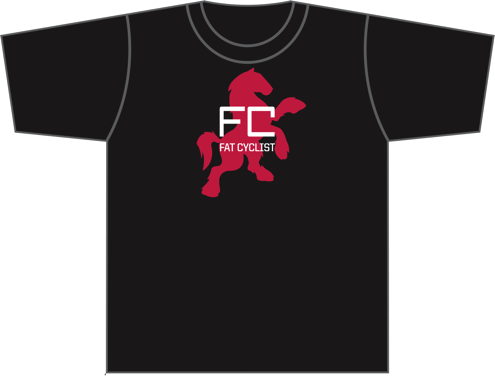 Plus, there's the undisputable benefit that when you're wearing a black t-shirt and working on your bike and you get your hands all greasy, you can wipe your hands right on that shirt with absolute impunity.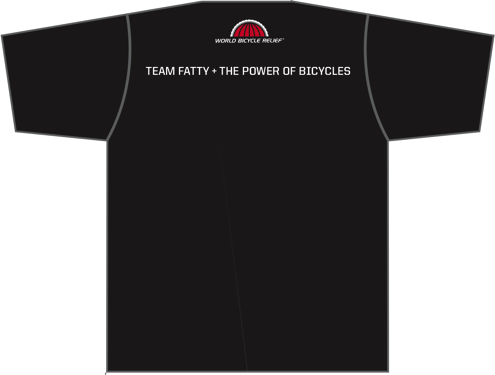 Team Fatty + The Power of Bicycles. Rock on.
Hoodie: $49.95
Some days, you won't be able to wear your Fat Cyclist jersey or Fat Cyclist t-shirt.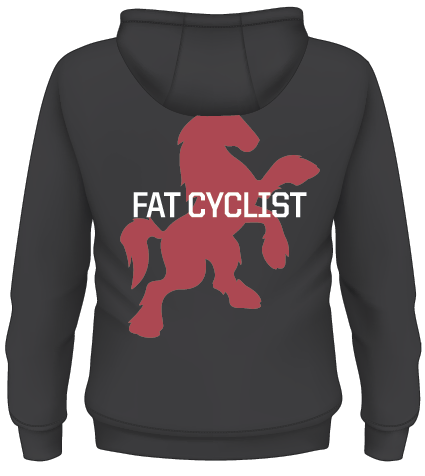 On those days, wear your Fat Cyclist hoodie over whatever else you're wearing.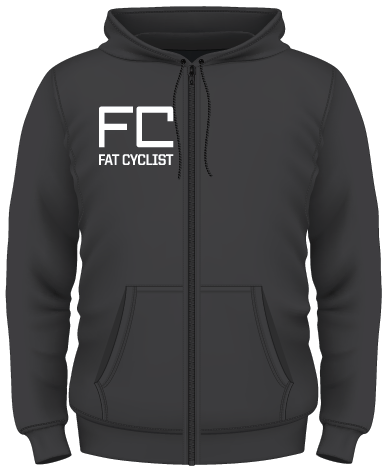 Problem solved.
Two-tone, marled black yarn
8.3-ounce, 60/40 cotton/poly fleece
Black drawcord and inside trim 
Metal zipper