Once I found that The Hammer had upped her goal from merely destroying the women's Solo SS record at Frog Hollow to being the outright fastest Solo woman — gears or not — at Frog Hollow, I wanted to get some intel on where she stood on objective, and I asked Zach and Brooks to go to the timing tent and find out.
So when we came into the pit at the next lap, I asked, "Where does The Hammer stand?" 
"We're not sure," Brooks said. "The timing computer isn't showing women solo racers correctly right now. They're working on it." 
"What about Kenny?" I asked. "How's he doing?"
"Jamon is a lap ahead of him. It looks like Jamon's going to do 19 laps; Kenny will wind up with 18, and that's going to for sure be good enough for second." 
"And how about me?" I asked. "Do you have any idea where I stand?" 
"You're doing good," Zach said. Which is nice pit crew chief language for, "You're not in the hunt." 
Which I knew already, and was — to my own actual amazement — completely OK with.
I Have a Conversation With Ulterior Motives
This is going to come as a bit of a shock to you, but I am not above sneakiness. No indeed. 
Allow me to demonstrate.
Toward the end of our fourteenth lap, on a technical singletrack section I always led The Hammer on, we caught up with a woman solo rider (solo riders had bright ribbons tied to their saddles to identify them). 
"Hey there," I called out. 
"You want by?" she replied.
"Nope, I'm great right here for now," I said. "Congrats on doing this race solo." 
"Thanks," she said. "Right now I'm barely staying on my bike." 
"Yeah, I'll bet. Doing this race solo must be really hard," I said in my very best "sympathetic and admiring" voice. "So, how many laps will this be for you?" 
"Twelve. I'm in third place right now." 
"Way to go," I said. "Is Bec still in first place? How many laps has she done?" 
"Yeah, she's about half a lap ahead of me."
Which was exactly what I needed to know. 
"Have a good race," I said, which is code for "OK, I'm ready to come on by now." 
"Oh, and by the way," I finished as I went by, "The woman right behind you now is my wife. She's finishing her fourteenth lap right now. On a singlespeed." 
A few minutes later, I recounted the story to The Hammer and asked, "Was I a jerk right then? Getting competitive info from her without explaining why I cared? And then bragging about you as I came around?" 
The Hammer assured me I was not, in fact, being a jerk.
But really, what else could she say?
The Final Lap
The final lap — our seventeenth — of the 25 Hours in Frog Hollow was harder than all the previous laps, combined.
"Why?" you ask?
"Well, that's a fantastic question," I answer. And I have a theory. When your head knows that you only have to go around one more time, it can finally stop fooling your body. It can finally stop saying, "Hey there, butt, you're OK. Really, you are." It can stop saying, "Wrists, I know you're pretty battered, but your pain has plateaued and you're not getting any worse." 
It can stop saying, "Shut up, legs." 
I also have an alternate theory that I was just really tired and the seventeenth lap was therefore really hard, and if I had had to do an eighteenth lap, it would have been even harder.
I have a third theory that the final shred of all my hopes and dreams were crushed when, as The Hammer and I were headed out, Brooks told me, "The Hammer has first place all sealed up, both for single and geared women solo riders. But," And here he paused sympathetically, "third place for solo SS men is about half an hour ahead of you." 
"I'm sorry, Fatty," The Hammer said. "You could have had third if you hadn't waited and rode with me." 
"This was way better," I said. And I meant it. I had started this race burned out and without motivation. If I had ridden the whole thing alone, I would have been miserable. Instead, I had had a terrific day. Wonderful weather, incredible course, inspiring hardcore racing wife to keep me company.
But there was no getting around it: the final lap was hell. For both The Hammer and me. "I might walk up some of the climbs," The Hammer told me. 
"Me too," I replied, completely honestly. So when we managed to do all the climbs without getting off our bikes, it felt like victory.
When we got to the rocky downhill section, I nearly cried from the pain in my wrists and I couldn't feel my right hand at all.
No, that's not quite right; I could feel my right hand, because it hurt. What I couldn't feel was whether I was holding onto the handlebar or whether my fingers were actually on the brake lever.
And neither of us sat much during this last lap. Our butts hurt too badly.
There was one fun little moment, though. There's a spot where you have to go up and over a series of tricky ledges. It's a rideable move—when you're not tired. But as the day went on, I had noticed more and more people walking this section.
But I always rode it…because I had discovered a line I think hardly anyone had seen. An easy-peasy way up, if you just knew about it.
So as I approached it, on this final lap, I said to The Hammer, "You've been going up this way, right?" and rode up my secret line.
The Hammer rode up behind me, then said, "I cannot believe you waited until now to show me that line." 
A fair point.
Big Finish
The final stretch of the Frog Hollow loop is an easy, fast, downhill mile, followed by a mild climb up to the timing tent. And on the final lap of the race, I could not have been more grateful for such an easy finish.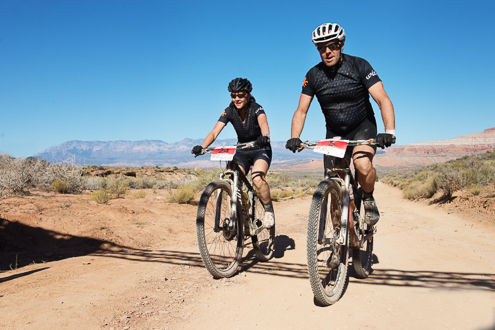 Trisha took all the pictures in today's post. Be sure to check out her photo site, crookedpinkie.com.
"We did it," The Hammer said. And we had. Seventeen laps in 25:48. 
Zach gave me a wet towel to clean up and cool down with: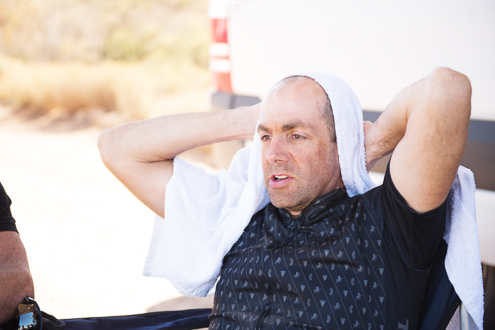 The Hammer just wanted to lie down: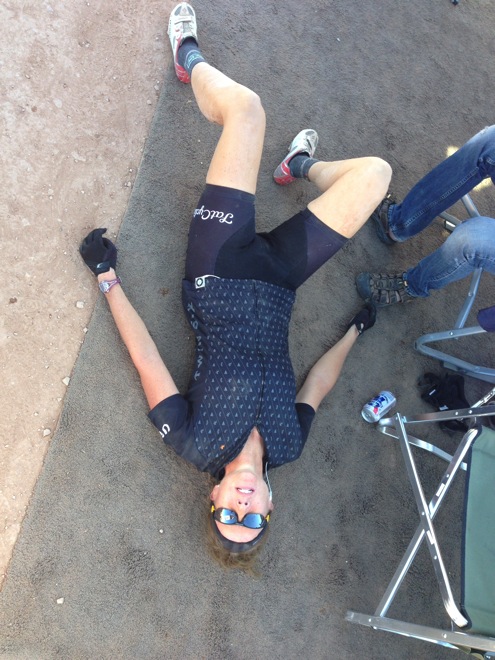 Meanwhile, Kenny was already dressed and was relaxing with a beer: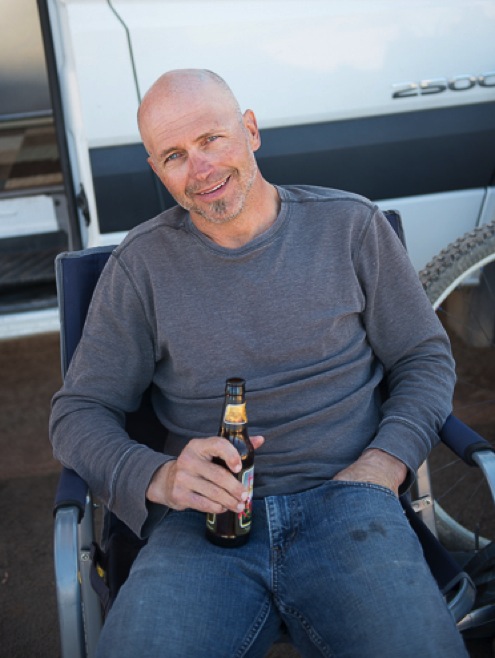 Yeah, Kenny looks kind of tired, too.
Now all that was left was the the award ceremony, and then heading home. Neither of which would go as expected.
And that's where we'll pick up (and finish off, I promise) tomorrow.