I couldn't sleep at all last night. Susan and I had an appointment with the oncologist today, where we'd learn what Susan's next steps, treatment-wise, are. Would she have to start chemo right away? Or does she get to take a break? It all hinged on the pathology report from the bone sample from Susan's operation last week.
The thing is, based on the pathology report — which I had BotchedExperiment help me interpret — I just couldn't see how the pathology report had any useful information at all. So I called the doctor's receptionist this morning and told her to make sure the doctor looked at the report before Susan and I went to all the work of getting her in and out of a car; we didn't want to make the trip if there was no point.
The receptionist said she'd call back if we didn't need to come over.
I didn't hear back, so we drove over. The receptionist looked surprised and told me to check my voice mail.
Sure enough, sometime between when I called the doctor's office and when we got to the the doctor's office, the receptionist had left a message saying we didn't need to bother coming over today.
So we'll find out what the next steps are in a few weeks — maybe sometime shortly after Christmas.
Meanwhile, Susan seems to be doing well. She's getting around on her crutches and giving herself twice-daily shots in the stomach. As is her wont, she wants to do everything herself. She's a tough woman.
Non-Cycling Related
Today is my company Christmas party. Yes, already. Every year, as part of the party, we do a white elephant gift exchange. This year, I wrapped the present myself: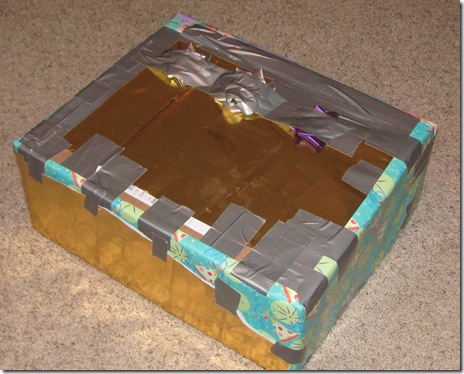 See, duct tape is good for everything.
If you promise not to tell anyone, I'll tell you what's in the box. Promise? OK.
50 Chinese finger traps
25 Silly Putty Eggs
250 super balls, assorted sizes and colors
50 miniature yo-yos
25 whoopee cushions
50 assorted plastic animals that, when squeezed, bug their eyes out
1 tube of vegemite
See what I mean about being an awesome gift-giver?