It's hard for me to believe that it's been just about ten days since we found out that the cancer (metastasized breast cancer for those of you who are new to the blog) has spread to Susan's brain. It's been the longest ten days of my life. The fear, the anger, and above all the overwhelming sadness left me questioning how I could possibly continue to be strong and positive for Susan and my kids.
The answer, I think, is that I can do so with a little luck, and a lot of help from my friends.
Which is my way of saying that last weekend was really great.
Videoing Down Memory Lane
In my last post, I said I was going to be videoing Susan and me talking about about our memories. I imagined these conversations as gloom-tinged, somber affairs, with Susan and me sadly and reverently recounting her life.
Instead, these have been a huge amount of fun. Yesterday was Mother's Day, so we talked about the birth of each of the four children. We remembered stuff we hadn't thought about in years, and we spent as much time laughing as talking.
I had expected it would be difficult for us to talk in front of the camera for more than five minutes at a time, so I was surprised when the camcorder beeped — we had been talking for half an hour, and the 4Gb memory card was full.
Normally, we're so busy with what's going on right now that we don't have a lot of time to look back at the life we've been living. Doing these videos is giving Susan and me a reason to think and talk about everything we've done together, and I'm realizing more fully than ever what a good life I have had, and am having.
If we keep recording half an hour per night for several months, we'll have more footage than anybody but me would ever care to see. That's OK, though. Someday, one of the kids can trim it down into a nice 90-minute video. That's not my problem.
I Have Great Friends
I have always been grateful for the "Core Team," my inner circle of riding buddies and friends. What is really getting to me right now, though, is how the Core Team is rallying behind Susan and me with acts of kindness that are incredibly touching.
Kenny

brought us two loaves of homemade bread and a giant print of that Lance Armstrong photo.

Brad

has

been bringing us dinner every Sunday.

Dug

is bringing dinner over tonight, and has been bugging me nonstop about letting him help in other ways.

Bob

flew over from Seattle.

Gary

fixed my fence and set up my sprinkler system for Summer.

Rick M

brought over all kinds of fresh fruit and vegetables for my family.

Rick Sunderlage (not his real name) and his wife made dessert for dinner tonight, which I have eaten the entirety of, snarling at anyone who dares come near.
More importantly, though, was that we all went on a ride on Saturday. Everyone I listed above showed, plus Sleepy, BotchedExperiment, Racer, and Arthur. Just a nice, mellow ride on a local trail with my friends on a beautiful Saturday afternoon.
It's hard for me to even describe how great a few hours of normalcy felt.
Oh, and also it was fun to laugh at Bob's new hairstyle: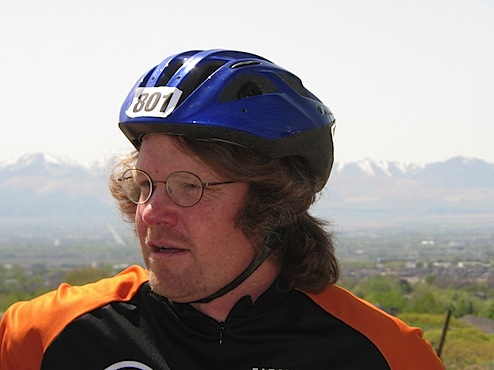 I Have More Friends Than I Could Ever Imagine
In addition to the friends I know, Susan and I clearly have a lot of friends we have never met. Hundreds — literally — of you have donated to the fund Kenny set up last week. In practical terms, this means I was able to write a $2800 check to cover some mounting deductibles today, buy Susan a walker, and cover the cost of one sister flying out from NY to help us for a week, and for another sister driving out to help us last week. You guys paid for all of that. Thank you.
The practical part isn't even the most important part, though. Since this ordeal has taken a turn for the worse, the huge influx of kind comments and email has really given me a boost. And I've needed it.
I Saved the Best for Last
What really made this weekend great, though, was Susan. Her mind is clearing and she's getting back some of her dexterity. She still needs help, of course, but I notice little improvements. Today, for example, when I was taking her to her radiation appointment, she snapped her seatbelt into place on her own — an action that had been beyond her a few days ago. That may seem like nothing to you, but I see it as a reversal of a trend.
She's walking around better again, not needing crutches to get everywhere. And she's not forgetting where she's going or what she's doing as much anymore.
It's good to have her back.