A Jersey-Related Note From Fatty: I can't believe all the jerseys (except a few Women's Med and Large sizes) have already sold out. [Update: all women's jerseys are now gone.] That's an incredible show of support from the Friends of Fatty. Thank you so much. I'm going to try to talk with Twin Six today about when we might be able to get more — maybe a re-order of this design, or maybe a Fat Cyclist Fall / Winter 2008 design. I'll let you know as soon as I know.
A Note About Kenny's Race Report: Last Friday night at Midnight, the annual Kokopelli Trail Ride / Race began (you can read my writeup of last year's race beginning here.) With everything going on, I couldn't do it this year, but that didn't stop me from wondering all Friday night and Saturday how Kenny was doing.
Well, he did pretty darned well. Here's his report.
Preparation and Goals
A big part of a race like the Kokopelli is in the preparation. What to carry? Which gear ratio? What tires to run? Which lighting and battery system to use? When to filter water and how much water to carry? What and when to eat? These are all relevant to your finish, maybe even more so then your physical fitness. I had attempted this race twice before, with one success and one failure. Much of these questions are answered only by experience. It's hard to copy an endurance racers keys to success, because everyone's bodies react so differently under stress.
Having finished this race last year with a pretty good time, my main goal this year was to improve on that time.
I also had a few side goals.
I wanted to finish feeling good. When I do these races, I either finish feeling euphoric or nauseated. If it's the latter, then I know that I should have done something different that could have better my time. I've recently been considering entering some multi day races, and if I felt good at the end, it could help me decide if that is in my future.
I think this goal should go without saying, but I wanted to keep the rubber side down. After last year's unfortunate events [See here and here for what Kenny's talking about. - Fatty], it's my new creed. Plus if I end up in the hospital again, my wife will kill me. Actually, my wife's been super supportive, but if I get injured again, I'll need to rethink some of my life choices — and I'm not ready to do that.
Where Is Everyone?
At the start, I noticed how diminished the numbers were this year. I guess the BLM did their job by squashing what I think is one of the premier events of the year. It wasn't more than a half an hour into this race that I was riding by myself.
I would ride alone for the rest of the race.
During the night hours (the race starts at midnight), I would look back and occasionally see some light in the distance. One racer caught up to me at the first stream where I was filtering, but I didn't see him or any other racer the whole time I was actually riding.
I really enjoyed the solitude.
I was trying to stay alert, but because it was in the middle of the night, my mind would go into a daydream-like state. I started fantasizing that I was one of only a few survivors in a post apocalyptic world. In this world, endurance cyclists where given the task of biking to and from each small community of survivors.
I felt like I had become a postmodern Kokopelli.
I would also get a song or two stuck in my head. Because I'm so bad at remembering lyrics, I would only get a phrase or a partial phrase stuck in my head, which would play in an obnoxious loop over and over until I would block it out, by fantasizing again that I was the Kokopelli.
Dawn
It's always an amazing feeling when dawn comes. I wasn't wearing a watch, so I don't know what time it was when it started getting light. I was still feeling great and got a huge burst of energy when I reached the top of the last big climb. It's called "the top of the world" and I looked east out at the snow covered LaSalle mountain range, just as the sun peaked over the top. How could I have been so lucky to have been there just at that amazing moment in time?
The descent down to Dewey Bridge was fast and cold. I stopped to filter water at a small stream a few miles from the bottom. The stream was shallow and not very good for filtering. It was hard to find a deep enough spot to keep the hose from sucking up sand. That stream was a lot deeper last year. I guess the runoff is a little late this year. I finished up just as another racer pulled up and got busy filtering.
When I got to the bottom it was sad to see the empty loose suspension cables hanging from the iron beams which had once held up the historic Dewey Bridge. My spirits were lifted with the realization that I had already done nearly all the hard climbs.
Hard Choices
The next big section is pretty flat and bleak. I just shut off my brain, put my head down and hammered for about a 2 or 3 hours. When I snapped out of the zone, I was in the hot desert sun which had raised the temperature by about a zillion.
As I approached Westwater, which is about 2/3 the distance (right around 100 miles of the 142-mile trail), I had a choice to make. I could go off course about a mile and refill my water supply, or I could keep going and see if I could finish faster, therefore missing the heat of the day and using less water to get there.
I chose to continue, which turned out to be a mistake. I ran out of water at mile 120 of a 145 mile race.
So, I had another choice to make: I could disqualify myself by asking some campers at rabbit valley for water or I could try to make it to mile 135, where I could filter water from Salt Creek.
I kept going; at this point I was still feeling really good and felt like I could do 15 miles without water.
It turns out that the desert is hot.
By the time I got to Salt Creek, I was hammered and maybe not thinking too clearly. I filtered what I thought I would need to get me to the finish.
My filter was not working all that good in the muddy water, though, and I underestimated how long it would take me to do 10 miles of very technical singletrack in my condition. The problem was that I had to walk a lot of the climbs and whenever I got off the bike I didn't have the wind to cool me off.
Thirsty
With 5 miles to go, I ran out of water again.
I was on a trail called Mary's loop, I knew I only had about 10 to 20 minutes to go, but I kept cursing Mary and her stupid loop. Why had she made the trail around so many bends that all looked the same?
I finally did find the end of the trail and climbed the last rise and down to the parking lot.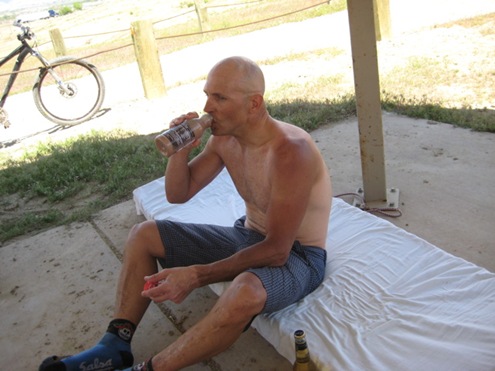 I had met my goal of besting my last year's time only by minutes and it was good enough that day for the win. My time was 14 hours and 56 minutes.
I did however finish nauseated and hopefully learned from my mistakes.
It was an overwhelming success. I experienced nearly every emotion known to man in one long day. I wouldn't have changed a thing.
Miscellaneous Thoughts
Here are a few things that I loved having on this ride.
My new Spot brand bike, which all my friends have deemed "sans belt," because I haven't got the belt yet. The cool thing is you can run it with a belt or a chain. This bike is how I would build a bike if I were a bike builder.
My Manitou minute suspension fork, that arrived only hours before I left for the race. It was 100mm of plush goodness with a solid lock out for climbing.
My Garmin etrex GPS, which took away any doubt that I was on course.
My NiteRiderLED MiNewt, which weighs exactly zero, fits easily on the handle bar and lasts 7 hours on a very bright low setting.
Oh…, and my new Oakley's that kept me from looking like the shop teacher.