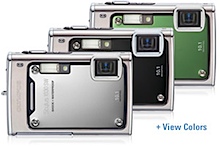 A Note from Fatty About How You Can Win a Really Cool Camera: Jill Homer of Up In Alaska fame is a great athlete, a talented writer, and a gifted photographer. And she's a member of Team Fatty. Huzzah! Well, Olympus has been good enough to help Team Fatty raise money for the LAF by donating an updated version of the camera Jill uses on her adventures — the Stylus 1030 SW, which is shockproof to 6.6ft, waterproof to 33 ft, crushproof to 220lbs of pressure and freezeproof down to 14 degrees. Basically, it's a cyclist's dream camera. And you can win it by donating to the LiveStrong Challenge on Jill's Fundraising page . Every $5.00 you donate today, tomorrow or Wednesday gets you a raffle ticket toward this camera (as well as a 1GB xD card and carrying case). You might also win an autographed copy of Jill's new book, Ghost Trails: Journeys Through a Lifetime. Click here to donate.
Team Fatty 1-Week Report
So, Team Fat Cyclist: Fighting for Susan has been around for one glorious week. What can we say we've accomplished during that time? Some pretty cool stuff, actually:
Team Fatty accounts for 25% of all 2009 LiveStrong donations made so far.
Team Fatty is the #1 team in Seattle, Austin, and Philly. We're #2 in San Jose — by less than $100. Serious kudos to Team Lanterne Rouge in San Jose, by the way. A team of one person that's raised more than $6000 deserves some props.
Team Fatty currently has 282 people divided between the four events. Frankly, I'm trying to decide whether this is a really great start, or whether it means that my goal of 1000 people on my team was just not realistic. What do you think?
Together, we have raised about $21,000 for the Lance Armstrong Foundation in one week. That is extremely cool, and gives me great hope that — whether we have 1000 or 500 people on our team — we can still hit that $1,000,000 goal.
How to Win a Masi Soulville 10
Those of you who have registered to be a member of Team Fatty in the 2009 LiveStrong Challenge (in Austin, San Jose, Seattle, or Philadelphia) probably already know that for every $5.00 you collect on your fundraising page, you get a virtual raffle ticket (I'm excluding myself from all these raffles, by the way) to win this bike: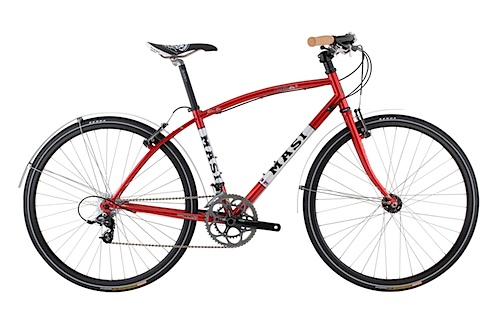 Yes, the Soulville. Seriously, that is just a cool bike. Take another long look at it, would you?
What surprises me is the fact that quite a few people have signed up for Team Fatty but haven't raised any money yet. If I were you, I'd find a friend, family member or complete stranger to donate something (or donate something on your own page, for that matter.)
Because, believe me, you want this bike. But you can't win it if you don't have any money in your donation page.
And the deadline for the raffle for this bike is Friday night.
How to Win the Wheels of Your Dreams
How would you like to have a nice $2000 wheelset? Well, that's the next big prize you can win: any Shimano Dura-Ace Wheelset. Like the Soulville, you're automatically entered in a raffle to win these ultra-top-end road wheels with every $5.00 you raise on your own LiveStrong challenge page.
But what if you don't plan to do the LiveStrong challenge yourself, but you'd still like to help out, and wouldn't mind winning an incredibly nice wheelset while you're at it?
No problem. Just donate on my LiveStrong Challenge page; every $5.00 you do earns you another chance at the any Dura-Ace wheelset you want.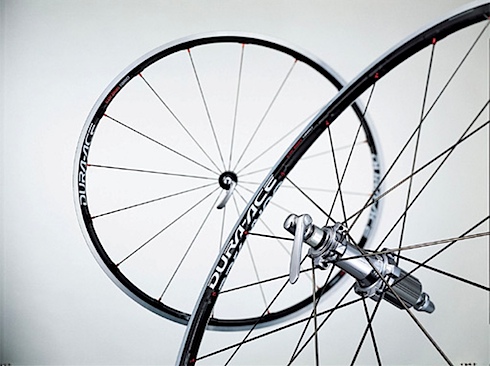 Mmmmm. Carrrrrbon. Man, I sometimes wish I weren't me, so I could win these wheels.
You think it's easy giving away all this awesomeness, knowing all the while that I can never win any of it?
It's not fair, I tell you. It's just not fair.
I'll be fine. I just need a moment to myself.
OK, I think I can continue.
Again, the donation for this wheelset raffle is this Friday night. So go donate now.
And Now For A Motivational Speech From a Couple of Guys Who Live In A Van Down By the River
Okay, I know I'm hammering pretty hard, pretty often about this LiveStrong stuff. The thing is, it means a lot to me. I love telling Susan that nearly 300 people have signed up to be part of a team bearing her name, and that we've already raised $20,000. And that we're trying to raise a million.
I love telling her that great companies like Shimano and Masi and Olympus (and many, many more, which I'll be unveiling soon) are helping us.
I love being able to tell Susan that while her cancer sucks for us, her story is inspiring hundreds — maybe thousands — of people (including me) to start doing something about this stupid, evil disease.
I love telling Susan that she has a lot of friends honoring her, while they honor and fight for their own family and friends.
And — after seeing this video of Medium Brad (who we earned more than $20,000 for last year) and Mike Roadie (who we earned more than $37,000 for last year) — I like thinking about what it's going to look like when Team Fatty gets up on the stage next year.
I think they're going to need a bigger stage.
Enjoy the video. Be sure to stick around for both speakers — Mike wears a Fat Cyclist t-shirt up onto the stage and presents Lance with a Fat Cyclist jersey. Not to be missed.