Summer's coming. Soon. Really soon.
Well, actually, I guess Spring's coming before Summer. But I promise you, Summer will arrive very shortly thenafter. Like about three months thenafter.
And that ratty ol' jersey you wore last year just isn't going to suffice. Why not? Here's why:
It smells terrible. Seriously, it does. Ask any of your riding friends. Or, if you don't have any riding friends, that pretty much answers your question, too.
It doesn't fit. You've lost a buncha weight since last year. Or you're planning to lose a buncha weight by the time Summer comes. Or maybe you've gained a lot of weight and have made peace with that fact. One way or another, you're a different size, and it's time to attire yourself appropriately.
It's not even close to sexy enough. Unless it's another Fat Cyclist jersey, in which case it's plenty sexy, but you don't want to be sexy on only one ride between washes, do you? (And if by chance you wear your bike clothes multiple times between washes I'd like you to go re-read and mentally underscore point #1, above. Thank you. From all of us.)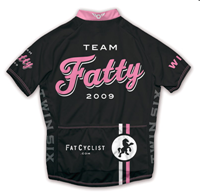 More than any of those reasons, though, is the big one: The new Team Fatty jerseys are now available for pre-order, with delivery in the beginning of June.
Again, let me make that clear: we are now pre-ordering, for delivery in the beginning of June.
I should also point out that while we always order a few extras, those few extras generally are gone within a few hours. So if you want one, you should pre-order.
And you want one. You know you do.
A Little Bit About Team Fatty
Team Fat Cyclist: Fighting for Susan is a big ol' group of cyclists (and a few runners and even one triathalete) raising money for the Lance Armstrong Foundation to fight cancer. There are now more than 360 of us. We're the top fundraising team in all four event cities: Austin, Seattle, San Jose, and Philadelphia, so we'd darn well better have some matching outfits when we line up at the various LiveStrong Challenges.
Show Me The Jerseys Already
Here's the men's short-sleeve version: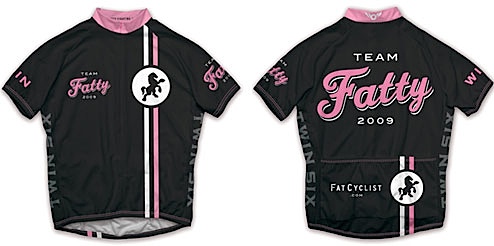 What's cool, though, is that for both men and women, this Team Fatty special edition jersey will also be available in sleeveless. For both men and women.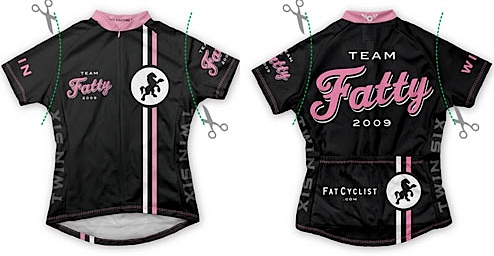 (Don't worry, by the way: the sleeveless jerseys are professionally done — they're not just sheared off by the Twin Six guys during one of their (all-too-common) bouts of drunken scissors rage.)
To order jerseys, click one of the below links. (All jerseys $75)
Get a Great Deal, Feel Good About Yourself
Here's the thing, though: whether you are a card-carrying, fund-raising member of Team Fatty or not, you're going to want to get yourself some Team Fatty garb.
Here's why:
40% of Your Fat Cyclist Gear Purchase Goes to the Lance Armstrong Foundation. Yep, when you buy one of the Team Fatty jerseys, 40% of the price of that $75.00 jersey (ummm, that works out to…lessee…$30 per jersey) goes to the Lance Armstrong Foundation. And since we'll be donating that through the Team Fatty fundraising pages, you'll be helping us stay the top fundraising team in all four cities.
You'll Get An Excellent Deal. If you spring for one of the Team Fatty Bundles, you'll get about 20% off the retail price, in addition to automatically making that 40% donation to the Lance Armstrong Foundation. Why are the Twin Six guys so cool about giving up all their profits to fight cancer and make you look good? I don't know, but I'm thinking of making up some kind of humanitarian award, just so I can give it to them.
Short-Sleeved Bundle
With the Short-Sleeved Team Fatty Bundle, you get a jersey, bibshorts (men) or shorts (women), armwarmers, the newly-designed socks, and the newly-designed water bottle.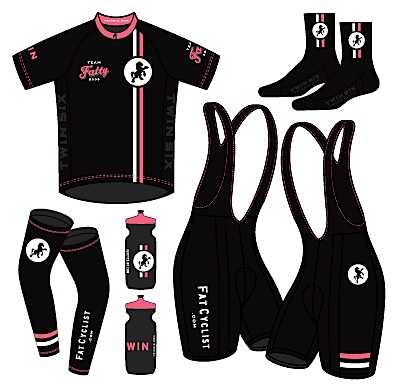 Sleeveless Bundle
With the Sleeveless bundle, you get a Team Fatty jersey, bibshorts (men) or shorts (women), the newly-designed socks, and the newly-designed water bottle.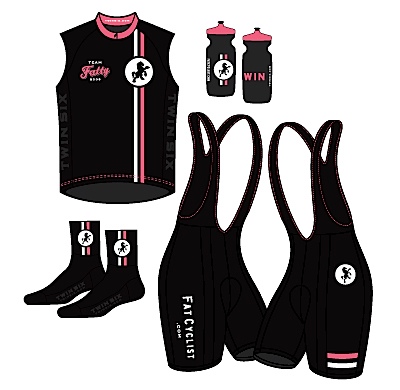 To order Team Fatty Bundles, click one of the below links.
This Won't Last Forever
The Team Fatty jersey pre-order extravaganza is for one week only. It ends Tuesday, March 17, 5:00pm CT.
[True fact: Every time I do a pre-order, someone puts it off until it's too late and then emails me asking if I can make an exception. Please do not be this person.]
Whether you're working your butt off raising funds or simply showing support by flying the flag, thanks for being a part of Team Fatty.