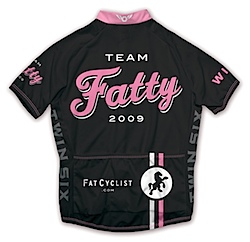 Hey, I don't mean to panic you or anything, but today's the last day to pre-order your Team Fatty gear. And now that I am officially the Two-Time Best Sports Blogger In The Whole Freaking World, I think you're going to want to associate yourself with me.
I mean, just think about how cool you will sound when the following conversation occurs:
Random Stranger (RS): Why are you wearing a shirt that proclaims that you're fat?
You: It's not a "shirt." It's a jersey.
RS: OK, then why are you wearing a jersey that proclaims that you're fat?
You: Because I'm helping Team Fatty raise money to fight cancer.
RS: Oh. What's Team Fatty?
You: It's a LiveStrong Challenge team started by a guy named Fatty.
RS: Why would a guy with a name like "Fatty" not change his name, much less put it on shirts?
See what I mean? Almost painfully cool.
And just in case you don't know, we're donating 40% of the gross on Team Fatty jerseys and bundles to the Lance Armstrong Foundation (more details here). In the week we've been doing this, we've raised around $9,000.00 to go to the Team Fatty LiveStrong Challenge with these jerseys.
Which is not half bad.
To order jerseys, click one of the below links. (All jerseys $75)
To order Team Fatty Bundles (which in addition to raising money to fight cancer also give you a really good deal), click one of the below links.
One last thing on this pre-order: We're not going to order a whole bunch of extras, so we'll almost certainly sell completely out of any extras as soon as they arrive. So if you want one and haven't ordered one, your best shot is to order one now.
A Few Words About Fixies and Devo
I have been a fan of Devo since I was a Sophomore in High School. And not just a casual fan, either. I have all their albums. My iPod's "Ride" playlist has more Devo in it than any other group (just in case you're wondering, Social Distortion is a close second, and Oingo Boingo is a close third).
My phone's ringtone is the opening riff from Girl U Want.
So as you might imagine, I'm more than just casually interested in the Devo Bike Auction currently going on. Check out what they're auctioning: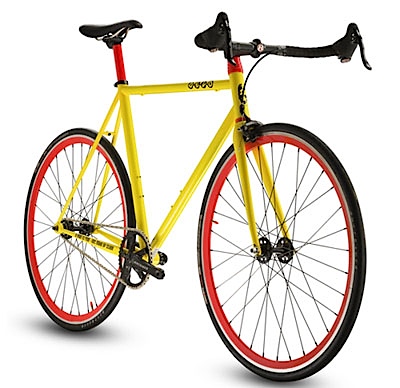 Yes, Devo — along with Trek, Club Devo, and Mellow Johnnys — are auctioning off this one-of-a-kind Devo fixie, with proceeds going to the Lance Armstrong Foundation.
Cool bike: check. Devo: check. Fighting cancer: check. This bike is a perfect storm of stuff I love. I'm definitely going to put in a serious bid on this. Feel free to try to outbid me here (and look for some more pictures of this bike further down this post).
Jeff's Report from the Bloggies
Yesterday, my friend Jeff happened to be at SXSWi for work, which put him in an excellent position to accept my Bloggie for me. Here's his essay-in-photos-style report.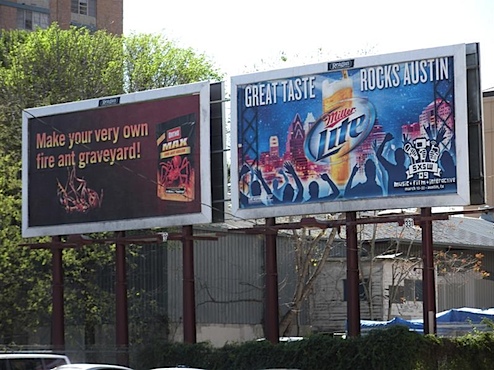 Welcome to Texas: Fire Ants and Beer! Not quite the welcome "Bud's Drive-Through Beer Barn" presented Matt Carter and me on a trip to Dallas (slogan: "Open that for the road?") years ago.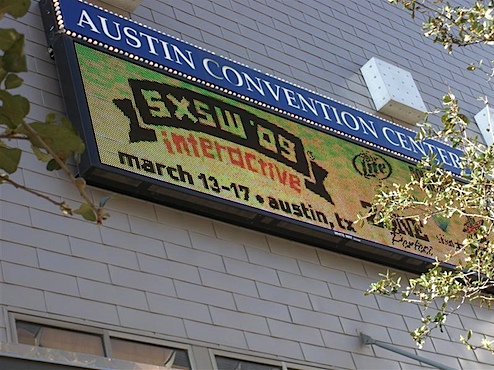 And here we are at SXSWi, where the three days of sessions and trade show is simply fluffy window dressing for the core draw: the weblog awards. I'm here, in my Fat Cyclist jersey, anxious to pick up his award and less-than-anxious to give the speech I have been provided.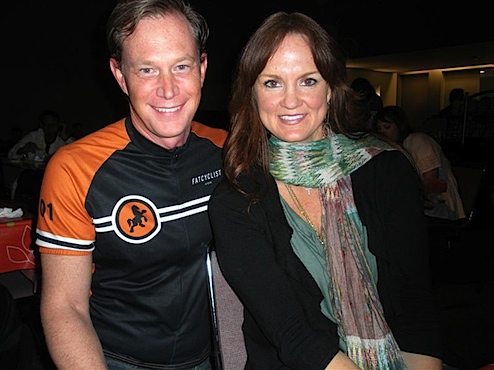 I settle myself near the lovely and charming Pioneer Woman, the lovely and charming sister of PW, the chunky and charming 9-month-old nephew of PW, and our new friend MsSingleMama. Honey, guys in bike jerseys attract lovely and charming people into their aura. The lycra shorts, you were right, dear, would have been too much. But I digress. The ceremony proceeds, ably IRCed and twittered by many. In a shocking turn of events, most of the crowd is actually paying attention. Much clapping transpires as PW wins two awards (and later the grand prize).
I give a shortened version of the prepared speech, focusing on the first paragraph and the LiveStrong stuff. I then wrap it up, since my proxy thank-you speech is approximately one million billion times longer than anyone else's was. I picked out a beautiful shot glass (um, yeah, not giant ball-o-precious metal) for Fatty and for sibling Pistons and Parakeets (I always get that confused — thank Andreesen for bookmarks). After PW's triumphant final win, I join the other winners or proxies on stage for ceremonial shots of the handmade vodka PW won. I was the only one who demurred and stuck with the proffered Red Bull shot.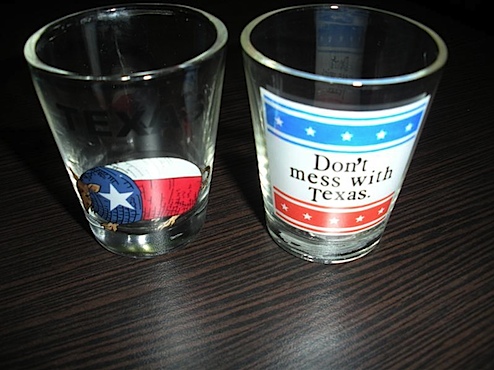 I then returned to the job I was supposed to be doing at the time: manning the codeproject.com/hostmysite.com booth, where we featured the world's fastest server, a nifty electric drag bike built around a dual-server. If you are geeky enough to care about this, go check out the site, or come visit codeproject.com. Once I finished there I …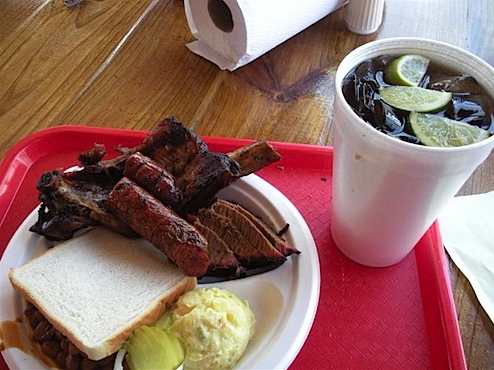 Had a celebratory lunch on Elden's behalf at the Iron Works BBQ adjacent to the convention center. No need to eat again until Wednesday.
Proceeded to the holy land, or at least the highly-well-respected land of Mellow Johnny's.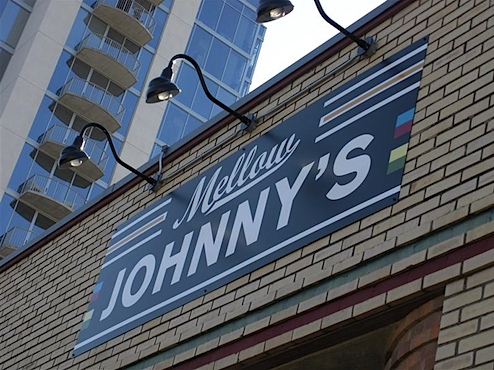 To fortify myself upon entry, I bought a diet coke from the friendly barista at Juan Pelota Cafe, perused the artwork, and just wandered around and caressed the merchandise.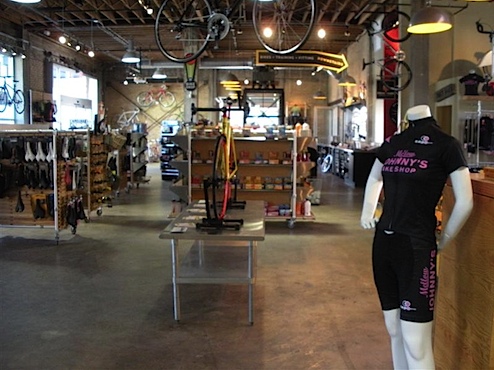 Beautiful bikes on display. Yellow jerseys from TdF wins by Mr. LiveStrong. And I bought a couple of t-shirts for me, one for my friend the Aussie co-founder of codeproject.com, and — THANKS, MJ guys, they wer kind enough to give me one to bring to Fatty. I was going to charge him for it. Maybe I still will. I know from long experience he doesn't read a thing I write. It's always "blah blah blah even my internal monologue is more amusing than Jeff's carefully crafted prose so I don't even have to read it … I will just wait until the end and state a sarcastic, agreeing supposition that invalidates everything that went before." Not that I'm bitter. Am I digressing? Sorry.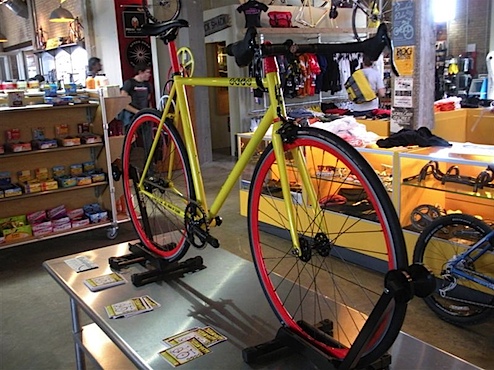 In movies, when the Holy Grail is seen, the Path to Freedom is found, or the Comic Misunderstanding is resolved, music plays as if it were the voice of angels singing. In MJ's, when I saw the LiveStrong DEVO bike, angels in the form of "THAT'S GOOD (BOOM), THAT'S GOOD (BOOM)" sang.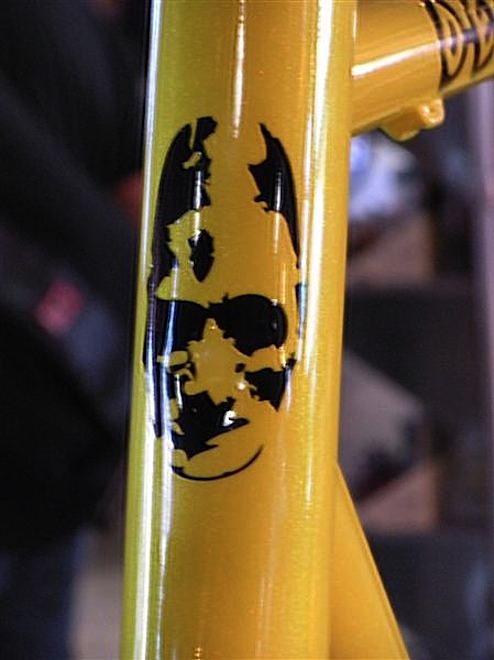 Look at this exceptional craft work (not kraftwerk, that's a completely different matter altogether).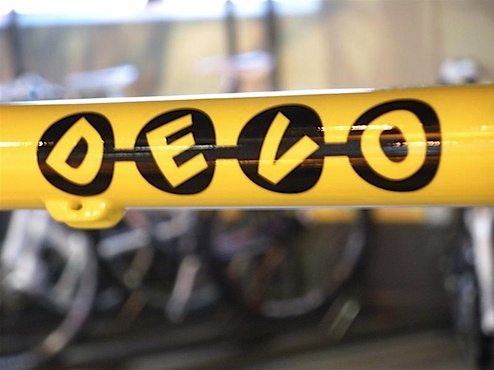 Monogrammed!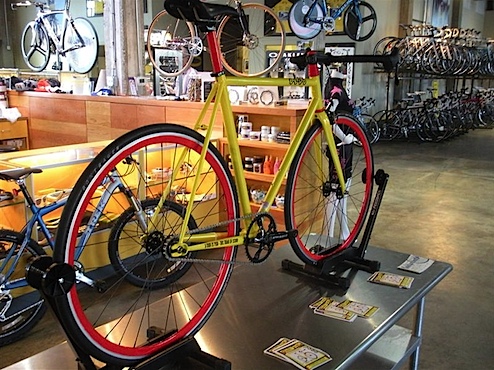 Nice rear view: you know you want it. So if a problem comes along, you must whip it. Devo's taking the same approach to cancer: join in the LiveStrong auction for this devolutionary, custom built ride. Use your freedom of choice. Turn away those gates of steel. It's just the bike, it's just the bike, the bike you want.
Thanks, Elden, for letting me accept on your behalf. Your trophy with only a little leftover Red Bull smear will be on its way to you soon. Use it in good health and stuff. And if you're not nice to me I'll repeat the pirate jokes they used in the gala award ceremony. (just for future reference: pirate jokes make any event a gala event.)