Like everyone else in the United States, I have been watching the Tour de France with a raptness that can only be described as "moderate." Or perhaps it could be described as "quite interested, but not to the extent that I'm not fast forwarding through half-hour chunks of it at a time."
As I have been watching, a few questions have occurred to me.
1. The Bob Roll Pronunciation of "Tour de France." Since the beginning of broadcast journalism, Bob Roll has pronounced "Tour de France" so that it rhymes with "Sewer say pants." Everyone knows this is intentional, but the gag has gone on so long that we expect it. This year, Bob's pronouncing it correctly. Is it that he's grown weary of the joke? Or is there something more contractual at play here?
2. Helmets. Watching the Tour this year, I suddenly realized that it now seems totally natural that everyone wear helmets all the time, not even discarding them for mountaintop finishes. I thought that pros could ditch their helmets for the final climb in mountaintop finishes. Is that no longer the case, or has everyone finally just gotten used to leaving their helmets on?
3. Polka-Dot Podium Girls. For Friday's stage, I stuck around to watch the awards, because the stage was a thing of beauty. And as always, the podium girls were beautiful, as were their dresses.
And then…there was the Climber's Jersey: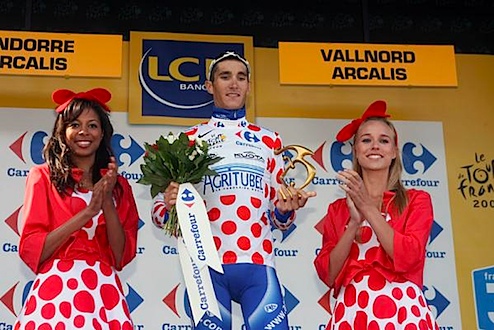 These outfits give rise to a whole host of questions, including the following:
How do you think the podium girls reacted upon first seeing them?
How do they manage to smile?
Did anyone else make the following association?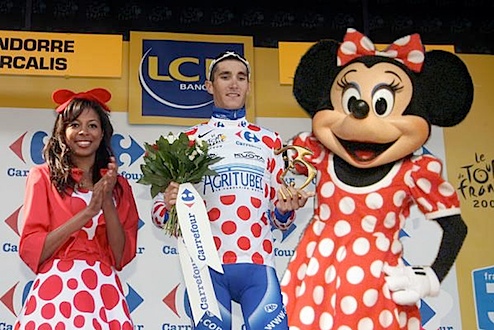 Yeah, that's what I thought.