One of the cool things about last weekend was that I had two people following me around most of the time — Glenn with his monstrously enormous camera for taking stills, and Daniel with his monstrously enormous video camera.
Thanks to them, I've got great pictures and video of the whole event, and didn't have to worry about taking any of those pictures myself.
Daniel is now editing the video down into a couple segments, the first of which I received last night. And while I die a thousand deaths anytime I see and hear myself talk on video (do I always talk out of one side of my mouth? Does my voice really sound like that?), I expect that you'll enjoy it.
By the way: Brad, you owe me another $50 for being a billboard for CarboRocket.
How to be Popular
Here's an amazing fact: I was able to sleep the night before my ride with Team RadioShack. Seriously, I was. Sure, I woke and checked the clock about every hour, but I slept. Didn't even take an Ambien.
I think it's important to celebrate life's little victories.
Around 7:30 the next morning, I came down to breakfast with the team. I brought along my secret weapon — a big box of t-shirts Twin Six had sent me for the occasion. "Here are some shirts," I said, "that you can wear without making your sponsors mad."
I was immediately mobbed.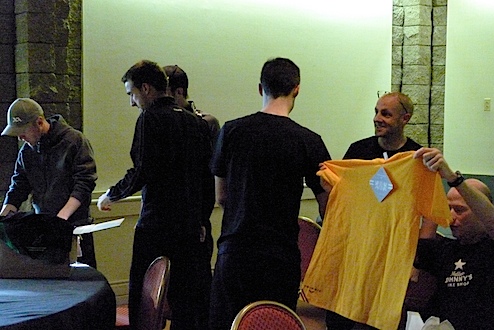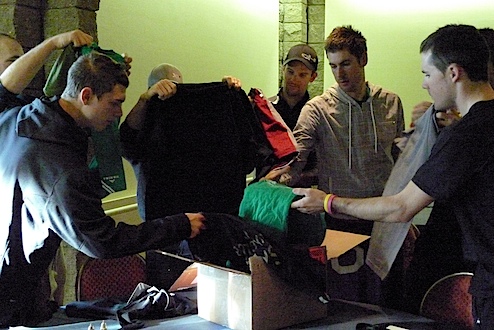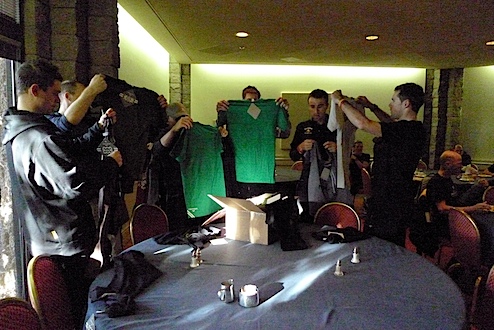 And then it was time to get fitted on my new Trek Madone.
Getting Ready for the Ride
The mechanics area felt like home. Not that I'm a bike mechanic — far from it. But I do hang around with and talk with bike mechanics whenever I go to a shop.
And the mechanics there were terrific. Really, they were just like your favorite mechanic at your favorite LBS. But with a much greater likelihood that they speak Belgian as their native tongue.
Within a few minutes they had unboxed the bike I had brought for the trip and measured it so they could set up the new Madone to the same specs.
And then I got to check it out.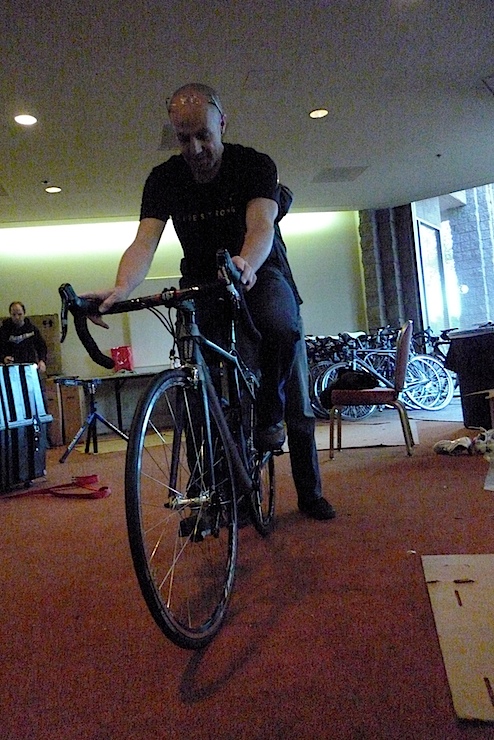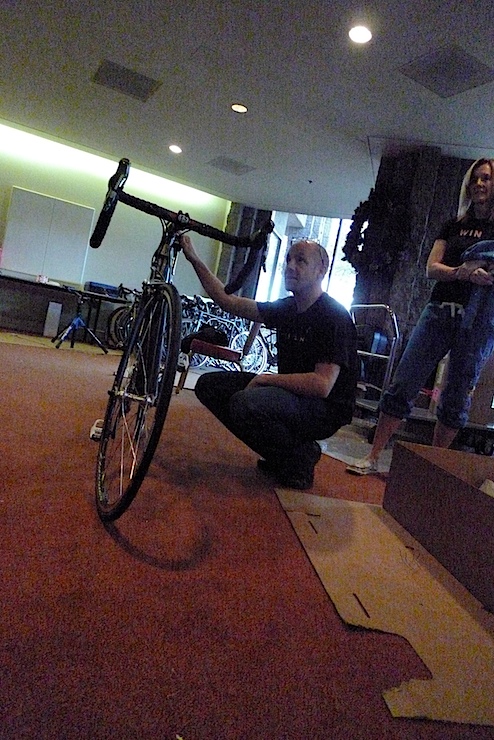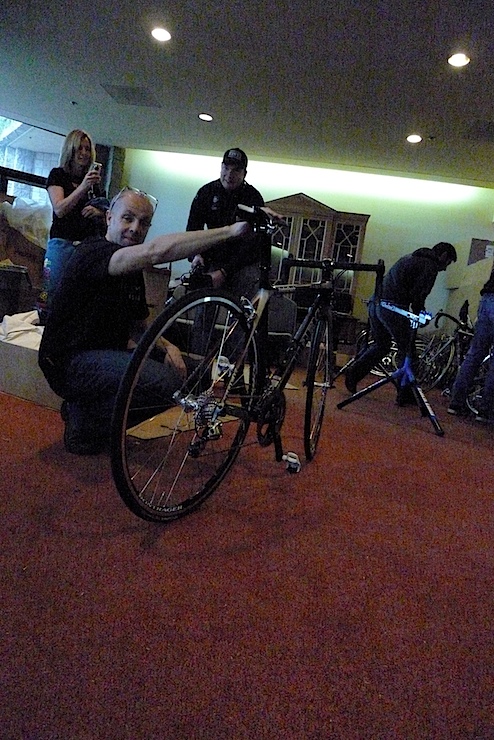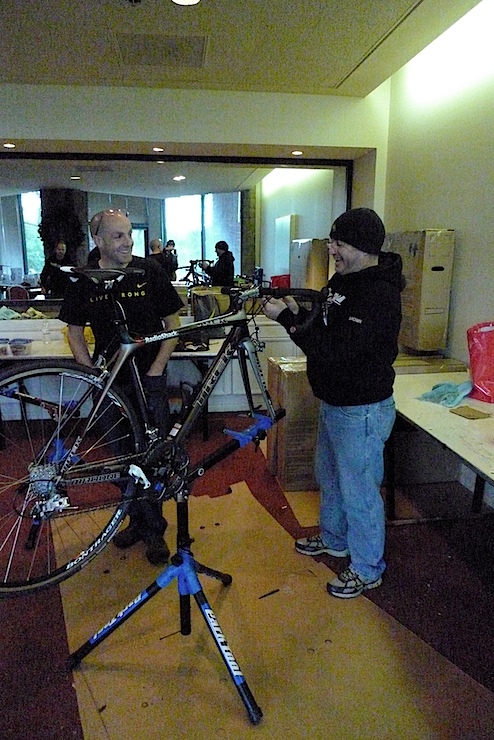 You know, I don't even know how long I stood there, ogling my new bike. The Runner, on the other hand, very likely is painfully aware of how long I stood there, ogling.
Team Meeting
With my sexy new bike ready to go, I went upstairs and got changed. It was time for the pre-ride meeting.
It was as I got dressed — shorts, short sleeve jersey, armwarmers seemed like plenty; it was nice and warm outside — that I started getting serious butterflies, and a major case of "What am I doing here, I have no business riding with these guys."
It's a common thing for middle-aged guys with a gut to get when they're about to go on a monster climbing training ride with a top-tier pro team.
I came downstairs, walking back toward the bike room with The Runner. Chris Horner and Levi Leipheimer were a little bit ahead of us, further down the hall. "Those guys have no butts at all, observed The Runner.
It's good to get the female perspective from time to time, because while this was a fair observation, I do not believe I would have ever made it myself.
Most everyone was gathered in the bike room, making last minute adjustments to their rides. Lance was sitting, ready to go. Twittering.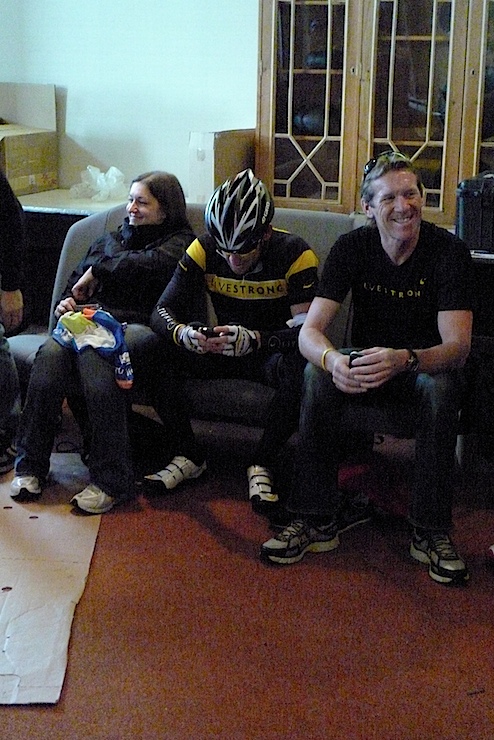 I noticed that a lot of the riders were wearing considerably warmer clothes than I was. "Well, they don't have the walrus blubber," I thought, counting on my subcutaneous layer of fat to keep me warm should the need arise.
While waiting for Johan to begin talking to the team, I affixed a Fat Cyclist sticker to my new bike.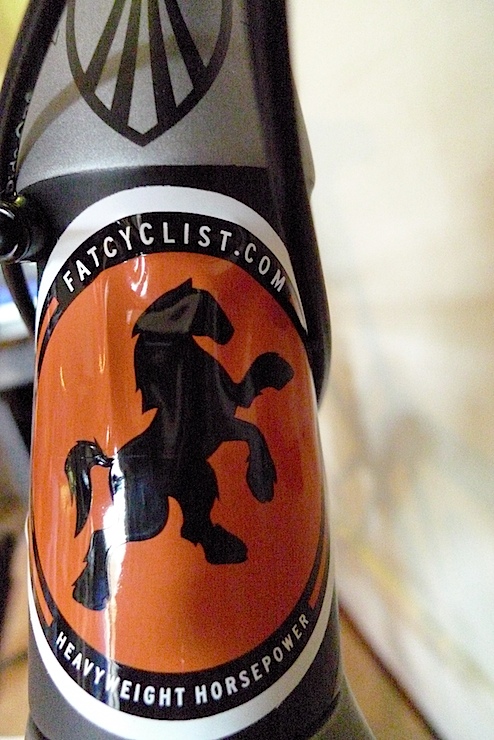 Yeah, I could have done a better job applying it, but it gets the point across.
Johan then got up and told the team that I'd be riding with the team today, and — I will love Johan forever for this — asked them to take it easy on me. Since there is no way in the world I would have ever been able to stay with these guys for even one minute if they chose to leave me behind, this was a very nice gesture.
And then it was time to get out the giant checks.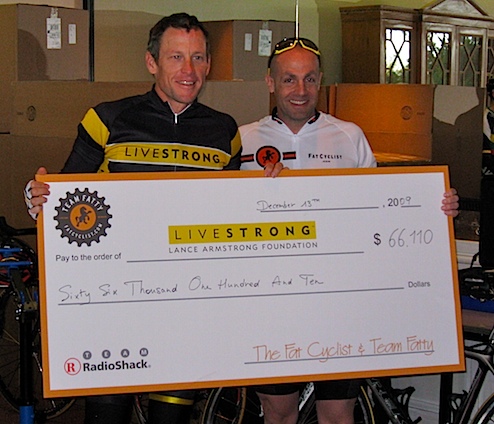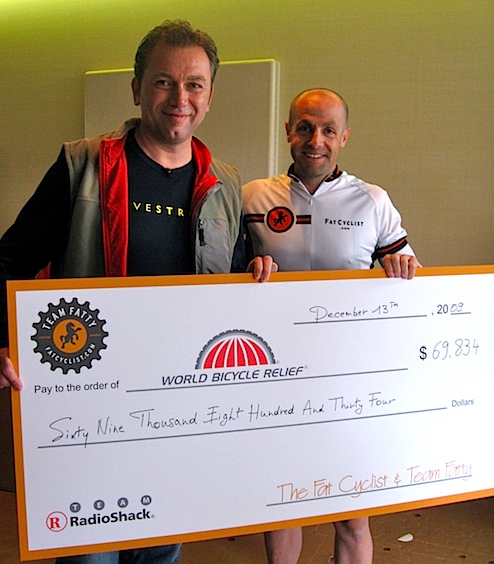 Together, we raised more than $135,000 for LiveStrong and World Bicycle Relief. In just a few days. And believe me, I never lose sight of the fact that it's all of you who are doing this incredibly generous thing — for LiveStrong, for World Bicycle Relief, and for me.
I don't think there's any way I can thank you enough.
Then, giant checks put away, it was time to ride. Time to do what the whole trip was about.
And that — finally! — is the story I will tell tomorrow.
PS: Bicycling.com has a nice article / slideshow about my ride with Team RadioShack. Check it out here.
PPS: Again, thanks to Glenn Kasin for the use of all these photos.
PPPS: And thanks to The Runner for the "giant checks" photos, as well as for following me around the whole weekend.