A Note from Fatty: Part II in the video series about my weekend with Team RadioShack is now posted. Check it out:
In today's video, you'll see me ogling the signed Madone, as well as drooling on my own. This is also the video where Johan Bruyneel and I present the giant checks for LiveStrong and World Bicycle Relief.
If you missed the first installment of this series, check it out here.
The Ride Begins
I always experience an odd moment at the beginning of a major ride or race. Just before it begins, I think something along the lines of, "It's finally here. It's starting in just a few seconds. This thing I've been thinking of as 'in the future' is about to become the present."
This thought is usually accompanied by a twinge of nausea. Or, in this case, by a pretty big batch of nausea.
But then I start riding, and the nervousness goes away and I start enjoying the ride or race or whatever.
Except in this case, the nervousness just changed.
For the first hour or more of the ride, I never took either hand off the bars, not even to get a drink. Whenever we stopped at a light, I unclipped well ahead of stopping. I focused constantly on keeping a good distance behind the next bike, and was careful never to suddenly brake or stand.
I just did not want to crash these guys out.
That said, the first several miles — from the hotel to the base of the Mt. Lemmon climb — was easy. The road was flat, and people were talkative. I stayed in the middle of the pack, riding and talking with the U23 racers (Ben King of Australia shown with me here).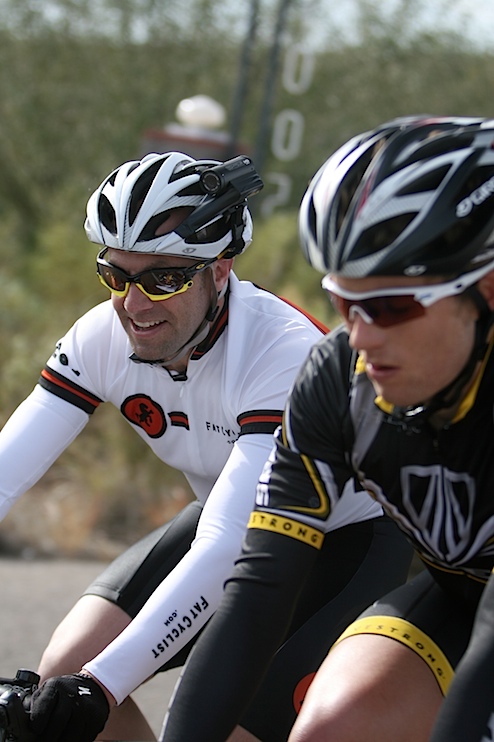 After riding a while (45 minutes? An hour?), we reached the base of the climb. Feeling good, feeling fresh, with adrenaline surging, I drifted toward the front.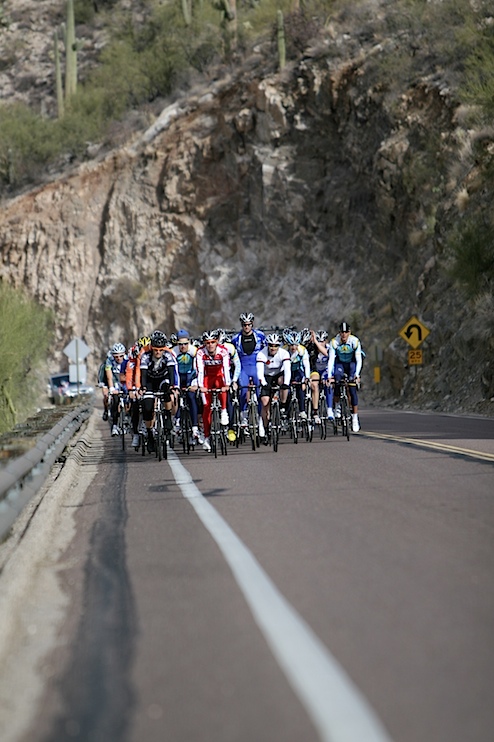 Every couple of minutes, Johan would pull up beside me in the team car and ask, "How're you feeling? How's the bike? You doing OK?"
I'm pretty sure Johan was concerned for my health…as well as for his riders' safety.
We eventually narrowed into (more or less) two columns, with me and Chris Horner — yeah, really — in second position.
And then the riders setting the pace dropped back, and I was in front.
Now, I would assert that I did a pretty good job holding the pace where it was. I learned later, however, that there was some grumbling toward the back about "Fatty ramping the pace up right at the beginning of the climb."
And by "toward the back" I mean "by Lance Armstrong."
Yes — and I believe this was caught on film — Lance complained about my pace.
Which may be the single most awesome thing that has ever happened to me.
Getting Some Help and Advice
I dropped back a little after a few minutes of pulling — and Lance rode up alongside of me.
"Pull those armwarmers down, Fatty, or you're going to overheat," he said. And then, "This climb's 25 miles long, and you've got a car beside you. You don't need any extra weight; give me that second bottle."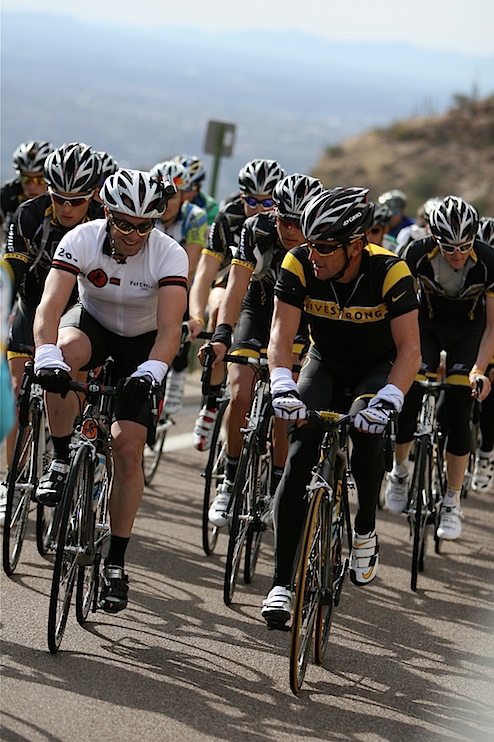 Which I did, without — to my relief — crashing Lance out.
We then rode and talked for several minutes — honestly, just chatter. He mentioned he really likes the 2010 Fat Cyclist kit, and asked me to send him a jersey, socks, and set of armwarmers.
I believe I can oblige him on that.
Then Lance rode forward, moving on to talk with someone else. Putting me in the surreal position of sucking Lance's wheel.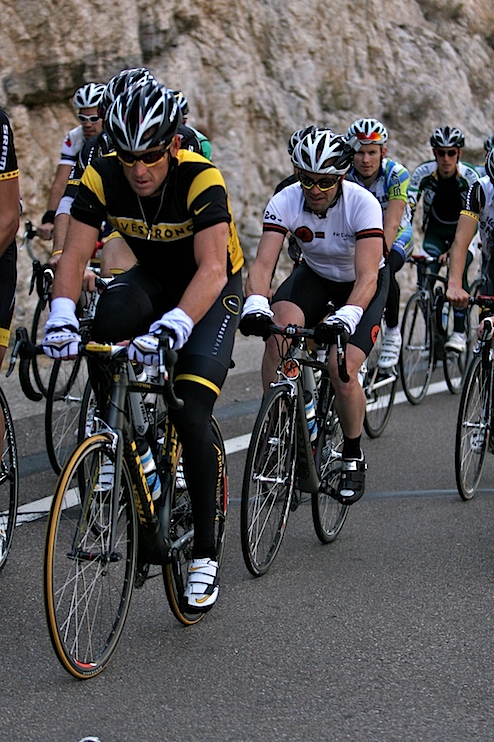 Then, as Daniel the video guy leaned out the window with his camera, Lance dropped back and said, "Put your hand on my back like you're giving me an assist up the hill."
And that brings up one of the most interesting things about my ride with Team RadioShack — what Lance is like on the bike. I noticed him moving back and forth in the group, talking and joking with his teammates — especially with the U23 riders — and looking like he was having a great time.
I kinda got the sense that this is the "real" Lance. A guy who loves riding his bike, and who loves riding with his team.
Which sounds pretty familiar.
The Fuse, The Bomb
About nine miles into the climb, I found I was having a hard time staying with the group. I was maxed out, and it wasn't enough. I kept asking myself, "Am I losing power, or are they accelerating?"
I was pretty sure they were accelerating.
Half a mile later, I knew it was over — I couldn't hold their pace any longer. "Goodnight everybody," I said in my Donny and Marie voice.
"No way, Fatty," replied Taylor Phinney, and he gave me a push back to the group.
I dropped back a couple more times, each time getting a boost back to the group by various riders.
And then, around mile ten, it happened. They accelerated. Hard. They just flew up the hill.
Within moments, I was at the back.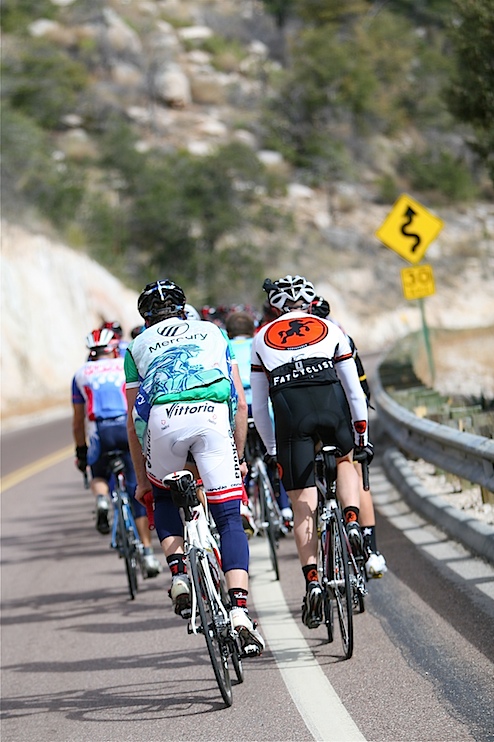 And then, moments later, I was shot out the back, babysat by a couple of club riders who were along with the group. Though I do take solace in the fact that I was able to catch and drop one of the U23 sprinters.
And after the club riders peeled off, I was completely alone.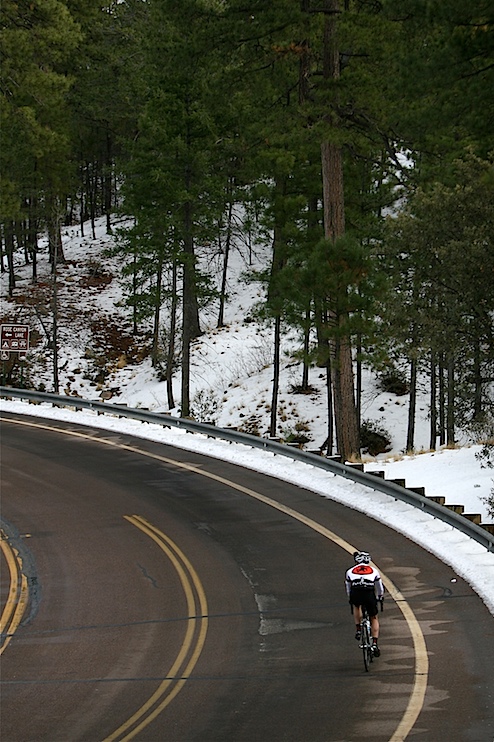 OK, the truth is, I was never completely alone. Because Johan told one of the team cars to stay with me at all times — piloted by Philippe, with Glenn taking all these great photos. And with The Runner cheering me on.
I can't even tell you how many times I was given an opportunity to pull over and throw my bike in the back, calling it a day. But here's the thing: would you, given the opportunity to ride with (and eventually be dropped by) a top pro team, want to finish the ride by abandoning?
No, me either. So I kept climbing.
Then I saw the pros start coming down. Flying. Several of them yelling "Go Fatty!" as they went by.
Or maybe they were yelling "Slow Fatty!" Hard to know for sure.
But it reminded me a lot of Leadville — the way the fast guys on their way down are willing to shout some encouragement for the slower guys still working on getting to the top. Very, very cool of them.
I kept climbing.
The End
And then the team car passed me and waved me over. "You've passed the turnaround point," Philippe said.
"Whu?" I replied.
"About half a mile ago. That's where everyone else turned around."
"So I'm the first one to get here?"
"Yes, I suppose."
At which point I drew an imaginary finish line on the road and crossed it. "I win," I said.
I was fully expecting to freeze to death on the descent — snow was more than a foot deep on either side of the road, and the wind was cold and strong.
So I have Glenn to thanks for my life: he loaned me the jacket he was wearing.
Knowing that I would never catch the pros on the descent — they had a massive lead on me and were increasing that lead every second — I cruised comfortably down the road. Enjoying the view. Considering that I had been on a ride with the pros.
And making sure I turned whenever the road did.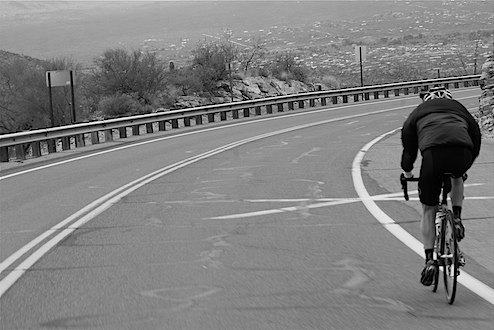 By the time I got back to the hotel, everyone else had been back for half an hour or so. Still, Johan was out in the lot, waiting for me. We talked about the bike, and talked about the ride.
Then, after a quick shower (and after somehow managing to not lay down and take a nap) I met Johan and Lance for lunch, where they assessed my riding performance (mediocre but tenacious) and told me what my big surprise is: I get to bring my family to the Tour of California for a stage, and ride in the team car. Lance suggested I try to be there for a mountaintop finish stage. Which sounds pretty darn good to me.
And then we talked about doing it again next year.
PS: I'm heading out right now to be interviewed for The Story, a public radio talk show hosted by Dick Gordon. Assuming I don't completely freeze up and stutter and pass out, this interview should air sometime in mid-January. I'm nervous as can be. Wish me luck.