A Note from Fatty: Let's end this deluge of 100 Miles of Nowhere stories with one from Team CarboRocket. And be sure to read Mary's bio. She's awesome. And while you're at it, check out the Team CarboRocket blog in general. Many of them participated in the 100 Miles of Nowhere, which makes them the coolest cycling team in the world.
"Hi Sammy!" Lisa called out every time we rode by the headless snake in the gutter.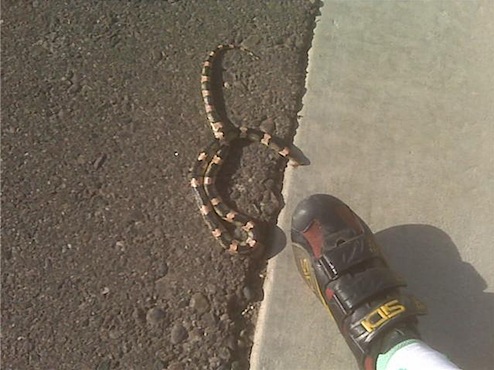 She named him after about the 10th time we rode past him on our 33.5 times around a 3-mile loop in Surprise, AZ. Team CarboRocket of Arizona won the "Team CarboRocket AZ" division, starting early in the morning and finishing early in the afternoon.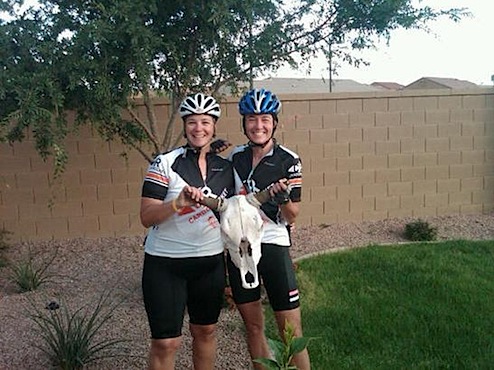 We battled wind gusts, heat, one bee swarm, muscle cramps, and climbed over 1000 feet in 100 miles to nowhere. Mountains and farm fields and newly minted subdivisions framed our ride around the box.
Enthusiastic neighbors rode one lap with us rocking the flip-flop-beach-cruiser style; a triathlete lasted about 8 laps. In our final mile, we raced the neighborhood bmx gang.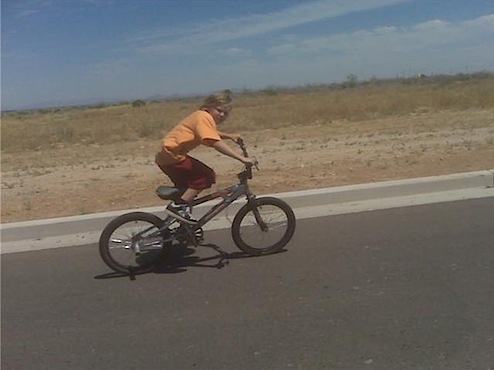 CarboRocket fueled successful team bonding, and we hatched hillarious plans for Team CarboRocket bootcamp and bbq.

– Mary, Team CarboRocket