Beautiful but chilly 47 degrees as I rode down to the Seattle Burke-Gilman stage to meet my cycling buddy, Jessica, for our 100 MON. Jessica had never done a century and she may not be my buddy after this one.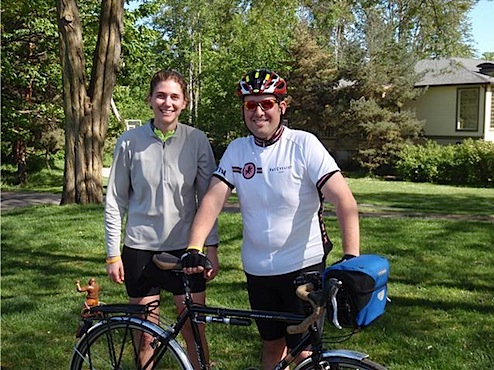 Our route ran along a 1.15 mile section of the Burke-Gilman Trail near Metropolitan Market. Other than Metropolitan Market's excellent pink elephant sugar cookies and clean bathroom, the routing may have been suspect (and all my fault).
Early going was great at 6AM with the trail empty, but soon the mini-peletons, runners, walkers, and pretty much everyone in Seattle was out on the first truly beautiful day this year despite the cold. After 8 AM, we had many moving roadblocks including a dude walking his dog while riding a skateboard. The trail was in decent condition for this time of year, but coming to a dead stop to turn around every 2 miles was brutal.
The weather warmed up later in the day, but that just lead to good sweat and a helluva show for folks seeing me in the white jersey. We had get some great support and even Kamala himself was out for the ride, complete with TWO livestrong bracelets.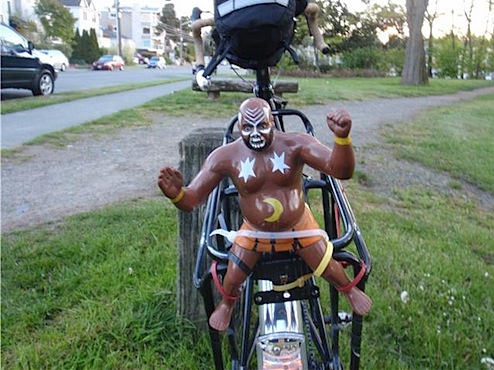 Jessica's mom showed up to say hi. Around Miles 30 and 90, a couple of other buddies I know joined up to spin a few laps. Superstar status goes to Jessica's pal, Shane, for riding 35 miles with Jess after I started flagging and fell behind.
Jessica climbed atop the podium in the Women's Burke-Gilman Division in about 7 hours of riding time (best not to ask about total time); I followed up to top the Men's Division around 7:30. Medals to be awarded at a banquet this week.
Awesome event! But next year on the trainer with movies!
– Mike S, Seattle
PS: Check out the video — it's awesome!