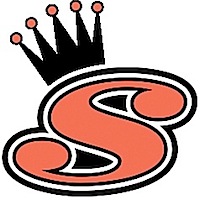 A Note from Fatty: Today is the last day you can enter to win the SyCip hand-built bike, tricked out with Shimano and PRO components. Read here for details on the bike, then click here to donate for a chance at the bike.
I'm so angry right now I can hardly see straight. Well, the truth is I have a lazy left eye so the "not seeing straight" part is pretty normal for me.
But — trust me — I'm pretty darned angry.
And I'm not the only one. Lance is mad too. Which is us is angrier? It's hard to say.
I better back up and explain.
As many of you know, Lance Armstrong and I are now pretty tight. We hang out together, share training successes and failures, give each other parenting advice, exchange recipes, and are on the same World of Warcraft guild (his handle is "MelloWarlord;" mine is "FatPaladin").
And so — like Lance — I was outraged when I saw the upcoming cover of Outside Magazine: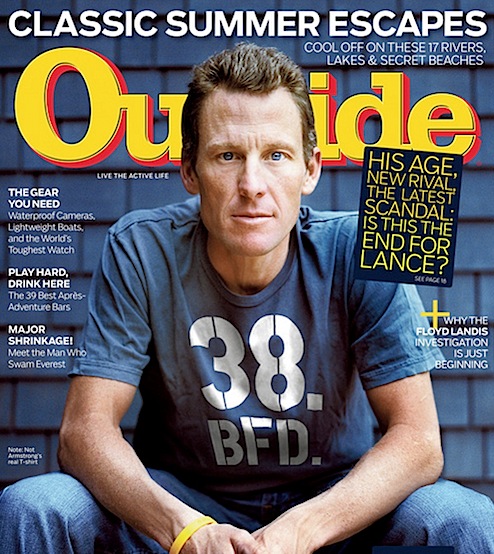 No, Lance was not outraged because the hairstylist made his hair look like he was photographed while hanging upside down. Nor was he angry that they chose the one photograph out of the whole sitting where he was looking menacingly intense, instead of showing his usual congenial, toothy grin.
He wasn't even angry — well, OK, he was kind of angry, but not red-faced and seething — at the "Major Shrinkage!" headline right there beside him.
No.
He was angry for the exact same reason I am angry. And that reason is: Outside Magazine photoshopped "38. BFD." onto his T-shirt.
Note: For those of you who aren't familiar with the "BFD" acronym, it stands for "Bidirectional Forwarding Detection," which is a network protocol used to detect faults between two forwarding engines connected by a link — a very peculiar thing to put on a t-shirt, I think you'll agree!
Lance was so angry, he actually tweeted: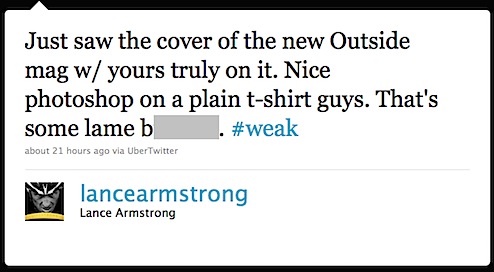 Wow. That's angry. I, for one, hardly ever get so angry that I start talking in light grey rectangles. But Lance — he and I have agreed during one of the many, many times we've hung out together — has a greater capacity for anger than I.
Which is not to say that I am not angry.
At this point, you're probably wondering why — apart from indignation on Lance's behalf — I am angry. What stake do I have in this egregious example of Photoshopping a plain t-shirt?
Well, the only way I can explain is by showing you the original photograph — the comp Outside emailed to Lance and me, saying they were just going to make a "couple of minor changes" before going to final.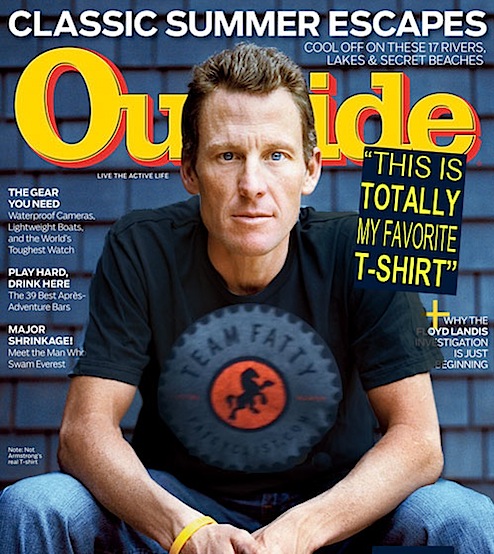 For one thing, it is not easy to get Lance Armstrong to wear your t-shirt in public. At least, not for most people.
And for another, I totally paid Lance $20 to wear that shirt for the cover, and Lance says he's already spent it and it wasn't his fault that Outside Photoshopped it out anyway.
I'm so angry, I could just tweet .