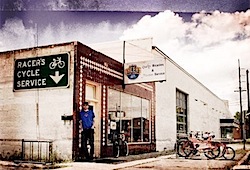 A couple weeks ago, The Runner and I went on a road ride: up to the summit of the Alpine, down to Cascade Springs, and back home. With — I think — about 5000+ feet of climbing, this is always a great ride, but it's extra awesome in the short period between when the snow melts and when the gates are opened so cars can drive the roads.
Because for that short week or two, roadies can use both sides of the road, bombing the downhills like we wish we could the rest of the year.
There is one little problem on the road, though: scree. Oh, and there's usually pine cones, pine needles, and other tree-related debris.
Which means, I guess, that if you want to get fussy about it, there's more than one problem on the road.
Though I assert that, collectively, it's still just one problem: stuff that gets in the way of your ride and can potentially wipe you out or at least give you a flat.
By now, you're probably wondering why I'm arguing like this, when nobody was counter-arguing. You are probably not wondering, however, whether someone got a flat, because otherwise I wouldn't have spent four paragraphs going on about this.
By the way, it was The Runner who got the flat.
The Runner's saddle bag had everything she needed to fix the flat: tube, CO2 cartridge, adapter and tire lever. We took care of the flat in a few minutes and finished the ride.
As we swapped in the new tube, though, It was obvious that it was time for a new tire.
The next day, The Runner brought her bike into Racer's Cycle Service, asking Racer — yes, that's his actual first name — to put a new tire on. And of course, he did.
And that should be the end of the story, which would not be my best or most interesting blog post of all time (not the worst, either, but perhaps a little more mundane than most).
But there's a little more to the story.
Surprise Inside
The Runner and I planned to go on a longish road ride on Saturday — Over Suncrest, along Wasatch Blvd, up Little Cottonwood to Alta ski resort and back home — about sixty miles, with about 7000 feet of climbing.
As I was getting our bikes ready (I often do pre-ride bike prep on The Runner's bike, because in addition to being remarkably handsome and athletic, I am also very chivalrous), it occurred to me: The Runner's saddle bag was — and had been, for her most recent two rides — strictly ornamental. No tube, No CO2 cartridge.
Relieved that The Runner hadn't found out about my negligence the hard way, I went and got a tube and a cartridge, then unzipped the saddle bag.
But there was already a new tube and CO2 cartridge in there.
But not the brand of tube or CO2 cartridge I currently keep in my garage.
Instantly, I realized what had happened: knowing that The Runner had used up her tube and CO2 on the flat, Racer had replaced them when he put on the new tire.
And then hadn't said anything about it.
Yeah.
Racer Rules
So you can kind of see why I travel the extra distance to go to Racer's. Why I've been going to Racer's since it's existed. And why I went to the bike shop Racer worked at before he got his own place. It's because, in addition to being a great mechanic, Racer is just a genuinely good guy.
And I expect that there are a lot of great guys (and I mean the inclusive-of-all-genders version of "guys") — local bike shop owners and mechanics — out there just like Racer. Guys who love riding, who know their bikes, and who take care of their customers.
Guys who make it possible for people like me to spend our bike time riding, instead of tweaking.
Tell me about them.