A "Hey, Come Watch A Movie With Me and Ask Me Some Questions" Note from Fatty: I'm excited to be joining Bike Utah for the 2011 Utah Bike Summit. For the Kick-off movie, they'll be screening Race Across the Sky 2010 , which features me for practically the entire movie. Or at least for a minute or so.
Anyway, after the movie, I'll be there — along with my friend Kenny — for a Q&A session. If you're local and can come watch the film, you absolutely should.
The film will be shown Thursday, April 28, at 7:00pm, at the Jordan Commons Megaplex.
A Note About Today's Post from Fatty: Today's guest post comes from Debi, a Traumatic Brain Injury (TBI) Survivor, helmet evangelist, and the founder of Brain Injury Connection.
The proudest moment on my bike was when I rode up that final climb to the staging area before the Ride 2 Recovery (R2R) Golden State Challenge participants rode the last few miles to the Santa Monica Pier.
I met my personal goal to ride the entire route of 2010 R2R Golden State Challenge, a fundraising and rehabilitation ride, from San Francisco to Santa Monica without SAGing (cycling term) meaning needing to be picked up because your bike has had a mechanical problem; you've been injured; you can't ride any further safely due to fatigue; or because of physical pain that could result in a serious injury. I didn't want to be a burden to the R2R and take up a seat in a SAG vehicle that should be reserved for our newly injured veterans, many who have never ridden a bike or haven't been on a bike in awhile.
I know a few people didn't think I'd make it to Santa Cruz let alone ride over 7000 feet on the 95 mile ride day from Carmel to San Simeon via Big Sur.
I decided to get myself back in to riding after hearing the Executive Director of the Ride 2 Recovery, speak in 2009 at a brain injury resource fair. John Wordin shared how cycling is helping wounded warriors in their recovery from physical and mental injuries from the wars in Iraq and Afghanistan and he invited the brain injury community to participate.
I happen to be a noncombat veteran (1975 – 1978) and I was a Captain in the Army Reserves until a traumatic brain injury (TBI) changed my life and my civilian and reserve careers. This seemed like the perfect fundraiser for me. I wanted to support our troops.
I was desperate to feel better because I was very depressed. John also shared how he lost weight cycling after playing football in college. I have always fought the battle of the bulge, but the weight crept up rather quickly after the TBI. The fatigue issues that come with TBI and medications didn't help.
It wasn't until I told a friend I was planning to participate in the Ride 2 Recovery (R2R) Golden State Challenge that I was reminded of all the hills on Highway 1. Then, I realized I need to learn how to climb hills. I was raised in Michigan and I had never climbed a hill.
It was too late to back out; I had already told John I was going to participate.
I don't know why I was so scared of the hills, but I suspect it was my fear of having another traumatic brain injury (TBI). Cycling is a high risk sport especially when you're sharing the road with vehicles. I happened to be out riding my bike without a helmet when I had a TBI. I was informed by a witness that I got off my bike in the middle of an intersection and took one step and fell like I was shot. It resulted in two brain bleeds.
Cycling was challenging for me initially because of my fear, but thanks to a specialist in touch hypnotherapy, hypnomassage and trauma, I have worked through that fear for now.
I'm more confident because of the Golden State Challenge. There is nothing more fun and safer than riding with cyclists who care about each other and experienced and professional cyclists who care about inexperienced riders — like me.
While having the honor and privilege of riding with the men and women, who made the commitment, took the oath and answered the call of their country, I met my personal goal, I never SAGed while climbing over 27,000 feet on the Golden State Challenge, and I faced my fear of having another brain injury.
I have found cycling to be good medicine for me.
The following is picture is of me, the fat chick in the middle, Wayne Stetina, a professional cyclist and Vice President, Shimano American Corporation and Road Product Specialist, and Barbara, his lovely bride of 33 years, at the Santa Monica Pier with my beloved TREK hybrid.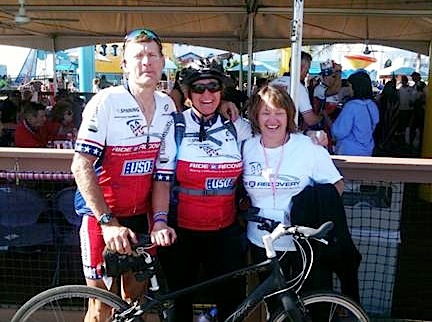 I was the only person riding the 7 day ride on a hybrid and I understand from Wayne that no one thought I'd make those hills. At the staging area Wayne congratulated me. He told me of all the people on the Golden State Challenge they thought wouldn't be able to ride the entire route it was me.
But I did!
Every time I think about the R2R Golden State Challenge I experience a wave of euphoria. It was a confidence builder for me and it will always be the ride of my life.
Some of our troops because of the R2R are getting in to racing because they've become addicted to cycling. I was bit by the biking bug, too; however, I'm afraid because of my age there won't be any competition so I plan to ride in fundraising events for causes I'm passionate about including but not limited to those that help people affected by brain injury and cancer, America's combat veterans, and America's vulnerable children and seniors.
After finding Fat Cyclist's blog searching how to lose weight biking, I learned about Team Fatty and their dedication to eradicate cancer by "Fighting like Susan" for a cure and to help those affected by cancer. I lost several friends and a family member to cancer. I plan to honor them by riding in the Livestrong Challenge at Davis in July and I hope to meet Fatty.
Participating in the R2R Golden State Challenge gave this noncombat veteran the ride of her life; an opportunity to ride with America's combat veterans; face her fears head on; and to say that she was proud to meet her personal goal not to SAG on the Golden State Challenge.