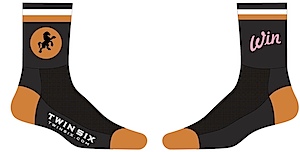 A "This Would Be A Nice Selection of Fat Cyclist Stuff" Note from Fatty: Did you know that the Fat Cyclist Gear pre-order ends tomorrow? No? Well, it does. And you still haven't ordered anything (unless you have). I suspect that this is because you are overwhelmed by the shear number of cool things there are to order.
So I'm going to help you, by telling you the three things you should get, even if you don't get anything else. Because you will be very glad you did (yes, of course you can get other things too; I will not hold that against you).
A "Hey, I'm Totally Photogenic" Note from Fatty: My post today is of course about the Tour de Donut, but a local paper — the Daily Herald — also covered the race, including a couple of photos of Kenny and me. Here's my favorite: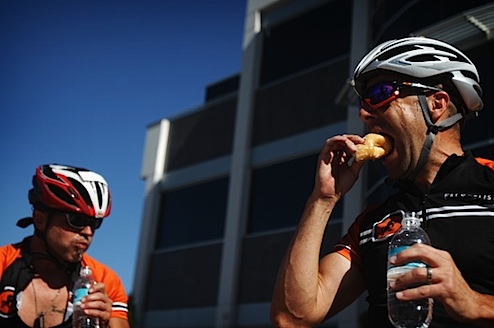 Be sure to check out the story here, especially the photographs.
The Night Before
Friday night. Me. Staring at the ceiling. Unable to sleep. I had a race the next morning — the first (and let's face it, probably only) race I was to be the title sponsor of: The FatCyclist.com Tour de Donut.
I had a serious dilemma, and that dilemma came in the form of a vivid recollection from the previous year when I had done this race.
In 2010, I had eaten thirteen donuts, which had gotten me on the podium for my age group. But it had also made me feel absolutely lousy for the rest of the day.
I didn't want to feel that sick again. But I also didn't want to turn in a sub-par performance at the race.
Eventually, I drifted off to sleep. Still undecided on my strategy for the race.
Before the Race
The Hammer and I woke up at 5:15am, as usual. But not just to do this race. See, The Hammer also has a good memory, and did not want to force down a bunch of donuts again. Instead, she planned to take it easy around the course, riding with the twins.
Which meant The Hammer needed a workout prior to the race.
So we did an 8.3-mile trail run — including 1235 feet of climbing — just a couple hours before the Tour de Donut.
This has nothing to do with the race, by the way. I'm just kind of in the mood to brag about having done a longish run before doing a bike race.
Wait, I probably should have put "bike race" in quotes.
Anyway, The Hammer and I got back, gathered the twins and their new mountain bikes, and headed out.
Here, I was told I needed to say a few words to the crowd: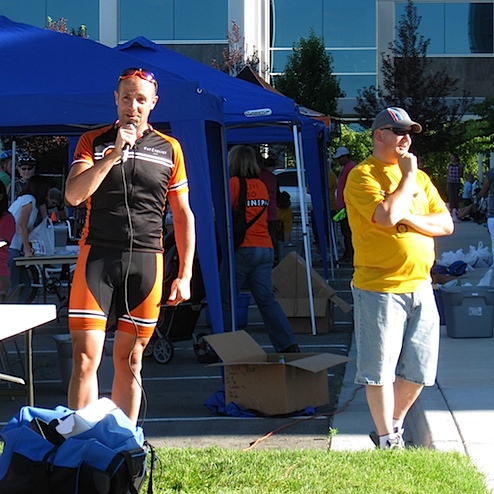 That's Race Director Rod Martin to the right. Clearly, he is riveted by my speech.
I think I mostly talked about how the proceeds from this event are going to some really great causes, including a new blanket warmer for the Huntsman Cancer Institutue Center in the local hospital — a simple, practical thing that would give some comfort to people as they got chemo treatments.
Then we lined up.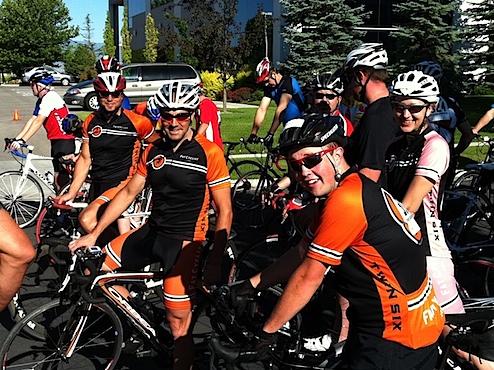 Left to right in the Team Fatty kit: Kenny, me, The IT Guy, Heather.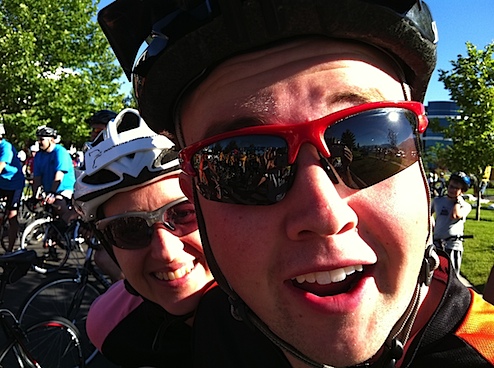 I don't think Heather and the IT Guy are taking this race very seriously.
Further back in the line, The Hammer got a shot of the twins in their first race starting line.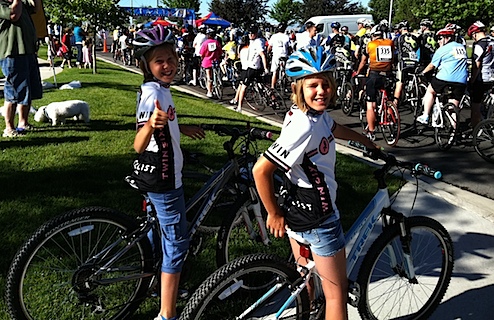 The twins don't look particularly concerned.
Then, moments before the race began, I finally settled on my race strategy.
I looked over at Kenny and said, "Let's go hard."
When Non-Serious People Take a Non-Serious Race Seriously
The gun went off and Kenny and I took off. Since we were about five rows back, it took a little bit of snaking around people before we got close to the front.
And then I saw the guy I was sure was going to pull us the rest of the race: a guy with calves as big as my quads.
"Let's tuck in behind this guy," I said to Kenny.
We — along with a couple of other guys near the front — settled in as the Sir Calves-a-Lot pulled with the strength of ten men.
Then, maybe 200 yards later, Sir Calves-a-Lot stopped pedaling, pulled over to the left, and just coasted.
Evidently, he was done.
I shrugged and swerved around the other two guys who were drafting behind the man who I just renamed "He With the Ineffectually Large Calves."
And just like that, a third into the first lap of the race, Kenny and I were in front of everyone.
"Let's work together," I said. And we set about being the fastest guys there were in a race nobody cares about going fast in.
We took short, intense pulls, building a larger and larger gap.
Moment of Terror
And then, partway into that first lap, I almost died.
For real.
Kenny and I were hauling. I was pulling. We were coming to a left-hand turn in a four-way intersection.
I was very nearly into the turn when I saw it: a minivan coming from our left side, going through and not slowing down. As far as it was concerned, it had no reason to; it had the right of way, we had the stop sign.
Kenny yelled. I grabbed two handsful of brake. I saw the terrified face of the driver of the van as he went by, missing me by a foot or so.
"I thought you were dead," said Kenny.
"Me too," I said, and Kenny took his next turn pulling.
The Donut Strategy
Kenny and I pulled into the donut eating station. Since we were first, we had our pick of where to stop. We pulled all the way forward and dug in.
I did not know how many donuts I wanted to eat. Last year, I had eaten eight the first go-round. I knew I didn't want to eat that many this time.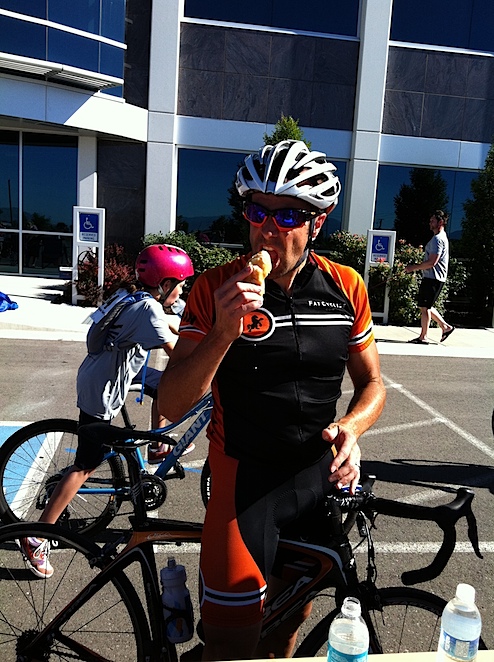 Kenny kept a close eye on me, matching me, donut for donut.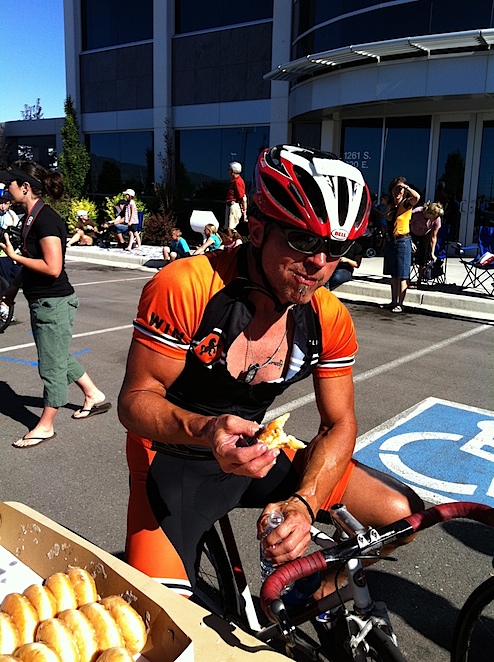 After four — yes, just four! — Kenny said, "Let's roll."
I knew I could have easily eaten another two donuts without any discomfort whatsoever, but I was having a ball tearing up the course with Kenny and didn't want to give that up just to beat him by eating more donuts.
So off we went. We had a couple of people to re-catch who had eaten either very few or no donuts at all.
We had high confidence we would be able to do so.
Elsewhere on Team Fatty
If a race is supposed to be silly, the most ridiculous thing you can do is take it seriously. Which means, I think, that Kenny and I were the most ridiculous people on the course.
Luckily, not every rider on Team Fatty was being as foolish as Kenny and I.
Take, for example, KanyonKris and his wife Jolene. They had borrowed my tandem for the day, decorated innertubes as donuts, and were riding in seriously awesome style: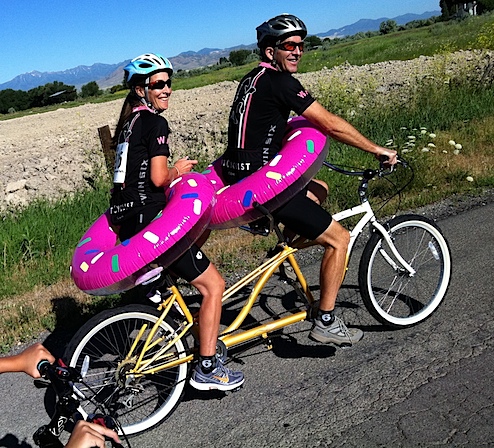 They then made valiant attempts at eating donuts: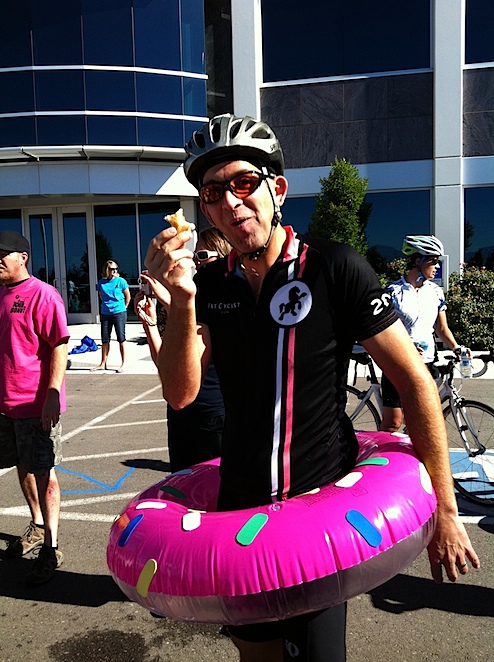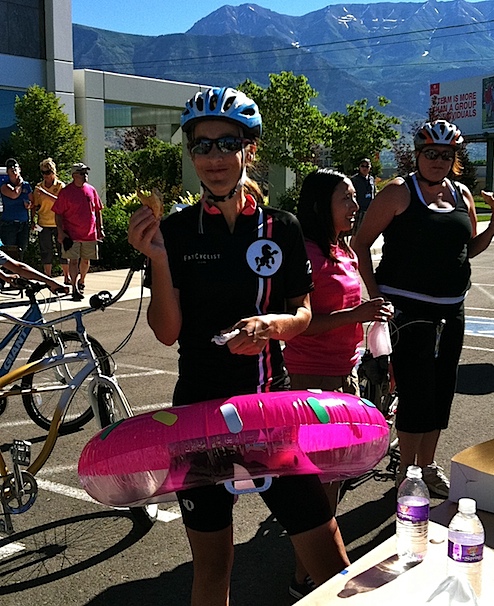 Honestly, though, look at them. People must see them wearing FatCyclist jerseys and get so confused.
Meanwhile, The IT Guy and Heather rode — and ate — together, reprising their highly effective working-together strategy from the Rockwell Relay.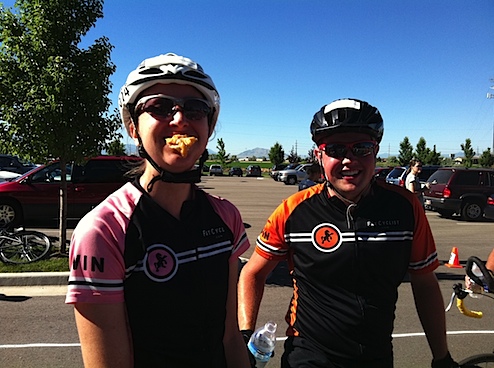 You're not going to win if you aren't shoving donuts into your face at top speed, you know.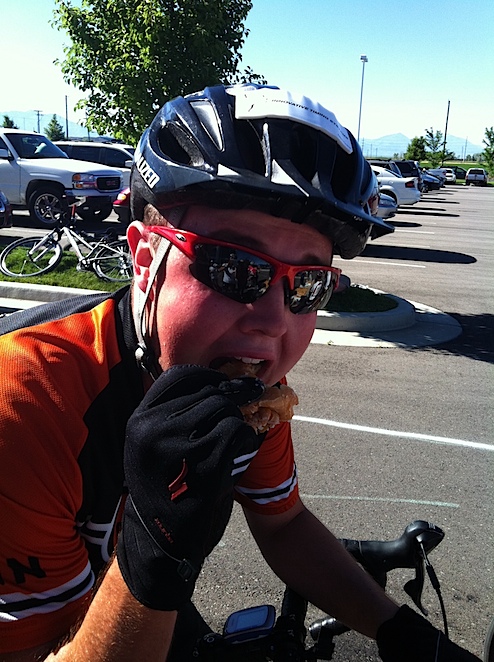 I dunno. It doesn't really look like he's enjoying eating that to me.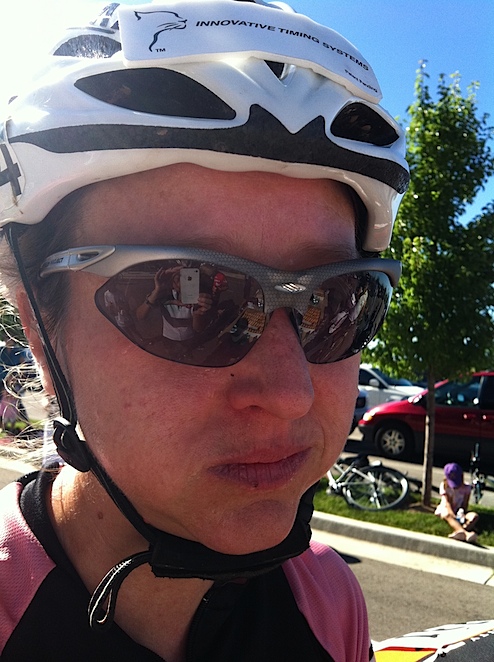 The Hammer noted that after eating seven donuts, "Heather looked totally green."
It is not known at this time whether The IT Guy mooned Heather during this race.
The Twins Rip Up The Course
And what about the twins? They were having a great time riding with The Hammer.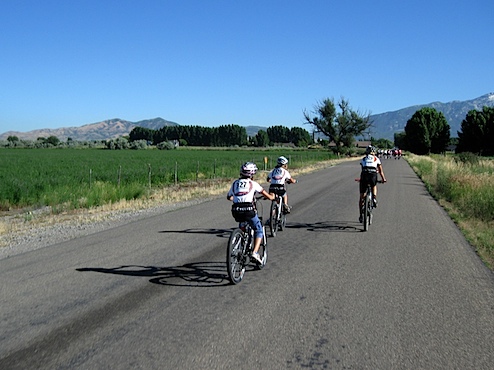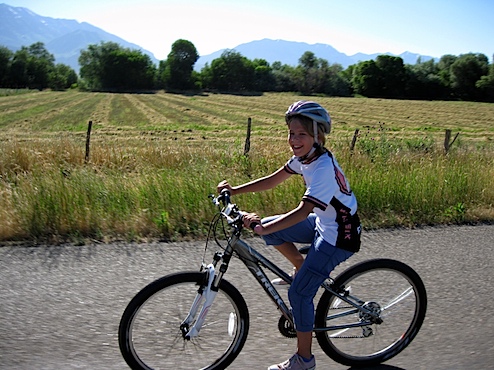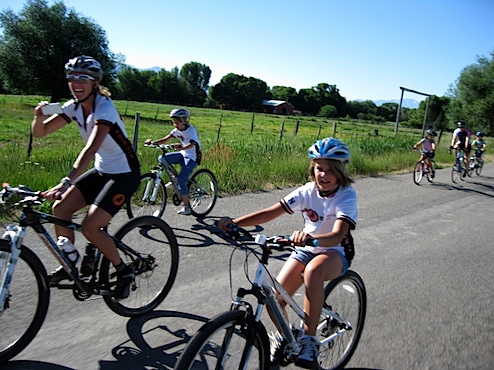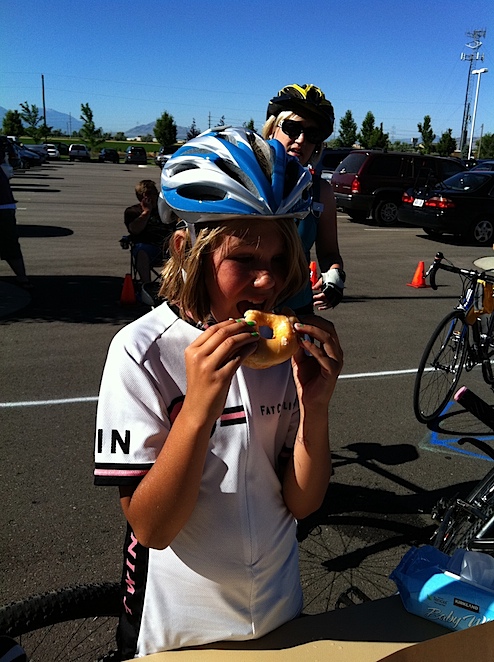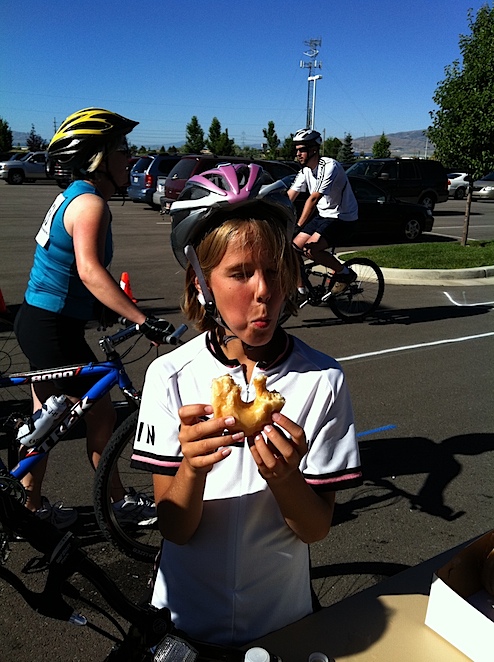 Riding bikes and eating all the donuts they wanted — could there be a better day?
Of course, the twins also learned a valuable lesson: donuts are great…until they're not.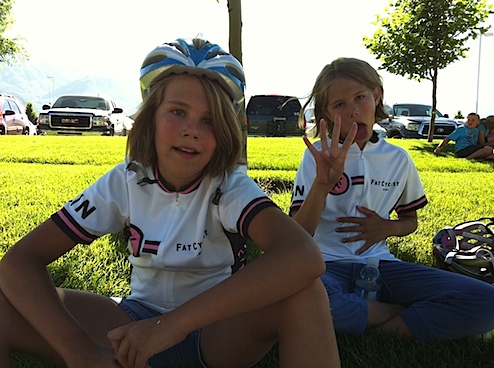 eating four? Maybe not such a good idea.
And Now, Back to Kenny's and My Race
Kenny and I hammered through the second lap, quickly reclaiming our position near the front of the field.
We ate four donuts again. Rod — the race director — stopped by as we did and rolled his eyes. "You're not even trying" he exclaimed.
So we ate another, bringing our total to nine. Meanwhile, The Hammer came by (she and the twins did a shortened version of the race) and told me, "Don't you expect a single moment of sympathy if you make yourself sick on donuts today!"
Very well. Nine seemed like a good place to stop.
Kenny and I got back into our rhythm, taking short turns pulling on our third — and final — lap.
We powered up to the finish line, me in front, ready to claim my first place position — at least for time; I expected that I had not eaten enough donuts to claim the overall victory.
I put my head down, giving it all I had, ready to sprint.
But there, blocking my line to the finish line, was a monster SUV.
I sat up and slowed down 'til I could get by. Kenny did too, and we crossed together. A guy we had passed a couple minutes ago, however, snaked by, claiming first-to-finish honors.
Dude had only eaten two donuts, though.
Pffff.
Awards
Heather's 7-donut binge paid off: she took second in the women's division: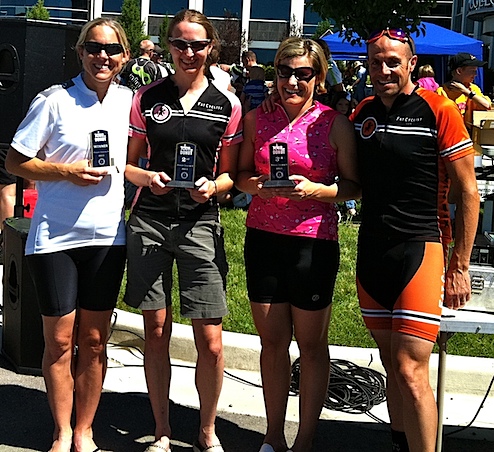 They had me stand in the podium picture for all the awards. Which may in fact have been the most ridiculous part of a thoroughly ridiculous day.
Kenny and I got up on the podium for our age group (35-54), thinking we had taken 2nd and 3rd place, with a finishing time of 56:29 and an adjusted time of 29:29.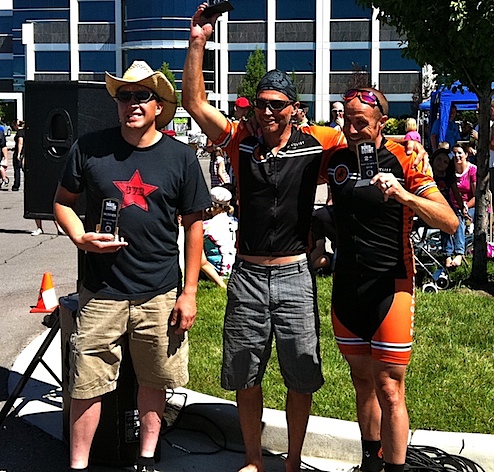 There's an injustice, here, though. Shane Morris got overlooked somehow — he was the real 2nd place winner. So Kenny and I claim co-third place, since our times were identical (I'm the one who kept the trophy, though).
You know what's sad, though? It's the "If only" factor. If Kenny and I had eaten just one more donut each, that would have dropped our time by enough to place us in co-first place (assuming we each ate that hypothetical donut in less than 21 seconds, which we hypothetically for sure would have done).
That's the way the Tour de Donut goes, though — you walk a fine line between how many you can eat and how many you should eat.
And since I felt fine the rest of the day, I'm claiming victory.
(Next year, though: 10 donuts.)