Autumn is, objectively measured, the finest season for biking. The leaves are changing, with the leaves on some trees turning so extraordinarily red in such a short time that they catch you off guard when you see them. The days are no longer hot; you finish some rides having finished only one bottle of water.
And you are as fit and as light as you are going to be all year, reaping the rewards of the work you have done during the spring and summer — except now you can just enjoy that fitness, instead of having to drive toward some goal (a race, an event) that you have arbitrarily assigned importance to.
Autumn is also when the pounds start sneaking back on. And I mean "sneaking" in the most sinister, underhanded way possible.
Today, I shall explain why you gain weight beginning in the autumn, and what you can do to stop it, before it's too late.
What Happens, And Why
When autumn begins, you're as fit as you're going to be that year. You've lost any winter weight you're going to lose. You've gained any fitness you're going to gain. And in general, you're probably feeling pretty darned good about yourself.
Say, for example — and this is just a hypothetical example, because I don't want to point any fingers — you spent a good part of the spring dropping from the 170's into the 150's, and building a good strong riding base. Then you spent the entire summer building upon that base with both riding intensity and endurance rides, so that by the time you did some of your biggest events, you were demonstrably the fittest you have ever been in your life.
You might find that that strength holds up pretty darned well even though you're no longer training for anything. And by "no longer training for anything," I mean "no longer really training at all."
But you're still able to ride strong. Almost as if by magic.
There's a pretty good chance that this "Hey, I'm fit without having to even try anymore" philosophy will begin to extend into your eating habits. Like, you might continue to stick to the diet plan mostly, but perhaps you go out to eat a few times per week, instead of observing the previously-strict "one restaurant meal per week" rule.
And maybe you stop saying no to dessert.
And maybe you start putting cheese on top of your egg whites, because it makes the "egg whites and avocado" diet so much more delicious.
And so does a piece of toast under the egg, by the way.
And you've probably taken a couple of trips, and during those trips you haven't had any kind of discipline about your diet at all.
And now it's too dark to ride in the morning, and it gets dark earlier, too — so all your rides are shorter. And, oddly, slower.
And your scale is gathering dust. Not that you're afraid of what it might say about your laxness, per se, but more that you're feeling good, feeling strong, your clothes are only a little tighter than they were a month ago, and you're just not really in the mood for bad news.
And (I promise, by the way, this will be the last paragraph I start with "and" for at least a little while) then the weather suddenly shifts and is ugly-cold. Not to mention snowy.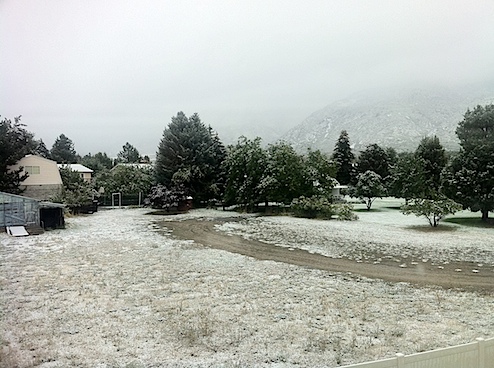 Yes, yes, I know. I live in a beautiful area, and the first snow fall is enchanting. But from the perspective of someone who already endured a late spring and a late summer and is now a little bit disgruntled at the prospect of an early winter?
My perspective is this: Yuck.
Oh yes. I was writing this in second person. I forgot. Sorry.
Perhaps you might find yourself unprepared for such a turn of events, weather-wise. You might discover you are unwilling to go out riding in such nasty conditions. Or running. Or doing anything at all.
For like, three days in a row.
But then — because you have signed up to do the Death Valley Trail Marathon in a couple months, you go out on a six-mile run. It hurts a little more than you remember six miles hurting, but you get through it OK.
And then, a couple days later, because your spouse is a little bit obsessive about training plans and properly preparing for races, you go out on a fifteen-mile run.
And it completely knocks you flat. I mean worse than flat. Like, since "flat" is two-dimensional, let's say that "worse than flat" is one-dimensional. Which means, I suppose, that this fifteen mile run knocks you linear.
That was a long way to go for a pretty stupid joke. I apologize.
But the reality is that you didn't even get to the turning point before you wanted to turn around. And you started needing to take little one-minute walking breaks every mile by the time you had run nine miles. And then the walking breaks started happening every half mile. And by the final mile, you had stopped running altogether, a fact your spouse would not realize for some time because she had gapped you by a mile and a half.
The next day, you weigh yourself. The news is not good. Specifically, you are back at 165 pounds.
Which is nine pounds gained since your lowest weight of the season, 156 pounds. Which means you are, incidentally, on the cusp of moving up a jersey size. Or, if you were to be completely honest, maybe a pound or two past that cusp. You are post-cusp, jersey-size-wise.
Whatever would you do in this (surprisingly detailed and specific) hypothetical scenario?
How to Stop Gaining Weight
The truth is, it's really easy to start coasting once you hit autumn, putting on a few pounds here and there. Building some weight-gaining momentum early, so that by the time you hit winter you've got a full head of steam.
So how do you reverse that trend, before it's too late (OK, it's actually never too late, but "before it's too late" sound more dramatic than "before it's . . . later")?
Easy. Simply follow this time-tested set of easy steps:
Always have a goal. One that's not too far down the road, preferably. Like maybe my goal would be, "I do not want my quads to squish into my gut when I go riding with the Core Team in Moab a month from now, and I do not want to break down and cry when I do the Death Valley Trail Marathon with The Hammer two months from now."
Forget about those goals for a couple of weeks, or at least delude yourself into thinking that they're far enough away that you don't have to worry about them quite yet. After all, Fall Moab is still technically more than a month away, and it's not like anyone else (except Kenny and Brad) is going to be in tip-top condition for the weekend, either. So I still have time to train.
Eat what you want. Don't intentionally pig out or anything. Just don't say no to dessert. And if the meal you eat tastes good, feel free to have seconds. And it's so much easier to go to sleep at night if you don't have an empty stomach.
Avoid the scale for a few weeks. There are lots of good reasons to not step on the scale. "I don't want to put myself in a bad mood" is a good one. So is, "I'll eat light today and weigh myself tomorrow so my starting weight isn't so huge" is a good one also. And "I just don't feel like it" is startlingly effective, perhaps because of its simplicity. You'll find you can come up with other good reasons of your own. In fact, you probably already have.
Do a ride (or run or other workout) that was difficult-but-do-able — for you a month or so ago. You'll find it to be difficult. Perhaps very difficult indeed. Perhaps you'll even find that it completely shatters your image of yourself as a fit individual.
Finally get up the courage to weigh yourself. Emit audible gasp. Reach out a hand to steady yourself. Wonder at how it's possible you've gained all that much (turn off the part of your brain that actually knows precisely how it was possible).
I believe you will find, suddenly, the resolve to renew your diet and exercise regimen. Completely, seriously, and fully.
This resolve should last nearly until lunchtime.