A Note from Fatty: Welcome to the "I've Never Suffered So Much" series of guest posts. I think you're going to find this next couple weeks of guest posts to be pretty compelling reading.
My addiction to cycling began when I got too tired to fight my family's passion for road racing. My grandfather had been a club champion in Holland (how's that for pressure?), and my father was beating adults in the Amsterdam cycling club by age 11. I grew up watching the Tour with as much reverence as a Sunday sermon, and I cultivated a serious curiosity for competitive racing.
My grandfather built my road bikes from old steel frames and some stray components, and while my bike was never pretty, it always hummed along better and faster than the department store bikes my friends rode. At 16, I ventured out for my first solo long ride (30km) in regular shorts, the tightest t-shirt I could find, and a cycling hat on backwards instead of a helmet. It was the 90's after all, and Migel Indurain was just the coolest (though I'd rather have died that admit that to my parents or friends).
I was flying down the road, dreaming that I was in the Tour, thinking "Hey, this isn't so hard!" A curt "passing left" broke my daydream as I was railroaded by a local club going twice as fast as I was "flying." They looked so organized, so sleek, and so fast!
As soon as I got home, I told my dad that I wanted to ride with a team. Dad asked our LBS if they knew of any junior teams, and I somehow found myself interviewing for Canada's Saeco Cannondale feeder team (the same team that sported Mario Cipollini in Europe!).
The interview consisted of my longest ride yet (80km) alongside the directeur sportif of the junior squad (U-18), focusing more on endurance and bike handling than on performance. At the end of the ride, he said that I could join the team if I wanted, but that it would be a lot of work and suffering.
All I heard was that I could ride with a team.
I was ecstatic to pick up my uniform: jersey, bib shorts (my first!), helmet, gloves, cycle computer (cool!), and sunglasses. It was all so professional! Dad and I headed back to the LBS for my first set of clipless pedals and shoes, and to get my bike tuned up and ready to race.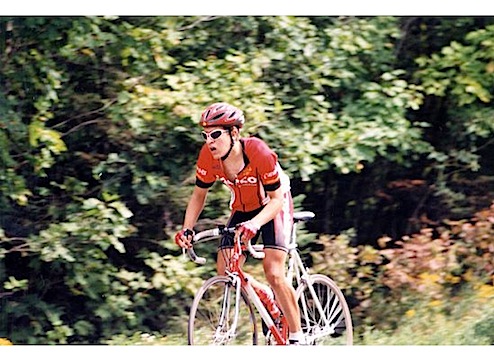 My first time out with the full club was a Sunday training ride in July. The elite team was riding with the juniors, and I was told to stick in the slipstream near the back, don't cross wheels, and hang on for dear life. That's when I started to wonder what I'd gotten myself into. We pedalled along country roads in a double pace line, and the juniors rotated through the front without ever really pulling.
I was gaining confidence, talking to the guys, and getting comfortable riding in a pack. I started to believe that I could do this, that my genetics made me a natural.
That's when the road went up.
In retrospect, the hill wasn't especially long-maybe 5km and an average 5% grade. It was nothing but a bump for the elite team, and no more than mild exertion for the junior team that had been training seriously since April. I had no real base training, so that hill looked to me like the Col du Galibier. I suffered a lot, but I managed to avoid losing touch with the back of the pack. As I crested the hill, I saw them filing back down and felt a wave of relief that we'd reached our halfway turnaround point. Again, I thought "I can do this!"
Then, in broken English, my directeur sportif uttered the word I'd learn to dread: "REPEATS!" That wave of relief turned into a wave of horror as I learned what was going on. I'd just started over an hour's worth of hill repeats.
Other junior members helpfully informed me, the team neophyte, that this was normal for a Sunday ride. They'd shout in passing, "Oh, you might want to drink some water and eat your food. You did bring food, right?" Too shy to reveal my ignorance, I assured them that sure, I had food! I was still overconfident in my lineage. If my old grandfather could win road races, surely a strapping young teenager like me could get through some hill repeats, food or no food. Plus, it was only 10am and I'd just had breakfast. I wasn't worried.
That day I learned another cycling term that I'd come to dread: BONK. I got through the repeats–fewer than the others did, but I'd survived. I was a little lightheaded and drenched with a weird white sweat, but I figured that was just the excitement and the new jersey, right?
As we were heading back, my new cycle computer showed that we had another 60km to go, or about two hours. I knew I was in trouble. It was getting harder to breathe, my legs felt like they were filled with lead, and any sort of incline made me unable to keep a gap from forming between me and the pace line.
The elite squad decided to turn up the pace and get in some sprint interval training, while the junior team was just supposed to roll through at a steady pace and head home. I realised that I just wasn't going to make it. I couldn't see straight, but I was trying so hard not to let on to my directeur sportif that I was in trouble. With another 20km to go, I was nearly falling off the bike, couldn't keep my eyes open, and felt an incredible urge to sleep. I was in my own personal purgatory, and even though I didn't know what was happening I could feel my body shutting down.
The team broke into smaller groups based on where they lived, and I was elated to find that nobody lived in my area so I'd get to ride back alone. I was close to weeping and desperately wanted to sleep, but I had done it! I was also still more than 15km from home, which included one extremely steep hill dubbed "the monster."
I pedalled barely fast enough to keep the bike upright, since I didn't even have a quarter to find a payphone and call my parents to come and get me. It took me close to 2 hours and 3 nap breaks in a grassy ditch to drag myself back. I had been gone a staggering 7 hours when it should've only taken 4-5. My parents had made a nervous call to the directeur sportif, who assured them that I'd been close to home when we all split off.
Needless to say, the directeur sportif gave me an earful about nutrition, keeping him advised how I was doing and if I was in trouble, and how a team needs to take care of its members. That day was a lesson in suffering, but in some odd way my ability to suffer through and hide it so well solidified my place on the team.
Mark K is a thirtysomething Canadian in Ottawa, Ontario who is eagerly rediscovering his passion for cycling and all of its accompanying toys after years off the bike due to racing burn-out. Thanks to cycling family, cycling friends, and Fatty, the joy of being on and around bikes has returned.