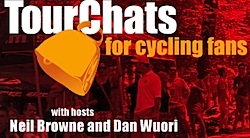 A Note from Fatty: This Sunday at 9PM ET / 6PM PT, I'll be one of the guests on TourChats. The other guest is Tara McCormick, the 16-year-old sensation who's already gone pro, riding for Team Exergy Twenty12 this upcoming season. Frankly, I'm a lot more interested in Tara's story than mine, so I'll be showing up mostly to see what she has to say.
Anyway, it'll be live, and there will be both audio and moving pictures, as well as textual chatification.
I'll talk about myself, in a way that is both heartfelt and compelling, without being pretentious or self-aggrandizing.
So please, mark your calendars: Sunday, January 22, 9PM ET / 6PM PT. See you there. (Although actually I won't see you there. You'll see me. It doesn't go both ways. So it's kind of like television. Or a creepy peep show.)
I will bring props. And I'll might give some stuff away.
3 Words All Cyclists Must Know
Before I begin, I have a confession to make: I briefly considered titling this post "Terms of Engearment." And then I remembered: puns are the lowest form of humor. So I changed the title to something more hyperbolic, but completely pun-free.
You're welcome.
And now, let's make with the defining.
(This, by the way, is the shortest introduction I have ever written on my blog.)
Snotulum
[snot-juh-luhm] (noun) – The mucousy, sweaty viscous goop (usually 0.5 – 2.5 inches in length) that dangles from the tip of your nose, swinging side to side in time with your cadence as you ride.
Generally, a snotulum forms when you climb on cold days. The outside temperature causes your nose to run, while your effort causes you to sweat. The two substances meet at the tip of your nose, resulting in a mixture ideally suited to hang from the tip of your nose.
The snotulum has several interesting characteristics. First, depending on the ratio of snot to sweat, the snotulum may be anywhere betweeen half an inch and 2.5 inches in length, with unconfirmed reports of snotulae (plural of snotulum) reaching lengths of up to eight inches.
Next, the snotulum, regardless of its consistency, has the ability to dangle indefinitely. Once it reaches its optimal length, it will swing — some say "hypnotically," while others say "repulsively" — for hours or until you finally wipe it on your glove, thus totally grossing yourself out.
Finally, the swinging of the snotulum has the interesting characteristic of constantly moving into and out of your direct vision, thus drawing attention to itself multiple times per minute.
Interesting snotulum trivia: If you try to shake a snotulum off or blow vigorously through your nose, it will instead swing around and stick to the side of your face.
Whinner
[win-r] (noun) – A person who, upon not making it to the top of a podium for a given event, begins a campaign to rectify the huge injustice he has experienced. This campaign may take several forms:
Discrediting the course: Explaining what was wrong with the course, from poor marking to poor opportunities to pass to bad course conditions. A whinner is not required to account for the fact that all other competitors dealt with the same course.
Blaming the competitors: Explaining how other competitors would not yield, or perhaps cut the whinner off, or maybe even had the audacity to fall. If it weren't for other racers being so discourteous as to actually exist, the whinner most certainly would have won.
There are actually two levels of whinners. The first — and most common — is the whinner who explains why he should have whun (the verb form of whinner is "whin," with "whun" being the past-tense form) to friends, family, co-workers, and miscellaneous passers-by.
The second type of whinner is the racer who actually takes his case to the race director. This person is called a "true whinner."
Interesting whinner triva: The best and simplest way to silence a whinner is to tell him that he is in fact, a whinner. This is due to the fortuitous coincidence that "winner" and "whinner" sound exactly the same. Thus, a friend can react to a whinner by saying, "Yeah, you totally whun that race. You were robbed." Similarly, a race director can appease a whinner by saying, "You are absolutely the true whinner today."
Cleatastrophe
[klee-ta-struh-fee] (noun) – The terrifying and usually painful moment when a clipless pedal releases the cleat, allowing all kinds of horrible things to ensue.
Cleatastrophes generally happen for the following reasons:
Pedal Strike: Many MTB pedal systems (Eggbeaters, mainly) have the cleat engagement mechanism engineered so that the part holding onto your shoe is connected to the part facing the ground. This is fine unless you do something stupid like ride your mountain bike in the mountains, in which case you may at some point go over a rock or log or something, striking the bottom of your pedal forcefully on said rock. At which point the pedal will release its hold on the cleat, allowing your foot freedom with a suddenness that is only matched by its unwantedness.
Ancient Cleats: If you let your cleats wear long enough, your pedal won't have anything to hold onto. So, you know, it might not be the worst idea in the world to take a look at the bottom of your shoe once in a while. Trust me on this. I know.
No Reason Whatsoever: Sometimes — generally in the worst place possible, your pedal will release your shoe for no reason at all.
The causes of cleatastrophes are not as important as the most common locations of cleatastrophes, which include:
While going over rocks and logs: See reason 1, above, to understand the causality here, but also note that when a cleat comes out while you're partway up a technical move, the timing for this cleatastrophe always feels exceptionally poor.
While standing and climbing: Generally happening on grades of 8% and greater, cleatastrophes while doing a standing climb on a road bike inevitably lead to the rider striking his stem with his kneecap with enough force to shatter whichever is softer (generally the kneecap).
Anywhere else: Sometimes you'll have a cleatastrophe for no reason whatsoever. This generally results in swerving, sticking ones leg out at a comical angle while you try to regain your balance. Oh, and also it usually results crashing and serious injury.
Interesting cleatastrophe trivia: Of the people who at one point rode with Crank Brothers Egg Beaters pedals but no longer ride with Egg Beaters pedals, the cleatastrophe is the cause of switching to a different kind of pedals for 98% of this group.
The other 2% didn't actually switch; they simply had such a terrifying cleatastrophe that they have given cycling up entirely.