I got a letter a couple days ago. The subject line kind of caught my eye:
Fat Cyclist at the South Pole
Yeah, I decided to read it. Here's what the author, Nate Cannon, had to say:
Fatty, I've been reading your site a while now and wasted many a working hours reading your race write ups, technical reviews, and general hilarious blogs.
I am currently 3 months into a 13 month stay at the Amundsen-Scott South Pole Station working for the US Antarctic program. Being that I was planning on being here a over year, and the thought of riding only spinning bikes makes me crazy, I bought a Pugsley fat tired bike before I came down.
And after years of regretting not buying a FC jersey, I picked up a full kit this summer, which I've really enjoyed. I finally got the time to have a friend come out to the South Pole with me and take the obligatory "hero" shots with my bike and rocking the FC jersey.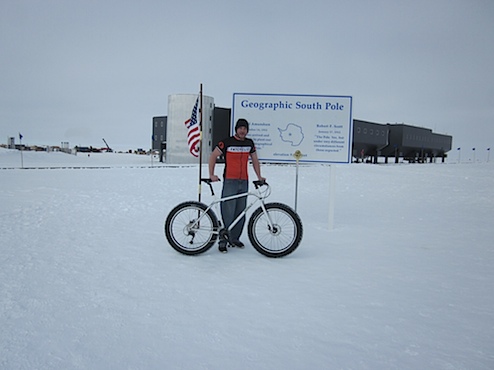 It was a nice relatively calm -14F, I'd taken a few rides that were well into the -20's with wind chills reaching -40 and it's hard to dress for that. I rock the bibs under 2 pairs of long johns and a pair of windproof pants, and it's ok for a bit over an hour.
My friend taking pictures made me try to pop a wheelie, it was not a very good attempt.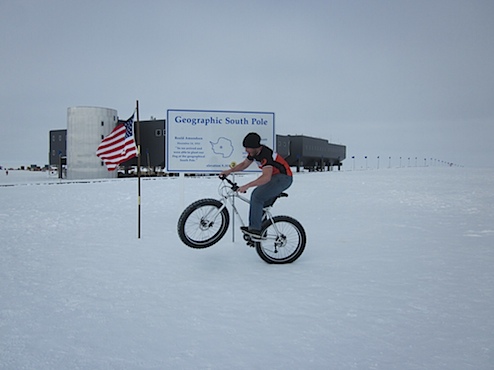 I thought you might enjoy the pictures, I'm going to try and ride the bike all year, but in a few months we will have 24 hours of darkness and temperatures dipping below -100F, so I'm not sure I'll be getting outside too much.
The next time I think it's too cold for me to get out on my bike, I'm going to think about Nate. And go ride.
PS: Nate says he'll check back on the blog and try to answer questions left in the comments.