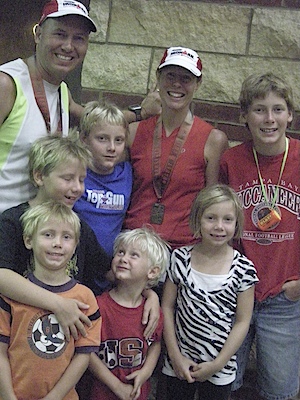 My riding story begins about 3 years ago.
After having our 6th child, I knew that I needed something else to do with my body (my husband had granted me my "bonus" baby after agreeing on 5, so we were done with having children).
He bought me a hybrid bike and I started riding whenever I could. On Sunday afternoons, I would take my bike and just go for several hours ALL BY MYSELF. I'm a stay-at-home mom, so alone time doesn't happen much.
One Sunday I noticed a young guy riding not far in front of me. I made up my mind to catch him. After I passed him, he came up and started talking to me. He was a super friendly, super young (early twenties), a triathlete and lifeguard at Clearwater Beach.
We rode together for about 5 or 6 miles until we went in different directions. I rode home and proceeded to tell my husband that I just had a wonderful ride and made a new friend.
After hearing about my new friend, my wonderful husband decided to start riding. I had been nagging him to exercise for years. I just needed a young, male lifeguard to give him a little nudge.
Last August, my husband and I completed our first Ironman (Louisville, KY). Ironically, that lifeguard competed in the same one–and yes, I have thanked him for being the motivation that my husband needed to start working out.
PS from Fatty: Don't forget, the contest to win a trip and a bike, all while fighting cancer, is still on. Click here for info on the trip, then click here for information on the bikes, and click here to donate. Thanks!