Over the course of twenty years, how many people have ridden in the Leadville 100? And how many miles have they ridden, preparing for this race? How many pedal strokes have been devoted to achieving a goal?
I have no idea what the answer is. But it's a beautiful thought: so many people, working so hard and long, to accomplish something that matters to them.
And with very few exceptions — the people chasing a podium position — we're all working together, just trying to beat a common enemy: the clock.
When racing the Leadville 100, I often look around and marvel at the person riding beside me. Because I know that this complete stranger, right there, has somehow gotten to the exact same point as I have, at the exact same time, in the exact same race. Right at that moment, is there anyone in the world I have more in common with? I wonder if that person is experiencing the same strange brew of emotions and feelings I am: excitement, intensity, exhaustion, anxiety, joy, and a deep, deep desire to know what the very near future will bring (a bonk? a crash? a personal best? all of the above?)
But I don't ask, because when I'm racing, I have an extremely hard time forming words, and sentences are out of the question. Racing ain't no time for jibber-jabber. I'll translate what I felt in my heart and gut during the race into words later.
So — if I am able — after I finish the race, I love to clean up and head back to the finish line, sitting in the bleachers, eating nachos and ice cream (there's a store less than fifty feet away from the finish line that sells both, which is good, because after the race there's no way I could walk more than that distance), and watching people as they cross the line. So many people. Every one of them with a story I would love to hear.
But it has to be good enough, sometimes, to just see it on their faces.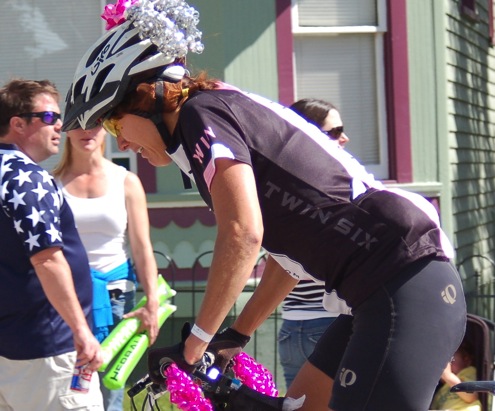 My friend Jilene gets emotional as she approaches the finish line, having just given everything she had (and more) to set a personal best of 9:23. Photo courtesy Brenda Conant.
I'm lucky; I've been doing this race and this blog long enough that quite a few people feel like they can tell me their stories. In fact, one of my favorite things about the Leadville 100 this year was how many people came up to me and told me that my race reports had been instrumental in their deciding to do this race, or had been useful in helping them visualize the course, or had been helpful in learning what to do — and what not to do — when racing.
A bunch of us took photos together: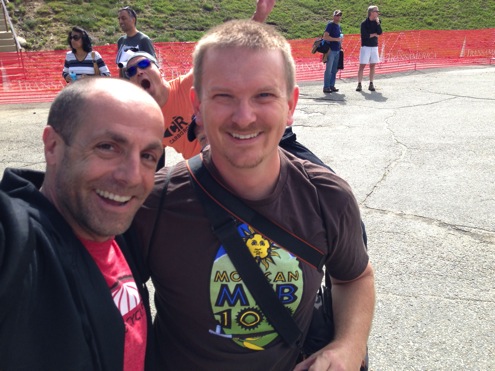 I love the way Kenny's photobombing this shot.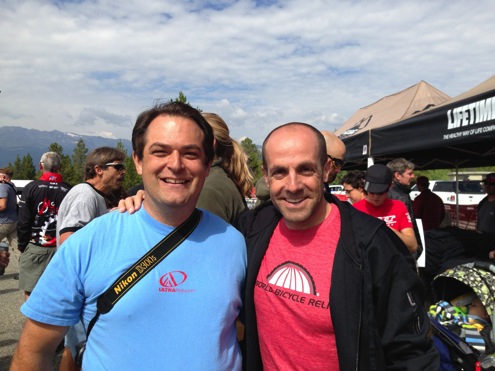 UltraRob and me.
And I got to see — and hear — little snippets of their own stories. Sometimes before, sometimes during, and sometimes after the race. I heard too many to recount all of them, but here are a few things I remember.
Doug Bohl
Doug is a frequent commenter on this blog, so a lot of you already know him, at least a little. And he is doing a fantastic job of writing up his own Leadville Trail 100 experience on his blog. 
But one of the standout moments of the whole weekend for me was when he and his family had The Hammer and me over for lunch at their cabin last Thursday (a couple days before the race) and we spent almost the whole time talking about the upcoming race.
Through Doug, I got to experience the newness, anxiety, and obsessive preparedness that only a first-time LT100 racer can know.
We checked out each other's bikes. I looked at him and declared, based on nothing more than his complete lack of paunch, that he would finish half an hour faster than he thought he would.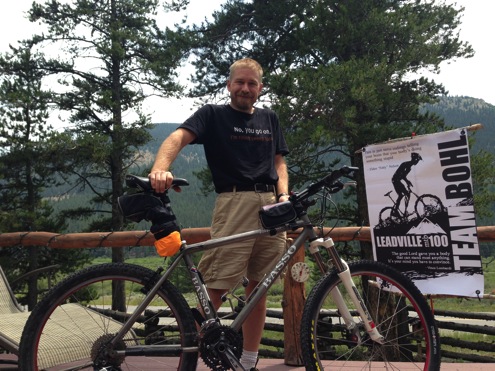 I also bit my tongue, and refrained from saying anything about a couple things he said he had done to prepare for, or was planning on doing, during the race. Hey, what did I know? Stuff that hadn't worked for me might just be because of me.
And later I'd be glad I kept those things to myself, because as near as I can tell, Doug had a banner day. One thing's for certain: his first LT100 finish time was faster than my first LT100 finish time.
Rebecca Rusch
I've been a fan of Rebecca Rusch for years; she's a LT100 icon as well as an amazing bike pro and advocate for many of the same causes I care about. We've also become friends over the past year or so. So you shouldn't be too shocked to know that when I got to Leadville, I sent her a text message asking if she'd like me to lob any softball questions her way to give her a chance to promote her sponsors on Twitter.
But I was concerned when she replied that her head wasn't in the race, and she'd explain later.
The Hammer and I met her later that morning, where she told us that a good friend of hers had been killed earlier that week, run over by a truck while riding her bike.
Rebecca almost didn't come to Leadville. She didn't want to race; her heart wasn't in it.
But then, instead of bailing, she changed her focus. She spent time with people. She listened to their stories, and gave advice when asked. She raced with the intensity she was able to give, in spite of this tragedy. Which was still fast enough for a blisteringly-fast third place.
And then stayed at the finish line for hours and hours, congratulating people as they crossed the finish line.
Linda
Linda has been working at the Delaware Hotel for as long as I've been racing the Leadville 100. We see each other only once per year, but she knows the names of all my kids, knows Lisa, and knows how I did at the race the previous year.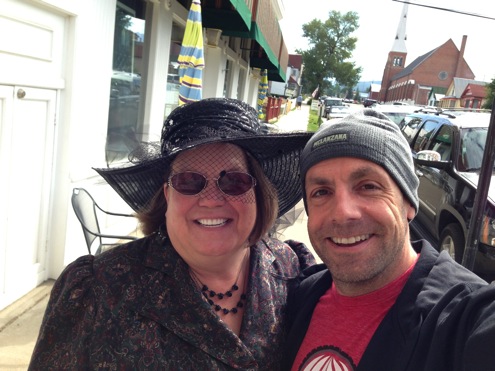 And I'm pretty sure I'm not the only one who Linda treats like a favorite nephew.
Matt Beaudin
I have to admit: I'm a Matthew Beaudin fanboy. He's a writer for Velo, and he's exactly the writer I wish I were. He writes smart, clear, and direct. I knew he was racing the Leadville 100 this year, so kept trying to find him.
Until the race itself, I kept failing. 
Then, half a mile up the Columbine climb — right about the point when being on a singlespeed stops being a liability and suddenly becomes an outrageous advantage — I came across a guy in full Velonews kit. "Are you Matthew Beaudin?" I asked. 
"Yeah," he said, and then we talked about the climb we were on, and how it was really not as bad as the Powerline — the real crux of the race.
"I'll be walking a lot of that," I said.
"I hope to ride it all," Matthew replied.
"Ha!" I laughed. I didn't mean to, but I couldn't help it. Nobody  rides all of the Powerline.
Then — somehow — we wound up at the base of the Powerline at the same moment. "OK, let's see you climb this thing without dabbing," I said.
"The plot's thickened, Fatty," Matthew replied. "My left shoe's cleat is loose and I can't clip out. Now I have to climb the whole thing."
And he proceeded to do just that, at least until another rider couldn't get out of his way in time, at which point Matthew had to take off his shoe, leaving it clipped into his pedal, and march along with the rest of us. Had I the energy, I would have begun singing "Diddle Diddle Dumpling" right then. And I can't even tell you how desperately I wished for a camera.
That said, as soon as he got to a place where he could restart, Matthew got back into his shoe and continued riding, disappearing up the hill as I continued to march.
Be sure to read Matthew's own impressions of the Leadville 100 here.  
When you get right down to it, the culture of a race is the people in it — the racers (both the pro and the ordinary), and the memories they bring away from it. The stories they have to tell. And that's what makes the Leadville 100 — and many other races — great.