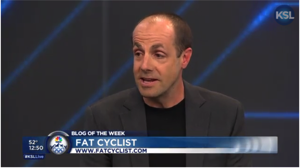 A "Hey, I was on TV" note from Fatty: Yesterday I was on a local mid-day TV show called "Browser 5.0," where I was their "Blog of the Week" feature. Check it out here. Oh, and then leave a comment on their site telling them how handsome and telegenic I am.
And for those of you who are wondering why I seem to be growing my hair out, it's because I've got a big ol' cyst growing on the right side of my head, and I'm using hair to try to hide it. How's that for over-sharing?
There comes a time in a man's life when he realizes he can no longer tolerate the madness around him (it's also possible that women come to similar realizations, but I am not a woman and have no wish to make any assumptions). A time when that man must stand up to the insanity that surrounds him. A time when that man needs to stop biting his tongue, no matter the consequences, and make his voice heard.
I have held my peace too long; I have permitted foolishness and thus tacitly endorsed it. 
No longer. Today I proclaim, once and for all, for all to know and bear witness:
Fingerless gloves are stupid.
And I am not saying this out of pique or due to some attempt to manufacture controversy. No. I am saying it because it is true, and because I have proof. Which I shall now present, in an airtight and incontrovertible method that brooks no dissent.
Grievance The First: Odd Tans
There is no denying that there is a certain fetishistic fashion appeal to fingerless gloves. Especially if they're black leather. Like this: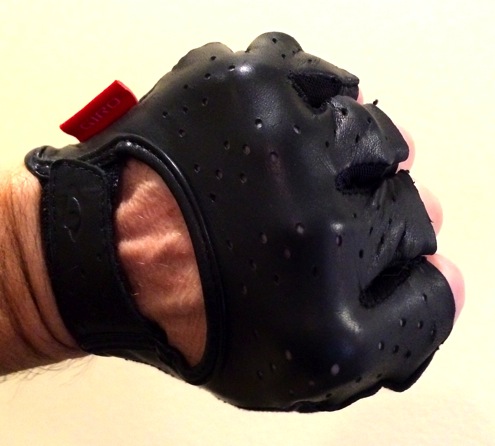 Sure, those are going to look great when you wear them to the next Duran Duran reunion concert. 
But here's the thing: as a cyclist, there's a pretty good chance eventually you're going to want to wear those gloves outside. Quite possibly during daylight hours. Which means you're going to be exposed to sun. Thanks to your fingerless gloves, you're going to wind up with a tan that looks something like this: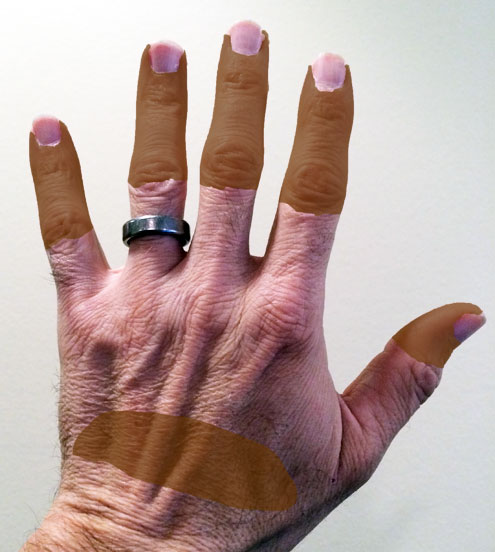 Although with any luck your hand won't look so old and wrinkly. And hairy. 
Grievance the Second: Reduced Safety
One of the really wonderful things about gloves is that they do two really good things for your riding:
They form a grippy layer between your sweaty hands and the handlebars, making it so that you don't slip.
If you do fall, your gloves protect your palm and fingers.
Do I have to spell out the problem with fingerless gloves here? Do I? OK, I will. 
Your gloves can only improve grip on the parts they cover.
Your gloves can only protect the parts of your hands they cover. 
Grievance the Third: Removal of Fingerless Gloves
When you remove a regular, full-fingered glove, you simply pull at the fingertips and it comes off. Easy.
With fingerless gloves, of course, there are no fingertips to pull on, which means you have to pull starting at the base of the glove, hence turning the stupid thing inside out as you pull it off, resulting in something that looks like this: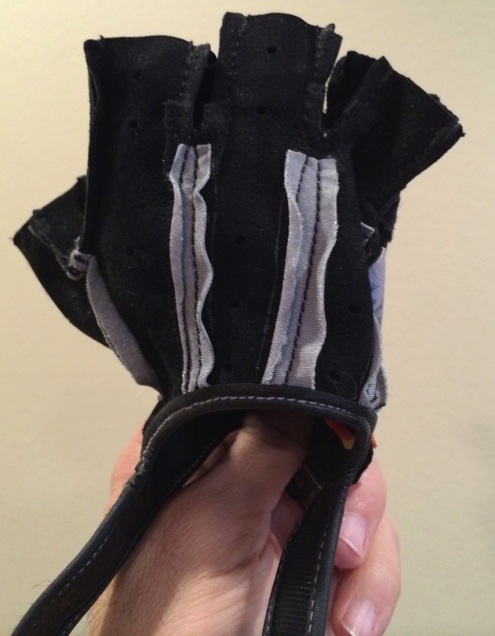 So. Let's suppose that you are an avid fingerless glove wearer (and I know that some of you are). And let's further suppose it takes an extra three seconds per glove each time you remove your gloves — it's a well-documented fact that fingerless gloves take a horrendous amount of time to remove — and five seconds per glove to turn them back right-side out the next time you want to wear them.
How much time do you think that will cost you over the course of your life? Well, if you ride 300 days per year for 50 years, that works out to almost 67 hours. 
That's right, almost sixty seven hours of your life you'll spend doing nothing but turning gloves inside out and then right side out again.
Just think of all the things you could do with that 67 hours:
Get six really good nights' sleep.
Make, eat, and then ride off the best cake in the world.
Watch the extended Lord of the Rings Trilogy and most of the special bonus features 
Ride your bike from Salt Lake City to Saint George, Utah. And Back.
What a waste of time wearing fingerless gloves is. What a tragedy to spend your time doing something so utterly pointless.
Grievance the Fourth: Silliness
Of course, the real problem with fingerless gloves is that they're just silly. What is the real practical purpose of them?
It's not coolness. Your fingertips aren't exactly hotspots of heat dissipation, if you catch my meaning. And if you don't catch my meaning (and I wouldn't blame you if you don't), I'll be more clear: Your hands aren't going to be a lot — if any — cooler when you wear fingerless gloves than when you wear full-fingered gloves. Really.
It's not weight savings. Your fingerless gloves don't weigh any less than your full-fingered gloves. But even if they did, it would be truly weird of you to wear them for that reason.
It's not about phoneability. OK, it's entirely possible that you actually do wear fingerless gloves so you can get to your phone and tweet and take pictures and update your Facebook page with your status (On my way to a Duran Duran concert!). Because a lot of people don't realize that you can buy full-fingered gloves that work just fine with your phone screen. 
Behold the Specialized Ridge Wiretap: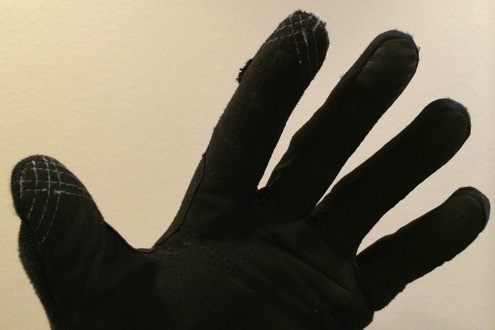 Yep, those are the gloves I wear on pretty much every ride: both mountain and road. And because they're very dapper and understated, and because black goes with pretty much everything, I am also wearing them right now while I am typing this post. 
It's not about grab-ability: The Hammer — who, I am disappointed to announce, often wears fingerless gloves while riding — tells me that it's a lot easier to grab food out of her Top Tube Bag when she's got fingerless gloves on.
To which I respond, "Well, maybe you shouldn't use a top tube bag, then, silly."
Actually I'm totally lying. I would never even think such a thing much less say it and this is a very good use case for fingerless gloves and I love you dear. 
PS: For those of you who are saying to yourselves, "Well what about short-fingered gloves?" Stop it. Being neither one thing nor the other, they are even worse.