A Note from Fatty: Today at 11:00AM MDT, Jens Voigt will attempt / has attempted to set a new one hour record. I am happy to be the first journalist to file a story on how it will go / went.
Grenchen, Switzerland – Sitting at the side of the velodrome, clutching his aero helmet and rejecting all words of comfort from those around him, Jens Voigt is trembling with rage.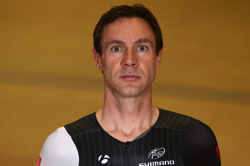 "Yes, I am a little upset," Voigt confirms, doing his best to smile. "But these things happen, you know?"
The very fact that he makes this attempt at being philosophical about what has been, without question, the single largest debacle in the history of cycling, shows the character of the man. 
For not only has Jens Voigt not set a new hour record as a bookend to an illustrious and long career, but he has not even completed the attempt at the ride. 
Before the Beginning
The day started well enough. In retrospect, perhaps it even started too well. 
Voigt arrived at the Grenchen Velodrome, suited up, and rode 814 laps as a warmup. Asked if this were perhaps excessive, Voigt replied, "I like to burn all the chicken."
Voigt, it should be noted, is still working on mastering colloquial English. 
A Bad Start
With surprisingly little fanfare — a countdown by hand — Voigt was off, quickly ramping up to a speed of 54Km per hour, easily a fast enough pace to break the record 49.7Km, even taking into account inevitable slowing.
Then, disaster: Voigt suddenly swerved wildly, rocketing up to the high edge of the banked velodrome turn, then flipping end-over-end, tumbling along with his entwined bike.
The cause? A dog had wandered into his path.
"Has nobody heard of leashes?" wondered the frustrated Trek  Bikes Team Liaison, Matt Shriver. 
Scrambling — perturbed but in control — Voigt gathered his bike, helmet, and left shoe (all three scattered in different directions), removed his horribly misshapen front wheel from the bike, pounded it against the edge of the velodrome wall with his fists until it was in some semblance of true again, and continued his attempt.
Problems Continue
Before long, Voigt had picked up considerable speed — now at 63Km / hr in order to make up for lost time — and somehow resumed his groove. In spite of a bad start, it began to look again as if Voigt might still get that record.
But if one were to listen to the official — mercifully unnamed here — one would be able to detect that Voigt's problems were far from over. 
"Eighteen laps!" he cried. Then, "Twenty laps! No, I mean nineteen!" 
"Twenty-one! Or twenty-two? No, this might be just twenty."
This continued for a few more laps, after which he held up his palm to an astonished Voigt, signaling him to stop.
"I'm sorry, Jens, I've just lost count."
"What?" replied Voigt, either due to his close-fitting helmet or sheer disbelief. 
"I know, I feel so dumb. I totally should have brought a piece of paper and made hash marks, or maybe a clicker or something. Anyway, we don't know how far you've gone. So let's just start over."
"Your horse cart is unsaddled," muttered Voigt, nevertheless returning to the start line to begin again.
Lost Cause
Alas, the day was doomed to continue to be a series of misfortunes for the storied Jens Voigt.
Within a mere 120 laps of his second attempt, Voigt's rear wheel flatted, evidently from the extraordinary heat generated by the friction caused by the tires rolling along the laminated wood at an unanticipated 92Km / hr.
Without a word, Voigt repaired the flat, surprising all present that he had, in fact, brought everything he needed for this problem — except for a wrench to remove the nut holding the wheel (Voigt improvised by using his teeth).
Then he had to stop and restart the event again — this time, in order to pee, and to get a snack.
Finally, on what looked like what would be a successful run, Voigt coasted to a stop (not easy to do on a fixed-gear bike), 38 minutes and 49.6Km into the ride.
"My playlist ended," Voigt said, "And I lost interest in riding around and around and around in circles all day."
"It makes for insect-infested abdomens," concluded Voigt
Voigt reports that next month he will attempt to pull a locomotive 25 miles, with his teeth, on a bike.
After which, Voigt will retire. For real this time.
Honest.