A little while ago, I posted about how I cleaned out my basement, put in Wahoo Kickrs and bikes for The Hammer and me, then set up a TV and a Mac Mini for us to stare at.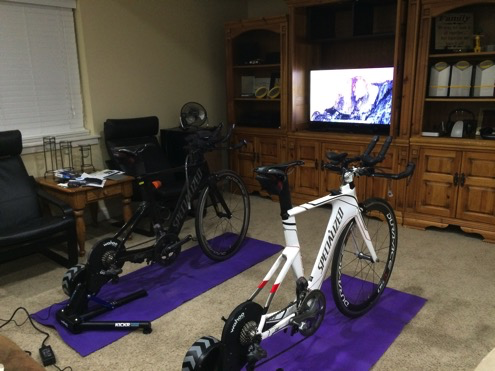 Tying all this together is TrainerRoad, a subscription-based library of workouts and training plans designed to help you hit your cycling goals for the season.
And since, this season, I want to be the fastest I have ever been—I want to finish the Leadville 100 in under eight hours—I'm counting on TrainerRoad (and a really, really fast, lightweight Cannondale) for help.
It's time for an update on how that's working out.
Smarts
The promise of TrainerRoad is that it'll make you faster. That promise doesn't mean much —and won't keep you on the program — if you don't really trust the guys behind it. 
But I do. I've been talking pretty much constantly with Jonathan Lee, the Marketing Director at TrainerRoad. You wouldn't think a marketing guy would be deeply knowledgeable about training and racing, but Jonathan's an outrageously strong rider (his racing objective for this year is to win the XC Cat 1 National Title) and total physiology geek. 
And he's nice, too. And smart. And as obsessed with training right as I've ever seen a person be.
And then there's Chad Timmerman, Head Coach for TrainerRoad. He's a Level 1 USA Cycling Coach and a Cat 1 Dirt / Cat 2 Road racer.
These guys know what they're talking about. I've been learning a lot from them.  
Come Talk With Us
So I've asked them to share the love with my friends. Meaning you.
Meaning, I'm going to do a webinar chat with them, and you should totally join us. Here's the info you need:
When: Thursday, February 19, at 8:00pm (Mountain Time)
Where: Register (for free) at GotoWebinar. Attendance is limited, so definitely don't wait to sign up.
What About: The topic will be training tips, techniques, and myths, my upcoming attempt at the Hour Record (yes, really), and anything else that we feel like talking about. 
So if you're training and want to be better, or if you're just thinking of getting started, you should probably
click here to register
.
The Big Surprise
This next bit is going to come off as a little bit commercial-y. But it's not. It's actually how I feel. Because initially, both the Hammer and I expected to tolerate TrainerRoad. To put up with it. To, basically, survive it.
We did not expect to love it.
But we do.
We actually love the intelligent intensity and variety and automatic simplicity of TrainerRoad workouts. We love the way we have a plan that takes into account how much time we have for exercising (and that this amount sometimes changes), and how we're given varying workouts that build us up and make us stronger, little by little.
We love how the workouts are super-easy to download, and then—thanks to the way the TrainerRoad software talks to our phones or computers, which talk to the Wahoo Kickr—get the right amount of resistance for the effort we're supposed to be putting out.
Which means that all the Hammer and I have to do is show up, follow instructions, and do the work.
In exchange for which we're promised we'll get stronger and faster.
And you know what? It feels like it's working. These guys are really pretty amazing at building plans, at building you up, at a reasonable pace.  
The Problems 
This is not to say that everything's working exactly perfectly with the setup we have. There are some equipment issues that can be pretty frustrating.
The top issue is bluetooth flakiness. Specifically, if I were starting over, I would not use a Mac Mini as the machine to capture the bluetooth signal from six different devices (two cadence sensors, two heart rate monitors, two Wahoo Kickrs). It's really really uncommon for everything to pair on the first try. And uncommon enough for everything to pair at all that we've kind of given up running two instances of the Mac version of TrainnerRoad, and instead run mine on the Mac, and The Hammer's on her phone. 
I've talked with TrainerRoad about this frustration, and they say that Apple, when it released the Yosemite version of their OS, changed bluetooth interaction. They're working on working around it, but it's still kind of clunky.
The workaround would be to get ANT+ USB dongles for the computer, using them instead of bluetooth to read data. This is what we're going to try next, because it really is awesome to be watching Netflix and be able to see your workout profile and stats and get audio cues and video and video instructions. 
The next gap in TrainerRoad is it is really just about the training part of getting faster. And as I have learned through years and years of sad experience, you can't out-exercise a bad diet.
So in spite of the fact that I feel like I'm pretty darned strong for mid-February, I have a bunch of weight to lose…and I've still got a lot of work to do that (today's weight: 168.8). I'd really love it if TrainerRoad had a diet plan as thorough and well thought-out as its workout plans. Better yet, integrated with its workout plans.
I'm sure I'm not the only guy who's wished for this, and I expect it's something TrainerRoad has considered. So if you're reading this, TrainerRoad guys, consider this my vote for a really useful upsell. I'd be all-in.
So, yeah, room to grow, room to improve. But here's the thing I'm wanting to drive home here: I'm a full-on convert. And so is The Hammer. This is the first winter we've ever looked forward to our indoor trainer workouts…and I'm saying this months into winter, so this isn't just a "new owner pride" kind of thing.