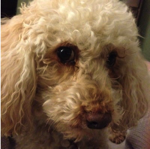 A Note from Fatty: Today's guest post is by frequent favorite commenter and (man's best) Friend of Fatty, leroy's dog.
How Leroy Placed Second In The Leroy's Dog 120 Mile Invitational While Everyone Else Was Racing At Leadville
By leroy's dog
Leroy worried about turning 40 until he woke up on his 40th birthday feeling no different than the day before. After that, turning 50 was no big deal. But approaching his last birthday before 60, he felt as if he were about to be chewed up like truck stop beef jerky and spat out the back of the grupetto of old age and irrelevance.
Okay, I made up that part about the grupetto, but he was complaining that his age sounded old.
Fortunately, I know how to cheer leroy up. Leroy likes long solo rides, it gives him quiet time to gather his thoughts. So I planned a birthday ride of twice his age in miles. I added two miles to make it a round number.
I knew I had to go with him though. On a ride that long, he'd get lost in thought, run out of thoughts, and then just be lost.
Leroy's birthday was the same day as the Leadville 100 Mile Race Across The Sky. So I called our ride the Leroy's Dog 120 Mile Invitational. It didn't seem like such a non-sequitur at the time.
And of course, I let him wear our Fat Cyclist World Bicycle Relief kit just like the cool kids at Leadville.
The Perfect Start
Leroy's birthday also coincided with NYC's Summer Streets Festival – the Saturdays in August when NYC gives a route to pedestrians and cyclists from the Brooklyn Bridge to Central Park. At 7 AM it's empty, no cars, no trucks, and only a handful of people.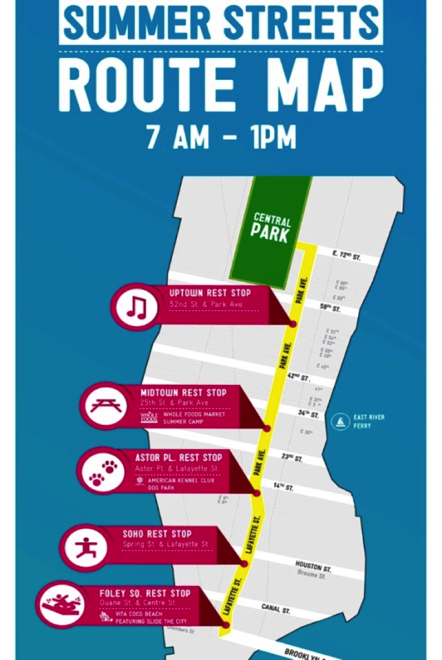 We fell in with four Rapha-clad riders (each about half leroy's age) and spun easily over the Brooklyn Bridge, past Union Square, up Park Avenue, past Grand Central, through Central Park, and over to the West Side Highway where we dropped back.
At the north end of the West Side Highway greenway, I took this photo of a rusty, once dignified, but now aging structure in need of repair: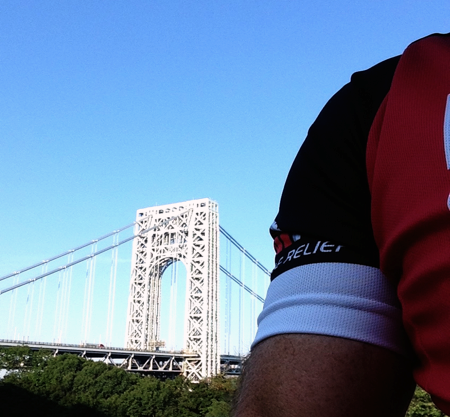 You can also see the George Washington Bridge in the background.
Right after this photo, a group of three women (each half leroy's age) asked how to get to the Bridge. That cheered leroy up. Getting old means folks assume you know stuff; getting really old means folks assume you've forgotten everything.
A Word About New Jersey
Just over the Bridge, New Jersey is surprisingly bike friendly. They even have special parking for cyclists.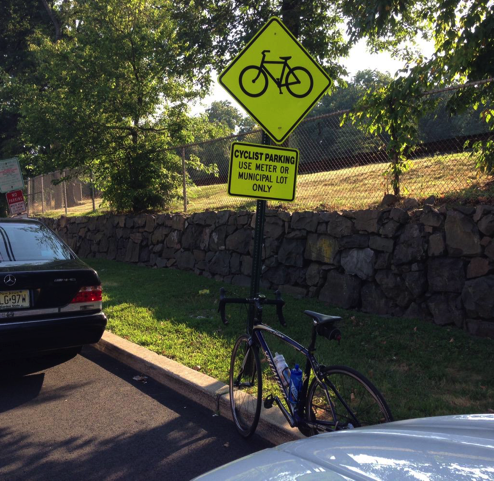 I tried teaching leroy how to parallel park. No luck. There may be something to that "old dog/new trick" expression.
The Route
In order to get the mileage we needed, I combined some well-known rides. First stop after the GWB was Nyack, about 25 miles north and a popular cycling weekend watering hole.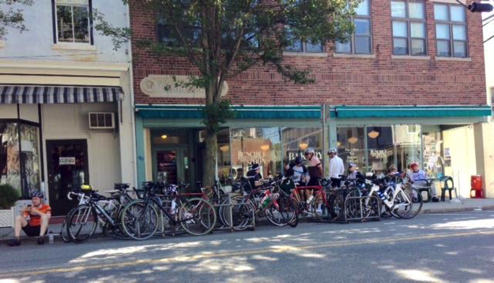 Nyack on different day, but it always looks like this on the weekend.
Fuel stop : 1 Fruit Cup (large) $5.00; 1 PB&J sandwich (artisanal) $4.50(!).
After Nyack, we went north, climbing past the yeshiva on Christian Herald Road (because that always cracks leroy up), across DeForest Lake (a lovely downhill just before the lake lets you coast across at 25 mph), and then back up to South Mountain Road and Route 33 through High Tor State Park.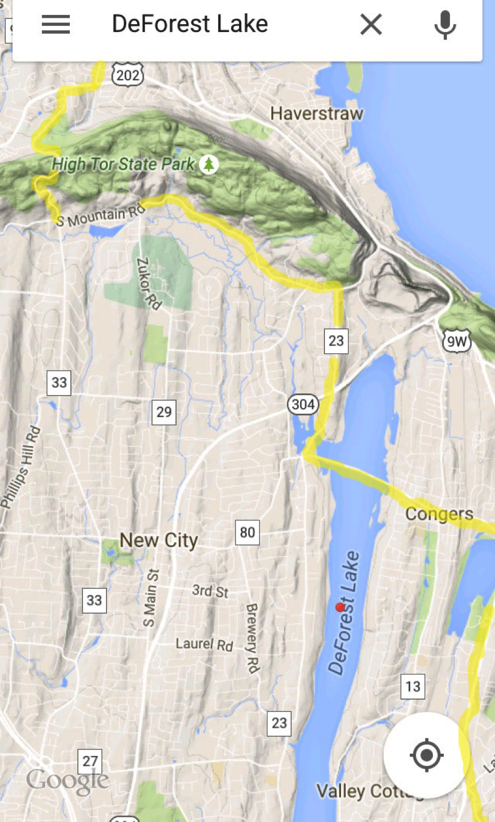 Leroy was laboring up the gap in High Tor Park as two young women (definitely one-third leroy's age) were jogging down. They smiled as they passed and told us to have fun. I think that was when leroy realized we were nowhere near the top.
At the top of High Tor Park, we stopped for a bio break behind an appropriate tree: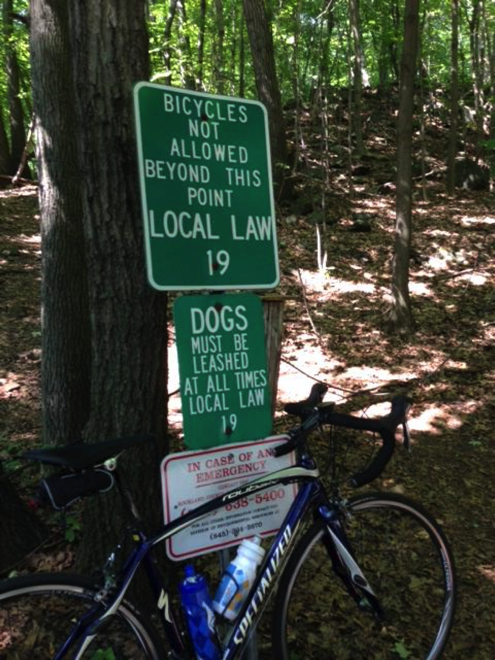 (Because sometimes you just have to stick it to The Man.)
From High Tor Park we made our way through Stony Point and Tomkins Cove to the four mile climb at Bear Mountain.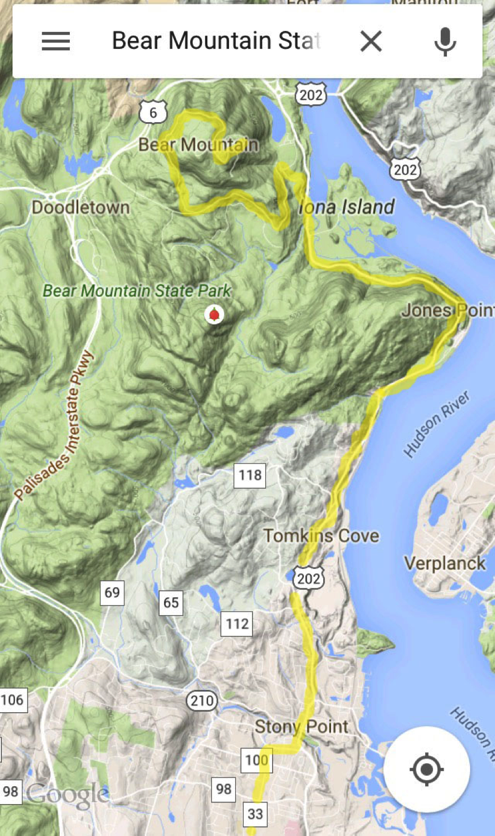 Leroy seemed to struggle for the last two miles of the climb. I tried distracting him with a "The Bear Went Over The Mountain" sing-along.
No luck, but he swore a lot and chased me.
At the top, I took this photo of old growth forest on a promontory diminished, worn down, and eroded by time.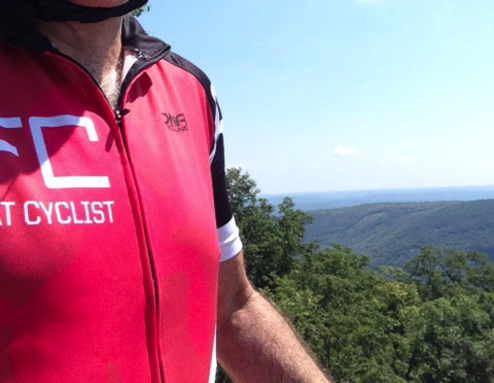 You can also see the view from Bear Mountain behind leroy.
Leroy complained I cut off his head. I say we're still not even for having me fixed.
I got a better photo when leroy wasn't in the way: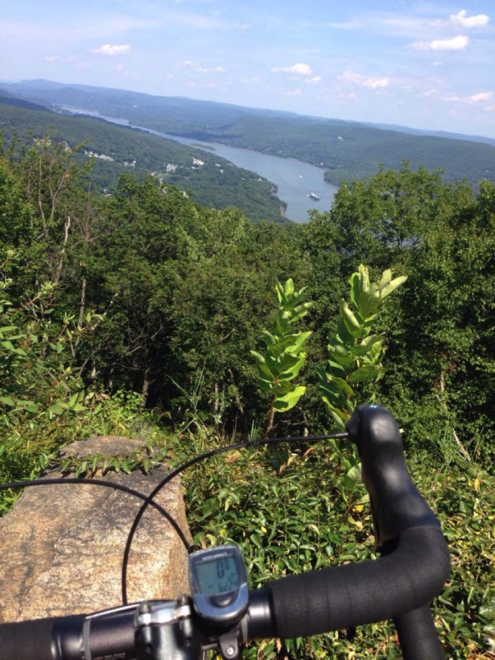 Fuel Stop: 1 can Coca Cola from vending machine at top of Bear Mountain – Free (someone left change in machine).
Heading Home
It was time to turn around and head home along the Hudson River.
We stopped at a deli in Tomkins Cove for a non-artisanal PB&J ($2.50).and again in Nyack for another large fruit cup (still $5.00) and a large Iced Tea ($2.50!).
Of course, this being a Fat Cyclist post, I should also disclose that leroy also went through six bottles of Nuun Energy drink (Wild Berry), a couple of bottles of water, a bag of Power Bar energy chews (cola) he got for free on a ride the week before, and some sort of waffle (flavor indeterminate) that he got at a gas station a month earlier. He forgot to stock up on Carbo Rocket. Seriously, that stuff is great.
This being a Fat Cyclist post, I should also provide a bathroom report.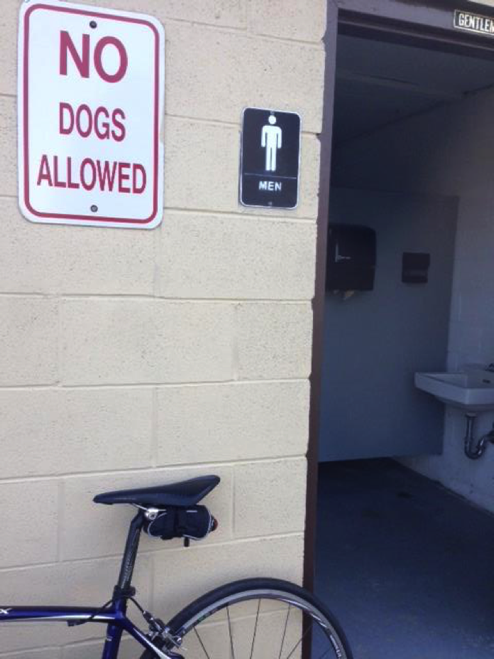 The Village of Stony Point will be getting a strongly-worded letter from me.
About 95 miles into the ride, leroy began to smile uncontrollably. The day, which had been in the 90s and humid, was cooling down nicely. He was rolling down a road he'd ridden many times, there may have been a tailwind. What could be better?
What I've Been Trying To Tell leroy
Back in the City, we faced the most challenging part of the ride: navigating the Brooklyn Bridge on a weekend afternoon in good weather. The Bridge is packed with walkers, gawkers, hawkers, and folks wobbling on bikes they forgot how to ride.
Leroy likes to roll slowly behind photographers while making a goofy face to crack up the photographer's subject. You'd be surprised how easy that is the older you are – especially if you're wearing lycra.
As we headed down the Bridge, a young man (less than half leroy's age) riding a Citibike in the other direction smacked leroy on the shoulder and shouted hello.
It was a drummer leroy knew, but hadn't seen in months because he had been touring with his band. Many years ago, leroy was a musician. Nowadays, on those rare occasions when he plays, folks notice his guitars.
Those guitars are classics or vintage or some other compliment. But to leroy, they're just what he's worked with since he was a teenager. They were okay back then, but now, just by sticking around, folks think they're special.
I've tried to tell leroy getting older is just like that. But he doesn't believe half the stuff I say.
Post-Ride Product Endorsement
Leroy reports that the DNA Fat Cyclist WBR kit was stylish and comfortable all day long. It even holds salt nicely.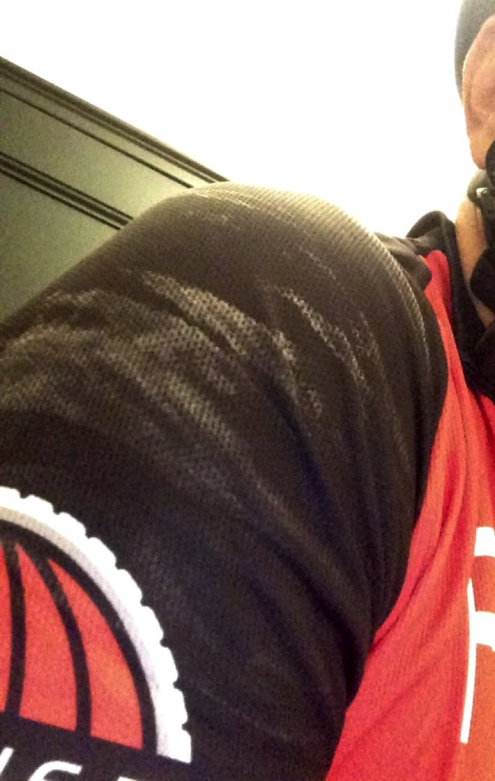 I may have to let him keep ours and get my own. I mean that's just gross.
For his birthday, leroy got what he wanted: Phil Gaimon's Pro Cycling On $10 A Day and four pairs of boxer shorts.
I also got him a Garmin 500 to replace the now-wonky cycling computer he's used for the past 8 years.
I gave leroy the Garmin after our ride because I didn't want him to know that, in addition to riding twice his age in miles, I was shooting for climbing around 12,000 feet (200 times his age).
As for leroy coming in second…. I wasn't just going to let him win. But for his birthday, I didn't open a gap.
After all, the whole idea was to remind leroy that, for the way he rides, there's no such thing as a time penalty.