A TL;DR Note from Fatty: If you already know what the 100 Miles of Nowhere is and want to get on with the registering before it fills up, just click here to go register.
Here is a sad fact: I have never played "Jungle Ball." Ever. In fact, I have very little idea of what it is (I know it is played in a pool and that there is a ball involved, but little else). I don't know what the rules are (very few, I am told).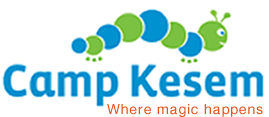 But my twins know, thanks to Camp Kesem. And in fact, one of them tells me playing Jungle Ball is one of the things she likes best about Camp Kesem. The other twin tells me that making so many friends — fellow campers and counsellors — is what she likes about it.
Both of my twins have been to Camp Kesem for each of the past four years, and both want to be counsellors at Camp Kesem someday. 
Camp Kesem has helped defined who my girls are, has made a huge difference in their lives.
And that's why, for the fourth year running, The 100 Miles of Nowhere (#100MoN) will be to benefit Camp Kesem, a nationwide community driven by passionate college student leaders, supporting children through and beyond their parent's cancer.
That said — and very much in keeping with Camp Kesem philosophy — the 2015 100MoN will be the most ridiculous, awesome fundraiser ever, both in terms of swag and participation. 
Let me tell you what I mean.
What Is The 100 Miles of Nowhere?
The 100 Miles of Nowhere is a race without a place. It's an event in which hundreds of people participate . . . all by ourselves. (Or with a friend. Or with 20 friends.)
It's a very strange thing where you pay $99.95 (shipping is free) for some awesome swag and the privilege of riding your rollers, trainer, or a very small course (like around the block or up and down a hill) for 100 miles.
And then the profits from your entry go to Camp Kesem — camps all across the U.S., dedicated to giving kids affected by a parent's cancer a week of carefree fun, at no cost to them.
I did the first 100 Miles of Nowhere by myself, back before I knew it would be annual at all. The next year — and every year after that — a bunch of us have done it. In fact, now every year the 500 available spots sell out in no time.
Then, after the event, I ask you to send me your stories — like your awesome videos, or descriptions of your completely insane courses — and I post new ones every day (this year, I plan to  posted a new story from a reader every couple of hours. I plan to carry on that tradition this year, as well.
Please, let me know what your 100 Miles of Nowhere idea is in the comments. I don't care whether it's a simple, straightforward, brutal session on your trainer, or 3000 laps in your circular driveway (yes, really).
Your crazy needs to be shared.
What 100MoN Gear Do Race Participants Get?
I'm pretty sure that each year I ask my readers if you'd be OK with a simplification of the 100 Miles of Nowhere, including much less swag.
Each year, you overwhelmingly say, "Sure, that would be fine. This isn't about the swag." 
And then I have such a rush of gratitude toward your generosity that I say to myself, "My readers are so generous, how could I not dig up a whole bunch of amazing swag for them?" So here's what you're get with your $99.95 registration. 
First, the must-have item: the event t-shirt: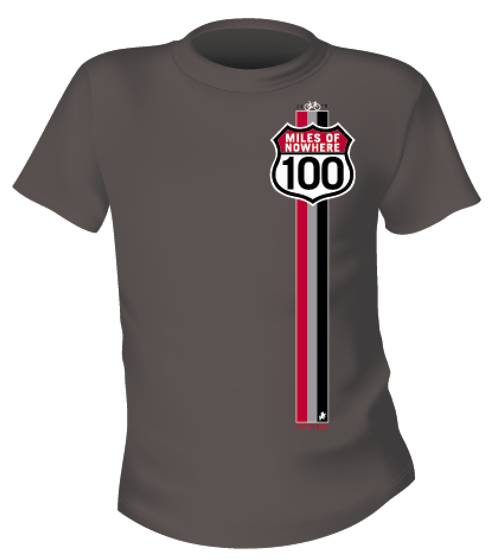 This will be available in Small – XXXL for men's sizing, and XS – XL for women's sizing. One of these shirts is gonna fit you, and they look great. The back looks like this, although we still need to lay out the sponsor logos: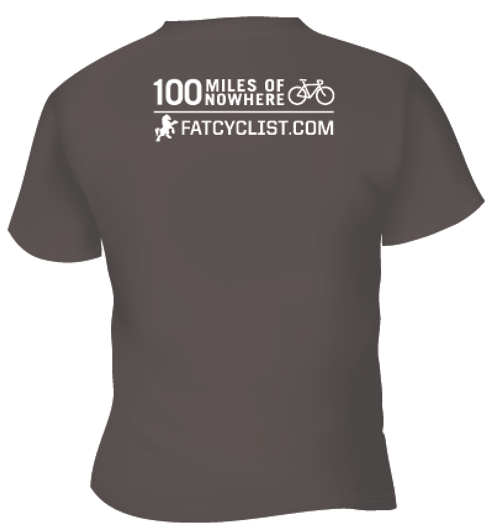 'Til now, the t-shirt or the jersey (keep on reading for info about the jersey, ok?) has been the only wearable item you get for the event. And as far as I know, there's no other event that gives you multiple wearables. 
Pffff. Slackers. 
This year, everyone who registers for the 100 Miles of Nowhere will also get these awesomely loud 100MoN socks: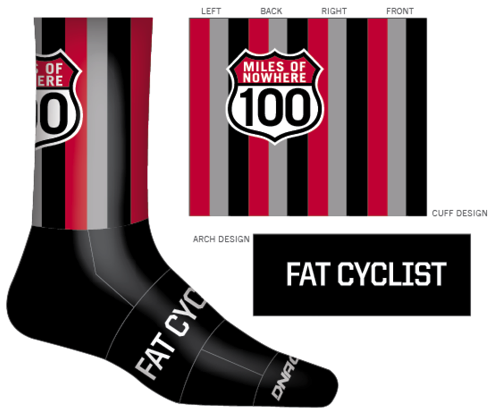 These go with everything, but especially with the 100MoN jersey (yeah, keep reading for info on that). These socks are the same make and fit as the 5" Fat Cyclist socks I've been selling with DNA, and I love them. These are seriously nice socks. When you register, be sure to specify your size (S/M, or L/XL). For what it's worth, I wear a size 10 shoe an wear the S/M. If my feet were any larger, I'd go with the L/XL.
Is that it for the 100MoN gear you're gonna get? Nope, not even close. 
A lot of events give you a cheapo bottle, which I find pretty annoying at a couple of levels, mainly because cheapo bottles suck and have to be repurposed.
I am not going to give you a cheapo water bottle. No. I am going to give you something you'll actually use: a K.E.G.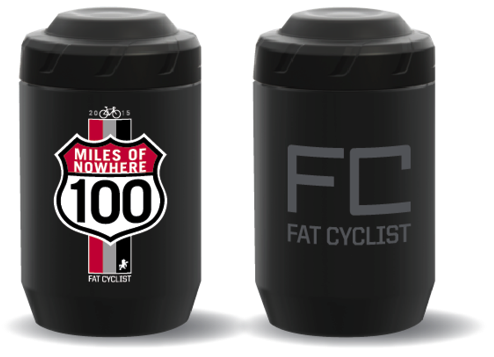 Front and back view shown — you get one of these, not two.
These ingenious things hold everything you need to fix a flat or a chain, neat as can be, in a watertight container. Even the lid is ingenious, securing a patch kit and a masterlink. Then pop it into a bottle cage for easy retrieval whenever you need it, and move it between bikes as easy as can be. Plus, you'll have the extra benefit of not having a dorky-looking saddle bag hanging between your legs.
Am I done? No, still not done. You also get a 100MoN musette bag, great for slinging over your shoulder the next time you need a handup at a race.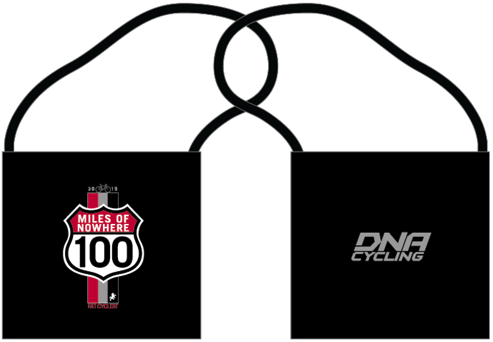 Once again, front and back shown. You get one of these, not two. You don't need two.
Or the next time you want to carry a musette. Or just to hold other stuff. It's like a purse, but lighter and more cycle-y. 
But what if you want a jersey? Well, how about this: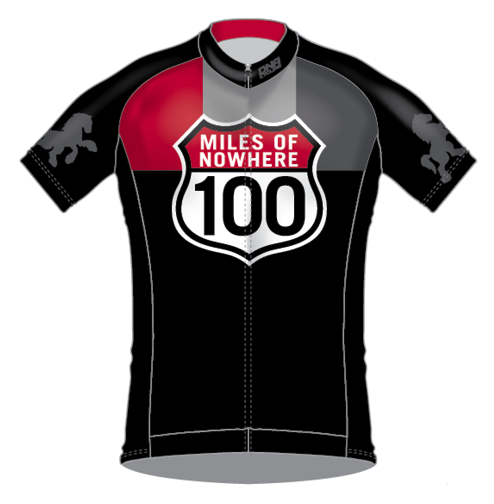 Now, you do not get this jersey with your 100 Miles of Nowhere registration. This is what we call an "upsell." However, this jersey — the same fit and fabric as I use in the Relaxed-Fit Fat Cyclist jersey — is only $69.95 (that's $15 less than I sell the regular jersey). You can buy this as an add-on when you register, or you can buy it separately (it comes in both men's and women's sizing) for family members who are going to be riding with or supporting you.
Yeah, I know. Pretty great. But wait, there's more!
What ELSE Do 100MoN Racers Get?
The official 100MoN gear is only part of the swagfest 100MoN riders can expect to receive. You'll also get all of this: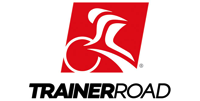 1 Month of TrainerRoad: I love TrainerRoad. I truly believe that a big part of the reason I raced my fastest LT100 at the age of 49 was thanks to this amazing suite of training workouts. I'm going to be using TrainerRoad again — even moreso than last year, in fact. And now you can try it out for a month, too, for free.

Inspired to Ride: I think Ride the Divide is one of the best cycling movies that's ever been made. And now Mike Dion — creator of Ride the Divide — has produced a new movie, Inspired to Ride, about a small group of unsupported cyclists in their quest to get from the West Coast to the East, as fast as possible. Watch the teaser here, and also be assured — because I've seen it — that this is an incredible, inspiring, and fun film. 100MoN racers will be given a code to stream this video…maybe something fun to watch as you ride your rollers for six hours?

Sufferfest video, "Extra Shot:" I love and use Sufferfest videos in my training. Not only are they brutally hard, but they're clever and entertaining, plus they feature great cycling footage (Plus, Sufferfest plays well with TrainerRoad!). "Extra Shot" is a great video to get a short, intense workout in…whether you're using it on its own when you don't have time for a long ride, or as a bonus workout, for a day when you feel like you deserve to be punished.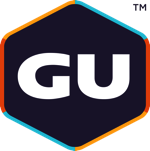 2 GU Energy Gels and and 1 Single-Serve GU Hydration Drink Mix: I don't even know what I could say about GU that I haven't said before. Their energy gels just work. As in, you take one, and you find you have the energy to keep going for another half hour. I train with GU anytime I'm out on my bike for more than ninety minutes, and I never ever race without it. 

2-Serving Packet of CarboRocket RocketLytes and CarboRocket Rehab Single-Serve Stick Pack (Chocolate/Coconut flavor): If you ride long enough, you're going to need electrolytes to keep from cramping. You'll definitely want to use these while you ride your 100MoN. And after the 100MoN, you should use the chocolate/coconut recovery drink. For one thing, it'll make you feel better. For another thing, it's delicious.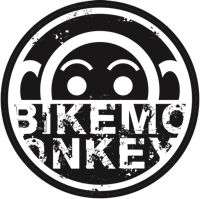 Race Plate, provided by BikeMonkey: Hey, it' not a race if you don't have a race plate, is it? No sir/ma'am, it is not. And you are going to get yourself a race plate you will be proud to put on your bike as you race around your block / in your basement / up and down the steepest hill you can find for 100 miles. And then you're going to want to frame that race plate. Luckily, it's a nice-enough-looking race plate that it'll look good when it's framed.
When Do Racers Get Their Stuff?
You get it during the first week of November. Unless you're not inside the United States, in which case it's going to take a few weeks longer to get to you, obviously (like, you'll get it in late November).
When Is the 100 Miles of Nowhere?
This year, the "official" date of the race is Saturday, November 7. This brings the 100 Miles of Nowhere back to its roots, making it an event that's great to do indoors. That said, if November 7 is still good outside weather for you, by all means take it outside and make it a fun, strange thing to do with friends, rather than a solitary form of torture you inflict upon yourself.
And, thanks to the flexibility of the event — i.e., it's just you, really — if November 7 doesn't work for you, you can do it another day.
Like in October, if you feel like it. Or December. Or later this afternoon if you just don't have anything else to do. It's your call, really. (But your 100 Miles of Nowhere race plate and swag will arrive around Halloween, regardless of when you do it).
How Long Is the 100 Miles of Nowhere?
The "100 Miles" part of 100 Miles of Nowhere is more a guideline than a rule. For example, if you would rather ride 50 miles, that's fine with me. So is 25. One person wrote me asking if she could walk 100K — and of course the answer was, "You bet, and please take pictures and send me a writeup of your story."
Or if you're a runner and you want to do a marathon on the treadmill, that would be awesome. If you're a swimmer, swim five miles. I'm not picky.
And of course, the very best thing about the 100 Miles of Nowhere is that you are going to win your division. You just need to make sure your division is specific enough that there's no chance anyone else is in it.
And once you've won your division, send me the story of what your 100 Miles of Nowhere was like. I pick my favorite write-ups and publish them here in the blog. In fact, for a week or so after the event, I generally put up several stories per day.
Weirdly, the 100 Miles of Nowhere has become an odd community event, even though we all do it alone.
How Many People Race the 100 Miles of Nowhere?
500 people can register and race. That's it. I need to limit the registration to 500 so my sponsors aren't bled dry by their  generosity.
This is important because if you don't register pronto, you aren't going to get in. This will sell out, generally within 20 – 24 hours. 
In other words, you shouldn't sit on the fence. And considering the cause and the swag, why would you?
Questions? Comments? Ideas?
I'm looking forward to hearing your ideas for what you're going to do for your 100 Miles of Nowhere; please leave a comment saying what you're thinking you're going to do.
And if you have questions, please leave those in the comments. I'll be paying close attention to comments and answering as frequently as my day job allows.
Good luck in registering, and have a great race!