A Note from Fatty: If you'd prefer to skip straight to the links to the podcast I'm talking about today, here you go: You'll find the episode on fattycast.com, on iTunes, and as a downloadable MP3. You can also play it directly on this page, but you'll have to scroll down a little bit to see the player.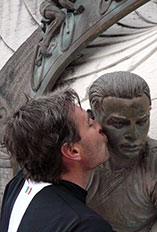 When I decided I was going to do a podcast, one of the first things I did was start making a list of people I wanted to talk with.
Bill Strickland, Editor-in-Chief of Bicycling Magazine (shown here kissing the statue of Tullio Campagnolo at the top of the Croce d'Aune,where he, according to legend, got the inspiration for the quick release) was right at the top of that list. 
Why? Because I identify with him in a lot of ways. We're about the same age. We both love bikes. We both love writing about bikes. We both have written books. We both have made our living for most of our careers in magazine publishing. We both have been through some very tough times.
But also, because we're really different in a lot of ways. Specifically, Bill is insightful and wise and sought after for thoughtful analysis, while I'm…ridiculous.  
So I thought it might be interesting for us to get together for an hour to chat.
Then we wound up talking for almost exactly two hours.
Yeah. 
As it turns out, Bill and I had quite a bit to chat about.
Here, have a listen (or subscribe in iTunes): 
What We Talked About, With Links and Stuff
A couple weeks ago, I read Bill's book, Ten Points. And it was an extraordinary book. A great story. A tragic story. A beautiful story. It was one of those books that made me think, "Hey, I need to be a better person." 
So of course I talked with Bill about Ten Points, in spite of the fact that it's been published for almost a decade.
We talked about magazines in general, and about his favorite writing from Bicycling in particular. And about writing about riding. We talked about Lance Armstrong — Bill's history with Lance, my history with Lance, and about the time I was super angry with Bill about what he had said about Lance. 
We talked about his quest to have no more than three bikes (we did not talk about how many bikes I have, which is for the best).
We talked about where he has ridden, and where he'd like to ride.
Basically, we talked all over the place. It was a great conversation, and I think you'll enjoy listening to it.
Here are a few links to things we talked about:
A Note About Podcast Fever 
Earlier this week I talked with Burke Swindlehurst and Diane Lees; I will be editing and posting these conversations very soon. Today, I'm recording a conversation with Janeen McCrae (aka The Noodleator). Tomorrow, I talk with Neal Rogers. Saturday, I'm talking with Sonya Looney.
That's six interviews in one week. And there were two more interviews that I would have done but need to be rescheduled.
Why am I suddenly podcasting like a madman? Because I enjoy it. A lot. I've been writing about riding for about eleven years now, and I've covered a lot (most?) of the ground I can cover. But having long conversations with other people who love riding (and focusing on them instead of me) — that's new, and it's fun, and I'm loving it. 
I don't have any plans to abandon this blog, but you can definitely count on me featuring more of this kind of conversation. I hope you enjoy it as much as I do.