A Note from Fatty: I generally don't like to give things away out of sequence in my stories, but the fact is, over the weekend I shot, in slo-mo, a straight-up incredible shot of my friend Kenny doing a ten-foot drop…except he accidentally unclips either right before or right after he begins the drop. The result is disastrously incredible, but somehow ends with Kenny looking like he just completed a gymnastics routine. It's a must-watch. So here it is.
2016 promises to be an interesting year, race-wise, at the Nelson household. For one thing, I'll be racing in a new age group, what with my impending fiftieth birthday. Which means I'm likely to be placing mid-pack against people who are older than I am, instead of against people who are younger than I am.
Okay, that's not particularly interesting. I'll give you that. 
What's more interesting is that while I'm planning to race with gears this year, The Hammer is thinking of racing singlespeed, across the board — an interesting reversal. 
Perhaps most interesting of all is that The Swimmer — our 20yo daughter — is registered to race the Leadville 100. And leading up to that race, she's planning to do all the local endurance races. The Crusher in the Tushar. The Six Hours of Frog Hollow. And — in just a few weeks, her first endurance mountain bike race ever: The True Grit Epic. (If you've got nothing else to do, you can go back and read parts 0, 1, 2, 3, 4, and 5 of my True Grit recap, as well as The Hammer's story, from last year.)
Which means that I am discovering exactly how much alike daughter is like mother. Specifically, they both have a little bit of an athletic gift, coupled with a lot of tenacity and a competitive spirt (but also they both like to say "I'm not really competitive"). 
And, above all else, they both want to be prepared. Oh mercy, do these two women love preparation. I'd go so far as to say that they like to be prepared for races almost as much as I like…sandwiches. 
To be perfectly clear: I'm a big fan of sandwiches.
It should therefore be no surprise that last weekend, The Hammer, The Swimmer, and I went to St George, for the Very Important Purpose of pre-riding the True Grit Epic course, under the watchful eye of Kenny and Heather, without whom we would still be out on the course, hopelessly lost.
Pros and Cons
I understand where The Hammer and The Swimmer are coming from, preparation-wise. Really, I do. All else being equal, I prefer to not go into a race completely naïve to the course. You're going to learn things about the course you can only truly understand when you've experienced it firsthand; a mostly-singletrack course in Southern Utah can't be described in distance and vertical gain. Not even close.
Knowledge is power and whatnot.
However, I would also like to point out that doing a recon ride of a long and difficult course can be fraught. Because in addition to learning all this really awesome beta about the course, you're likely to learn a few things you weren't expecting.
Like that you seem to be aging rapidly at the moment. 
And that with your newfound decrepitude, you seem to recover from illness a lot more slowly than you used to. 
And you may even find that you're slower and weaker than you used to be. to the point that maybe you are so far from being the alpha rider that you are left to wonder what comes after omega.
As you probably have guessed by now, I am — alas — not writing about hypotheticals here. 
Hand-Me-Downs and New Shoes
I was excited for this ride, but hadn't given it a lot of thought prior to the trip. I had been sick most of the week, and slammed with work for the rest of it.
Still, I have done hundreds of rides longer than this one, and I was feeling better. As proof: it had been more than thirty-six hours since I had needed to use Nyquil. 
I brought two bikes to St. George: my Felt 9 FRD (affectionately known to me simply as "Fred"), and my Specialized Stumpjumper singlespeed, the twin of the bike The Hammer plans to race this season. I figured I'd ride the singlespeed to show solidarity with The Hammer, at least in training.
The Swimmer, meanwhile, would be riding her Cannondale Scalpel: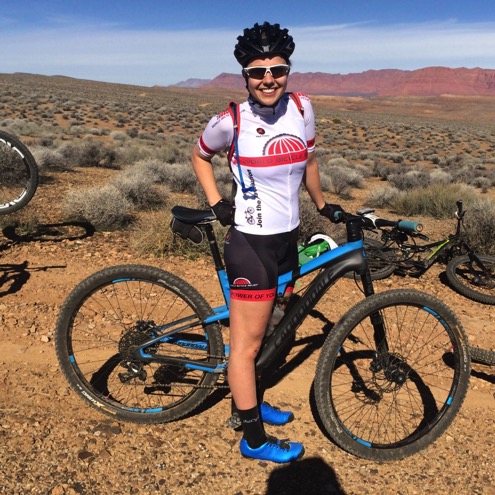 I'd like to point out a few things about this photo. First, yes: this is the Scalpel I won last year. Or more accurately, it is the Scalpel I won and which The Swimmer immediately claimed as her own.
I can't complain: she rides it better than I would. I am not exaggerating when I say that she already can demolish me with this bike on descents; I cannot hold her wheel.
To make the adoption final and permanent, in fact, I got her those snazzy matching Giro VR90 shoes. 
But she's still wearing borrowed socks, shorts, and jersey. Luckily (for The Swimmer, though I'm not 100% sure it's quite as lucky for The Hammer) she and her mom wear the same size. 
The Day Started Well Enough
I love the feeling of getting away with something — of doing something clever and fun that just doesn't occur to most folks.
Going to St George, UT in mid-February always feels like I'm getting away with something. Friday after work we load up the Bikemobile at our home in Alpine, UT (two feet of snow standing on our front lawn), drive for 3.5 hours, and — wham — we're in a short-sleeve desert mountain biking wonderland. 
And we have friends who let us stay at their house for free, so that helps, too.
Thus, we — Kenny, Heather, Kathleen, The Swimmer, The Hammer, and I —started our fifty-mile singletrack odyssey at 10:00am, all wearing shorts and short sleeves. 
Except Kenny, who had cut off his sleeves. Naturally.
Within a few miles, Heather had gotten a torn sidewall on a downhill, which I was completely stoked about, because it meant I got to take a break from riding. And also, it meant I got to take a picture of Kenny and Heather in their matching NICA-themed helmets.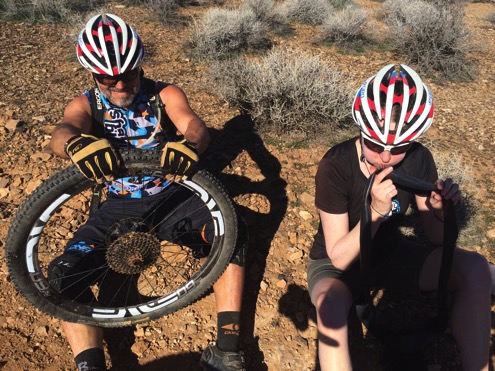 That's also when I took a picture of The Swimmer with her matchy-match bike/shoe setup, and of The Hammer in her matching helmet, glasses, and FatCyclist kit: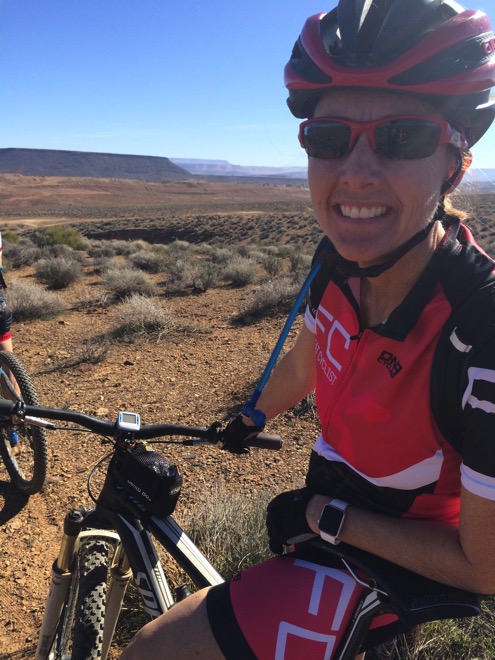 Nobody took a picture of me, because…well, because I hadn't done a very good of matching stuff up, I guess. Not that I mind the lack of photos of me. The truth is, I'm way over fighting weight right now, and I'd prefer to keep the photo evidence of this sad fact down to a minimum.
Anyway, I didn't get to take photos for very long, because Heather suggested that the rest of us continue on our way; she'd take a shortcut and rejoin us.
Somewhat disappointed, I remounted. Strangely, it didn't occur to me at that moment that it was very unusual for me to be welcoming a break so early in the ride.
Technical Difficulties
The True Grit course can be roughly divided into two kinds of terrain: the hard parts, and the not-as-hard parts. 
I was finding very few non-as-hard parts on this day. Climbing was difficult. The Hammer kept riding away from me. My camelback felt like it weighed thirty pounds (it actually only weighed twenty seven).
It's not that I felt bad; I just felt slow. Incapable. Sore. Grouchy. My wrists were hurting. The inside of my left ankle was chafing against my shoe. My bike was ridiculously overgeared (34×18 for crying out loud).
Basically, I felt the exact opposite of what a guy who is on a beautiful ride with wonderful people should feel.
Meanwhile, others were having a great time. Kathleen and Heather were riding stuff I could never ride on my best day: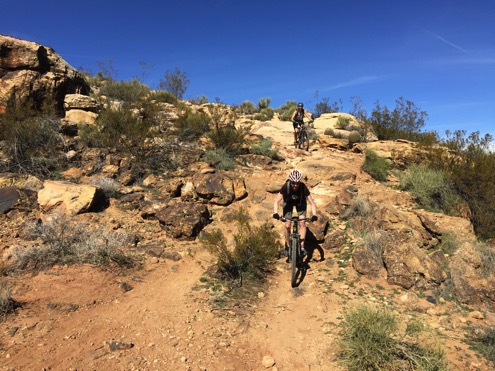 And then giving each other celebratory high-fives and stuff.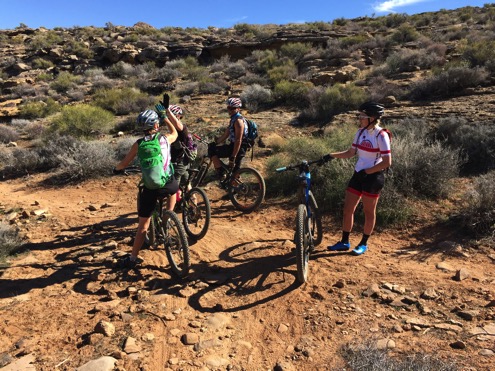 The Swimmer was riding really well, too: having fun, riding strong, and cleaning technical stuff I'd have thought out of her reach.
Of course, that doesn't mean she didn't ever fall. Of course she fell. That's part of getting better. Plus, that gave her the right to claim first blood: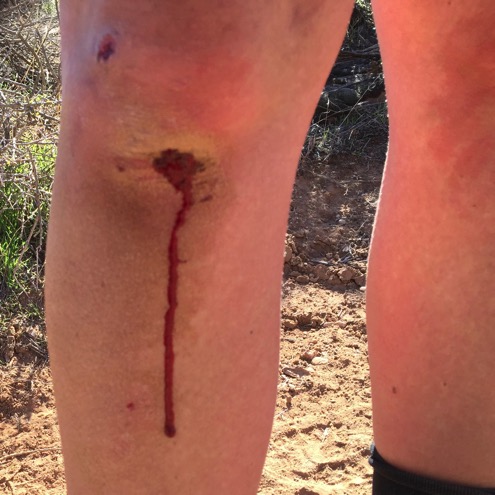 "How'd that happen?" Heather asked, when noticing The Swimmer's knee. 
"Elden was going too slow around a hairpin, and I was behind him, so I fell."
"Hmph," I retorted.
But The Swimmer's skinned knee was about to be upstaged, big time. For we had arrived at what I am assured is called the "Base Jump:" a big drop to a constructed dirt ramp.
It's all Kenny had been talking about. He had been promising himself that this was the day, the day when he was going to try that drop.
And I, in turn, promised to get a good slo-mo filming of said drop. 
Which I did, and which you must watch. I'm serious: you must.
Later, Kenny would watch this video with astonishment. He had no recollection of having unclipped during takeoff or flight; he had been wondering what had been the problem.
As for me, I'm just grateful that I actually pressed the record button before this all happened. My success rate is about 50% on things like this.
Don't Tell Me
This ride was recon. Nothing more. Nothing at stake. And so this next part of the story shouldn't bum me out.
But this part of the story so bums me out.
I wasn't climbing well. I wasn't descending well. I was falling behind. I was hurting.
At one point, I said to The Hammer, just before a big climb, "I am not sure I'm going to make it today." Which was essentially a plea for some moral support, maybe some sympathy. 
"Oh, that's too bad," The Hammer replied, and then rode away from me. 
A few minutes later, The Swimmer said, "Are you OK? You're riding really badly today."
I'm still trying to work out which of the two were the bigger blow to my morale.
Enough
I knew it long before I said anything: I wasn't going to finish the ride. I was sore. Tired. Not having fun. Coming down Bear Claw-Poppy, my wrists hurt so badly I had a difficult time using the brakes.
I was done.
So at the point where I could either turn right and join the group for the second half of the ride, or turn left and ride a few miles back to Kenny and Heather's house, I said, "Guys, that's it for me; I'm going home."
A number of people said, "Really, are you sure?" 
Yeah, I was sure. Completely sure. 
The Garmin of Justice
I turned left and began riding back, feeling great about my decision. 
That great feeling lasted for approximately one minute and nineteen seconds.
And then the shame began.
"Seriously, you just bailed out of this ride?" I asked myself. Yes, yes I had. 
I got back to Kenny and Heather's house and plugged in my new Garmin Edge 520 (an early birthday present from The Hammer), so I could upload the ride — as much of it as I had done — to Strava.
It would not upload. In fact, the Garmin froze entirely, and would not even reset. I vented my frustration on Twitter. DC RainMaker replied, saying there's the basic reset (which I had done) and then multiple levels of nuclear resetitude.
And in short, I got my Garmin to work again…but I completely lost my GPS data.
Which is probably for the best.
Afterward
So now it's the day after the day after the day of the pre-ride. And I find myself wondering: how much of my discombobulation was because of sickness? How much of it was because of wrist pain? How much of it was because I'm just a baby?
I don't know. I just don't know.
But I do know that this particular pre-rde — while a huge failure for me in one way — was also a massive success in another. Because now there's no way I'm going to be taking this course, or equipment, or my fitness for granted on race day.
Redemption. Will. Be. Mine.
Unless I'm not feeling so good, in which case I'll probably bail out or whatever.