A Note from Fatty: I'm always excited when I get an outside-the-US 100MoN race report, and I'm always excited when I get a race report from a first-timer. So this report — by Erin B of Trondheim, Norway — is a double-whammy of awesomeness. Enjoy!
100 KoN Race Report: First-time Viking edition
by Erin B  
I signed up for the 100MoN this year after binge-reading race reports from previous years. One would think that this extensive research would lead me to prepare properly for the event, but never fear: there was a significant time lag before the actual race, and I jumped in with a minimum of training and planning.
I should admit now that I am a stronger swimmer than cyclist (most of my riding falls in the "commuting" category), and that the weather in Trondheim in November is quite unpredictable. I had a route in mind: an out-and-back route from my apartment to the ski jump at Granåsen. It's the flattest route I could think of, has a separated multi-use path, and would allow my support crew to be at home writing his thesis for most of the day. The big question when I signed up was: which bike and which tires would I use?
A few inches of snow made the decision pretty easy: my mountain bike in winter form (studded tires) would be the only safe option. They also made the distance pretty clear: 100 km on soft snow and ice, with the extra resistance of studded tires, is about all this fish out of water would be able to manage.
The only other planned aspect was that I would have to carry out the race in a few stages, since last-minute plans involved a visit from friends at 10am. In an effort to make the most of the day, I headed out on the ice and snow at 8 am, in generally nice conditions (0 degrees C and overcast).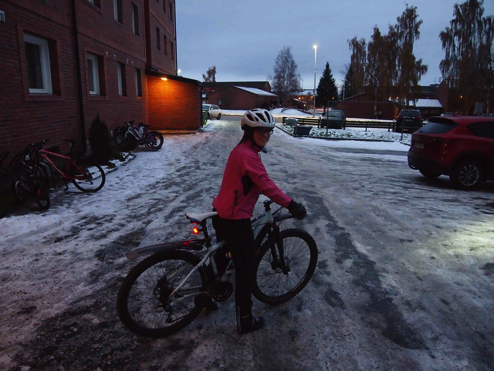 The starting line…
The first lap was mostly a reconnaissance mission: my extensive planning didn't include figuring out the length of the course, and I needed to get an overview of the snow and ice conditions on my path. No regrets on the choice of tires: it was going to be a slow slog through softening snow and a few ice patches.
The course started with a short uphill, followed by a small descent, then a long gradual climb, all of which was reversed on the way back. The round-trip turned out to be almost exactly 8 km, and the first lap took about 26 minutes. This was promising: I could get 4 laps in before the visit, and my legs felt pretty good. The second lap brought a bit more daylight, but my feet were already starting to freeze.
The importance of a route near home was never more obvious: a short pit stop was all that was needed to get a few extra layers. I knocked out two more laps as planned, and managed to put on some dry clothes before taking a cozy 4-hour break to catch up with our visitors from Oslo.
I was feeling pretty confident when I set out on the next stage: I was already almost 1/3 done; this would be easy, right?
The temperatures were hovering above freezing, though, which effectively just increased the resistance in the softening snow. There were also a lot of pedestrians out on their traditional Sunday walk during the second stage. None of them did more than stare when I somewhat randomly did a u-turn at the ski jump and headed back in the other direction. I wonder if the reactions would be equally nonchalant elsewhere…
Since my route required 12.5 laps, I decided that it would be good to crank out 5 of them in stage 2, so that the last stage would be a bit more manageable. I enlisted my boyfriend to join for a lap to take a few photos before the sun went down, and tried to pretend that all was still going great. The truth was that my feet were freezing and the second third of the race seemed to be going way slower than the first.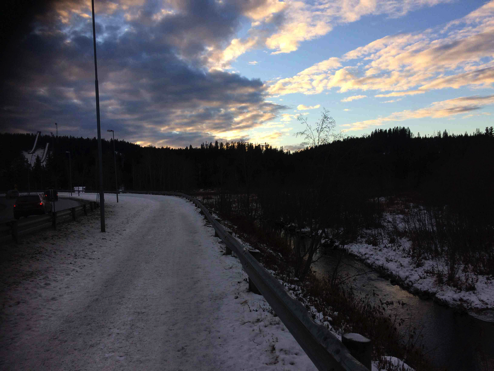 Nearing the ski jump (visible on the left) in the fading light.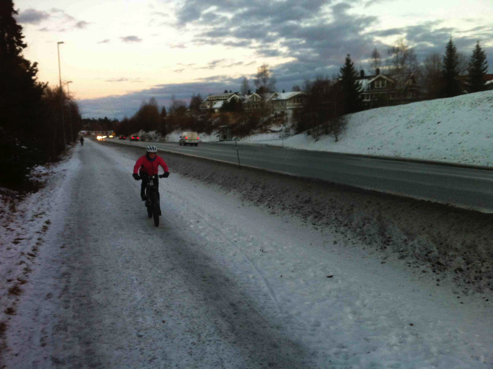 The multi-use path isn't plowed, but they do compact the snow a bit. It's better for the bike than all the salt on the road, anyhow!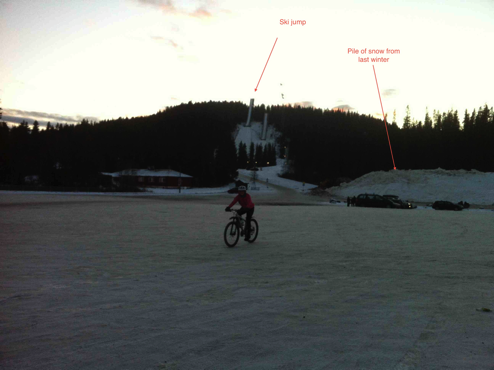 Time to turn around again. The snow from last winter is used for the cross-country ski trails in case we don't get enough early snow.
I struggled through the end of stage 2 as darkness fell, dreaming about some warm food and extra pairs of socks. (Note to self: learn how to eat before you start hallucinating about food.)
A few plum gnocchi and 30 minutes curled up in a wool blanket sufficed to get me more or less warmed up, but they certainly didn't make it appealing to head out the door into the dark (and colder) evening. I had a back-up plan which involved completing this project with some swimming, but I decided to try to tough it out. After all, riding to the pool and back would require almost half of what I had left anyhow.
Once I finally got myself bundled up and out the door, lap 10 wasn't too bad. I had a promise of company for lap 12, which was just enough motivation to get through lap 11 on my own.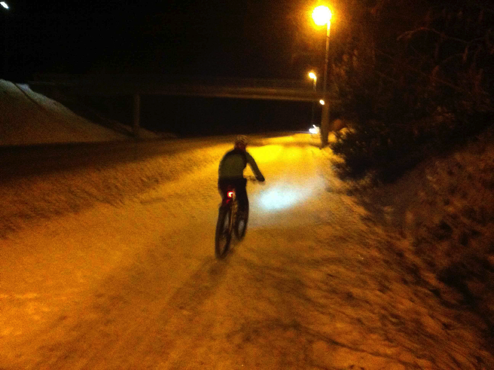 Photographic proof that I got back out the door for the last stage (with extra clothes).
My main concern during the last trip out to the ski jump was where the turnaround point would need to be for the half-lap. My GPS watched seemed to be a bit unsure: the laps were somehow getting shorter, and I was almost a half km behind where I thought I should be. Moving the turning point meant I might need to go up an extra hill, and I was less than enthusiastic about that.
In the end, I squeaked by without the extra work, and finally came back into the warmth for good after 5 hours and 45 minutes of riding.
In total, the distance was 100.5 km, with 988 m of climbing (if we trust my watch). Interestingly, it also claims that the elevation of the ride as a whole decreased over the course of the day.

But I'm going to stick with that estimate anyhow.