A Note from Fatty: This is part 3 in my race report on the Jordanelle Triathlon. Part 1 is here, and part 2 is here.
It was a strange feeling, being in a race and having every intention of racing hard…but also knowing that I wasn't going to be able to say I had finished it. I had just put in a blisteringly fast ride, but I hadn't done the official course. 
When I finished the race, I was going to DQ myself.
It was…liberating.
Like I Was Standing Still
But that didn't mean I intended to amble my way through the race. No. I had worked hard to get ahead of The Hammer, The Swimmer, Cory, and Lynette; I was not going to let any of them come cruising by me during the run. 
If anyone wanted in front of me, were going to have to earn it.
I got rid of my helmet (aero isn't that big of an advantage when you're going only 6mph) and swapped bike shoes for my Altra Paradigms — the road version of the highly cushioned shoe that's made it possible for me to actually enjoy running.
Or at least, to not dread it altogether.
I started out on my 10K run slowly. And by slowly, I mean, "by walking." I've found that if I give myself fifty feet of walking between the bike ride and the run, the change of leg motion doesn't feel quite so strange and achy.
Then I ramped up from "slowly" to "running so hard I was feeling like I was going to hurl." But I didn't care about the pain (OK, I cared a little, but not as much as I should have). I was running well. I'd go so far as to say I was pretty much having the run of my life. Check out my splits from the Strava of my run: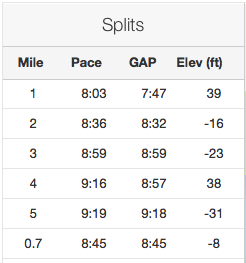 You see that? I (usually) kept my speed above nine-minute miles, and averaged an 8:50 pace. For me, that's fast.
However, within the first two miles, a guy — a guy I've met before — came flying by me. Probably doing a 7:30 pace.
Heath Thurston, recently-retired pro triathlete and all-around good guy. 
It wasn't surprising that Heath passed me. No. What was surprising was that Heath passed me while going uphill…and he was pushing a jogging stroller with what looked like a ten year-old girl inside.
Whuh?
My Favorite Part of the Race
The Jordanelle running course starts out on pavement, but then it turns off onto a dirt path, where you're sent up and down and all around a picnic area. 
Which was great for me: I much prefer running on dirt.
But some of the sections in the run are steep. So steep, in fact, that a lot of the people I saw were walking them.
And Heath…well…even a powerhouse like Heath would have trouble pushing ninety pounds up that hill.
I managed to catch up with Heath, grabbed a side of the push bar, and joined him in getting the stroller up to the top of that hill.
While I did, he told me that this was his niece and he had actually been pulling / pushing her through the whole race.
I was astonished, and suddenly really glad I had DQ'd — if I had still been "in" the race, I doubt I would have taken the time to push along with Heath and talk with him about what he was doing. As it is, I got to have the whole story, which I asked Heath to write up and send to me, so I could pass it along to you. 
After retiring as a pro triathlete this past winter, I felt pretty lost. Being a pro triathlete was basically all I had known for the past decade.

But I had an idea.

My oldest daughter has cerebral palsy and special needs; bringing her along with me through a race had been something I'd wanted to do for years and years…but she was always so shy and would end up not wanting to do it when it came right down to the race.

I asked her if she wanted to do the Echo Tri at the end of June; she once again said no. So I asked a friend of mine that has a daughter (Emery) with an undiagnosed disorder if I could pull her daughter through that race.

I then told Kida that she could babysit her in the swim part, so Emery wouldn't fall out. Finally, she agreed to that.

At Echo, I pulled my daughter and Emery through the swim, then just Emery through the rest.  

At East Canyon Tri, I pulled Kida and another friend's daughter Olivia through the whole Olympic race. That was a tough one!

Then at Jordanelle (where you saw me) I was pulling my Niece Kindra that has Sturge-Webber syndrome through that olympic course. It was so great to see you on the course that day and to have you run with me and my niece and have you help push Kindra up the hill and thought the weeds. That's what triathlon and sport are about.

Finally I just had the opportunity to  be able to pull a good buddy of mine Carlos that I used to work with years ago through the Tri Utah Ogden Championships. We set out to do the Half distance but due to some complications and time, we adapted on the fly, doing the 1.2-mile swim, 35 miles on the bike, then the olympic 10k run course.  

All of these races this year have really saved me.  After retiring I felt extremely lost and depressed; I suffer from depression and anxiety but this year was extremely bad, because I use training and racing to self-medicate. Doing these races with and for these kids and friends was probably the best and most important thing i've ever done in Triathlon.  

Having a child with special needs is very difficult, but it's also the most rewarding thing, because the spirit and personality of these kids is absolutely amazing and teaches me so so much about what's really important in life.  
I don't really have much in the way of what I'd call a life philosophy, but I do have one pretty simple personal rule that helps me a lot: Find a way to make the world a better place by doing what you love. 
Heath owns that rule. That guy obviously has a big motor, but — a lot more importantly — he's got a huge heart.
Afterward
Heath and I parted ways — he re-passed and gapped me, stroller and all — and I continued my race on my own, looking over my shoulder and hoping that I wouldn't see any of my own crew bearing down on me.
And I didn't. I crossed the finish line first of my friends and family, then walked over to the timing table and told them to DQ me, and why.
Apparently, the DQ didn't take, because I got called up to the podium — I had placed third in my age group. So I walked up and said, "Hi, remember me? I DQ'd myself." 
As our group drove home, we talked about what an incredible day we had all had. The Swimmer had won her age group, The Hammer and Lynette had each taken second in their age groups, Cory had taken first in Clydesdale, and Amber had taken second in women's overall.
I, in fact, was the only one in our group who had not got on the podium. 
But I had had such a great day.