A Note from Fatty: By now it should be pretty obvious that The Hammer and I are both pretty big fans of The Queen of Pain. As such, we are going to be heading out to the second annual Rebecca's Private Idaho this weekend to hang out and ride with her. 
If you can make it happen, you should too. It'll be a great chance to have a great ride, and to meet  — and I don't just mean "meet" in the "meet and greet" kind of way, but actually talk and hang out with — Reba. 
So. Register here. And we'll see you there.
Of Course It Starts With Egg Whites
Early Sunday morning, we woke up and made Rebecca our famous scrambled egg whites and avocados…with some mushrooms and onions and chicken and cheese thrown in; this wasn't really the time to be focusing on weight loss! Reba was a good sport and ate them without complaint. It was refreshing to see a real pro athlete eating a normal diet. I guess I assumed she would drink green smoothies in the morning and have weird dietary restrictions at every meal.
We also cranked up "Rage Against the Machine" while we ate, because Tim Commerford was going to be riding up the Powerline along with Reba's "Leadville Experience" group ride this morning! Tim is the bassist/back up vocalist for the band Rage Against the Machine–which happens to be one of my kid's favorite bands. And I have to admit: I really like them too. I'm quit the hard rocker. I've been trying to convert Elden from Grunge to Rocker. We have come to a happy medium ……and now listen to Todays Top Hits! 
[A Note from Fatty: First, grunge is rock. Second, I believe I have pointed out in this very blog — way back in 2011, even, so this isn't me saying it just because it's convenient -- that of all the songs in the world, a Rage Against the Machine song is my absolute #1 go-to song for climbing.]
Good Advice
We then headed to the middle school where a large group of riders had gathered. I recognized some from the day before, but more had joined our team!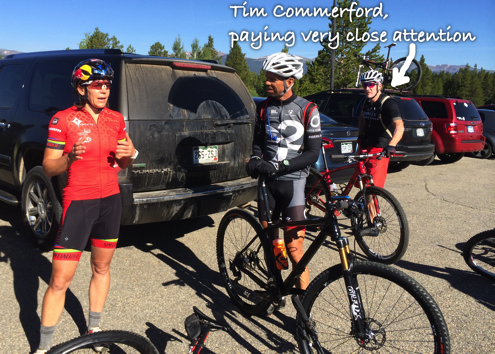 Rebecca explained what we were in for on the Powerline climb-the false summits, benefits of walking vs riding, total mileage and elevation. Elden got video of these tips and more here:
Rebecca also added tips for the riders who wanted to break the nine hour mark, like:
Pedal hard whenever you can-even on the downhill sections, and watch your average miles per hour on your garmin. 
Calculate what your average mph is to reach your goal and then make sure you maintain that speed (obviously you need to bank time on the flats/descents to make up for the slower climbs). Rebecca noted that her average speed is the most important thing she looks at on her Garmin when she races.
She then turned us loose, telling us we would reconvene at the top.
No Matter How Hard You Try, You Can't Stop Us Now
And we were off. We stayed together as a group as we rolled along the pavement to the base of the climb. As soon as we hit dirt, we all took off at our climbing pace.
I shifted down and found my all day climbing pace — that's one thing I'm really good at: finding a level of effort that isn't easy, but won't blow me up.
The first half mile of the climb is super steep. Rebecca reminded us that walking up this part of the climb is not a bad thing. It gives your 'biking' legs a break. She did suggest we "walk with purpose:" big long steps that propel you forward. She told us she has only rode this pitch once during a race, the other times she walked, but moved as quickly as the ones riding it.
I chanted my mantra silently to myself…"slow and steady, slow and steady" I looked up and realized I was almost to the top of the climb — just a few more turns of the pedals and I was there! I had cleaned the Powerline climb (lower section)!
At the top of the climb there is a false flat and short descent. At this point Rebecca was again right behind me. She encouraged me to pedal hard on the descents to build up speed to have the momentum to carry me up the bottom part of the next climb. This, she said, will shave off just a few seconds, but a few seconds here and there add up to a few minutes at the end of a big race — which can get you to a new best time.
I took her words to heart and zipped down the steep pitch -trying to rewrite my negative script and hit the climb with speed. I repeated this three more times as i hit each false flat/descent.
At some point during the climb, Elden passed me like I was standing still. If you can turn the crank on a SS on a climb you are hauling.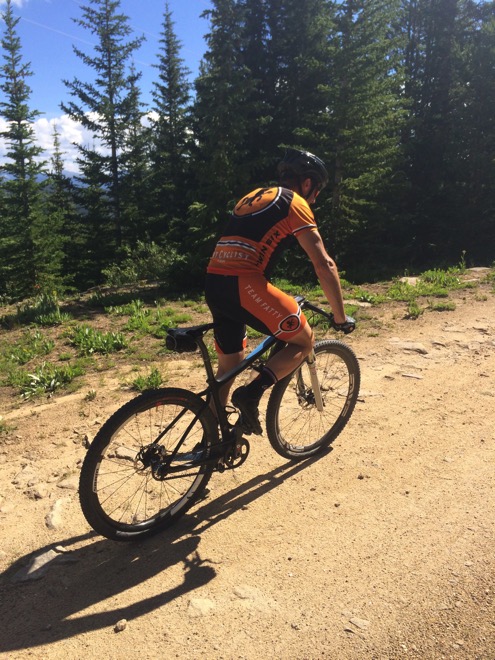 Elden was singing as he went by. "Say jam sucker, jam! Say jam sucker, jam!" he belted out. Later, he told me he was singing "Renegades of Funk. Unfortunately, he's a bad enough singer that I couldn't even tell.
A minute later, I caught up with a guy with a cool tattoo on his calf — Tim Commerford. He was climbing really well, and I yelled some encouragement as I zipped on by. 
Our group had grown in number substantially as we climbed to the top. At the top we all gathered for a group jump shot!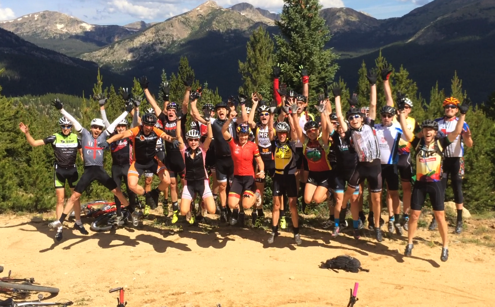 Honestly, it's pretty darned amazing how well we coordinated that shot. I wonder if Elden's sister Kellene has ever got that many people to be clear of the ground in a photo like this before! 
And of course I got a photo of me with Tim Commerford. 
And so did Rebecca: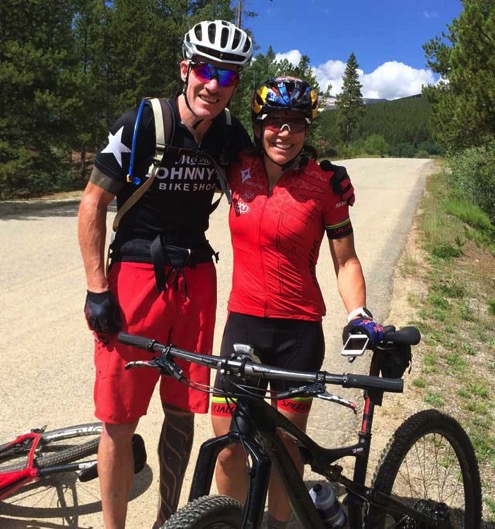 That is one patient rocker.
Later, I'd actually be really happy (for the first time in a long time!) to see my Strava for the segment: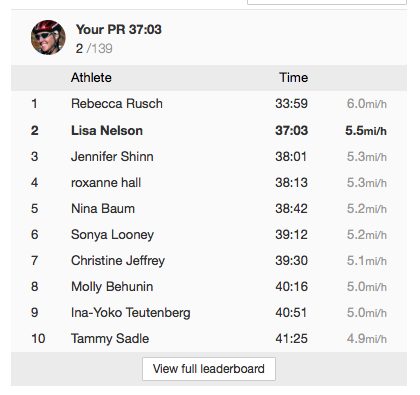 Second-fastest woman overall! Considering who's first, I'm more than happy to be second!
A Good Line to Follow
When we were done posing, Rebecca educated us on the upcoming descent (This time Elden forgot to get out his phone and video it, which he kicked himself for the rest of the day).
Rebecca called her teammate — me — up and we started down the descent. I followed her this time, watching her as she descended. I was truly amazed that she was able to drop down a technical descent like this, at a wicked-fast pace…and still turn around and make sure I'm following her! I never turn around on descents because my front wheel naturally goes the direction of my head: not a good sceneraio.
Halfway down the descent, Rebecca called out that she had a flat. So our little group got a quick lesson fixing a tire.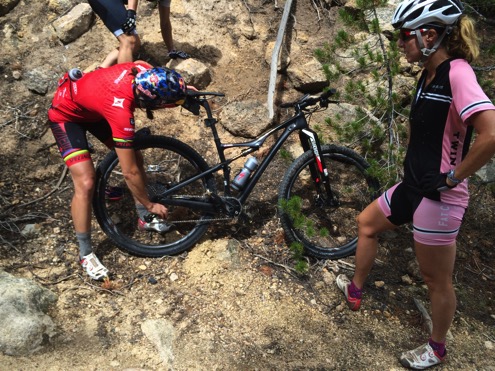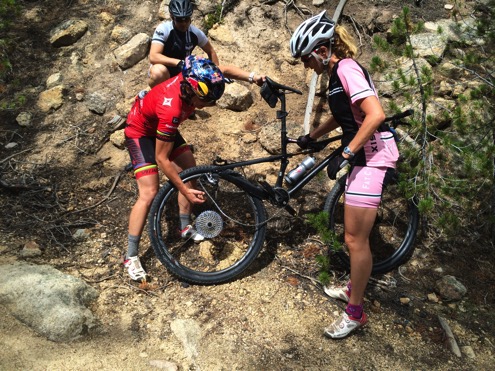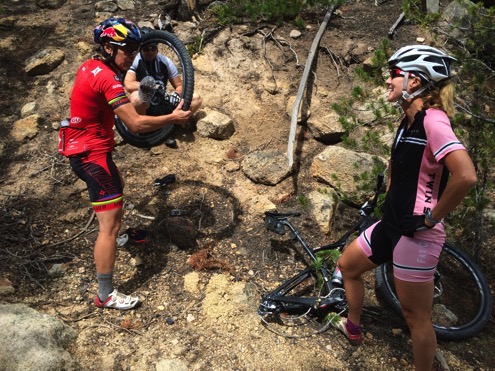 Rebecca decided to refill the tire with some additional "Stans" and hope it would fix the leak. The tire held air and we quickly progressed down the rest of Powerline (The tire ended up holding air for the duration of the ride, but we later found out that Rebecca's rim on her wheel had actually cracked! I'm so happy she noticed that and had time to get a new wheel  before the race.) I felt pretty good on the descent, but Powerline is scary—it may take some time to rewrite this negative script…it feels like I have written "Powerline is dangerous in stone!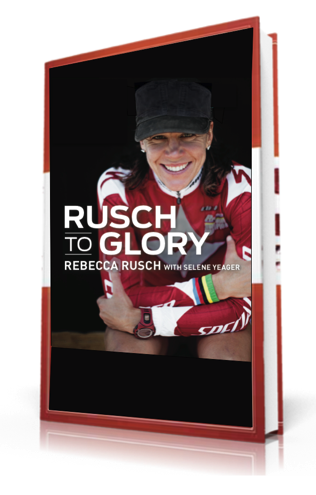 Reading Rusch to Glory
After our ride, we headed back to Rebecca's house. Elden and Rebecca worked. I started reading Rebecca's book, Rusch to Glory. I was immediately sucked in. I was mesmorized as I learned of all of Rebecca's adventures and achievements. I was impressed by the way she took leaps of faith in her career path-she didn't take the easy, comfortable route.
I have to admit, I am a little envious of Rebecca's life. I was pretty much raised to believe that a woman's role was to be a wife and mother. I don't' regret my life's decision, but it's sure fun to read about someone who took a different path, and to live a little of her life through her words!
Watching …Burro Races?
I'm the type of person who has a hard time sitting for an extended period of time, so later in the afternoon I decided to take a walk downtown. Boom Days was still going strong and this afternoon the Burro Races would be arriving.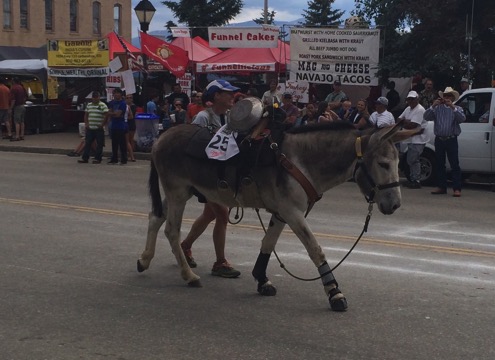 Burro racing has a little different vibe than a mountain bike race. The racers can only go as fast as their burro wants to go. It was fun to see the tired racers pulling the burro across the finish line.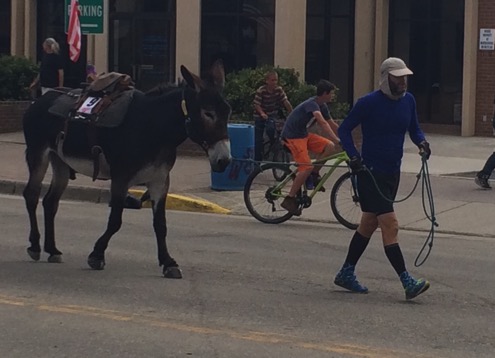 The burro doesn't care if there is another burro/racer 50 feet ahead of them!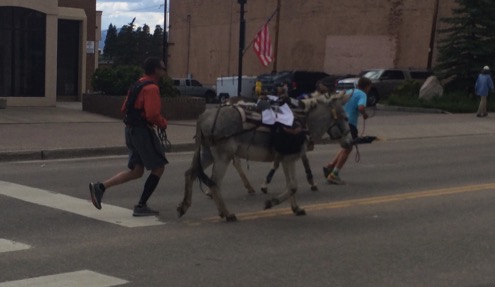 As I headed back up to the house, the sky opened up and the rain began to fall. Pretty soon it was hailing, so I stopped under a tree and watched. The funny thing was, it was sunny. The weather is truly weird at 10,000ft!
For dinner, we headed to Tennessee Pass Café. It was fun to listen to Elden and Rebecca talk. Rebecca is a great  motivator even off the bike. She had some great suggestions for Elden concerning his future. She has taken many risks in her life and it has paid off-not always in the way that she thought, but she made the most of the situation.
I think Elden came away motivated and optimistic about the future.
As for me, I was just in awe that I was eating dinner with Rebecca Rusch…in Leadville.
I was still a little starstruck.