Bratwurst. Pie. If there are two words more evocative of the ethos of FatCyclist.com, I don't want to know what they are. (Also, I just used both the words "evocative" and "ethos" in the same sentence.)
It's like they're our mission statement, disguised as a mantra, only now conveniently represented pictorially in a long-sleeved cotton t-shirt (men's and women's). Like this: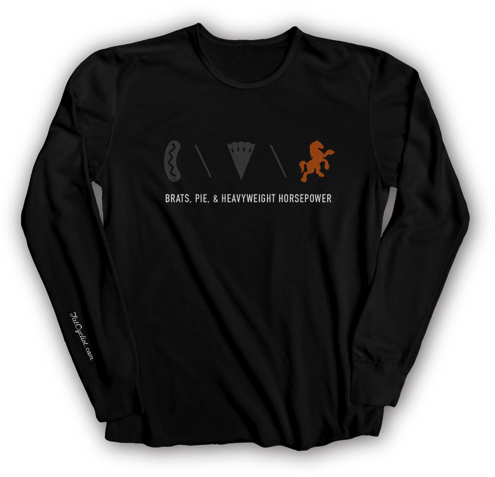 What Are You Supporting and When Should You Order? 
When you buy this (or any of the below) long-sleeve t-shirts, you're supporting me as I write Fight Like Susan. Which is so cool of you it's dangerous. That's right: purchasing this shirt makes you dangerously cool.
So when is the pre-order? Right now. Is that soon enough for you? But you can't dilly-dally in your order-making, because this pre-order is going on for just two days (11/25-26), so it will ship 12/12-17, arriving in time for Christmas (unless you're ordering from out of the US, in which case I really have no idea when it will arrive, but would bet good money that it won't be by Christmas).
And if you don't pre-order during this admittedly small window, you won't get one of these shirts. Not even if you send me a convincingly earnest email explaining how you meant to order one and then forgot until it was too late. 
A Note to Women About Sizing
If you're a woman and you're ordering a women's t-shirt, you should be sure to order larger than you would for non-American Apparel T-shirts. To illustrate my point: The Hammer, who is 5'7" and weighs around 125 pounds and is basically as fit as a person can be…wears a women's XL whenever she orders any t-shirt from Twin Six (including any of these). She can fit into a women's Large, but XL is more comfortable. 
Adjust your sizing expectations accordingly, OK?
How About The FatCyclist.com Holiday T?
At some point in your life, you're going to be put in the situation where you need to wear something that looks like a holiday sweater. No, don't try to argue; it's a proven fact.
When that moment arrives, you'll  have two options: to either wear a holiday sweater (not recommended) or wear the FatCyclist.com holiday sweater-ish long-sleeve t-shirt (available in both men's and women's sizes):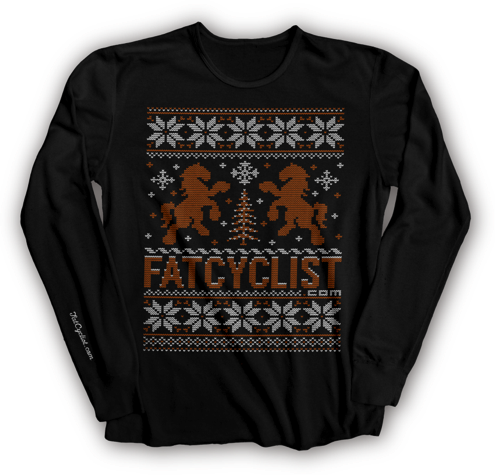 Yes, it's a t-shirt. Yes, it looks like a holiday sweater. No, I don't know how it's possible for both things to be true, but I suspect either science or magic is involved.
But Wait!
There's one more long-sleeved t-shirt we're putting up for pre-order. This one's a classic — the "painted" FatCyclist.com logo t-shirt, available now for the first time as a long-sleeved t-shirt (in both men's and women's sizes).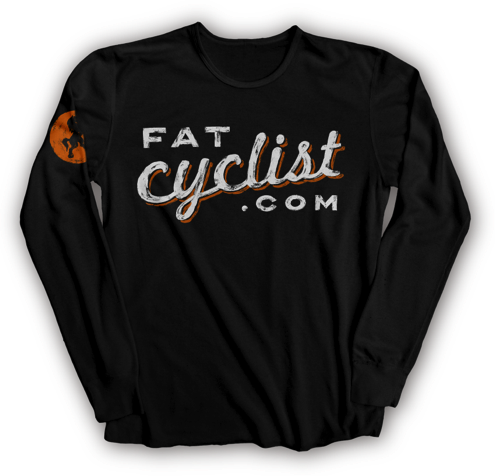 Collect All Three, For Crying Out Loud
What if you decide that, paradoxically, you can't decide? That you want to get all three? Well, you know, that's OK by me. And in fact, you can get a nice little 16% discount if you get all three shirts as a bundle (available in both men's and women's sizing):
How Do You Order? 
"Fatty," I hear you plead, "please please please tell me how I can order these t-shirts." 
"OK," I respond, "but only because you said 'please' thrice and I am inclined to reward this kind of effusive politeness." So here you go:
And I'm being completely serious about the two-day pre-order. If you don't pre-order 11/25 or 11/26, it's too late. We need to get the order off pronto to get these shirts into everyone's hands well before Christmas.
PS: While you're at Twin Six buying these shirts, allow me to heartily recommend you look around at other things Twin Six sells — jerseys, shirts, hats, shorts, everything. I daresay you might get 113% of your Christmas shopping done in one glorious spending spree. These guys are my friends and they do a lot to help with the fundraising work I do. So, you know, it might be nice to help keep them in business and stuff.