A Note from Fatty: I expect that training and racing with a pro is something most cyclists think about at some point: what do they know the rest of us don't? How do they prepare for a race? And most importantly: what's it like to actually race with a pro?
Lisa — aka The Hammer — got the opportunity to find all of these things out at the Leadville Trail 100 this year; she was mentored through the race by four-time LT100 winner Rebecca Rusch, aka The Queen of Pain.
I've asked The Hammer to tell not just her story of the race day, but of the events leading up to it. 
Along the way, we took video (just using my phone) during some of the clinics. Honestly, this is some of the most useful stuff you will ever find on my blog. 
This will take several parts. Settle in and enjoy. 
How it Began
"How would Lisa like to have a riding partner at Leadville?"
That was the text message Elden received from Rebecca Rusch about 2 weeks before the Leadville Trail 100. When Elden approached me with the question, I didn't think Rebecca could possibly be serious about following through,  so I answered, rather nonchalantly, "Sure, whatever."
Why in the world would a pro, who had won Leadville four times, want to ride with me?
So when Elden said he had given Rebecca my number so we could talk race strategy I was freaked out! Wow, This could really happen! I might just be able to beat the magical nine hour mark and win the coveted big gold buckle! It was a thought  I had never seriously entertained before. What an opportunity and great experience this would be.
And then I went to bed…and the negative self-talk started. Why do you think you would ever have a prayer at going sub-nine? You haven't been riding fast this season. You haven't even entered a bike race since April!
You see, every running race I have done this season, I had felt good and fast…but ended up posting a slower time than last year! My Strava QOM page hasn't grown at all this year, and in fact is shrinking by the minute; As far as I know, I am no longer reigning Queen of Anything! (I actually have Elden delete all my notifications before I ever see them because all those "uh-oh" notifications was making my self-worth plummet straight  into the toilet!)
So the next morning, I told Elden, "No way." No way was I going to ride with Rebecca. I would only embarrass myself. I would disappoint her, I would disappoint myself!
Elden told me to think about it. He had faith in me.
The Bargain
A few days later my phone rang. The caller ID said — you guessed it — Ketchum Idaho.
Crap! It was Rebecca. What was I gonna do?
I took a deep breath and decided I'd talk to her, see what way the conversation flowed.
I was amazed to find that Rebecca is a very nice person — not arrogant or condescending. Her goal was to help me have my best Leadville race ever. If we broke the nine hour mark that would be the cherry on top, but she just wanted me to perform my best and hopefully take some time off my previous best race time (9:28).
She only had one request of me…….That I wouldn't give up. That I would give it my all.
I said "Deal!" The word "quit" is not even in my vocabulary.
Changing Plans
Two weeks is not a long time to decide that you need to be fast. Speed training/intervals had not even been part of what passes for our training plan. Strava had burned me out last year; this years rides had been focused on long, fun rides with lots of climbing. And it hadn't been particularly fast mileage.
Rebecca mentioned it would be a great idea for us to come to Leadville a week early and participate in her free training camp. I immediately told Elden there would be no way I would be able to get off work. We had been short-staffed (running a nurse short) and I had been working an extra shift a week since May.
But it didn't hurt to ask!
At first my co-workers were wary, and said we couldn't make a decision until Thursday (the day before I needed to leave), so we could check the surgery schedule and patient census. Then, looking at the schedule, my awesome co workers said they would be willing to work an extra shift, if needed, to cover me.
I could go!
The First Ride: Columbine Climb
After working Friday, we packed up the truck and headed for Grand Junction–the halfway mark on the trip. Then, Saturday Morning, we got up at 4:00 AM and headed for Leadville. We needed to get there before Rebecca's first ride and clinic: The Columbine Climb!
When we arrived at the base of Columbine, it was cloudy and looked like it might start raining. I made a decision to where some really cool socks that my friend Jilene had given me. They were bright and happy and would keep me warm.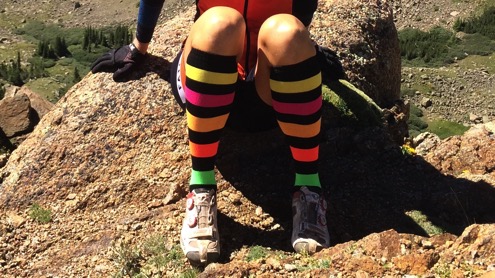 I didn't really realize how bright until I saw the pictures!
Rebecca had offered me her Specialized Fate to ride. It's the same Fate that she had raced Leadville on and obviously had good Karma! Still, I had brought my S-Works Stumpy…just in case.
Elden put my saddle and pedals on the Fate, while Rebecca handed out a bunch of free goodies — Gu, sunscreen, and chain lube — and then she gave us a quick overview of the Columbine Climb.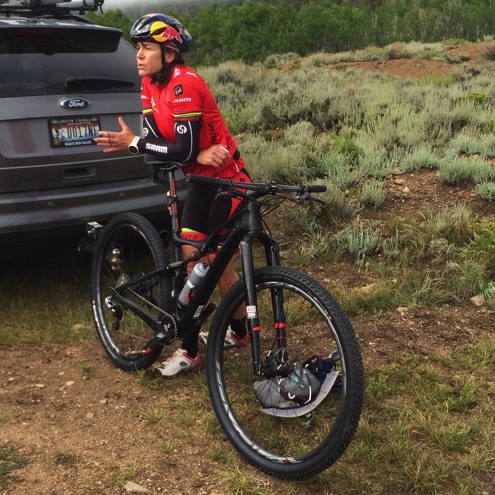 Then she turned us loose.
The Fate was a pretty good fit. The handlebars were lower than what I'm used to; Rebecca definitely rides in a more aggressive position than I'm used to. The bar was also not as wide as the handlebars on my Stumpy.
[A Note from Fatty: I set The Hammer's geared bike up with very wide bars because she moves from geared to singlespeed bikes often, and I don't want the change to be jarring to her.]
The climb starts out pretty hard, so without even thinking about it, I went into my singlespeed climbing technique: standing. I stayed up with the fast guys, and started to chat with them. I think all were first timers and most were shooting for a sub-nine finish. Elden had been riding with us, but decided to drop back and ride with Rebecca who was taking the time to chat with everyone!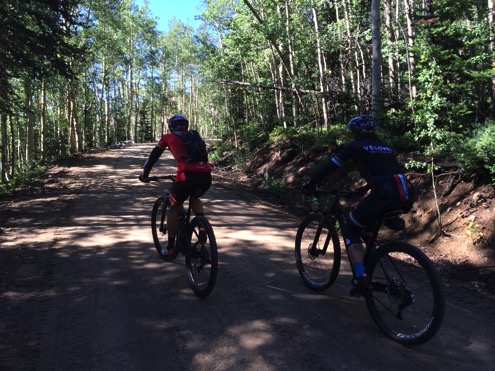 As we climbed, my back started to hurt. My back always aches when I ride, but this time the pain was escalating. I felt like my positioning on the Fate was off, I was too far forward and felt like the cockpit was cramped. By the time we hit the turn off from the wide road to the 4 wheel track (I think its called the Goat Trail), all I could think about was how much my back hurt. That's when you know it's bad.
An Interesting Question
As we approached the Goat Trail — the last couple of miles before the turnaround point of the Leadville 100, and the part where most people have to do quite a bit of walking — I wondered if I had it in me to ride the whole thing. I put it in my granny gear and started to spin up the trail.
As I progressed in the sitting position I noticed my back pain easing off. Phew! I also noted that I love gears! Riding singlespeed is fun, but it's also fun sitting and spinning up a climb. Before I knew it, I was rounding the last bend and the trail was flattening out.
I had done it! I had ridden Columbine!
Granted, the trail was in perfect condition because of the recent rain, I hadn't just ridden 40 miles, and there weren't a thousand people on the trail with me, but still: I had ridden it and I was proud of myself.
I let out a loud whoop of joy, which was answered by a whoop farther down the trail from Elden. What a sweetheart. He had been watching my progress up the mountain…made much easier, I'm sure, by my awesome socks.
Clinic
We took a few minutes to get some gorgeous pictures at the top.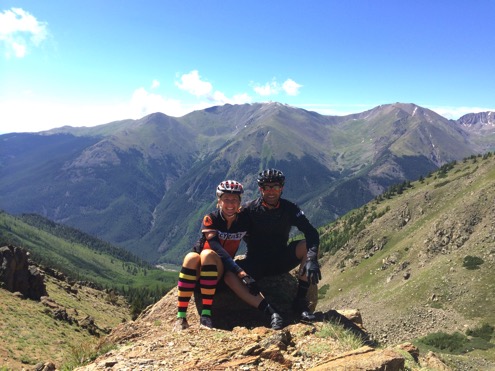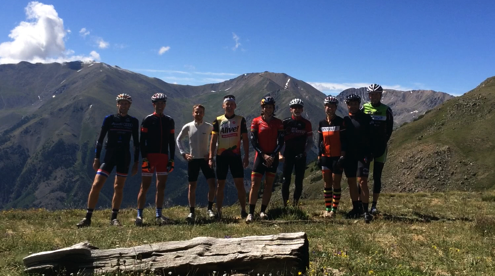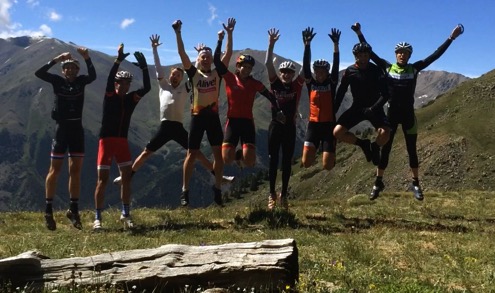 I had never in the 9 years doing Leadville looked over the edge at the top of Columbine-What a view!
Then we gathered together for a crash (or hopefully, a no-crash!) course on descending from Rebecca. I pretty much have the climbing segments of Leadville dialed in, but descending is a different story! Rebecca is a great teacher and a great descender; the video Elden took is definitely worth watching if you'd like to get better at going downhill on your mountain bike:
The four main points I took from her lecture were:
Stay loose. Don't be so tense when you descend, take a deep breath, let it out. Keep the arms and legs loose, so the body doesn't take some much abuse. Stiff arms and legs transfer all the bumps right up and into your body-jostling you. 
Keep your arms wide on the handle bars. The wider your base, the more stable you are and the harder it is to knock you off balance. 
Turn with your "third eye" or your belly button/pelvis. As you enter a turn, turn your body (lead with your belly button) and the bike follows! Way cool and it works! 
Keep up speed/ let off the brake and roll over all the obstacles!
Down We Go
Then Rebecca called me out — calling me her "teammate" (wow) — and asked if I wanted to lead out and have her follow or have her lead out and I follow her!
Ummm…I don't know, I felt like I was being asked to jump off a cliff. I guess….. I'll lead.
When no one is coming up, the descent down the Goat Trail isn't too bad. Rebecca suggested we try and stay on the right side of the trail and simulate what it would be like on race day. Rebecca would occasionally yell out reminders to "stay loose" or "roll through it!"
We stopped at the bottom of the Goat Trail and Rebecca gave me words of encouragement. She reminded me how good disc brakes are and how they can stop quickly. That on downhill straightways, there is no need to use the brake. If you need to stop, your brake will stop you!
Then we headed down the Columbine road. This time Rebecca led. I tried to stay on her wheel…pretty much unsuccessfully, but it was great to watch her form and try and mimic her body movements.
I felt like we were flying. Elden actually said he had a hard time keeping up with us. I was surprised to actually pass a few people on the way down; that never happens when I descend! I was super nervous, but I tried to keep myself calm by reminding my self to relax and breath deeply.
When we rolled up to our truck, Rebecca was full of compliments and encouragement. What a great teammate! I was so excited for the upcoming week of training camp.
A big question that Rebecca had was about the Fate . How did I like it, how did it handle on the descent? For me, the jury was still out. I certainly did not like the way my back hurt on the climb, but I did like the way the Fate handled on the descent. But was it the Fate or the new techniques I had just implemented? I decided I would use my Stumpy on the next ride and see how my back felt and how I felt on the descent.
Recovery Burrito
After the Clinic, Rebecca, Elden and I went into town. Leadville was celebrating Boom Days, so there were a lot of festivities going on. We got burritos and the most expensive lemonade in the world for lunch. Elden and I paid for the burritos; Rebecca bought the lemonade…which wound up costing more. That's what you get for buying a drink from a street vendor, I guess!
As we sat there in the sunshine and ate our lunch, I couldn't believe I was actually in Leadville on a day that wasn't raining. It was sunny and beautiful outside. Better yet, I had just cleaned the Columbine climb, and now was eating a burrito with Rebecca Rusch!
What a crazy life I lead!
Advice from My "Mom"
After lunch, we headed to Rebecca's rental house. Both Rebecca and Elden had work to do. Nurses, on the other hand, don't bring their work home with them (fortunately!), so I had nothing to do.
I read my book for awhile and then Blake called. Blake is my 24-year-old son / mother. He has a tendancy to want to take care of me and give me the benefit of his vast experience. I think he thinks of me as his child.
Our roles have always been a little messed up.  
Our conversation centered around my bike choice. He was pretty adamant that I stick to my Stumpy. Why change things up when they have worked all summer?
He was also very concerned about my well-being. He was concerned that I would injure myself while pushing myself to descend fast. I guess he doesn't believe you can teach an old dog new tricks!
I think he was projecting his own nerves upon me as he thought about his overly-aggressive downhill effort that resulted in a wreck and a broken collarbone a week before his Leadvlle in 2011.
I did my best to assure my little mother that I was fine and was being coached by the very best!
Positive Scripts
While Elden and Rebecca continued to work, Rebecca had me listen to a podcast by Chris Kalous, a rock climbing friend of hers. In it, Chris interviews Don McGrath about his book, Vertical Mind. It talked about climbing and what McGrath calls "negative scripts" — the boundries that we place on ourselves that hold us back from reaching our true potential.
Although the podcast centered around climbing, I could easily apply the lessons to my biking, especially my descending. For so many years I have told myself that I am a terrible descender….which I in turn reinforce by being nervous and descending slowly.
This podcast was really helpful; I definitely recommend it! As I thought about my life, I could come up with MANY negative scripts that have come to define certain aspects of my personality. By recognizing these negative scripts, I can redefine them and turn them into positive ones. I haven't wrecked going downhill in years. I am not a terrible descender. I may be a cautious descender, but I can redefine this script — or better yet, eliminate it by recognizing it and then turning it into a positive script.
"I haven't had a downhill accident in years. My descending and bike handling skills have improved over the past few years and I am a better descender that can go faster, safely!"
This was an excellent week to put my new life philosophy into effect!