A Note from Fatty: I'm in Leadville right now so The Hammer can learn from, ride with, and prepare race-day strategies with Rebecca Rusch. So all this week, I'll be writing about the Leadville 100. 
Of course, not everyone can be here with us — but you know what? You can actually see what's going on at key points along the Leadville course already. Live. The awesome guys at Live View Technologies are putting up streaming cameras, and some of them are already in place. They'll have cameras at the following spots: 
Columbine Peak
Twin Lakes Aid Station
Powerline
Sixth Street
Start/Finish
Say Hi to Clyde, Everybody
I am, from time to time, teased for being a chatterbox. But the truth is, I'm great at keeping secrets. The case in point is that I have known about the development of the Ibis Tranny 29 for a couple years, and kept it to myself (and am evidently the only person who did keep it to himself).
Of course, part of the reason I was so good about keeping the secret is that I figured that if I spilled the beans, Chuck Ibis would find out and put me on his "naughty" list. And then I wouldn't get one for myself.
And so I was very good. Because I really really wanted to own an Ibis 29" hardtail singlespeed. After all, my first really super-nice bike was an Ibis (an Ibis steel Mojo). And so was my second (a Bow Ti). And so was my third (a Ti Mojo). 
And in July, Chuck rewarded me for my patience and discretion with a Tranny 29 frame: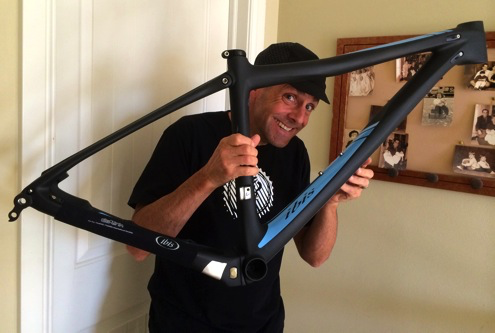 I decided right then and there to name this bike Clyde.
And I was going to build it up as the sexiest singlespeed there has ever been, complete with wheels and components from SRAM, and a belted drivetrain from Gates Carbon Drive.
Patience and More Patience
Of course, I wanted to get this bike built now…but I couldn't. Because I didn't yet have the parts for it, and needed to get them from SRAM and from Gates Carbon Drive. 
And I was going to be on vacation in North Carolina for a week. And after that, I was going to be in Austin, working for a week. 
I tell you, the world should have the courtesy to just stand still for a little while when I get a new bike. These things are important.
OK, Let's Build This…Version 1
As I almost always do when I have a special bike project, I went to Racer's Cycle Service, where Racer got to work.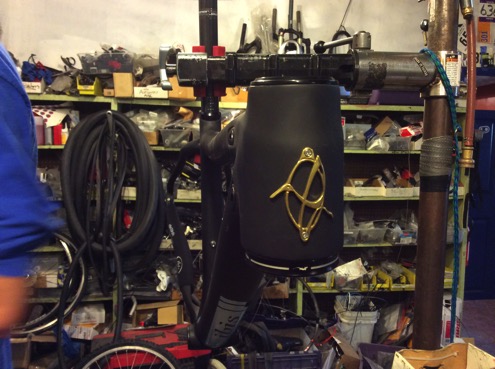 And that's where we were confronted by the hard reality that if you're going to go with unusual technology on your bike, you're going to come across new problems.
One of the things I'm super-excited to put on my Tranny 29 is the new RockShox RS-1, shown here in its box: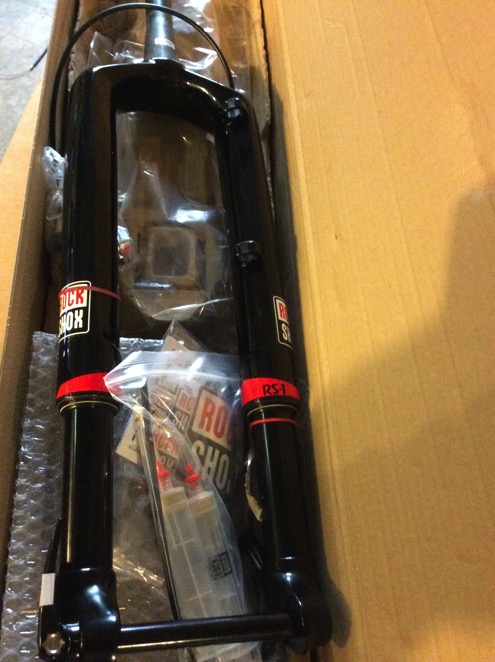 It's an exciting, innovative fork that's supposed to have just an incredibly responsive, plush feel, yet remain amazingly stiff horizontally.
Unfortunately, this fork had to remain in its box, because the fork requires a special wheel — one with SRAM's Predictive Steering hub — and those are on backorder.
So we went with Plan B — cannibalizing the Rockshox SID suspension fork off another bike: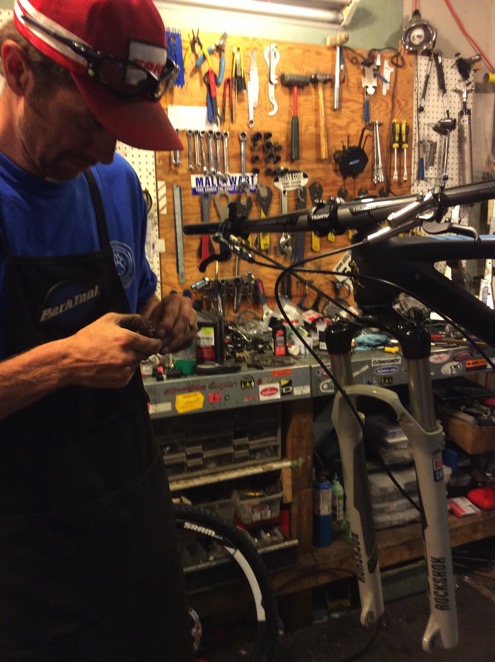 Which meant that I also needed to cannibalize a front wheel — an ENVE — from that bike. That's OK, though. It's not like I'd be suffering with either of these parts.
Next up, Racer went to start setting up my Gates Carbon Belt Drive. Here's the wheel — a gorgeous SRAM Rise 60, with a 24-tooth Gates sprocket: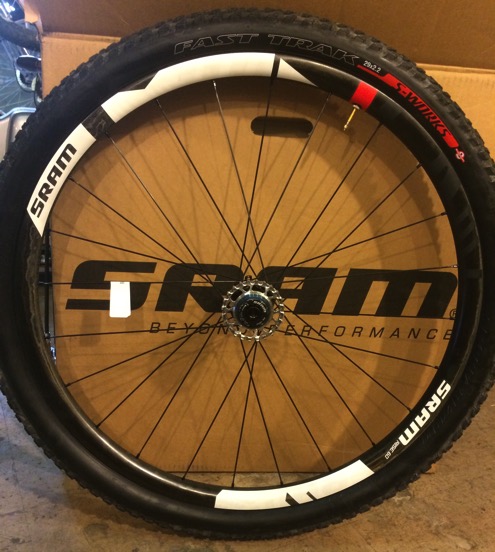 So far, so good.
But when Racer tried to mate the SRAM XX1 cranks I had gotten for this bike to the wide Gates chainring…no dice. There wasn't enough clearance between the chainring and the chainstay.
Oh well.
As a temporary measure — because I really really wanted to get out on this bike — Racer put a regular chain drivetrain on: a 34 x 18 setup.
He told me he'd talk to the people at Gates and find out what kind of cranks I'd need to work with a belt drive. 
Luckily, everything else went smoothly.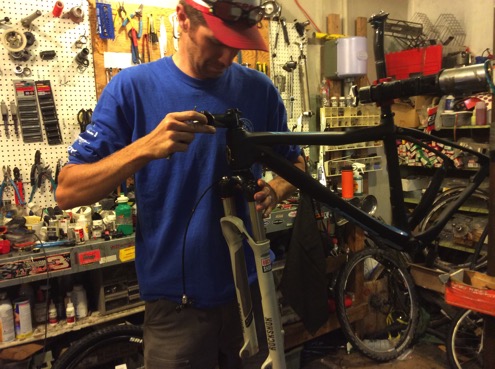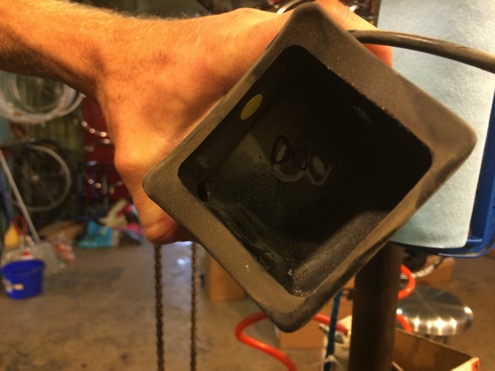 The inside of the "Slot Machine," Ibis's innovative system for tensioning the chain or belt, as well as for breaking the bike down nice and compact for traveling.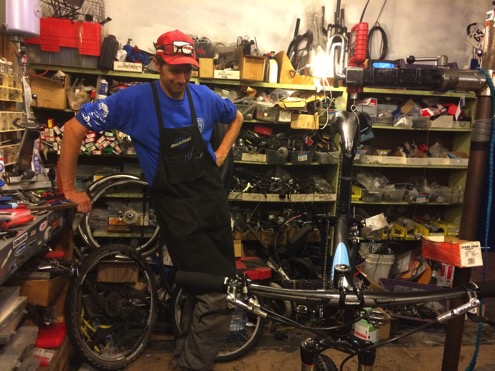 And here's how it looked.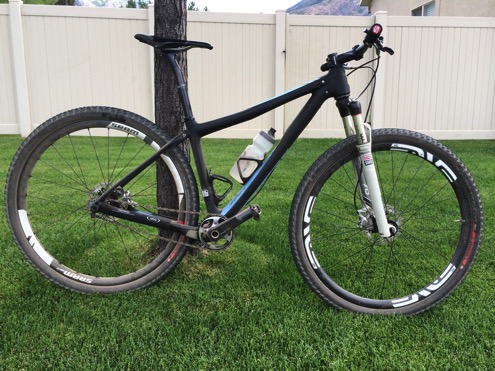 I took it out for one ride and learned a very valuable lesson: to make sure that the Slot Machine is lubed with plenty of carbon paste. Otherwise, this is one creaky bike.
OK, Let's Build This…Version 2
Racer got ahold of the Gates Carbon Drive people, and they recommended a crank setup that was built for two or three rings, not just one. Racer ordered a SRAM XO setup and in a day or two, we were ready to get belted.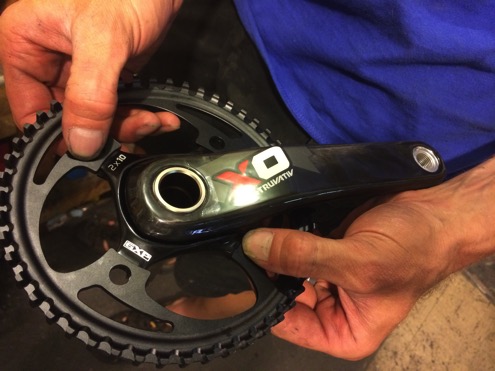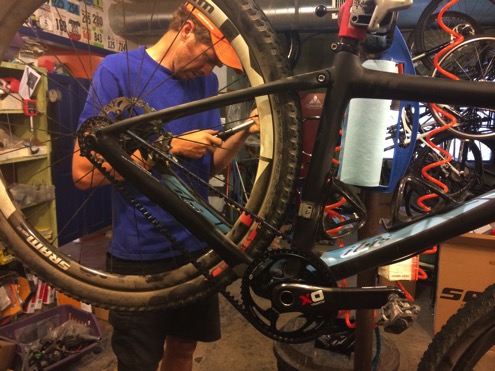 I cannot believe how awesome Racer was being, working with me to get this bike perfect for me. It was all set to go in time for my long ride that weekend.
At which point I found out that I had waaaaaay overgeared this bike. Running a 50 x 24 belt setup didn't give me the 53 gear inches I thought it would. No. It gave me a 61 gear inch bike. 
Let that be a lesson to you kids: when you use a gear-inch calculator, be sure you set the wheel size correctly.
Still, I managed to do a big ride (39 miles, 6400 feet of climbing), even with that heavy duty setup: 

OK, Let's Build This, Version 3
But I suffered mightily. And called the Gates people, who it turns out are incredibly friendly and helpful and patient. 
And in short, they helped me figure out my monster-sized miscalculation and sent me a new cog to put on my bike, so I am now set up with a 46 x 26 belted drivetrain.
Which is just right. 
And now I'm suddenly finding that I can climb the big stuff: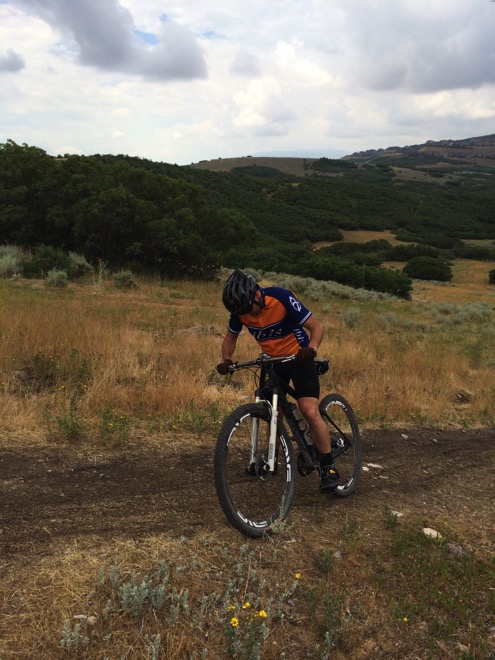 Though I obviously have to work pretty hard at it.
And most importantly, I am finding that I love the way this bike feels. I feel at home on it. I'm climbing great on it. I'm jumping and hammering and just having a ball on it.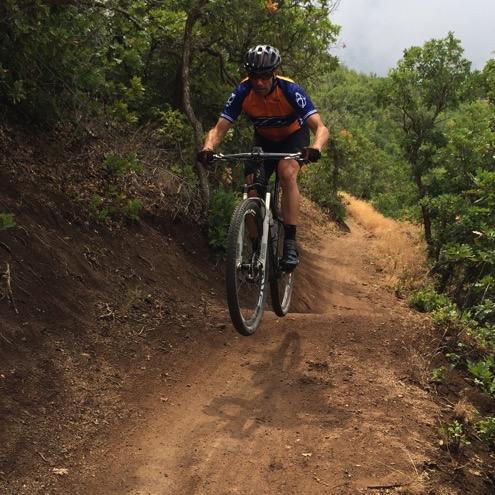 I kinda think that maybe I love it all the more because of the time and extra iterations it took to get it just perfect.
Because now it is perfect.
Yesterday, The Hammer and I joined Rebecca Rusch on her group ride up the Powerline — the final iconic — and perhaps most demanding — climb on the course.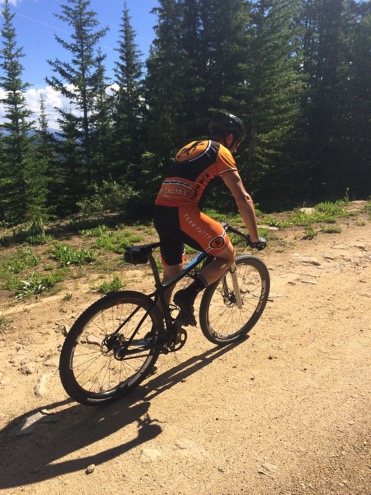 I took it easy at first, and then — just for fun — opened it up a little bit. And felt like I was flying. Without digging deep, I passed everyone in the group. 
And then at the summit, I got a picture of The Hammer with Rage Against the Machine bassist Tim Commerford: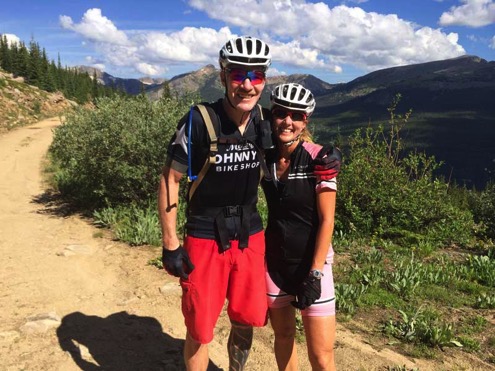 I didn't get a picture of myself with Tim, though. I wanted a picture of me with my Ibis Tranny 29.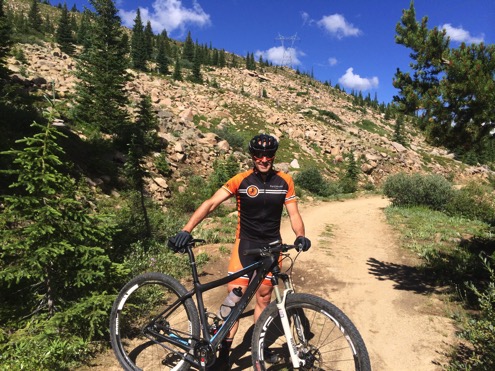 I have a very good feeling about this bike.
PS: Oh, we also took a group photo at the top of Powerline — one I think my sister Kellene will like: