A Note from Fatty: The first 100 Miles of Nowhere was just me, by myself, watching TV, riding the rollers and losing my mind. So whenever anyone ventures to try this method of riding 100 miles, well, they've got my respect. And when they can write a funny, engaging story about it —Like Christina S-B here has — they've got my admiration. Enjoy!
My first 100 MoN was completed in 2011 by riding around Frontier Park over and over and over. There was a point where my son, Thomas, wanted to join me, so we rode around the parking lot. He was still riding with training wheels, which seems like forever ago.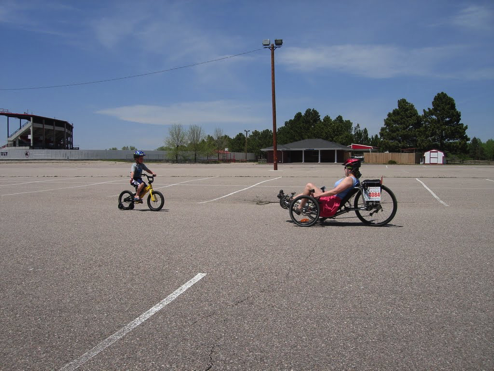 Lining up for a high-five
I did the same in 2012 and 2013, completing them all with a little bit of sadness that it was finally over, with a definite bit of "why am I doing this" for miles 35-70.
This year, though, things were different.
The ride is usually set for late spring/early summer, but this year it was placed on November 7. "No problem!" I thought. "Maybe I'll finally ride it on rollers."
Folks, let me tell you- I feel like, in my 36 years, I've made a lot of dumb decisions, but this seems like the dumbest of all.
It started off innocently enough: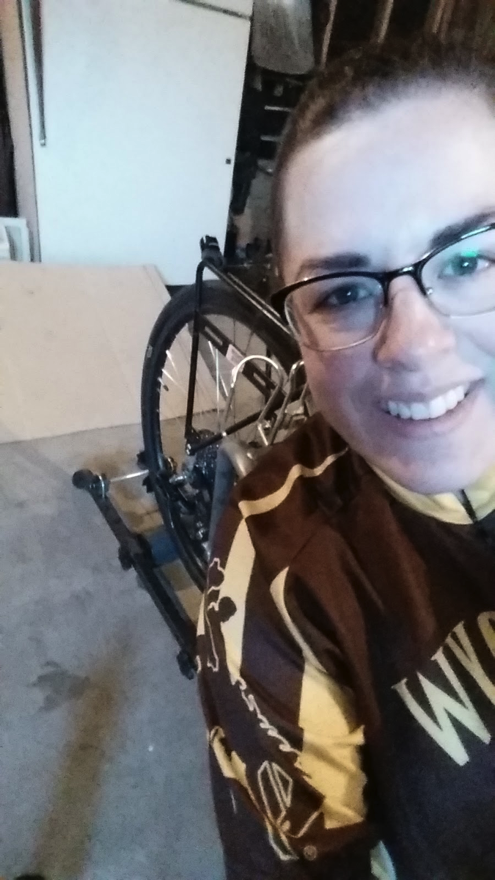 But a few minutes in, the wiggling on the trike was out of control. My husband came in and made wheel chocks from logs and rope, while we also zip tied the brakes.
There was no point during this ride where I felt great. In fact, I felt pretty horrible the entire time.
Things that made the ride tolerable:
Inspired to Ride
The free link to watch this beautifully done movie was wonderful. Inspired to Ride is a documentary about the Trans Am Bike Race, a totally unsupported ride across America. If you have ever bike toured, there are so many familiar moments to watching this. There are professionals, who make it across the US in 17 days (that's insane), but in the film they are sitting at gas stations eating ice cream cones, just like I've done plenty of times on statewide tours.
I'll admit I cried during the film. Early on in the film, they talk with a couple of people who are just riding the route, not racing. One of them is a Vietnam Veteran and he captures long distance riding perfectly.
Carborocket
I got hooked on Carborocket's performance blend thanks to a previous 100 MoN swag bag. I used it exclusively during my marathon and it's the only thing I can drink and drink that allows me to go without crippling my GI system.
During this year's ride, I decided to eat a blend of things.
That was a horrifically awful decision.
I was not doing well and I started digging though my bag and found these:
They both calmed my stomach and loosened my legs. I only wish I had a whole bottle.
Social Media
It became apparent to me, around the 50-mile mark, that I was struggling in a way I have never struggled on a ride. On rollers, every mile is earned. There is no coasting. Those numbers only go up if the pedals are moving.
That's torture!
I put out the plea for help on social media in the evening and got back awesome responses from my friends. I received pictures, videos, inspirational quotes and maybe, more importantly, plain ol' belief in me, which I didn't have at that time.
Thanks, friends, for cheering. There's no way I would have completed it without you.
The Scary Part
There was a point where the sun had gone down. I had just switched my movie on Netflix and I was pedaling along.
Then a giant loud noise started from behind the tool chest and I nearly threw up from fear.
It was the air compressor, which was still plugged in and decided it needed to charge.
I had made my peace with the air compressor that it was only an air compressor and not something evil waiting to attack me.
Then the garage went dark.
I sprinted, flat sprinted to the house. I don't even remember unclipping.
Turns out space heater plus air compressor equals blown fuse.
Oy.
The End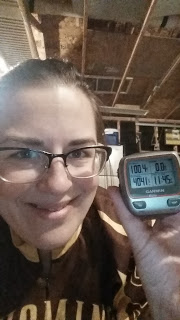 I cut it close to finish this thing before midnight. I never, ever, ever want to cut it that close again. This was stressful. SO stressful.
The aftermath of this is sad. It's a jumbled mess of Clif wrappers and Skratch labs and salt water taffy and ugh. It looked like Garmin-Cannodale threw a frat party.
It sucked.
Hard.
And I can't wait to sign up for next year.
But not on rollers.
Oh gosh, no.