I've been working hard on my diet. Between the beginning of January to the end of February, I dropped from 183 pounds to 162.8 pounds. That's twenty pounds in two months. No, it's more (0.2 pounds more, but still) than twenty pounds.
Which meant I had only 5 more pounds to lose in the final month of my big 25-pound weight loss contest / challenge / mutual accountability support group thingy I have going with Adam Schwarz.
Easy. Right?
But last weekend, The Hammer and I celebrated our third wedding anniversary. And we celebrated it the way we always celebrate it: by going to Zion's National Park, staying at the Lodge, and hiking and riding our bikes pretty much until we feel like we're going to pass out from exhaustion.
What, that doesn't sound like a romantic weekend getaway to you? 
Oh, and in addition to hiking and cycling pretty much all the time, we ate like normal people. Which leads to a problem I observed this morning. I'll get to that in just a moment.
We Are Very Athletic
So here are the things The Hammer and I did while we were on our vacation.
Went on a 100-Mile Bike Ride: Friday, we got on our Shivs and rode from Zion's National Park to Saint George, and then back. We meant to ride 100 miles but miscalculated and wound up riding 102 or so. With around 5800 feet of climbing. 
Went on a 9-Mile Hike: Saturday, we got up and went on a big ol' hike to a gorgeous overlook of Zion's National Park. It's an extremely vertical hike, but more than worth it in terms of the view. Hey, let me show you some pictures: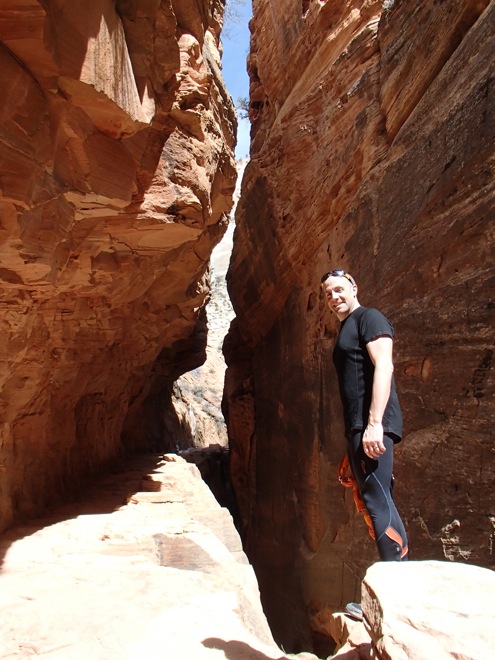 Yes, I'm wearing running tights and a black wool base layer t-shirt. We were speed hiking, dammit.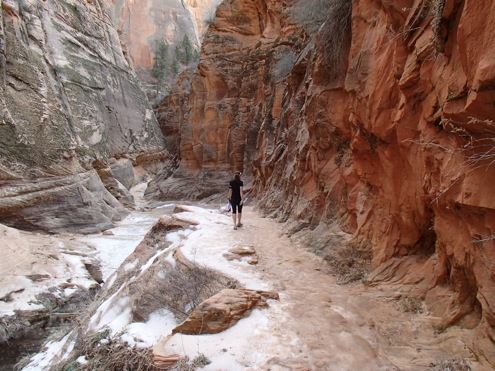 I know, it's not nice to take pictures of people's backsides without letting them know. Sorry.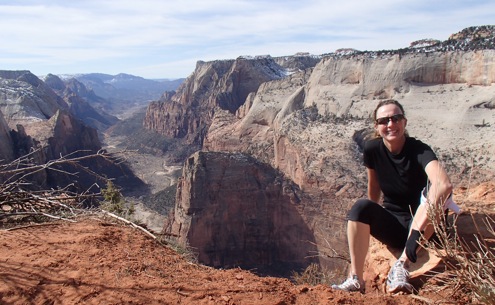 The Hammer at rest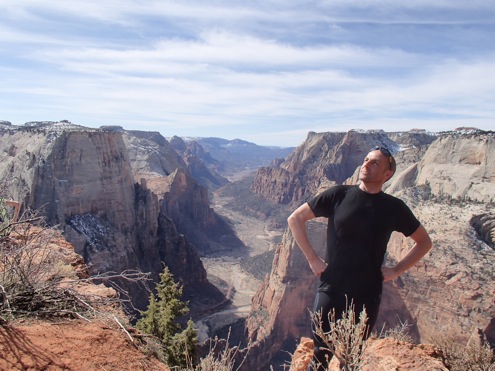 I swear, I am not posing in front of a backdrop. 
Went on a Mountain Bike Ride With Kenny and Heather: After our 9-mile hike in the morning, The Hammer and I drove to St George, where we went on a fun mountain bike ride with Kenny and Heather. I had specifically requested we ride the Bearclaw / Poppy trail, because I've been itching to make a video of this incredibly fun trail. Unfortunately, this was the first time I had used a chest mount for my camera, and pretty much all my footage looks like this: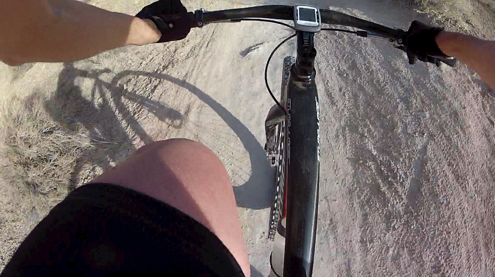 Trust me, you don't want four minutes of this. 
Rode the Bike Portion of the St. George Half-Ironman: The Hammer has got it into her head that she would like to try doing a half Ironman. Luckily for her (and possibly unluckily for me), St. George will be hosting its inaugural half ironman May 4. And so yesterday, naturally, we went and rode the bike course (but only the hardest 30 miles of it, because we needed to get home).
So, that's a fairly active weekend, wouldn't you say?
We Are Somewhat Hungry
You would think that, with all this exercising and whatnot, we'd be completely free to eat whatever we want.
But no. We are much more responsible than that. Especially since I'm trying really really hard to get down to racing weight by the end of March. And so we tried to keep our appetites in check, with the following items being the main things we ate during this trip:
Fajitas at Chili's: On the way to Zion's, we stopped in Cedar City and split an order of fajitas. 
Free Breakfast: At the complimentary breakfast buffet served at the Zion's Lodge, we ate a reasonable amount, staying away from the muffins and sausage and hash browns and stuff. Mostly, I just had scrambled eggs each morning.
Jazzy's: Our favorite place to eat at St. George is a little place called Jazzy's. We stopped there as the halfway point of our 100-mile bike ride and split a California wrap and an order of sweet potato fries.
Soup: Trying to be both frugal and nutritionally responsible, we actually brought some leftover chicken soup we had made a few days ago and heated it up for one of our lunches. 
Egg Whites: We made egg whites and avocados for at least two of the meals while we were there.
Five Guys: Our one truly big splurge was at the end of yesterday's TT ride, where we each got a burger and split an order of fries at Five Guys. 
I ask you: were we crazily out of control, foodwise, especially when you take into account our activity level? Because it seems to me like we weren't.
The Damage
So I weighed myself this morning — the first time I've been able to since leaving on our trip on February 28 (on which day I weighed 162.8).
I weighed in at 168.6 pounds.
Yes, over this weekend I gained 5.8 pounds. Which, I believe, proves the following:
Life isn't fair.
I am able to create mass out nothingness.
That whole "To lose weight, simply eat less and exercise more" thing is nonsense.
26 days left, 10.4 pounds to go. Pfffff.