A Note from Fatty: This is part 6 in an ongoing series recounting my 2014 Rockwell Relay experience. If you're new here, you might want to jump to the beginning. Or if you just need to catch up, this installment picks up where part 4 leaves off. The video of the event is part 5, but isn't really part of the narrative.
We were worried about Heather. We had worried about her for weeks. Maybe months. And we had a good reason to be worried. 
Heather was starting up what had been, last year, an utterly horrible leg of the race. Last year it had begun with an exploding tire, a mis-shifting derailleur, impossibly brutal heat, and a headwind that no person should have to battle alone…but which Heather had had to battle. Alone. 
And we had watched her suffer. 
That leg of the race has left deep psychological scars on every single member of Team Fatty. Deep scars on Heather; maybe deeper on those of us who had to watch.
And so we had prepared.
Kenny, Lisa and I had a plan where, if and when the headwind became intolerable, one of us would suit up and ride with Heather, taking turns pulling. This was an explicitly legal tactic in the race; we had looked it up and highlighted it in the race bible.
Heather, meanwhile, had been training specifically for this leg of the race. She had been seeking out opportunities to ride in the heat. To ride in the wind.
Imagine that: seeking those things out. So that she could kick butt on behalf of our team.
Heather is awesome.
And it was time to see how our preparations — our strategies — were going to play out.
Vanquished
I rolled in and Heather rolled out, then — after Kenny loaded my bike and I drank about a half gallon of cold water — we climbed into the Sprinter van and gave pursuit.
"What's the temperature?" The Hammer asked Kenny.
"Not quite ninety yet." Which still sounds pretty hot…until you consider this is about ten degrees cooler than it had been last year.
We caught up with Heather, worried that she would look like this:

Heather, head bowed, staring at her stem and battling the wind and heat.
Instead, she looked like this: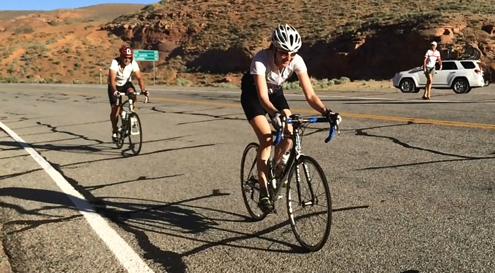 We didn't even have to ask how she felt or how she was riding. The fact is, Heather looked and was riding great. It was that obvious. The big smile plus the guy she just dropped during the climb told that story pretty well.
Our mood shifted from anxious to excited and hopeful: just like that.
Heather was strong and feeling good! The heat was bearable! And the wind was at her back! And now I'm using a lot of exclamation points! I can't help myself! 
Deep breath, Fatty. 
The point is, Heather was crushing this usually-demoralizing leg, in spite of the fact that there was nobody she could ride with.
The Secret of Our Success
In person, in email, in text messages and in comments, a lot of people have noted to me how much fun Team Fatty seems to be having in my video of this race. How it looks like it's just a big adventure.
Well, let me let you in on a little secret: That's actually how the race is for us. Sure, we like this race because of the route and the interesting format and the competition, but — more than anything else — we like this race because it's a fun weekend with friends.
So let me make a recommendation to future Rockwell Relay attendees: if what you care about is winning or placing or whatever, find the fastest people you can for your team. But if what you care about is having an amazing weekend that you'll never forget, make sure you build a team of friends. 
Because that is what makes Team Fatty great.
Which leads in a tangential way to the way our team supports itself. We don't use a "crew;" we crew for each other. Taking care of each other is part of the experience. It makes the race less about you and more about the team. And that's a fantastic thing.
And extending from that philosophy is how much support our team gives each other. Which is to say, our team is never more than a couple miles away from our racer. We pull in front, pile out of the van (more enthusiastically during the day, less enthusiastically at night), and cheer our racer on.
Here's Kenny (The Hammer's right behind him, but you can't see her in this shot), ringing the cowbell and hollering for Heather. Out in the middle of nowhere.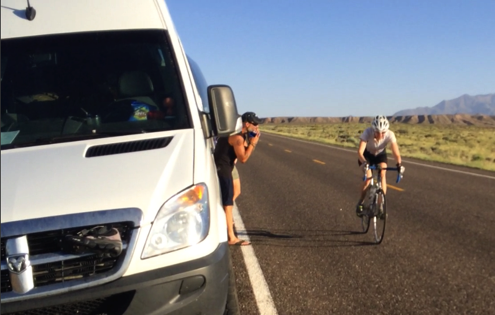 And here's Heather about one second later: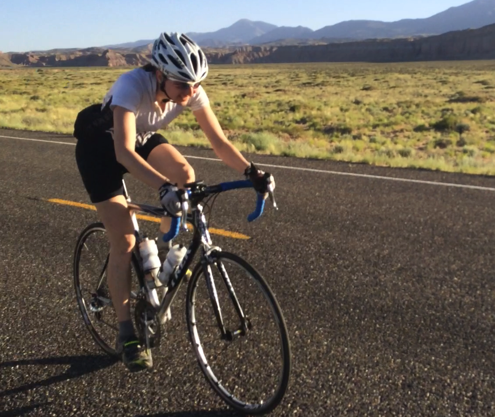 Big smile on her face. Riding with intensity. Having a great ride, in spite of the fact that it's a barely-there uphill that goes on forever, as if it's designed to make you think it's flat while still slowing you down. 
I tell you, having your team there — and making some noise for you — makes a huge difference in how hard you ride and how much you're willing to give. Huge.
Plus, when you're supporting each other, you get chances to master one of the most subtle and complicated cycling moves there is: the bottle handoff. Here's the windup, where The Hammer starts running backward, matching speed.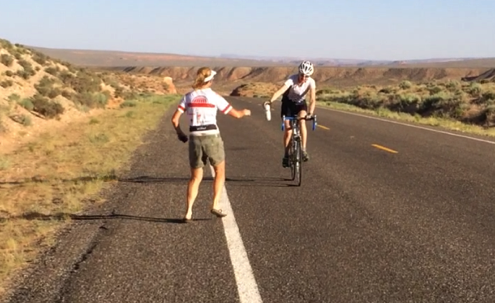 And the connection is made…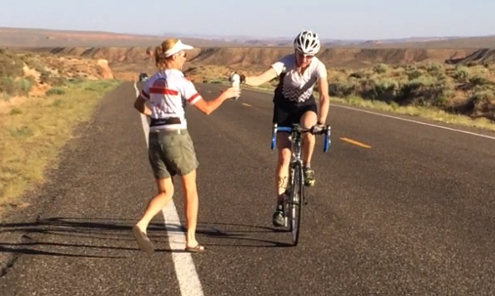 Annnnnd…success! The Hammer swings the bottle wide and out of the way: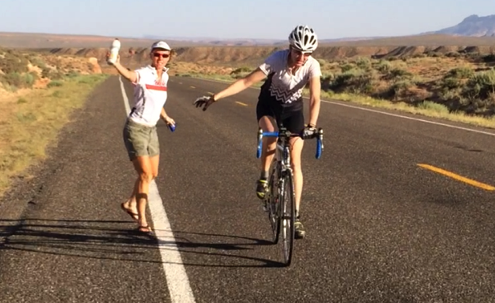 A perfect handoff. Full marks, and ten bonus points for style to each participant.
Yes, Please Tell Me How Much I Suck
Heather passed racer after racer, and was passed by not a single racer herself. What a difference a few degrees and a tailwind makes!
So when she had ten miles to go, we left her and headed out to the next exchange point, where Kenny could get himself ready. Time seemed to go so fast during this race that it felt surprising that Kenny'd be riding through the sunset and into the dark. But that's how it would be, and he got geared up in his reflective belt and headlamp — a blinky light in back.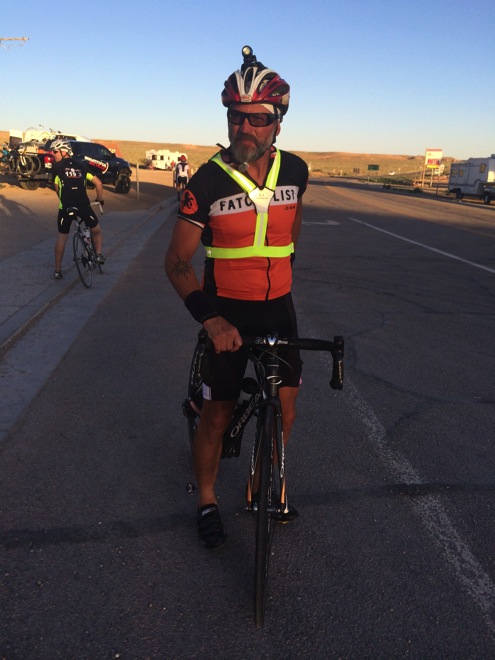 All he needed to do now was wait for Heather.
I, meanwhile, was in the busiest transition of the day. The Hammer was up next, and she'd be riding in the full dark, with a significant descent. And then after her, I'd be riding in the dark with a big descent. And once it got dark, it would be a lot more difficult to get lights mounted on her bike, my bike, her helmet, and my helmet.
Also, the next two exchanges happen quickly; I wouldn't have a lot of time to get the riders (The Hammer next, myself the time after that) as well as the bikes ready.
So this was my opportunity on getting bikes prepped for night riding, and I was pretty focused. And probably a little terse. And quite likely a little surly.
Which, somehow, made several people want to come and talk to me. And, apparently, they thought that this was a good opportunity to tell me how much faster they were than I was during our first leg. Or, in one case, how he could have been faster than me…but wasn't really giving it his all. 
Later, as I was telling The Hammer how much it bothered me that people would seek me out specifically to tell me they beat my time (or would have if they had been trying), she explained that it was really a compliment — that these people were using me as a yardstick of their own speed.
"Yeah, I get that — I do the same thing," I said. I've used Kenny as my personal yardstick of speed for…well…pretty much ever. "But they don't need to come seek me out to tell me they're better than me."
"You're too sensitive," The Hammer replied. 
It's true. I am. I'm not proud of it, but I'm extremely sensitive. Kind of a baby, really.
And I'm also the kind of person who looks for revenge. 
That opportunity would come. Soon.
Real soon.
PS: To read the next installment in this series, click here.