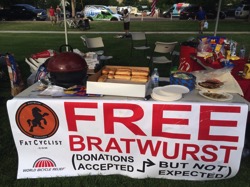 A "Hey Come Have Some Free Brats With Me" Note from Fatty: Celebrating the fact that the Grand Slam for Kenya has raised more than $100,000, World Bicycle Relief is going to put on a free bratwurst dinner on Wednesday, 8/12 6pm – 8pm, at 201 W 8th Street in Leadville.
Come have a brat with The Hammer, Reba and me, talk about the race, and celebrate the change we've made in hundreds of Kenyan schoolchildren's lives. 
Click here to RSVP, so I'll know you're coming, OK?
Where We Stand
We're down to the final couple days of the Grand Slam for Kenya. It ends Friday. If you want to win one of the six incredible bikes or two amazing trips, you're running out of time to donate. (So click here to go donate now.)
Meanwhile, let's take a quick look back at what we've done so far. 
733 different people have made donations
There have been 786 donations, which means 53 of you have donated more than once. Thanks!
The average donation amount is currently $132. That's very close to the cost of a Buffalo bike, and a very clear indicator that you are the most generous readers in the world.
People in 48 of the 50 United States have donated. Which is amazing…and also maked me wonder what I've got to do to get Delaware and North Dakota on board.
People in six of the ten Canadian Provinces have donated. Thanks Canadians!
People from 19 different countries have donated. That, I think, is the most amazing number of all. This fundraiser has truly been worldwide.
Between this fundraiser and the one I did with the Thompsons a few months ago, this site has (as of this writing) raised $128,415. That is just $18,585 away from the $147,000 goal (the cost of 1000 bikes) I have set.
I think that's achievable. Especially if you Delawarians and Northerly Dakotans loosen up your wallets.
Big Thanks
The breadth and depth of this contest has been…huge. I want to thank Katie and Claire for logistics support (and for negotiating many of the prizes) in this contest, as well as for doing the actual drawings. 
I want to thank the good folks at ENVE, both for sponsoring Team MTN-Qhubeka, and for providing the incredible team replica bike as a prize. Good heavens that thing is gorgeous (and has been a huge fan favorite, judging from the massive number of donations it has inspired).
I want to thank Chuck Ibis and the entire Ibis tribe. This man and this company have supported my fundraisers for pretty much ever, even as their bikes become so droolworthy that people have to get in line to buy them. 
I want to thank the first and last name in mountain bikes: Gary Fisher. A lot of companies are willing to part with their products in the name of charity; Gary is willing to donate his time. That's incredibly generous and is a prize I'm just deliriously happy to have inserted myself into.
I want to thank Specialized for donating not just the bike in this contest, but the bike in my contest this last Spring. And, I should mention, it also provides bikes to WBR athlete ambassadors. This is a company that has shown a lot of commitment to the WBR cause.
I want to thank Juliana Bikes for joining in and donating a Nevis frame. Some lucky woman donor is going to be riding a seriously hot bike soon because of this great company.
I want to thank InGamba for donating the most amazing cycling vacation I could ever imagine. Whoever wins this prize is going to have extraordinary bragging rights. Cycling in Italy for twelve days…are you kidding me?
I doubly want to thank Trek, because it provided not just one bike for this contest, but it went the extra mile and provided two. Plus it helped facilitate the prize with Gary Fisher. 
I want to thank SRAM, both for their support of this contest and for their ongoing support of World Bicycle Relief. I love the way this for-profit business puts so much heart and so many resources into this world-changing foundation.
And most of all, I want to thank those of you who have donated — and those of you who are going to donate today. I simply cannot grasp how I've managed to have the good fortune to have you as readers and friends, but I am grateful for you every single day.
What Next?
Friday, The Hammer and I start working our way to Leadville, so expect short little posts while we're vacationing. The week after that, I've got a big company offsite thing going on…but I've also got a treat for you: a multi-part story that's all ready to go. You'll hardly even notice I'm gone.
After that, well, the fun part of the season begins, and I'm looking forward to writing about it as it happens.