It's December 2nd, often called Giving Tuesday. It's also the penultimate day of my Great Fatsby pre-order.
So how about this: today, I'm going to donate ALL profits from pre-orders of The Great Fatsby, the Great Fatsby t-shirt, and the Team Fatty jersey to World Bicycle Relief.
But here's the really crazy part: since the profits will be matched, the amount of money donated to WBR will in many cases be more than the cost of the item itself.
Here, let me give you a few examples.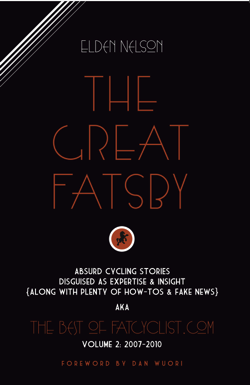 If You Pre-Order The Great Fatsby
Let's just suppose you pre-order the Kindle version of The Great Fatsby. That costs you $9.95. Amazon.com takes a cut out of every Kindle book I sell, so my profit is $9.05. I'll donate that whole $9.05. But also, that $9.05 gets matched anonymously, so the amount World Bicycle Relief gets when you pre-order this $9.95 book is $18.10.
Plus, by ordering it you still get two chances at winning any Ibis bike you want or getting into the Leadville 100.
Yeah, I know. Crazy. But true.
And just so we understand each other, this is a pre-order where you can specify the email where the redemption code will go. You (or whoever you specify in the email) will get the redemption code on December 10.
The math works out pretty similarly for paper versions of the book, although I can't give you as exact of numbers (because the hard costs of the printed version depend on how many copies I order). But here's a guestimate of how much will be donated for the various flavors of the book: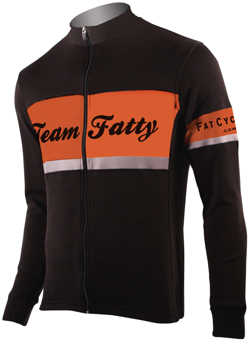 If You Pre-Order A T-Shirt or Jersey
At $124.95, The Long-Sleeve Tecno Wool Long Sleeve Jersey is maybe already the best deal on a clothing Item I've ever offered. But with 100% of the profits being donated and matched to WBR today, that means you get a screaming deal on a beautiful, comfortable, Italian-made wool jersey…and WBR gets about $70.00 (and you get SIX chances at the bike and Leadville 100 entry).
So if you buy two, WBR makes enough to buy a bike for a schoolgirl in Zambia.
Matched set, anyone?
By the way, today is the last day you can order these Long-Sleeve Jerseys and still get them in time for Christmas.
As far as t-shirts go, if you buy one for $19.95, pretty much that exact amount gets donated to WBR (plus you get two chances at the prizes).
Astonishing. It's like some insane and generous alchemy! 
But What About Bundles?
The bundles are already discounted, so of course there's a little bit less profit built in to those. Still, here's how things work out (not exact, because my prices depend on how many of different things I sell):
It's pure madness, I tell you.
And, dare I say it: perhaps a really good reason to pre-order some Great Fatsby books and gear as Christmas presents.