A Note from Fatty: The Hammer's telling of her a 2014 Leadville 100 continues today. Yesterday's installment is here.
Columbine was behind us. Finally.
The road flattened out and we came back — to  cheering crowds. Yes, really, cheering crowds: Rebecca's fan club! Whenever we passed large groups of people, there were always loud cheers for Rebecca. It was really fun riding with someone who is so well-known and loved. I imagined the cheers were for me because I had just made it down the Columbine descent in one piece!
I opened my mouth to comment to Rebecca about her fans…and was surprised to find nothing but a croak come out of my mouth; somewhere on Columbine I had lost my voice…probably from all the heavy breathing I had been doing. My vocal cords had dried out!
Pedal Pedal Pedal…Cramp!
Rebecca and I regrouped on the rolling road back to Twin Lakes. She reminded me of the importance of pedaling hard–even on the descents. That way my momentum would carry me up the next climb. As the words left her mouth she was gone–pedaling down the next hill.
I did my best to follow her example…but was suddenly seized by a horrible quad and hamstring cramp, both at the same time! I couldn't pedal at all, and I actually screamed out in pain!
I coasted, trying to stretch out the cramp. Rebecca slowed and drifted back to me, I'm sure wondering what the heck happened to me. She asked if I had taken any GU Electrolyte Capsules yet. I answered that I hadn't — up until this point I really hadn't felt any inklings of a cramp. But when they hit, they hit hard! She told me to swallow a mouthful, and I did as I was instructed.
We rolled into Twin Lakes aid station around 1130. I had been riding for just over 5hours. I unknowingly had cut eleven minutes off my fastest climb and descent of Columbine.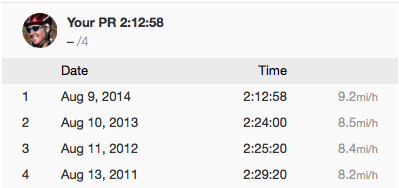 I had more than made up for my slow descent with my fast ascent!
Stomach Problems
My fantastic crew was ready for me as I came in. This time I got rid of my Camelbak and grabbed a bottle of Roctane.
"Get that stupid salted nut roll out of my pocket," I told them, "and I don't want any Honey Stinger Waffles! If I have to chew it, I DON'T want it!"
I surprised myself at my gruffness with my crew. I didn't want to sound mean and ungrateful. I was just a little stressed. GU was going to have to be my only fuel source, and I was a little worried. My stomach was starting to feel a little bloated, like a giant gas bubble was growing inside. Building pressure. Like a geyser.
I didn't like the idea of me as Old Faithful; I hoped my stomach would settle down.
I took more electrolyte capsules; my cramps started going away. I was happy — and amazed — that those capsules could work so quickly! I thanked my crew, then was  ejected back onto the course with one of John's patented supersonic pushes.
As we left the aid station and began up the short-but-steep paved climb that begins this sort-of-but-not-really flat section of the course, I was pleasantly surprised to find that my legs had some energy in them.
Make Us or Break Us
Rebecca caught me on the climb and asked me, point-blank, a very interesting question: "How are you going to ride this section?"
"Ummmm." Was this a trick question? I didn't know what the right answer was. "Stay behind you and draft, pedal when I can…" I trailed off. Was that the answer she wanted?
No. No it was not.
Rebecca looked me in the eyes and said, "You're going to ride so hard you're uncomfortable. We are barely on track. This is the segment that will make us…or break us."
Oh crap.
My stomach hurt, and I was already riding "uncomfortably" hard!
But I had said I wouldn't quit. I had said I would give this race everything I had to give. So I said, "Okay." And I managed to say it enthusiastically, with a smile on my face.
Rebecca smacked her butt, and I followed her lead.
Don't Let Me Drop You
We turned onto the dirt road, pointing our bikes toward the Pipeline aid station, fifteen or so miles away.
Then the headwind hit.
I stayed close on Rebecca's wheel and within a minute or two, we picked up several passengers on our little train. Rebecca would yell at them to take a pull — but nobody would respond. I could tell she was getting really frustrated.
I sympathized with Rebecca — having to do all the work — but I also sympathized with  the passengers on the Queen of Pain Train. I figured they were just like me—at their limit and barely hanging on. They didn't have anything to give.
Finally, one rider did decide to come up front, at which point he fired up the turbo jets and rode away from us.
Not very beneficial. I think that a lot of mountain bikers just don't know how to work together in pacelines.
As hard as I tried to stay on Rebecca's wheel, there were a few times that she would pull away from me. When that happened, she would reprimand me, instructing me NOT to let her pull away. "Don't let me drop you!" she said. "I'm working really hard to pull you and if I pull away, it's all in vain!"
It was a good point. I never let her drop me again after that. Whenever she got more than a few inches ahead of me, I would somehow muster up the air to let her know I was with her…or that she was pulling away!
Shift Gears and Get Rolling
Just before the short section of singletrack, we caught Selene again. She fell in line in our little train. 
then, right as we started up the singletrack, a few riders surged in front of us…and then promptly slowed down.
I guess they didn't want to get behind the train of women riders. Little did they know who was the leading the train: The Hammer, followed by Queen of Pain herself, and then the Fit Chick!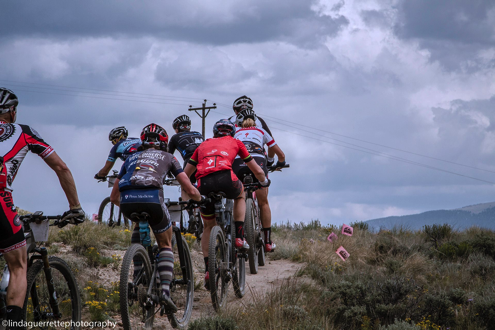 Photo by Linda Guerrette, and originally included in her blog post, "Delivering the Goods." Used with permission.
Yeah. You know. Just a few girls.
"Shift gears and get rolling! It's flat here!" yelled Reba to the guy in the front of our slow moving train.
Humbled, he yielded, but two slow riders remained. Still, I had to laugh.
I Don't Have It
I would have laughed harder, but my stomach was killing me! My stomach was slowly expanding with gas! I took a moment while riding at a slower pace to try and relax my gut. "Breathe in, Breathe out," I told myself. I was at my limit. Hurting. Stressed. And worried about the next 40 miles.
I took comfort in the fact that my brother Scott would be waiting for me at the Pipeline Aid station with some GasX. I had had a similar gas problem back in 2010 while doing the St George Ironman, and taking some GasX and Tums had been was a life-saver!
Reba, Selene and I hit the top of the climb at the end of the singletrack and Rebecca must have sensed I was struggling. She said, "If you have it in you to pass them, pass!" She had left the decision up to me.
I felt horrible when I had to reply, "I don't have it!" I felt like I was failing her.
I tried to drink. I ate another Gu Roctane. I knew I needed the energy. When the food hit my stomach it hurt, but within just a few minutes, my energy levels perked up! I tell you: Roctane is magic.
This is Your Race, Right Here
Rebecca pulled alongside of me again. "Lisa," she said, "This is the make-it-or-break-it section! You're going to determine whether we're going to beat nine hours. We need to bring our average miles-per-hour up during this section."
"This is your race, right here," she finished. "Don't start caving now!"
Wow.
How was I going to respond to that? I was going to pedal like crazy, that's how!
I dug deep. I practiced my "fluffy feet," technique. I did my best to ignore my expanding belly and we started moving.
And miraculously, the average miles-per-hour indicator on my Garmin actually increased by 0.1!
Disaster at the Pipeline Aid Station
I knew  my brother Scott would be at the far end of the aid station. He had brought a really cute weathervane bike wind ornament he said he'd be holding up to help me seek him out in the sea of people (the ornament is now in our front yard):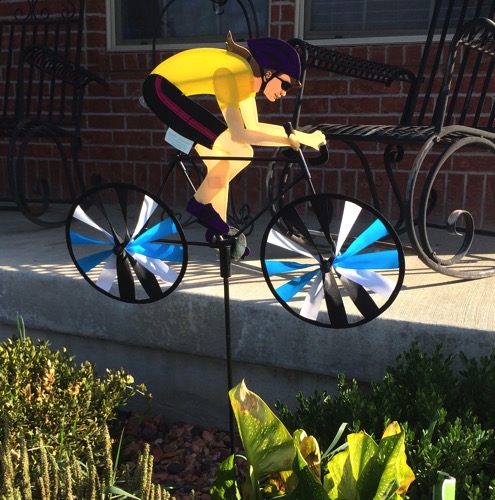 I rode through the corridor of people at the aid station, not seeing Scott anywhere. I was mad at myself for not remembering what color of shirt Scott had on.
Rebecca saw Greg and stopped to refuel. I kept rolling on … looking for my brother, my anxiety level going through the roof.
I came to the end of the aid station area. I hadn't seen Scott anywhere. 
Where was he?
I was devastated. I needed Scott. Sure, I could get food from the volunteers at the aid station, but I needed my brother. And I needed GasX!
Confusion
I stopped, stressed out of my mind, yelling to volunteers at the aid station that I couldn't find my crew! They looked at me, helplessly. Of course they had no way of knowing where my crew was either.
I turned to look back toward the aid station–and there, coming toward me, was Elden!
I was so confused. Why was Elden here in the road, behind me, and where was my brother?
I yelled to Elden, asking him where Scott was. He stopped, looking as confused as I felt, and said I had just passed him. Scott was 50 feet back, on the left-hand side of the road.
Dazed and confused, I headed back toward the aid station — like a salmon swimming upstream — and there, finally, was Scott! His back was toward me, looking up the road, for me, no doubt.
Demon Woman
I rushed over to Scott, startling him from behind and yelling like a madwoman! The only thought going through my mind was, "The 0.1mph buffer I've worked so hard for is slipping away!"
"CAFFEINE, CAFFEINE! I NEED CAFFEINE!" I shouted at Scott.
Of course I knew that I was referring to Excedrin (with caffeine) when I shouted that. My gut was too full to drink anything right then…but of course they didn't know that.
So of course they did their best to read my mind and handed me both an open Red Bull and a Coke.
"NO!" I screamed. "EXCEDRIN! AND I NEED GASX NOW!"
I think my eyes glowed red and my head spun around on my neck a few times at that point too. (Wouldn't it be fun to crew for me?)
My poor sweet brother scrambled, finding a GasX pill and then — shaking because a crazy woman was three inches away and screaming at him at the top of her lungs —   tried to remove the pill from its blister pack.
I watched as his fingers fumbled with the wrapper tyring to get the last piece of tinfoil off. To me it seemed like he was moving in slow motion.
"JUST GIVE IT TO ME AND I'LL EAT IT WITH THE FOIL STILL ON!" I shouted.
Scott got the pill out. Then he dropped it.
Of course.
I picked up the pill and ate it, dirt and all. Meanwhile, my crew had successfully put a new Camelbak on me and replaced the water bottles on my bike. I was about ready to leave, when I went to grab a GU from my pocket, planning to eat it as I left the aid station area.
My pocket was empty. They hadn't restocked by food pocket.
I yelled like some kind of demon, "WHERE'S MY FOOD?!"
They found it, restocked my pocket and I was off.
I don't even know if I said thank you. I'm such a horrible person!
Give Me Five Minutes
I found Rebecca waiting for me right outside the aid station. I started profusely apologizing for the long wait and explaining the fiasco I had just been through.
She said, calmly, "It's no big deal, you were only at the aid station for sixty seconds."
Really? I swear, it had seemed like everyone was moving in slow motion but me!
Oh well. it was time to pedal again.
We got back on the pavement, and the headwind returned. I sought shelter on Rebecca's wheel. I knew she had to be stuggling; I could hardly hear myself think, the wind was blowing so hard. We were alone on the road.
Then a little miracle happened: a tandem appeared and pulled ahead of us! 
Rebecca let out a yell of delight. There is nothing in the world like tandem to draft behind. I knew how important it would be to hang with them. Even so, I wondered how much longer I would be able to hold on to their intensely fast pace.
I was losing it.
So I said the words I didn't want to ever say to Rebecca: "Reba, I can't hold this pace!"
Her reply was simple and direct: "Give me five more minutes. Just. Five. More. Minutes. Let them pull us to the big left-hand turn!"
How could I say "no?"
So I dug a little deeper, I continued to turn the cranks.
Then something beautiful happened.
The tandem eased up.
This wonderful, beautiful, generous tandem team must have heard my cry for help, and they eased up. Their pace lessened ever so slightly…but it was enough for me to hold on!
The Catch
We finally made it to the turn. The wind direction had changed and the road turned up slightly. I think at that point we passed the tandem…and then we saw him.
A little dark figure in front of us, spinning his legs as fast as they would go.
We had caught Elden!
"My Honey is up there!" I told Rebecca, and I pedaled a little bit faster.
When we caught him I could tell Elden was suffering. He explained that he was suffering from horrible leg cramps. Rebecca asked if he had taken any electrolyte capsules.
Elden answered, "No."
Rebecca was probably thinking, "Did you two not listen to one thing I taught you this week?" Still, she quickly pulled out her canister of capsules and told him to swallow a mouthful. He obediently followed her instructions, gave Rebecca back her now-almost-empty cylinder, and then we were gone.
I had just pulled ahead of my husband at the Leadville100. Unbelievable!
Foolish Thought
Soon we went by the fish hatchery, then the Strava tent. For the past few years, the Strava tent has been one of my favorite places during the race. I look forward to them passing a cold little can of Coke to me.
This year, though, I couldn't bear the thought of drinking. Especially something with bubbles. The GasX had helped a little, but I was still very uncomfortable. We zipped right by it. I was a little sad and hoped I wasn't making a bad decision.
Soon we turned off the pavement and back onto the dirt. We were headed to the Powerline climb. Amazingly, I was actually looking forward to it, because I knew Rebecca would let me pick the pace–and I was hoping I would be able to recuperate a little.
What a foolish thing to think as you start the hardest climb of the day!