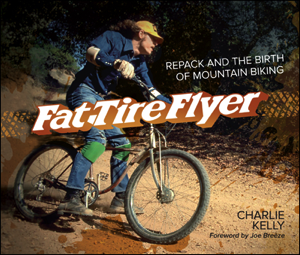 You can tell when someone is in love. And I'm not talking about first-blush, first-kiss, first-sight love here. I'm talking about a long term relationship. One that has stood the test of time.
You can tell when someone has been in love long enough to have history, kids and grandkids, and a lot of stories. 
You have to respect that kind of love.
And that is the kind of love that shines through in Charlie Kelly's Fat Tire Flyer: Repack and the Birth of Mountain Biking.
This is the history of the first days of mountain biking, told by Charlie Kelly, one of the guys who was right there for it from day one. 
And Fat Tire Flyer will be the first book we read and discuss in the new, monthly "Fatty's Book Club."
There's no membership dues or anything like that. You just need to get, read, and talk about the cycling book I'm going to choose each month or so.
Getting the Book
This idea of an online cycling book club is something I've been tossing around for a long time. With the huge number of really great cycling books that have come out recently, I've decided to make it happen. 
First of all, you're going to need the book. I talked with VeloPress, the publisher of Fat Tire Flyer, and asked them to give us a deal on this book. They've generously offered to give you 25% off if you buy Fat Tire Flyer together with Rusch To Glory from the VeloPress site, using the REPACKFATTY discount code (this code good only from now 'til January 19).
[As an aside, I highly recommend Rusch to Glory, and have already done a chat with the author about it, which you can watch here.]
Reading the Book
Once you've got the book, you ought to read it. And maybe read it with an eye toward talking about it. 
And plan on doing your reading at home (or wherever you keep books), because this is a hefty, hardbound book. It's the size of a coffee-table book, really, and maybe even looks a little bit intimidating, with how big and heavy it is (3.6 pounds, according to my bathroom scale).
But don't be intimidated by it. It's got a lot of pictures—definitely one of the things I'm enjoying about it—and it reads very easily. Plus, about 20% of the book's 260+ pages is appendix and index. 
So you'll get through it.
Talking About the Book
On Tuesday, February 10, at 11:00am PT / 2:00pm ET, we're going to get together online and talk about this book, just like in a real-world book club.
And I'm really pleased to announce that the author, Charlie Kelly, will be joining us for this conversation. I'll have questions for him, and I'll hope you will too. 
I'll have details in the near-ish future about how to register and participate. I will be limiting the number of people who will be able to join in live, so you'll definitely want to get on board early.
If, however, you're unable to join the call, you won't be out of luck. I'll be recording a video of the conversation, which I'll post on Vimeo. I'll also be making an audio-only version available as a podcast.
I'm really looking forward to trying this cycling book club idea out. I hope you'll help me make it a success.
PS: Bonus Homework: Watch Klunkerz, and read my review of it (along with Charlie's rebuttal to my review) from back in 2009.