The Timpanogos Trail Half Marathon. It would be a day of firsts. For example:
The first time I would try to run a straight-up half marathon (I've run marathons, a marathon as part of an Ironman, and a half-marathon as part of a half-ironman, but never a half-marathon)
The first time I would try running a trail race
The first time The Hammer would try running a trail race
The first time The Swimmer would try running a trail race
The first time the Swimmer would try a half marathon
Most importantly of all, though, was the fact that I was the one who suggested we should do this race. Yes. Me. Suggesting a running race. On foot. Without a corresponding bike leg to compensate for the nigh-incomprehensible suckitude I would exhibit when trying to run.
Oh, and there would be a couple of other firsts that day. And a couple of other seconds, too. And a sixth. But I'll get to all of those a little later in this story.
So, in short, I have gone mad and am now, yes, completely insane haha. Heehee ho!
I Very Nearly Get Right to the Point, Without Actually, You Know, Getting Right to the Actual Point
Why would I suggest a running race? Oh I know, let's have a list.
Because I have recently discovered that I like trail running, thanks to the fact that my ankles, knees, and hips no longer kill me after even the shortest run, which I assert is in turn thanks to my Altra Olympus shoes. 
Because I harbor hopes that someday The Hammer will want to do the running version of the Leadville 100, because I think crewing for her as she did that would make for the most amazing series of  I'm trying to nudge her in that direction by encouraging races like this. 
Because this race is on the same trails where I learned to mountain bike, and thus has nostalgic draw.
I looked at the elevation profile, and knew it favored me.
Let's talk about that last point for a moment. Here's what the elevation profile of the race looks like: 

That's about 2600 feet of climbing in a trail half marathon. That much climbing, with very little flat (really, the only flat is from mile three to five) really favors mountain bikers: those of us with a lot of power and the ability to turn over a high cadence in a low gear.
Specifically, the way I saw it, this was a running race for mountain bikers. Or at least as close to one as I was ever likely to find.
The Beginning
The Hammer and I had pre-run the course together once before (which, by the way, was the day after The Hammer pre-ran the course solo, and the day before the White Rim weekend). And The Swimmer and I had pre-run it together, too. It was nice to not be going into this race blind.
This race was a very low-key, grass-roots affair. So small (just a few hundred racers), in fact, that they hadn't even gotten port-potties for the event, relying on the permanent bathrooms installed at the park.
I found this fact very distressing. Or at least I did until, as we pulled into the park, I noticed a porta-potty set up out of the way for construction workers in the area. Except for, on this day, it was really set up for me, and those I chose to share it with.
Little things like this matter when you get nervous at races.
Now feeling fine, I got a picture of The Hammer, The Swimmer, and me together before the race. "Make a silly face," I urged.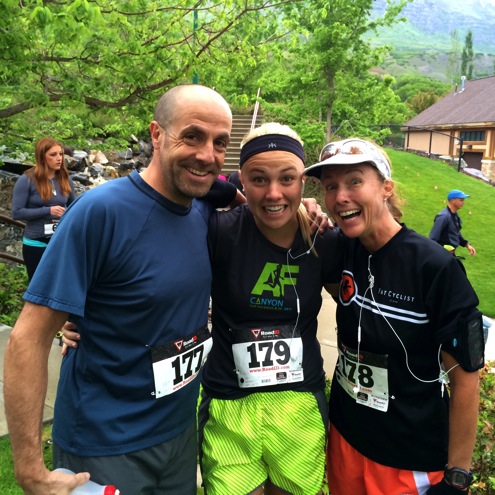 I can't believe they fell for that old trick. (Also, I'm super tall.)
We lined up — The Hammer near the front, The Swimmer and me somewhere in the middle — and awaited the Go.
At 8am the race started…and we began. Some of us running. Some of us walking. Some of us running and then quickly realizing that was a mistake and slowing to a walk. With a starting uphill grade of 9 – 16%, that kind of race plan revision wasn't just acceptable, it was downright prudent.
As for me, the race bloodlust was upon me. I moved to the left side of the road and began passing people immediately, finding a suitable carrot to chase.
"Oh, there's a carrot," I thought. "She's even wearing orange like a carrot. And she has a big orange target (where have I seen that before?) on her back."
My mission for the moment: try to keep The Hammer in sight.
New Character in the Story
I s-l-o-w-l-y reeled The Hammer in, wondering if this was a wise thing to do, but hoping that if I could be close to her by the time the big climb began around mile 2.5, I could get enough distance on her that I could still manage to keep her in sight by the end of the big flat section.
It is so weird to have your primary athletic competitor also be your wife. Trust me on this.
As I got close, I said, "Hey Beautiful, you're looking good."
"I can't talk right now," she replied.
"Right," I said, "This ain't no time for jibber-jabber."
"You're. Still. Talking."
I would have come up with a suitable reply (I.e., "No I'm not"), but right then a boy in kick-butt dreadlocks ran by the two of us as if we were, well, jibber-jabbering.
I was caught between deciding which I wished for more: to be young and fast, or to still have hair.
But now we were at the base of one of the two really steep climbs, meaning this was my opportunity to bank some time. To run where others walked.
I put my head down, shifted into my mental granny gear, and started huffing up the shale-strewn singletrack. 
I had a teenager to catch. For the honor of all bald, middle-aged men.
Which is where we'll pick up in part 2 of this story.