I need a word that expresses gratitude better than "grateful." A word that conveys my thanks more than "thankful." I need a word that describes my awe that exceeds "awestruck."
Because I am that impressed. Grateful. Thankful. Awed. And so forth.
What We've Done During This Fundraiser
Since the beginning of the Grand Slam for Zambia: The Power of 5, we've raised this much money: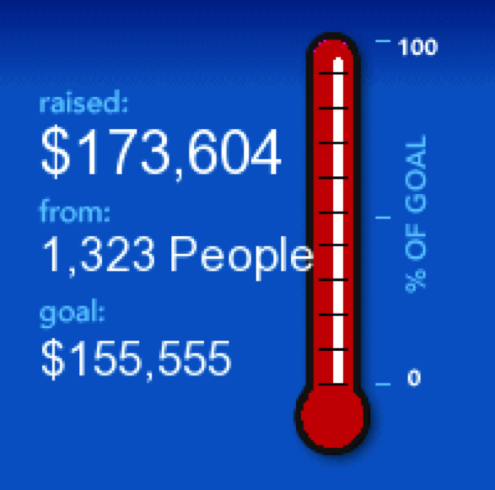 $173,604 is an astonishing amount (and yes, "astonishing" is too small a word for how I feel about this). It's even more incredible when you consider that this amount of money is getting matched. Which means, basically, that together we can say we're responsible for $347,208 raised during the month of December.
That's more than a third of a million dollars. And—more importantly—that's 2591 bicycles we're putting out there. And since a WBR bicycle improves the lives of 5 people on average, that's 12,955 people whose lives we've improved. 
And that's just during the month of December.
What We've Done This Year
This wasn't the only fundraiser we did for World Bicycle Relief this year. Back in July, we did a fundraiser where we gave away a Trek Madone. We raised $39,928 during that fundraiser…which was very generously matched by Trek for a total of $79,856. 
When you add July and December up, Team Fatty is responsible for raising $427,064 for World Bicycle Relief in 2013. And that's 3187 bikes. Which affects 15,935 people. 
What We've Done Since The Beginning
The fundraiser we just concluded is the fifth we've done for World Bicycle Relief. I think it's worth taking a look at what we've accomplished with all of these fundraisers:
Riding With the Shack: Back in 2009, we raised $69,834 for WBR (along with an equivalent amount for LiveStrong) when Johan Bruyneel said if I raised $10,000 each for WBR and LiveStrong I could ride with the RadioShack training camp for a day.
Grand Slam 1: In the first Grand Slam for Zambia, back in 2011, we raised $158,791 for World Bicycle Relief.
Grand Slam 2: Thanks to the matching program that was introduced last year, the $173,826 we raised became $347,652.
Trek Madone Project One Giveaway: We raised an amazing $39,928, which was matched by Trek, for a total of $79,856.
The Power of 5: And of course the fundraiser we just completed brought in $173,604, which is matched to $347,208.
You know what that totals out to? I'll tell you.
$1,003,341
This is, as my accountant might say (if I had an accountant), "quite a bit." 
That's 7,487 bicycles bought, and 37,438 people whose lives are changed for the good.
Because of us.
And that is pretty awesome, to put it mildly.
But What About the Prizes?
One of the funnest parts of doing these fundraisers is giving out the prizes. In this case, that'll be five bikes and a cycling trip to Italy. Having six prizes kind of messes up my whole "Five" theme, but I'm OK with that, and I expect you are too.
Well, World Bicycle Relief is—right this moment—working on getting the spreadsheet built and ensuring it has everyone's donations recorded, along with any bonus chances that are awarded because you donated $134 (or more). 
Then, on January 7 (per the rules), they'll do the drawings and will start contacting the winners. It'll take some time, because the first person contacted has to choose the prize s/he is taking before the second person is contacted, and so forth.
So if you don't get an email on January 7, don't be disheartened. There are nothing but grand prizes in this contest, so even being the last person to be contacted isn't going to be an exactly bad thing.
Thank You
I owe a lot of people thanks for their generosity, both with their time, products, and money.
Frame Sponsors: An incredible set of prizes makes it fun to donate. And so many companies were so remarkably generous. Huge thanks to Ibis, Trek, Specialized, Boom, and Cannondale for donating frames. I love seeing all these competing companies join forces to accomplish something so great. 
Trip Sponsor: Having InGamba donate a sixth prize—a cycling trip to Italy—was as big a surprise to me as it was to you. I love this kind of surprise.
SRAM: Every frame in this contest is going to be completely built up with SRAM parts. That's worth tens of thousands of dollars. Having the components, wheels and other parts donated made it much more affordable for the frame sponsors to participate in this fundraiser.
Katie Bolling: The development director of individual giving for WBR did about 80% of the heavy lifting for this fundraiser. It wouldn't have gone anywhere near as smoothly or awesomely without her. In fact, considering my current level of busy-ness, without her it may not have happened at all.
Those Who Match: I don't know who promised to match all of the money donated, but that is an incredibly generous move, made doubly awesome by not revealing who you are. Thank you, whoever you are.
Finally—and most of all—I want to thank you. A fundraiser doesn't do much if people don't read, donate, and spread the word. So many of you did all of these things.
"Thank you" doesn't feel like a big enough word for what I want to say to you. There really needs to be a bigger, better word for when people do something so awesome. So generous.
Until I know what that word is, though, I'll just say "thanks" again. For reading, donating, and for being my virtual friends. You make me glad I take the time to write this blog.
PS: If you're an athlete and want to do more for WBR, maybe you should consider applying to be a 2014 Team WBR Ambassador. Click here to learn more.
PPS: I will be out of town and unable to write for the next 1.5 weeks. I'll be posting again January 13.