I had just crossed the turnaround point of the Leadville 100 and — just a few minutes later, before the course turned downhill in earnest — I had come across The Hammer, riding with Rebecca Rusch immediately behind her and with a big smile on her face.
She knew how well she was doing. She had to know. 
Maybe I should wait, I thought. I could just wait here for like five minutes, tops, and then we could do the rest of the race together.
It was tempting. So tempting. I've never ridden The Leadville 100 with anyone. Sure, I'll occasionally meet up with another rider and we'll work together for a while, but it happens a lot less often than you might think, considering there are close to 2000 racers on the course.
But I have never raced with people I know (OK, I have once, but that was so long ago it's like I was a totally different person).
I kept riding. In fact, I redoubled my efforts and took some risks, trying to get down off the mountain as fast as I possibly could.
I had my reasons.
Why I Didn't Want The Hammer to Catch Me
The worst thing I could have done to The Hammer this year is ride with her. She had a shot at getting in under nine hours, and all I would have done is ruined those chances.
And in the process, she would have ruined mine, too.
You see, on the flats, there's no way I could have kept up with her — using her fast SRAM XX1 1×11 drivetrain — as I pedaled all spun-out on my singlespeed. Even if I tried to draft the whole time. It's just not possible.
Similarly, while The Hammer is a fast climber, I'm…well, I'm a little bit faster.
So if we'd have ridden together, we would have eliminated each others' advantages.
And that would have made Reba mad.
You don't want to see The Queen of Pain when she's mad. (Actually, I've never seen Reba when she's mad. I have seen her when she's focused, though, and that's close enough.)
Besides, it wasn't my job to help or work with The Hammer. And if I'd tried, I'd simply have gotten in the way, given The Hammer a comfortable, reassuring person to tell her, "It's OK to back off; you've done enough."
For this race, The Hammer and The Queen were a team. This was going to be their victory or their defeat. 
My job would be to cheer them on. From afar. 
Oh, and also it was my job to get myself across the finish line, ASAP.
I Do Some Math
So with that dilemma mentally resolved, I now had a new puzzle to consider: 
When was I going to next see The Hammer?
Of course, it was possible I wouldn't see her until the finish line, if I stayed in front for the rest of the race. But that seemed unlikely. There was a 20-mile flat section coming up after this descent, and then another few flat miles toward the end of the race.
That seemed like easily enough flat for The Hammer and The Queen of Pain to catch and pass me. 
But it wasn't all flat between Columbine and the finish line. Far from it. The question was, would they put enough distance between us on the flats that I'd be unable to catch them on the climbs?
My expectation was that I'd see them at least twice: once as they passed me between Twin Lakes and Pipeline, and again as I passed them climbing toward Carter Summit. After that, I figured I'd stay ahead for the rest of the race.
And in the end, I pictured that we'd finish so close together that when I finished, I'd just wait right in the finish line area for three or four minutes 'til they crossed together.
Of course, that is not how it worked out in the end. I sometimes wonder why I even bother making predictions; I don't think I have ever once been right.
Ode to Root Beer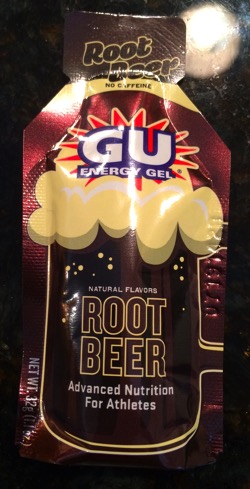 I am always so relieved when I get to the bottom of the Columbine Mine descent. The hairpin turns wig me out. The racers zipping by me wig me out. The racers weaving their way up in the opposite direction — some of them not clearheaded due to exhaustion and altitude — wig me out. 
But I got to the bottom. Intact. Happy. With forty-two miles left in the course, there was nothing left for me to fear in the race. The climbs ahead were hard, and the descents were fast, but there wasn't anything left that scared me.
Plus, there were a few things that were distinctly going my way. 
First, my biggest concern of the whole race — that my feet would hurt so badly that I'd be forced to quit — had turned out to be a non-issue. The Giro Codes I was wearing, in spite of this being my first ride of any real distance with them, fit comfortably. The shoe repair place had done a good job of stretching out the spot where my bunion is.
It felt so good to ride without my feet protesting.
The second thing I was loving is the new Gu flavor: Root Beer. 
You know those little barrel-shaped root beer-flavored candies you used to eat when you were a kid? That's exactly what this new Gu flavor is like. 
During the race, I was grabbing Gus randomly — whichever one happened to be tucked under my shorts — but I was always excited when I happened to get a Root Beer Gu. 
Yes, you read that right. I was sixty miles into a race, and was happy to be eating a gel. 
Seriously, these are that good. 
Honestly, I don't know what has happened at Gu recently, but they have stepped up their gel game, both in terms of effectiveness (Gu Roctane works better than anything else) and flavor (Salted Caramel, Salted Watermelon, Root Beer, Cherry-Lime, Island Nectar, Pineapple, Vanilla-Orange).
Between Gu and Carborocket 333, My energy level never crashed during this race, and I never dealt with any stomach issues. Not once. Going hard the entire race.
Simple. Tasty. Convenient. Effective. I've hit my endurance cycling nutrition happy place. 
Before the Big Climb
I get to the Twin Lakes Dam, and within moments — less than a minute — I have had my bottles swapped, my wrappers exchanged for new Gu packets, and I've slammed down some chicken and stars soup.
My sister Kellene tells me, "Lisa and Reba were only three minutes behind you the first time through."
"Yeah, that's about how far back they were at the top of Columbine," I replied. "They'll be here in just a couple minutes, I'm sure!"
And I am gone again. The days when I spent several minutes at the aid station are gone forever, I think. 
Or at least until the next time I come to Leadville 30 pounds overweight. Which could be next year, the way I've been eating this past week.
But anyway.
I ride up the short paved climb that comes right after the aid station. I stand and can feel the cramps lurking somewhere close. Somewhere real close.
But they aren't here quite yet.
I step up my effort, thinking two things. 
The Hammer and Reba are bound to catch me somewhere on this 20-mile stretch before the Powerline climb. But I'd like it to be later, rather than sooner. 
I used to have such a hard time with this little road climb. For years and years, I took a good long rest the second time through the Twin Lakes Dam aid station, eating some sandwich, drinking some water. Just long enough to let my legs stiffen up and my heart rate to drop. Then I'd get out of the aid station and hit this climb and it would flatten me. Now I get to this climb still warmed up and without a sandwich sitting like a rock in my gut…and this little climb is so much easier to ride.
I go hard, working to be as fast as I can be, in spite of my singlespeededness. People pass me anyway — the same people I passed as I went up Columbine. I don't hold this against them, but I do start thinking. I think, "Next year, I don't want to be passed here. Next year, I'm racing with gears."
Then I realize: this is the first time I have ever started planning my next racing of the Leadville 100…during the racing of the current Leadville 100.
I need help.
I find a rare tree off the side of the road — I am a private man — and take care of things which need taking care of.
As I swing my leg back over my bike, it occurs to me: i no longer know where I stand vis-à-vis The Hammer and The Queen of Pain. They could have passed me whilst I was having my moment of privacy. In fact, I think, it would be very surprising if they didn't. 
Furthermore, that guy with the singlespeed I passed on Columbine. If he's faster on downhills (and let's face it: who isn't?), he could have just passed me.
I ride harder, considering the fact that this race is so tight that my pee break may well have put me permanently behind The Hammer and knocked me off the singlespeed podium.
Confusion and Terror
When you're racing, it's amazing how fast your attention changes. How quickly you forget things.
One moment, my entire mind was occupied with the question of whether my wife was now racing ahead of me, or behind me.
The next moment I came tearing into the Pipeline aid station: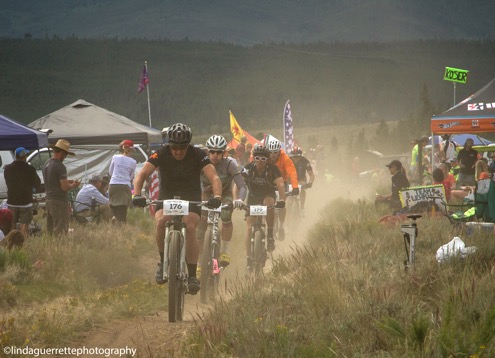 Photo taken by Linda Guerrette. Used with permission.
Among all the excitement and noise and people, I completely forgot all about that question; the only important thing now was to find my crew.
Which I did, without difficulty. They were standing off the the left side of the trail, about fifty feet before the official aid station tables and timing mat, waving frantically at me.
I pulled over and we began the ritual of trading out food and drink one last time. They took care of everything while I drank the entirety of a chicken and stars soup. I figured that with a big climb coming up and the problems I'd been having with cramps, the extra sodium I was taking on board was well worth the time it took to drink.
This would have been a perfect time to ask a simple question. A simple question that had been the central focus of my existence five minutes ago. A question along the lines of, "Has Lisa come through yet?"
I did not ask that question. Nope. Didn't even occur to me. 
Instead I finished up, thanked my crew for being so awesome, and told them that I'd see them in the finish line in just under three hours. 
I clipped in, stood up, and got up to speed.
And then my head spun around at what I saw.
The Hammer. Stopped. At the aid station. Talking with one of the race officials. Without Reba anywhere in sight. 
Baffled, scared of what this must mean, and utterly out of my head from the storm of conflicting messages going through my brain, I pulled off the trail and locked up my brakes so I could stop and talk to The Hammer. So I could find out what she was doing there, and figure out what was going on.
I shouted out the first thing that came to mind:
"Hey!"
PS: This seems like a good place to pick up tomorrow.