You know what's really great about racing in a relay? The part where you're not racing. The part when you can — for a little while — put aside the fact that soon you're going to be gutting it out, giving your all, and just…relax. Chill out. Be one of the guys, rooting for other guys.
So right after my first lap in Boggs, I went back to the trailer, cleaned the dust off my face (without getting too religious about it, since I'd be heading out again in less than two hours), and then hung around with Levi for a few minutes, 'til it was his turn to race again.
After which, of course, it would be my turn to race again. 
And that's the problem with three-person relays on a one-hour-long course: your break from racing just doesn't last very long.
Still, it's nice while it lasts.
I Will Probably Not Be Hired as a Broadcast Professional
I walked down to the start / finish line with Levi, to cheer Jeff as he came in, as well as to cheer Levi as he took off (and also to set a 45-minute timer once Levi left, so I'd know when I needed to be back, ready to go again).
Jeff had told us he'd be a little slower. Which meant this would be a good time for me to pull out my phone and — thanks to the remarkably strong 3-bar LTE mobile phone connectivity I had — start a Periscope session (Periscope is a Twitter-owned live video streaming service. If you have an iPhone, I recommend you get it).
Which I cleverly also saved and now present to you in full. I recommend watching it; it actually gives you a pretty good sense of what it's like to hang out at the exchange point.
Plus you'll see a woman finish a lap while wearing a wedding dress, a man in a tux, and me being recognized as the famous and beloved person I am, making for an excellent live selfie opportunity.
And also, I ask Levi a few stupid questions.
Moments after I finished this extraordinary piece of live, man-on-the-ground journalism, Jeff finished his lap and Levi took off. 
Jeff, astonishingly, looked perfectly clean after his first lap. I'm still wondering how he managed to keep all the dust off him.
Frankly, I find myself wondering whether he took a much cleaner, less-dusty shortcut or something.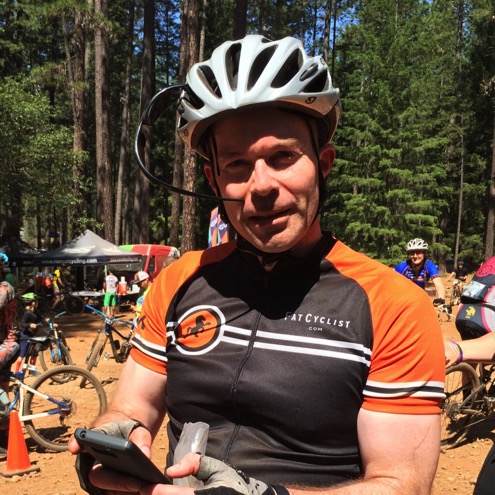 Also, I find myself wondering both about the aesthetics and comfort of his sunglasses placement.
Heroic
Levi was away, so my prep-for-race fuse was lit; I now had 45 minutes 'til I needed to be watching for Levi. But my jitters were gone. For some reason, getting ready to start the second lap of a relay race doesn't load my body and mind with the same anxiety.
Instead, I calmly suited up and got my tube, lever, CO2, and gels in place. Jeff captured this photo as I prepared: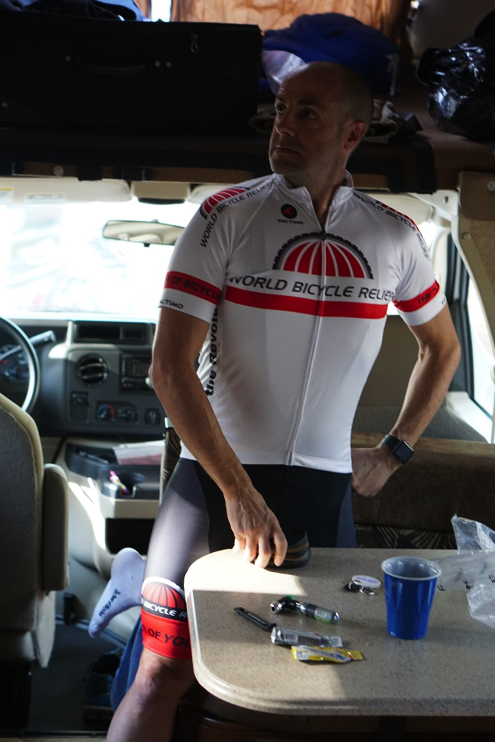 That photo, as you no doubt are aware, is not staged. Nor am I sucking in my gut. 
I just tend to maintain a heroic pose at all times. Because I am heroic.
I Am An Awesome Singer
I arrived at the start/finish checkpoint early, because I am very punctual. 
I began my vigil for Levi, who would be arriving in a few minutes, when I saw Friend of Fatty David Houston, taking a rest between laps. He was soloing this race, using it as training as he prepares to race the Leadville 100 for the first time this year.
And, as I've noted before, it also happened to be his sixty-first birthday.
I recalled how I had been beating myself up for forgetting to sing a line of the Happy Birthday song when I had seen Dave during my first lap, and decided that I would not let such an opportunity go by again.
I walked up to him, stood on my tiptoes so I could put an arm around his shoulders (I am 5'7", he is 6'9"), revved up my lungs, and yelled for everyone to please join me in singing happy birthday to Dave.
I think a few people might have joined in on the singing, but I couldn't tell for sure, because I was singing as loudly and as badly as I could. This is in accordance with a family tradition: to always sing the birthday song as intentionally loudly, off-key, and out-of-time as possible. 
I take this tradition very seriously.
Dave was so moved by my singing that he decided he had had enough of a rest after all and that maybe it was time for him to get back to riding.
So, note to people who might notice Dave lallygagging on the course at Leadville this year: sing the birthday song to him. Loud, and off-key. 
He'll thank you later.
Clockwork
Levi came in, taking forty-nine minutes to complete the course. In doing so, he would be the first person the entire day to complete a lap in under fifty minutes. (Also, he was the only person the entire day to complete a lap in under fifty minutes.)
This after complaining in the above video that his legs felt like concrete. Pfff.
I went out. Riding like a well-oiled clock. Because — take note, clock owners — it's vital to regularly oil all your timepieces.
Although, if I am to be completely honest, I was a moderately slower clock this time: 1:02:27. About 1.5 minutes slower than my first lap.
Oh, who am I kidding? I'm incredibly proud that I was so consistent.
The Curious Incident of the Disappearing Jeff in the Day-Time
I approached the start / finish warily this time, not wanting to repeat my crowd-pleasing performance as an endo savant. Happily, I did not.
"Jeff, go!" I yelled as I crossed the finish line.
But I didn't see him go. In fact, I didn't see Jeff at all.
"Go, Jeff, go!" I yelled, instantly aware of how that sounded. Scanning the crowd, looking for Jeff.
I saw Levi, but not Jeff.
"Where's Jeff?" I yelled. "It's time for him to go!" I am capable, when necessary, of stating the exquisitely obvious.
"Jeff isn't here!" Levi yelled back. 
"Where is he?" I yelled, although by now I was no more than a yard away from Levi.
"I don't know!" Levi yelled, because we seemed to have established yelling as the way we would convey our messages.
"Let's go find him!" I yelled.
But we would not find him. We could not find him.
Had he been kidnapped? Possibly! Was he jeopardizing our team race standing? Definitely!
Jeff had…disappeared. 
Which seems like a good place to pick up in the next (and probably final) installment of my Boggs writeup.