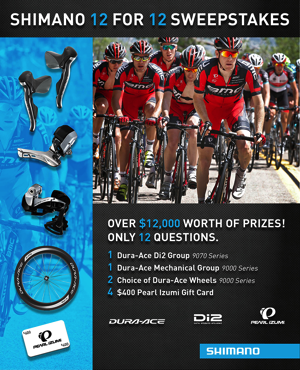 A Note from Fatty: My friends at Shimano are currently doing a sweepstakes, called "12 for 12." It takes only a minute or two to answer the survey to enter, and you can win some really nice Shimano prizes — full-on group, wheels, or gift certificates. Allow me to recommend you click here to enter. And allow me to further recommend that maybe "other" is a good option for the "favorite online cycling site" question, and that perhaps you might want to write something in. What that something might be is of course entirely up to you.
A Note from Fatty about today's entry: This is part 9 of my Salt to Saint writeup. It'll make more sense if you read the earlier installments first:
We're on the Road to Nowhere
It's a strange thing, to be around halfway through a 423-mile bike race, in the dark, in the middle of nowhere, on a road that just…ends. No way forward. No idea how or where you missed a turn.
It makes you question the wisdom of recent decisions you've made. 
"So, where now?" I asked The Hammer. I was not being rhetorical.
"I don't know," she replied. She, too, was not being rhetorical.
The only option, it seemed, was for us to turn around and head back the way from which we had come.
Wonderful.
We rode back, slowly, looking for a way to get back to the highway. And in less than a mile, we found a turn, apparently heading toward a cluster of cabins and houses. We assumed that there must be a road from the houses back to the highway. Which, now that I think back, was a terrible assumption. 
As it turns out, however, it was correct. We were back on the highway, and — we hoped — back on the course.
(Later we'd look back at the turn-by-turn directions for the race and discover that we should have stayed on the bike path for only 0.3 miles, as opposed to the five or so miles we rode. I'm not sure how we missed the course marking, though it's likely because we just weren't looking for a course marking directing us off the path so soon after we had gotten on.)
In any case, we were glad to be back on the highway. Now all we needed was to be reunited with our crew.
Again.
A Difficult Question to Answer
You know, I'm tempted to end right there for the day; leaving The Hammer and me in the middle of the night on a lonely highway with no idea of where our crew was would be a pretty dramatic conclusion to a chapter.
But it'd be a kinda short chapter. And besides, Zac and Blake found us within about two minutes of when we got onto the highway, as if we were carrying a homing beacon.
We were now beginning what we both knew was the real test of the race.
When it's light out, the primary sense — and indeed, the primary pleasure — of cycling is a feeling of motion. You're going somewhere. You can see it. Every minute you're on a bike, you have something new to look at. Something you're getting closer to. Something you're passing.
When it's dark, that all changes. You're just riding, with your vision restricted to what your light reveals. And even when you're using truly fantastic lights — and the NiteRider Race 1800s we were riding with were truly fantastic — you see at best the road ahead of you and perhaps a little bit off the shoulder.
Your universe gets pretty darned small.
And that was how it was going to be for the next long while. 
I stopped looking at my Garmin; the distance we had gone, the speed we were going, the time we had spent on our bikes — none of those held any meaning to me. The only metric that mattered was that, eventually, the sky would lighten. And when that happened, we'd be in a much different place. And that place would be pretty close to the finish line. Maybe we'd have only a hundred miles left to go.
Yeah. "Only" a hundred miles left to go.
Because my job had pretty much consumed my life for the past few weeks, I really had no idea of what we were in for during our night hours of this race. So I asked The Hammer.
"I think we're climbing, gradually, for about twenty miles," she said. "And then we have a big descent." 
I told her she sounded unsure.
"I can't remember for sure," she said. "It's all a jumble now."
I knew what she meant. I was having a hard time putting sentences together, and often was slurring words. 
"Let's ask Blake how far we have to ride 'til we're at the summit," The Hammer said, and waved the truck toward us (for the whole of the night, Blake and Zac essentially idled behind us, giving us a measure of protection from any vehicles that might be approaching from behind).
"Yeah?" asked Blake.
"We have about twenty miles 'til we reach the summit and have the big descent, right?" asked The Hammer.
"You have to climb as far as you have to climb," Blake called back.
"How far is that?" asked The Hammer.
"It's as far as it is!" Blake answered.
"Your son," I muttered to The Hammer, "is an obstinate obstructionist. You're asking for some simple information and instead he wants to play verbal volleyball."
Then, louder, I yelled to Blake, "Just tell us how far we have 'til we hit the big descent!"
"About ninety miles," Blake replied.
The next day, he'd tell us, "I just didn't want to say it. Ninety miles of climbing. How do you tell your mom, in the middle of the night, that she's at the beginning of a ninety-mile climb?"
A Plea For Help, Reluctantly Answered
I don't want to make that ninety-mile climb sound more dramatic than it should, because while — sure — the next ninety miles ahead of us trended upward, they barely trended upward. So slight, in fact, that we opted to ride this big chunk of the race on our Shivs.
In fact, the slight uphill was welcome; the extra little bit of work helped us stay nice and warm.
Even so, however, it eventually got cold enough that it was time to put some extra clothes on. Here's what we layered on top of the cycling clothes we had started the day in:
arm warmers
long sleeve jersey
wind front tights 
shoe covers
warmer gloves
I'd like to point out that while we had made a lot of mistakes — and had a lot of bad luck — in this race, our clothing was one thing we absolutely nailed. We started from the premise that the shorts and jerseys we started the race in would stay on, and we'd add and remove layers as necessary.
Neither of us were ever cold. Neither of us were ever uncomfortable. Well, except for the way my tights would bunch up in the crotchal region when I'd get low on the aero bars, which would pinch a bit. And I cannot believe I just typed that sentence.
That, however, was nowhere near as awkward as the incident during which The Hammer needed a little extra help as she got layered up into some warmer clothing.
It was dark. It was getting cold. It had been a while since The Hammer had peed. So, before she put on tights and a long-sleeve jersey, she grabbed a tube of DZ Bliss, went behind the car and took care of her bathroom business. 
Then she called out, "Zac, come back here and help me."
I have never, ever, in the history of my life, seen such a look of panic in my life. Zac looked over to Blake, the question of "Should I make a run for it?" clearly on his face. 
Blake just shrugged.
Zac looked to me. I looked away.
"Hurry up!" shouted The Hammer.
Bracing himself, Zac walked back behind the truck, fully expecting to have to help his mom in a way he would never have expected to.
Imagine — if you can — Zac's relief to discover that The Hammer merely wanted help getting her long-sleeve jersey on.