A Note from Fatty: World Bicycle Relief is doing its annual dollar-for-dollar July fundraiser, this year focusing on bikes  for Malawi students.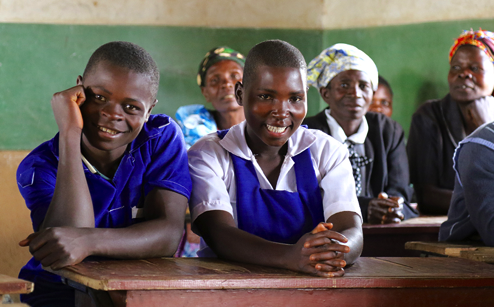 Take a moment to check out this incredible program, and be sure to donate. This is not only a charity where your money does immediate good in a lasting way, but it does double immediate good. And that's incredible. 
2016 Rockwell Relay Race Report, Part 7: No, You Go On Without Me.
You've all been very patient. I've promised you for six posts now that things were going to go completely off the rails during this race, and you've been very patient as I told what has been — apart from the slowness I exhibited during my leg of the race — an absolutely stellar racing of the Rockwell Relay.
No errors.
No mechanicals.
No poorly-executed strategy. 
Just a family team, having fun while more or less eating our competitions' lunch.
Well, all of that's over, starting now.
Today the whole thing goes pear-shaped. Off the rails. Jeapordized. In a way that could be both very injurious and very expensive.
And, as you might expect, it's all my fault.
Hi and Goodbye
One of the things I love about The Hammer is the intensity she brings to racing: I understand it and feel like it's one of the things that ties us together. When we race, we race hard.
So I know that she's not going to to slow down to chat when we pass by her, yelling encouragement. I know she'll take the time to smile, but not slow down.
When she's riding, she's riding. There's a reason "This ain't no time for jibber-jabber" has become known as her catchphrase.
So after loading Ben into the van and driving forward to catch up with her, I wasn't surprised when she simply shook her head and gave us a "thumbs-up" when we hollered, "Need anything?" at her.
Hey, it had only been ten or fifteen minutes since she had begun her leg of the race.
Hi and Goodbye, Again
We piled back into the van and passed her on the narrow, climbing canyon road.
And, like countless times before, the hunt was on. And by "hunt," I mean we began hunting for the next possible place for us to pull over on the side of the road.
In some parts of the race — the wide, flat desert parts — you find places to pull over all the time. In this part of the race, however, I knew from experience that pullouts were few and far between.
Still, in a few miles we found a good one. We pulled over off the side of the road, going forward so at least one other race support vehicle could slot in behind us. (It was rare, this early in the race (just the fourth leg), that you'd be the only vehicle stopped and supporting a racer.)
I left the car running so the air conditionning could keep the inside of the van cool; we didn't expect to be staying in this place long. All three of us piled out of the van and stood at the side of the road, watching for The Hammer.
Within a few minutes, we saw her. Just flying up the road. I've become good at reading The Hammer's body language on the bike, and could tell: she was feeling great. Strong, fast, focused.
"What can we get you?" I hollered?
"Cold water at the next stop!" she yelled back. Not a surprise: in heat like this (I had noted that the outside temperature had just clicked over to 100 degrees, and there was a very mild tailwind, making it feel like a still, dry sauna to the rider), cold water is the best treat you could ever hope for.
One More Goodbye
I began walking back to the van when Lindsey had a suggestion. "Let's wait for the Beauties and the Beasts rider to go by, so next time we see Lisa we can give her a split."
A great idea. I knew The Hammer would like to know how she was doing against our competition, the "Beauties and the Beasts" (BatB) team. 
Lindsey started the stopwatch on her phone, and the three of us continued staring down the road for a couple minutes.
Then the van began rolling away.
Certainty
I saw the motion of the van out of the corner of my eye, and I didn't understand, at first. Then, realizing the van was rolling forward on its own, I ran at top speed to the driver door. 
The car seemed to be accelerating, rolling toward a slope and then a six-foot dropoff into concrete ditch leading to a pipe, where rainwater could run under the road.
I managed to open the door, hoping to press the brake with my hand. 
But even as I did this, I knew I wasn't going to make it in time. I knew the van was going to go down the bank, then plummet nose-first for a six-foot drop into a concrete floor. 
I won't say that time slowed down for me, because it didn't. However, I will say that in the half-moment while desperately tried to save the van, I had plenty of time to think about how this was my fault. How this was the final moment before the van — and probably everything in it or attached to it (including tens of thousands of dollars in road bikes) was totaled. How The Hammer was off on her own. Most of all, how I was just not going to get to the brake in time.
I don't know how I had time to think all these things, but I promise: I did.
Ninja
What I didn't realize, however, was that I was not the only one trying to rescue the runaway van.
Lindsey had seen it start rolling away, too.
While I had dashed for the driver's door, however, Lindsey had run around the passenger side, where the side door was open. 
She dove through. 
The van accelerated.
She scrambled to the front.
The van began tilting down into the ditch bank. 
And as I was opening the driver's door and having guilt-laden epiphanies, I yelled, "It's going over!"
Lindsey made one perfect kick at the brake.
The van skidded. Then — to my astonishment — it stopped.
All was well. 
In a Predicament
No, just kidding. Everything was totally not well. Everything was absolutely completely the opposite of well. 
Things were, in short, unwell.
The van was tipping nose first down a steep ditch bank, literally inches from  going over a short-but-effective concrete cliff. It was tipping so steeply, in fact, that the rear-left wheel was high in the air. About two feet in the air, I'd guess.
Let me show you how things looked, van-wise.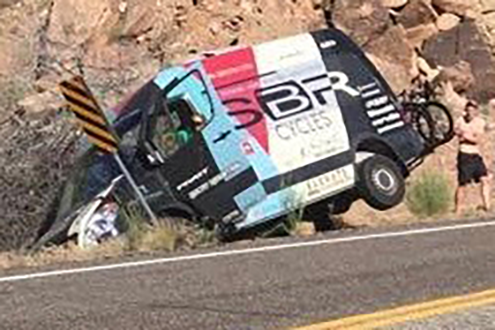 I know, it's grainy. But it's the best we've got. We weren't thinking about photos at the time.
Ben hung on the back of the bike rack, using his weight as leverage — maybe it's what kept the van from sliding over, I don't know. 
"Let me take the brake!" I yelled. "You get out!"
"I can't take my foot off the brake!" Lindsey yelled back.
She was right. 
"What do we do?" I asked, my mind completely blank. 
And it occurs to me now: it would be practically criminal to not end this installment of the race report here, when — finally! — I have an actual, literal cliffhanger.