A Note from Fatty: Today's 100 Miles of Nowhere race report comes from Nick, whom everyone should follow on Twitter. For reals. 
Also, I should mention that I've been hoping someone would send me a completely insane race report.
This is that report.
I'm not a cyclist. I'm a bike rider. I'm not even an athlete. My idea of "getting serious" about an ultramarathon was to switch to light cigarettes and to go from whiskey to beer.
I've missed out on the 100 Miles to Nowhere the last several years and finally was able to register for it.Sure, I could ride 100 miles on the bike at the gym but that's not funny enough. I live in Chicago and we have a bike share program called Divvy. And what's funnier than attempting #100MoN on a bike like this?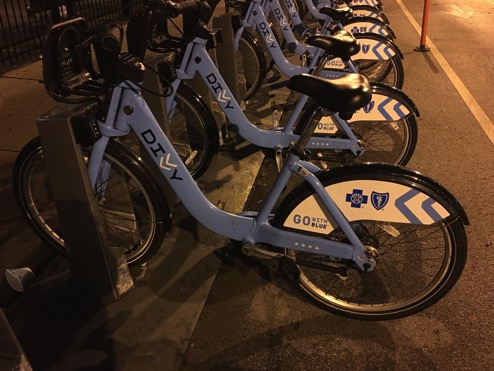 That's a $1600 piece of high tech machinery with three — count 'em, three —gears.
Look at that sexy not-composite frame! I pay a yearly fee for unlimited rides — providing they are less than thirty minutes. And being a cheap jerk, I'd want to swap bikes every thirty minutes to avoid getting extra charges. I honestly figured that I would do 25 miles on Divvy and then finish up at the gym because my butt hurts after two miles on those bikes. 
I figured that my best bet for doing the #100MoN course-wise was Chicago's lakefront path: eighteen miles of nearly-flat asphalt, in pretty good condition. I've biked and run along it hundreds of times over the years and I can close my eyes and describe every quarter of a mile. 
What could possibly go wrong?
I set out at 4:30am without the benefit of coffee and proceeded north from Navy Pier. As I proceeded north and finished my first mile, I realized two things that I had forgotten about:
No matter which direction you ride or run, you're heading into the wind. Someone should probably consult a scientist about this. 
I'm less than 30 feet away from an angry piece of glass 50% larger than Switzerland. Waves, water, wind. In summer there's no finer place to be, but after Labor Day it becomes your cruel mistress.
Right now I hate my life – and I just left my house. 
I hit the top of the lakefront path for my second bike change after about an hour of total time. I knew the distance but wanted to live in denial. But I glanced at my watch anyway and saw that I was a bit over 8 miles.
In an hour. 
Heading south was wonderful with the wind to my back. At 5:30am on a Saturday, I had the path to myself except for the occasional solitary runner. It was in the low 30s and windy and I was getting a bit cold.
Two more bike changes put me back to where I started: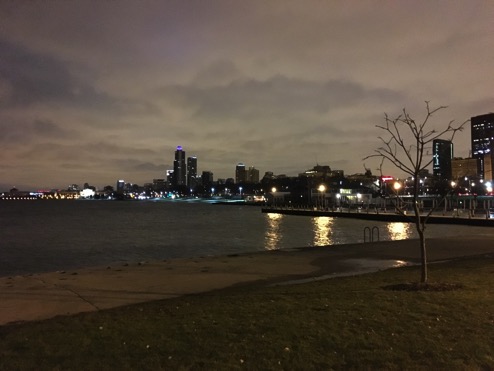 I've only gotten 17 miles under my belt after 2 hours of cycling, with no snacks or coffee.
This is going to be a long day. 
It was nearing 7am and I was enjoying the stillness. By my count I've only encountered 4 runners and some late night pot smokers who wanted to get lifted and watch the sun come up. But I hit my favorite stretch of the path – from Monroe Harbor to the Museum Campus that houses the world famous Field Museum, the Adler Planetarium and Shedd Aquarium.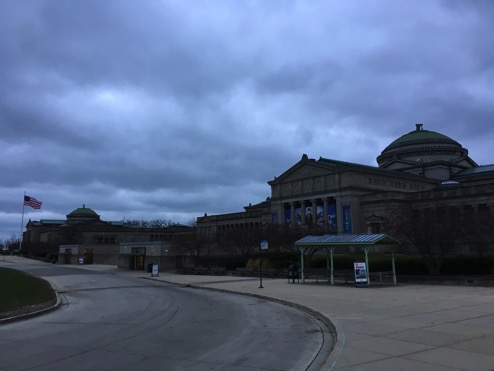 I felt my body kick into an instinctual mode and reacting to the terrain, unconsciously shifting gears.
The further south I went, the more people I encountered. Generally the reverse is true — head south and once you're past McCormick Place, the path is a ghost town.
But it's Saturday morning and the runners come out…but I didn't see the slender runners; I saw the Clydesdales. Those are my people. I would rather encounter and support those grinding out 15 minute miles than deal with Boston Qualifiers.
An hour later I made it to the Museum of Science and Industry – the famous Hyde Park institution a stone's throw from the University of Chicago. For the last 2 hours I've been making good progress – over 9 mph! But the weather and the bike was taking its toll. 
I looped around Jackson Park – about a mile and a half south of the MSI and headed back north and ran into the dreaded wind. It immediately killed my optimism about making it back to Navy Pier so I could get above a total of 35 miles on Divvy. After all – this is like the Olympics with the "degree of difficulty," right? Surely 30 miles on a horrible bike is worth like 70 on a proper road bike? It's about 10 miles north back to Navy Pier and I was huffing and puffing to stay above 7 mph. 
But more importantly I needed coffee, so I found the nearest Dunkin with a close-by Divvy station for a recharge and a sit down. 30 miles in and my butt hurts. It made me realize that my road bike seat was worth every penny. 
Chicago's Bronzeville neighborhood is rather interesting – awesome architecture and home of famous people like trumpeter Louis Armstrong.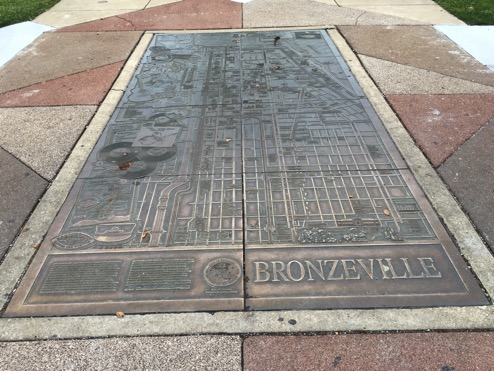 So I eventually got back on the lake, feeling better but running into a headwind. I just wanted to cross 40 miles on the Divvy for the day. As I got back near the Museum Campus, I realized it was close to 10am. I did the mental math and realized in the time it'll take me to do the full 100 miles, people do triathlons.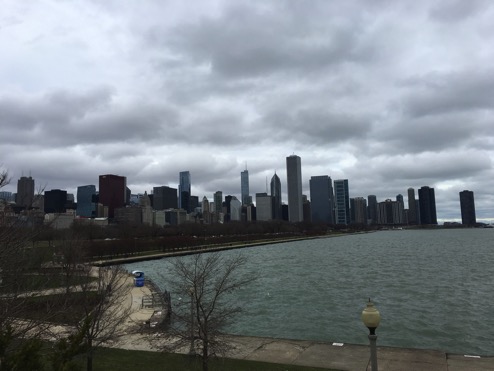 The stretch between Roosevelt Road and Navy Pier was a lot more crowded – tourists, Weekend Armstrongers, fashionable runners and other assorted characters. I looped around Navy Pier, vaguely aware that my butt at one point had sensation to it.
Heading north, I was on my least favorite stretch – between Navy Pier and Oak Street beach. Less than a mile of pure torture, with intense wind, waves that will splash you – along with the path being at a sideways angle.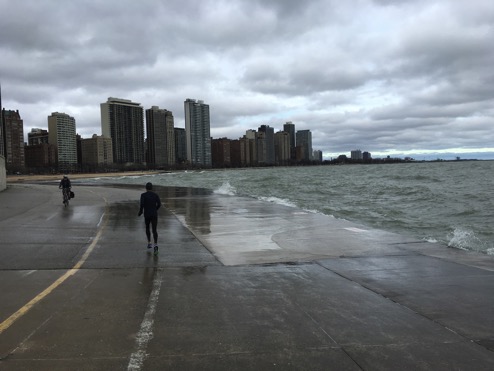 At this point I gave up and powered through a few more miles and dropped my bike off at Fullerton and decided that brunch and a nap is in order. I'll do the rest tomorrow at the gym. 
Total damage: 45.29 miles with 20 bike changes.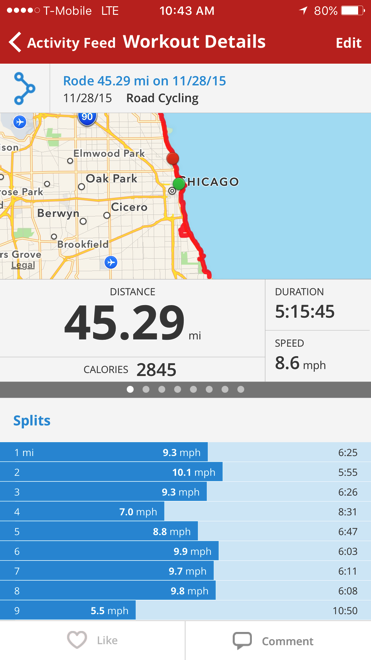 I'll get you next year, #100MoN.
But in a funnier way that has me avoiding the lakefront.