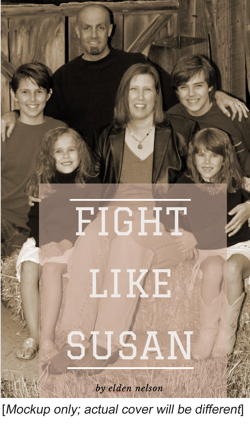 Combining the best posts from FatCyclist.com about Susan's fight with a newly-written narrative of Susan and her family before and during her fight, Fight Like Susan will be an honest and thoughtful telling of Susan's and Elden's life together.
This fight defined, inspired, and changed me and what matters to me, and it might do the same for you. 
You can order any of several different versions of this book: 
Paperback: $19.95
Autographed Paperback: $22.95
Kindle Version: $12.95
Autographed Paperback + Kindle Version: $24.95
Fight Like Susan Relaxed-Fit Short-Sleeve Jersey
This is a comfortable, Italian-made, relaxed-fit jersey (see the Men's and Women's jersey sizing charts for sizing info). And it looks amazing: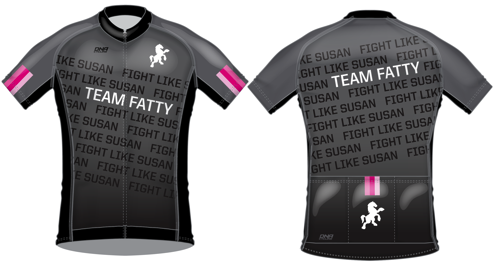 It's incredibly well-made by DNA Cycling; you're going to want to wear this full-zip jersey Spring through Autumn.   
Fabric: Hydro Fit
Respire Moisture Management
Ergo Stretch Performance
Front Comfort Banding
Relaxed Fit
Full Hidden Zip
3 Full Back Pockets
Silicon Grippers for Men's Jersey (ladies jersey does not include silicon gripper)
Men's and Ladies Cuts Available
Audio Port
I'm pricing these at $74.95, which means they're not just a good jersey, they're also a really good deal. Click here to pre-order.
These bibs are made in Italy, they fit beautifully, and they feel like they cost about three times as much as they do. And let's cap this whole thing off with this: both men's and women's sizing.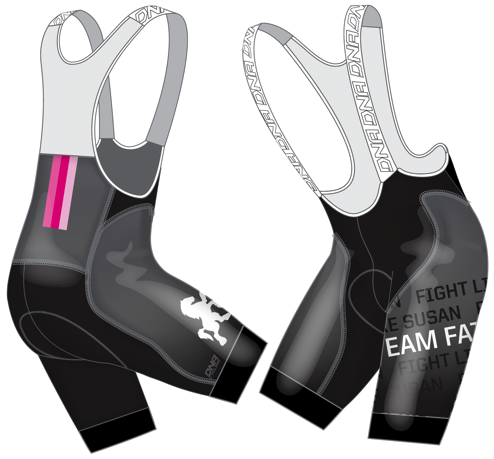 Fabric: Performance Lycra / Shield
4 cm Elastic Compression Technology
Smart Panel Design
Suspension Braces
Radio Pocket
These will cost $99.95, which is a crazy-good deal for excellent bib shorts. Click here to pre-order.
Fight Like Susan Cycling Socks
Show the world how you fight and what team you're on. These socks have a double welt top for comfort and fit, a smooth toe seam, and flat-knit construction for an ultra-lightweight fit.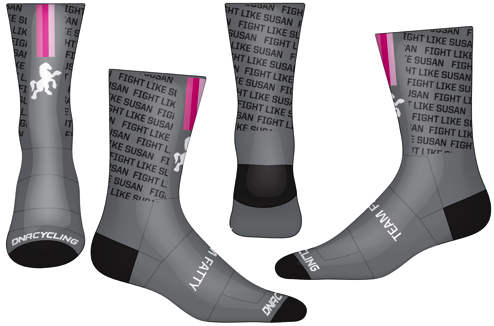 They're just $12.95; click here to pre-order.
Fight Like Susan T-Shirt 
I have a rule regarding selling t-shirts, which is to say: I won't sell them if I don't want to wear them. This is a good shirt, comfortable and just the right weight. 100% cotton. And it's a good price at $19.95.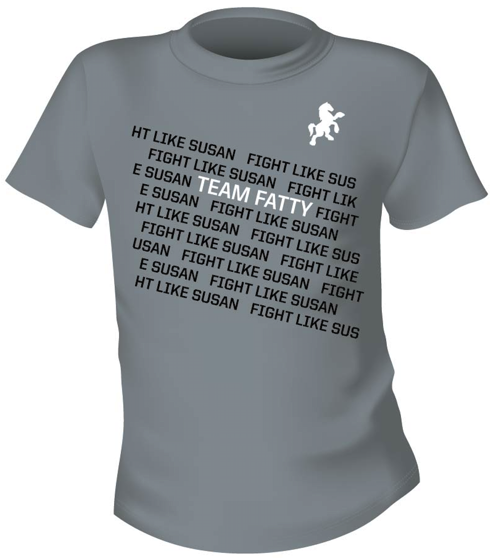 It comes in men's and women's sizing. Click here to order.
Fight Like Susan Hoodie
This is a 100% cotton, outrageously comfortable hoodie. Just the right weight, just the right fit. Show the world how you fight and what team you're on.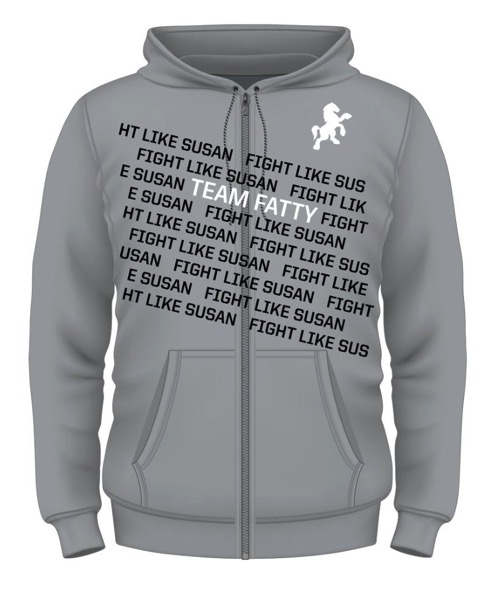 This comes in Unisex sizing and is a bargain at $44.95. Click here to order.
Fight Like Susan Purist Hydroflo Bottle
I keep looking for a bottle I like better than this one. I do. But I've never found one. Not even close.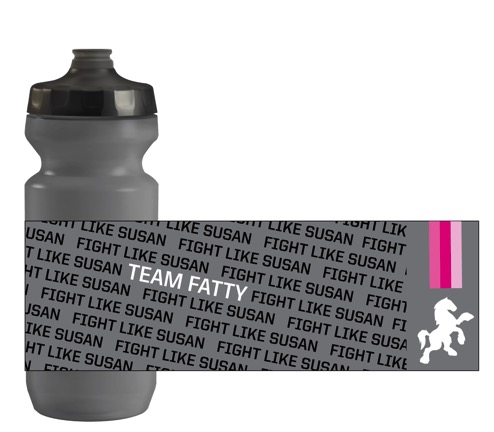 This is just the best water bottle there is, and this is a really awesome design for it. At a good price, too: just $12.95. That's cheaper than you'll get it for most places. Click here to order.
Questions?
If you have questions about anything here, please ask in the comments; I'll try to answer inline. For questions that crop up frequently, I'll add them to this list.
When will you get your gear? I'm going to send everything all at once, which means after I write and publish this book. Now, since this will in fact be the fourth book I've self-published, I'm pretty confident in my ability to hit my projected dates. So, unless things change drastically for me, you'll have the book and gear in August.
What if Fatty suddenly finds himself super busy? It's possible I'll get a new job before finishing this book, in which case I'll ask you to be patient as I shift more toward writing during the weekends. I'm committed to finishing it no matter what, however.
What are the shipping costs? Shipping to the US and Canada is free. Shipping elsewhere costs $25, no matter what. (This is a ridiculous amount to spend if you're just going to get a book, but not at all bad if you order a jersey and shorts as well).
Why no bundles? I considered doing bundles — buy one of everything, get it all for less — but then realized: it defeated the purpose of what I'm doing here: trying to make some money while I write. I've put the prices on each of these items so I have a little bit of profit. If I do bundles, my volume might go up…but the amount of money I make would go down. 
How long will this pre-order go on? The pre-order will go to the last day of April. 
Why aren't you using a crowdfunding site like Kickstarter or FundRazr? I looked into these and was startled at how much money they keep for themselves — I'd be losing around 10% of each sale to the hosting site. That's a reasonable cost of finding people to support you…but I already have an audience. You people know me. So I'm keeping this right here.
How much money do I need? Well, that depends on how long it is 'til I have full-time work again. I can say that thanks to folks buying my 2015 gear, I was able to get rid of that debt, so I am OK through April. I'm hoping this will pre-order will set me up with enough money to cover my expenses (and cost of publishing and manufacturing) through June.