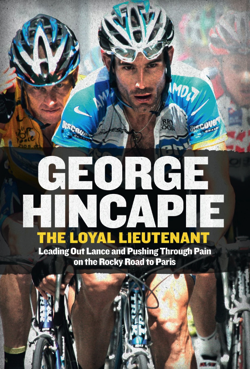 A Note from Fatty: This is part 2 of my review of The Loyal Lieutenant: Leading Out Lance and Pushing Through the Pain on the Rocky Road to Paris, by George Hincapie (co-authored by Craig Hummer). Click here for part 1.
I don't have an axe to grind. I don't have anything  against George Hincapie. I was interested enough in his story that I bought The Loyal Lieutenant, after all. But both in terms of substance and style, this book rubs me the wrong way.
Enough so, that I decided to dig in: To explain why what should have been a really intriguing and insightful book…isn't.
Fire the Editor
Back in high school, I lived for debate. When preparing a case for or against the resolution, I always made certain I had a piece of "evidence" — a quote from an expert — that substantiated every single point I was trying to make.
Of course, sometimes my quotes from the experts didn't exactly make the point I was going for. I trusted, though, that nobody would be paying that close of attention — that as long as I had something there, my audience would cut me some slack.
Which may explain why I lost so often.
But that's kind of the problem — especially in the first several chapters — of Loyal Lieutenant. For example, we're reading about how Hincapie's mother "wouldn't put up with" his purchase of a motorcycle, at which point we get the following quote from his mother:
MARTHA
Oh, I didn't like that bike. I worried about them enough on the ones with pedals. I wasn't about to tolerate any with motors! But that paled in comparison to how mad I was the first time I found out he had been drinking. He was twelve years old, and he biked home after finishing a whole bottle of whiskey with a friend. I thought the parents had been there, so I got mad at the mother too. It turns out, boys being boys, they had raided the liquor cabinet while his parents had been away.
So, yes, the first couple lines are about Hincapie's motorcycle. But then — wham — the topic turns to his substance abuse and theft. Now, I'm not saying that these aren't topics worth exploring in the book. Just not here. The editor should have caught that, and stopped it.
This isn't the only place this weird topical shift happens, either. When Hincapie is saying that his brother, Rich, is "…my confidant, my alter ego…" (Which means, of course, that Rich is George Hincapie's secret identity, sort of a Clark Kent to George's Superman — which is one of hundreds of instances in this book where, apparently, the author just grabbed vocabulary out of a hat and the editor didn't bother making a correction), Rich's description of how close they are is this:
RICH
It's funny, I can't really remember a time we didn't get along, or I wasn't genuinely happy for him and his successes. Well, except once. We were out doing stupid stuff, what typical teenage boys do, and George was with his group of friends, and they decided it would be funny to chase me through the woods and tie me to a tree. I put up a good fight, kicking and screaming, but eventually they succeeded, and they left me there for a couple hours. He came back and before he untied me, he put his BB gun up to my thigh and shot me—at point-blank range. Looking back on it, I can't remember another instance I ever got mad at him.
I promise you that I am not making this up: the example this book goes with of how George and Rich are soulmate brothers is, in fact, an anti-example of that fact. An anecdote that sounds more like the backstory for Dexter than just about anything else.
The next anecdote given — to further demonstrate the close relationship Rich and George have — is one where George gloats to a friend about having knocked his brother out with boxing gloves.
Yes, really.
But the problem with the quotes, used liberally throughout the book, isn't just in that they more often than not seem like the wrong quote for demonstrating the intended point, or that the quote keeps on going way after the intended point is miles behind us. 
The larger problem is having the quotes in there at all. 
You see, this book is written as a first-person narrative: George Hincapie telling the story of his life, in his own words (I'll get to the problem with this in just a minute). But then (most often in the first half of the book, but sprinkled throughout), the narrative pauses while — indented, with the name of the person in all-caps — a different person speaks. 
It just doesn't work. 
Imagine yourself: you're writing your autobiography. You want other people's perspectives, so you go and interview them, recording what they say. Fine so far, right? When you say to your mom, "Tell me about how you felt about when I stole the neighbors' whiskey and came home drunk, at age twelve," how is she going to reply?
Is she going to say, "He was twelve years old, and he biked home after finishing a whole bottle of whiskey with a friend."
No, of course not. She'g going to say, "You were twelve years old, and you biked home after finishing a bottle of whiskey with a friend." You're going to use second person, not third. 
But every single one of these quotes is in third person. Spoken, obviously, to someone who is doing the research. Someone who is not George. Someone who is, clearly, Craig Hummer.
So the illusion — if there ever was one to start with — of this being a book written by Hincapie is utterly demolished every time there's a quote. 
But let's go a step further: what are the quotes doing there anyway? They rarely add anything to the story. (The reliable exception to this is actually when Armstrong says something. Whatever else you have to say about him, Lance has a gift for cogent, entertaining storytelling.) It's your story; you chose first person. If someone else has something to say, work it into your narrative. (It can be done; check out The Secret Race by Tyler Hamilton / Daniel Coyle for a recent, topical example.)
Don't just go pasting quotes in like evidence cards in a high school junior's debate case.
You Sound a Lot Like a Sports Commentator, George
Craig Hummer, the sports commentator, is the co-author for this book. And it seems like Craig did a good job in doing background interviews and talking with Hincapie about what Hincapie wanted to say.
And then, apparently, Hummer went and did something he shouldn't have done: he wrote the book.
The problem is, it reads like a sports commentator wrote it. Lots of tortured prose ("dichotomous dedication to yearly double duty"). Lots of near-miss vocabulary ("What were the possible downfalls" instead of "What were the possible pitfalls"). Lots of mixed, confusing metaphors, like, "…boiled down to its essence, cycling could be simplified to an equation…" or "…as the sun broke through the horizon…." or "…A slice of sanity the size of a pinprick…."
Stuff that works, in short, just fine when you're speaking off the cuff during a live sports event. But maybe not so well when you're writing a book.
More importantly, as you're reading, the voice doesn't feel like Hincapie sounds. Try picturing George Hincapie saying this out loud:
Crammed together like we are, a hungry thief would have a field day, a cornucopia of nutritional items at his fingertips—gels, energy bars, and drinks. 
Were you able to read that in your inner-Hincapie voice? Convincingly? Now try picturing Craig Hummer saying that same sentence out loud. 
Easier, isn't it?
My point isn't that George Hincapie shouldn't have hired someone to write his book. It's that he should have hired an experienced writer — not a gregarious sports commentator with no biography credits (and scant writing credits at all) to his name — to write what he had to know was going to be a topical minefield.
Otherwise, that sinking ship was going to look like a train wreck.
Storytelling
The title of this book is The Loyal Lieutenant, but take a look at the book cover: the subject matter is really the author. That's fine. That's one of the top reasons any of us would buy this particular book. 
One of the next reasons we'd buy it is to learn about what it's like to do what the cover promises: "Leading Out Lance."
Spoiler alert: There is hardly any storytelling of what it's like to be — as perhaps the best-known, most successful domestique in at least a generation — leading Lance (or anyone!) out. If you expect page after page of a recounting of him pulling top GC contenders through an impossibly crowded, danger-ridden peloton, telling us second-by-second what he saw, what he sensed, how he dodged…you're out of luck.
And when he does narrate an event, it's often infuriating. For example, Hincapie/Hummer goes into a minutely detailed description of Armstrong's famous "Musette Crash:" what happened before, how Armstrong went down, how racers reacted, and what happened next. 
But Hincapie was nowhere near that event. He was struggling up an entirely different zip code. 
So why didn't Hincapie tell us what was going on back there? What they heard? When they heard it? What they were doing? I'd have been a lot more interested in reading that than a no-new-insight recounting of a video I can find on YouTube.
This isn't to say that the book is completely devoid of personal, entertaining reading. His telling of how he met and fell in love with his wife, for example: that's good stuff. Genuine and cute. 
Or his description of an autographed photograph of Lance he has (I'd be weirded out if a close friend autographed a picture of himself for me, but never mind), standing on a podium, pointing down, evidently, to an exhausted Hincapie as he crossed the line. 
But the moments come too rarely, in a story that feels self-censored, morally questionable, and badly written.
But the real pity is what this book could have been. Hincapie could have taken full, unconditional responsibility for his actions, shown real contrition, and then gone on to give us 350 pages of what it's like to be inside his head during what was — doping or no — some of the most incredibly exciting days of racing the world has ever seen. 
I wish I could buy that book.