I'd like to tell you a story today. While it's not a story that is quite over, it seems to be going well for the protagonist. 
But it's also a cautionary tale.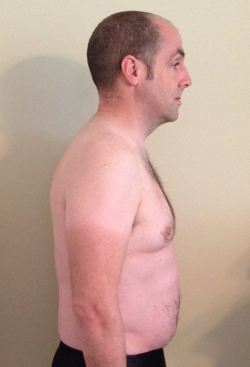 You see, after a pretty successful race season last summer, I stopped racing. And more or less stopped training, too. But I kept eating as if I were still going full tilt.
By January of this year, I was up to 183 pounds. I took this picture, which I am now showing to you, with apologies.
Then, I started a contest with Adam Schwarz, who had the terrific misfortune of being the same height and weight as me, as well as having a goal of losing the same amount of weight as I.
You can read the details of the contest here, but basically, we each have 'til 3/30 to reach 158 pounds — a 25-pound loss in 90 days. If one of us fails, he has to buy the other a pair of Assos shorts. 
To keep ourselves accountable, we would tweet our weight loss progress daily (I have also kept track of my progress in the sidebar of my blog, as well as on Beeminder).
Wherein I Learn The Axioms of Dieting
There's nothing quite like a diet to completely focus your attention, at all times, on food. As I took off the pounds — and as I would sometimes stall out and start putting the pounds back on — I began learning the following truths about dieting:
The scale rules your life. I am currently weighing myself every day. I do this because if I weigh myself only weekly, I am vigilant about my diet only when the next weigh-in approaches, and say to myself immediately after a weigh-in, "Well, now I have a little time to goof off before buckling down and getting serious about food again." When I weigh myself every day, I never get to say that.
If you don't want to weigh yourself, you absolutely must weigh yourself. Some days, I wake up thinking, "I just don't want to weigh myself today." On those days, it's absolutely critical that I weigh myself. Because if I don't want to weigh myself, it's because I know I've done something that is going to show up on the scale. Which is to say, I've never led an error-free day on my diet and then not wanted to weigh myself. When I have screwed up, diet-wise, however, I rarely want to see what the consequences look like, because I generally have a pretty good idea that they won't be good. And only by stepping on the scale and seeing the "effect" part of the whole cause-and-effect of cheating on your diet have I started to get better at not cheating. Or at least at not cheating as severely and often.
Scales are evil. Sometimes you're doing everything right and you still don't lose much weight. Or any weight. Or sometimes you even gain weight. This is because bathroom scales are evil, spiteful, hateful things that don't take your feelings into account at all. That said, I've found that scales don't hold a grudge forever. If I continue to hold my line, diet-wise, the scale will eventually — begrudgingly — yield up some positive results.
Your weight doesn't always tell you how well you're doing. No matter how hard you exercise, sometimes you don't lose weight. And I've found in fact that sometimes if you exercise hard enough, your weight will spike sharply upward for the next few days. This is because of inflammation and water retention after a hard workout, and it will slope off after a couple days, revealing how much you've actually lost while it looked like you were gaining.
Backsliding isn't worth it. I've discovered that when I abandon my diet for a day and eat whatever I want, it takes about four days for me to claw my way back to where I was before I lost control. That's a lot of time and effort spent on getting to where I was…instead of on moving forward.
Backsliding is occasionally totally worth it. Nobody's perfect. Once in a while I discombobulate and eat everything in the fridge, and then I go to the neighbor's house and eat everything in their fridge too. And then I apologize and give them some money and advise them to improve the security of their premises. But here's the thing: as I am eating, I know I'm screwing up and sabotaging myself, and I don't care. I just want to eat. No, "want" is the wrong word. When I lose my dieting willpower, I lose it entirely. I don't want to eat, I simply am eating. I must eat. There is nothing in the world but eating. Eventually I come back to my senses, and then assess the damage I have done, both to myself and to those around me ("Sorry I ate your hand").
If you ever meet an expert, you will find you are dieting wrong. A couple of days ago, I tweeted what I considered (and continue to consider) to be a self evident truth: "There's nothing quite as effective as a diet for making all your waking thoughts center around food." Immediately a number of Very Smart Experts on diet jumped in, telling me what a bad job I must be doing on my diet. But you know what? Those people don't know the way my mind works, they don't know the way I publicly hold my feet to the fire in order to keep myself honest, they don't know me. And they don't know you, either. Experts generally love to share their expertise. But that doesn't mean they are right. 
Your diet is super-interesting…to you. And you only. I wasn't kidding when I said that my diet has consumed all my thinking. And I am afraid that I have subjected The Hammer to relentless speculation on my weight loss so far, why the working parts of my diet work, why the non-working parts have failed, my current trajectory of weight loss, colorful and protracted descriptions of my hunger, and much much more. Lucky her! Except I've noticed that her eyes have started glossing over when I talk about my diet chronicles. Which is…always
The Most Important Axioms of Dieting
You know what, though? That's all the small stuff. Here are the real things I've learned. The things I'm hoping I can use to actually keep most of this weight off.
Your diet probably works. My diet — lots of protein and fat via egg whites and avocados — is strange, but it works great for me. I don't get tired of it, I'm very healthy, and it's easy. But other diets would work, too. Really, any reasonably well-thought-out regimen would probably work…if you stick to it. It's when you start slacking on diets that you stop losing weight. 
When you screw up, don't abandon the day. Sometimes you're going to mess up. Fine, whatever. Just get back to it. Limit the damage of the day instead of saying, "I'll start fresh tomorrow." 
When your diet isn't working, there's a reason. Sometimes you're just going to plateau for a few days, sometimes your weight is going to spike because of inflammation, and sometimes your diet might stop working because you've stopped doing it right. This happened to me at one point during this diet. I had gone from occasionally putting yolks in my eggs to always putting yolks in my eggs. And more cheese. And I was snarfing a spoonful of peanut butter — which was supposed to be my safety net for when I was going to otherwise completely lose it — several times per day. Astonishingly (not), I was no longer losing weight. When I cut the yolks and peanut butter out — that is, when I started following the original rules of the diet — I started losing again.
But staying on your diet is easy — relatively — when you're at home. When you're traveling or stuck at a conference or a week-long meeting, it's not so easy. 
Last week, though, I managed to drop two pounds in six days while traveling. Which is what I'll talk about in my next post.
Warning: It's not pretty.