A "Last Chance to Donate" and Win Note from Fatty: This Friday I'll be ending donations and doing the drawing for my NICA contest / fundraiser. (If you're new to this fundraiser, click here for a description.) As a reminder, you can win any of these awesome prizes if you're randomly drawn:
It's a pretty amazing suite of prizes if I do say so myself. And the cause, well…creating a generation of inclusive, polite, trail-safe mountain bikers who love to race is pretty near and dear to my heart.
So: there are two contests going on for people to vote in. Let's check in and see how they're doing one last time.
In "The Monster Vs The Hammer" contest, where you vote whether you think The Hammer will be more than an hour faster than The Monster, or if the Monster will be less than an hour slower than The Hammer…well, that vote is tightening in the final stretch, with the two of them just a few percentage points away from each other.
It's anyone's guess who will finish when in the Leadville race itself, but one generous donation could make this either sway the other direction…or be a blowout.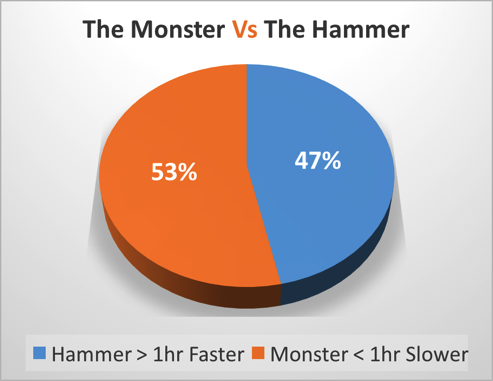 Now's the time. Make your vote and donation count: 
Meanwhile, there's not a lot of motion on "What Should Fatty Ride" front. Which is not to say there haven't been donations, because there have. It's just that the donations have been remarkably consistent. 
Let's just say that in the absence of some truly big-dollar donations in the other direction, I'll be riding a single speed as The Hammer's domestique on August 13.
Which is not me saying I don't want you to vote in this contest. Because I do. At this point I'm fully in the mindspace of riding with and for The Hammer, but I will do whatever the final vote dictates. Both my single speed and my geared bike are Leadville-ready. 
So you decide:
New FattyCast: An Evening With Ted King
Once in a while, you get lucky with your timing. That's what happened a couple weeks ago when I sent semi-retired pro cyclist Ted King a DM over Twitter: "Hey, I'd love to get you on the FattyCast. Think you can find an hour for me sometime soon?"
But that's not where the good timing came into play. The good timing came into play when Ted said that, sure, he'd be happy to be on The FattyCast, but he was unavailable because he was going to be in Ogden for a Cannonade event during the week, and then in Park City for the weekend.
"Well, as it so happens, I live about one hour from Park City," I replied. "How about we get together there, I'll bring my gear, and we can record it in person instead of over the Internet."
Ted was cool with that.
Pre-Podcast
Of course, my one true superpower is to ask for things, and to keep on asking even after people say yes.
So I said, "Hey, your girlfriend's coming along, right?
Ted was put on guard by this question, but allowed that it was true.
"Well how about we get together for sushi with some friends before the podcast?"
Ted was cool with that. In fact, it turns out that Ted is just plain cool. He's not only a very relaxed and nice guy, he's smart. And funny. And totally has his act together in such a way that I started feeling a little bit bad about my own non-togetherness.
This was not Ted's fault.
So, after a lot of Sushi, for which I did not pay, I brought in a crate of recording gear and computers and set up so we were all ready to talk. Or possibly play Strategy, judging by appearances: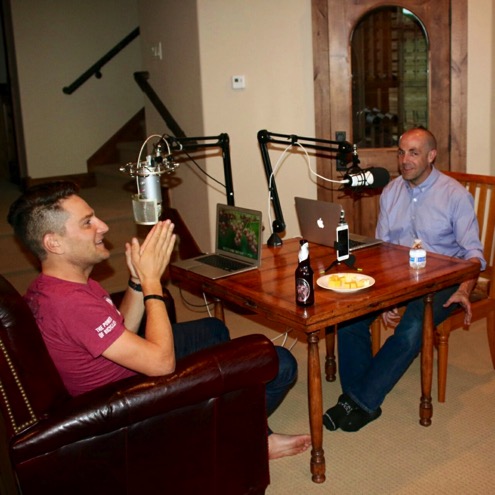 Ted spoke with clarity, and gesticulated as if he were on TV. (Also, you can see here that when I point out that he's on his fourth beer and is eating a plate of cheese while recording this podcast, I am not even a little bit joking.)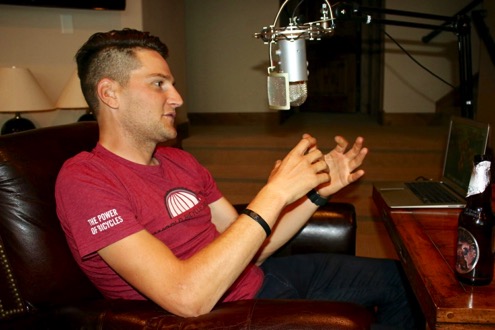 Ted is, as you can see, is tall, thin, young and good-looking. I, as you can see, am none of those things: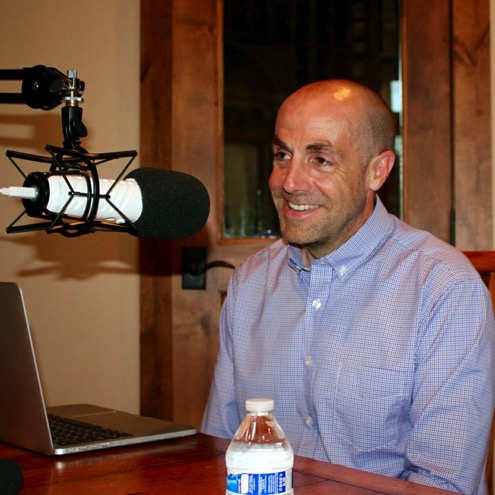 Oh, also I am somewhere between balding and bald.
And Now for the Actual Podcast Part
After recording this episode, I found myself wishing all my podcasts could be in-person. They're just awesome that way. Like a real life conversation, except you have a couple of big ol' microphones between you. Which isn't weird at all.
In addition to wishing all my podcasts could be in-person, I also found myself wishing all my podcasts could be with Ted King. Because he's interesting and nice and all of those other things I said about him.
Although it might get kind of weird if I never did anything on my podcast but interview Ted King over and over.
But for this once, at least, it was super duper. But don't take my word for it, listen for yourself, either by picking it up on iTunes, downloading it directly, Stitcher-ing it, getting my RSS feed, or just pressing the play button below:
Links
Of course, after listening to this podcast, you'll want to stay up-to-date with every single thing Ted King does. Here's how you can:
PS: On Friday, I will have a special "Heading to Leadville" edition of Free Verse Friday. Because I KNOW you've missed Free Verse Friday.
PPS: I'm going to have new podcast news in the near future. I am very excited.