Last week I announced that as part of the pre-order on my upcoming book, The Great Fatsby: The Best of FatCyclist.com, Vol. 2, someone is going to win an Ibis bike of their choice. 
I mentioned the Tranny 29—my own personal bike, which I've been riding as a singlespeed and as a fully geared go-everywhere, do-anything bike. 
I've mentioned the Ripley 29, which Boston Carlos won last year, and now rides and loves.
What I did not mention at the time, however, was something I knew (and yet managed to keep secret): that Ibis would be announcing and launching a new bike in very short order.
And that bike would be the all-new, incredibly beautiful Ibis Mojo HD3: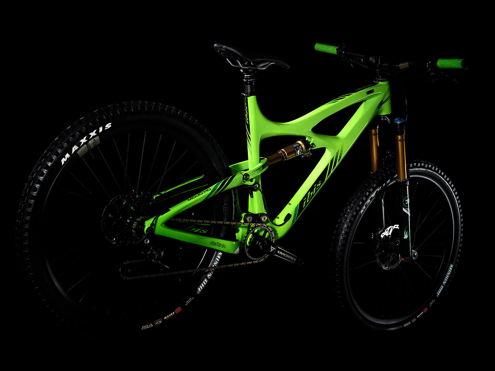 This is a 27.5" all-mountain MTB, and it was just announced yesterday, to extraordinarily positive reviews from BikeRadar, VitalMTB, and everyone else who's been lucky enough to ride one.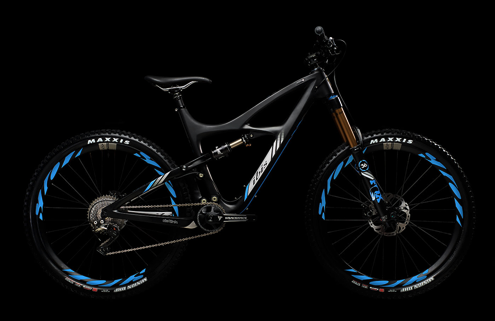 I, unfortunately, am not one of those lucky few who has ridden one (yet). 
However, I think I am the only one who may get to give one away. 
Because, yes, I had the foresight when I was talking to Chuck Ibis about including an Ibis in my pre-order giveaway, to ask, "Can the owner choose any Ibis bike, including this new one you're launching next week?"
Yeah, I had to frame it like that, because Chuck wouldn't tell me the name of the bike. Sheesh. But I couldn't stay mad at him because he said, "Of course."
So yes: when you buy anything from my book pre-order store, you're automatically entered for chances in the giveaway (the number of chances is included in each item description).
And, lest you forget, 25% of the profit goes to WBR.
And you might win an entry into the Leadville 100.
And you actually get the thing you're buying.
And I'll actually get a little something for the ten years of writing I've put into this blog. Which I hope you're OK with.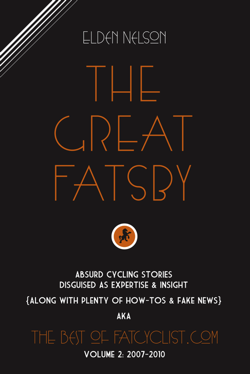 People Are Nice To Me
A few days ago, I listed a few folks who have been nice enough to send me short reviews of their thoughts on The Great Fatsby. 
Well, I sent out some sample chapters to a few more cyclists I really respect, and have gotten some more great feedback. 
Kathryn Bertine is a pro cyclist, the director / producer of the important cycling documentary Half The Road, as well as the author of the must-read As Good As Gold. Here's what she says:
The Great Fatsby is not unlike The Great Gatsby; one big party with a few necessary morals for good measure. What's great about Fatty's writing is his ability to entertain and educate–not just for the cycling audience, but for all readers who enjoy taking a peek behind the curtain of niche cultures. Fatty reminds us of the true joys of cycling, and his self deprecation will keep you laughing cover to cover. We're lucky to have him–and his witty words– in the sport.
Patrick Brady (aka "Padraig") is the honcho at Red Kite Prayer, one of the sites I visit every single day. Here's what he says:
It's a difficult thing to be funny in print. It's even harder to revisit existing work and find fresh ways to be funny. Such is Elden's talent. Perhaps the truest thing I can say of this book is that I envy his gift for finding laughs in the flattest light. 
Levi Leipheimer is a pro cyclist, the namesake of the best Gran Fondo in the world, and a really good guy. He said this about my book:
The Great Fatsby is, of course, very funny and sheds a comedic light on a sport that often takes itself too seriously. The far more pleasant surprise is its raw, poignant, and introspective truth about why we simply love to ride bicycles.
Bike Snob NYC is a better writer than I am, and his blog is funnier. There. I said it. So it was incredibly cool of him to send me this quote: 
Fat Cyclist is the Godfather of Bike Bloggers.  Just when you thought you were out…he pulls you back in.
Does it seem like I'm kind of hammering you on pre-ordering this book (and jersey, and t-shirt)? I know. Here's why: I'm making some big personal bets on it. (No, not actual gambling-style bets). So, if you've already bought a copy, thanks for your patience.
And if you haven't, well, you're exactly the person I'm talking to. 
Tomorrow, I promise: less selling, more regular-style blogging.
PS: If you haven't read my first Best of book, Comedian Mastermind
, the Kindle version
is now cheap as dirt.