At this moment in time, I am very angry at physics.
Here's why.
I have been having a remarkably difficult time sticking to good eating habits lately. This has to do with the perfect storm of me having more time to eat, and having the kitchen about six feet from where I write, and having the terrible habit of eating whenever I'm working on writing something difficult.
And pretty much every single paragraph of Fight Like Susan is difficult.
And in short, I haven't weighed myself in several days because I am confident it will not be good news. And as someone who's dealt with plenty of bad news lately, I've taken to avoiding bad news (e.g., the scale) whenever I can.
The Plan
Yesterday, The Hammer went on a pre-birthday run with her friend Lynette, and then to see her mom, and then to a work-related dinner.
Which meant I would be exercising by myself. A rare thing. But also an interesting opportunity, because I had this terrific plan I was excited to execute:
Find out how fast I am.
It was a good plan, because I hadn't had time during the day to ride, and I was running out of daylight. With the short hour of time I had for exercise (Note to self: write a post about how cycling is the only sport where an hour is a short workout), I could attack a couple of climbs and figure out how I'm doing.
The Execution
So that's what I did.
I suited up, got on the Felt FReD 9, and took off, with the intention of giving it all I've got in two climbs in Lambert Park: Spring, and then Up Rodeo to Middle Spring. See if I could really push myself. See if I could maybe set a new PR.
And I did push myself. I put in a truly big effort, went as hard as I could go. Suffered intensely and thoroughly.
After knocking myself out for two very intense — but let's face it, short — climbs, I lazed about on trails for a few more minutes and then rode home, immediately uploading to Strava.
The Aftermath
I was not happy with what Strava had to say to me. On Spring, the 0.7-mile, 309' climb, I was hoping for a PR trophy. Or at least a 2nd-best or (worst-case scenario) a 3rd-best ribbon.
Nope. Nothing. 
Here is, in fact, where yesterday's full-blown Spring climb effort lies in terms of my attempts: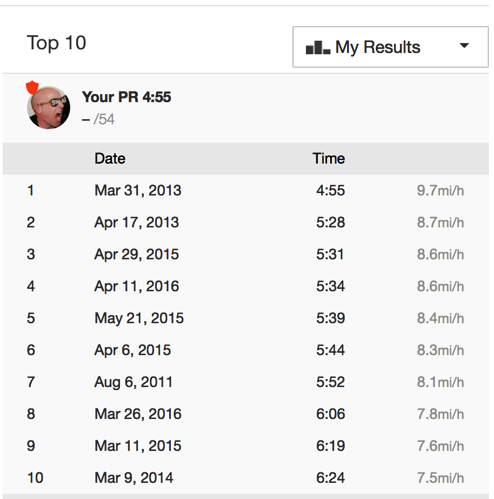 Well, for one thing it's interesting to note that I've gone up this climb 54 times since I've started using Strava. But I haven't tried to go my fastest up this climb many times at all.
Yesterday, I got up there in my fourth-best time. Fourth. Which wouldn't bother me so much if that weren't almost forty seconds slower than my fastest time. 
Forty seconds slower than my best, in a five-minute climb. 
Sheesh.
Next, I checked my time up Rodeo Up – Middle Spring. Now, I didn't really expect a new PR on this climb, because for some reason I actually own the KOM for this climb, nailing this twisty one-mile, 293' climb in a miraculous 6:11 I never expect to replicate.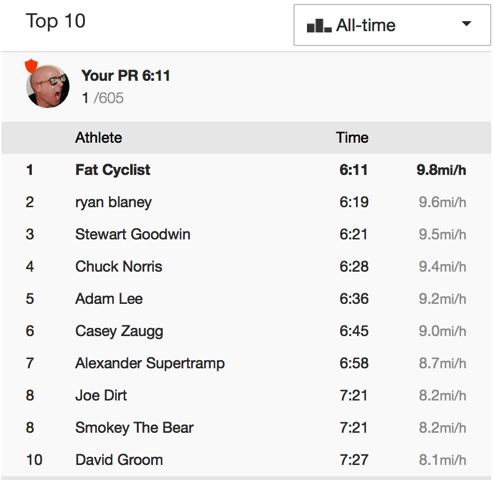 However, I did hope to get close. You know, some time in the sixes.
Nope.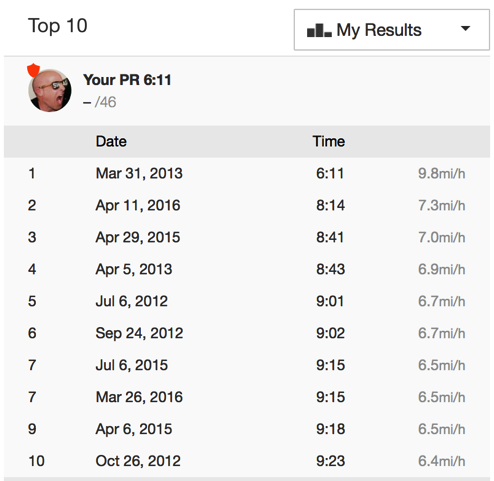 8:14 was my time yesterday. More than two minutes slower than my best. I added a full third to my best time.
I stared at the screen, Surprised and saddened. Dumbfounded and dismayed. Ambivalent and alliterative, apparently.
How? How could this be happening? How is it I did my best, but managed to be slower?
Then The Hammer got home and asked if I had succeeded in my mission to be King of Lambert Park, giving me cause to sulk even more.
Reality
Of course, the truly amazing thing is not that I'm slower on climbs. No indeed. What in fact is truly amazing is that I somehow thought that I would magically be faster on these climbs, simply by applying grit and a winning attitude.
As it turns out, physics are a real thing. Which means that even though my power is up, my weight is up too. Disproportionately so.
In short, I'm stronger than I've ever been, but I've got more pudge to carry up the mountains. 
Which, to my astonishing astonishment (by which I mean it's astonishing that I was astonished), is not exactly a formula for KOM success.
Which further means that I need, beginning right this second, to prepare myself for the absolute certainty that I am going to suck when I race at the 6 Hours in Frog Hollow this weekend.
Or, to elaborate further for the sake of clarity: I am going to suck, and suck bad. 
Because there's a lot of climbing. And I'm ten pounds heavier than the last time I did this race. For climber types like me, power is nice, but power-to-weight is much more important. And I've got some work to do, weight-wise.
Wake Up Call
I have three races coming up that matter to me. Rockwell Relay. Crusher in the Tushars. Leadville MTB 100. All three of these races are custom-made for climbers.
But even more importantly, I'm going to be going somewhere as a guest of my friends at DNA Cycling, one month from yesterday. Somewhere where it would be really good for me to be really strong and light. Because there are mountains in this some place. And I'm going to be photographed.
Yikes.
So. Ten pounds. in one month. It's going to happen.
Because I don't exactly want to be fat when I tackle the mountains of Italy.