You know, I could pretty much take the day off today if I felt like it. Why? This morning Dug uploaded part 1 of his video of our Fall Moab trip. I personally have already watched it five times. Yeah, I like it that much. Of course, part of why I like it is that I know all the people in the video, but the fact is, most of you know these guys by name, because they're who I talk about. So, I'll just point out who's wearing and riding what so you'll know who's who in the video:
Dug: Wearing a short-sleeved white t-shirt, khaki shorts (29″ rigid singlespeed Surly)
Gary: My next-door neighbor, wearing long-sleeved white t-shirt and white shorts (rigid singlespeed Kona)
Brad: Blue, white, orange "Racers Cycle Service" jersey, baggy blue shorts (29″ rigid singlespeed Moots)
Bob: Long-sleeved dark blue jersey (Santa Cruz Blur)
Botched: White jersey, black shorts (Canondale Scalpel)
Tom: Long-sleeved white and blue jersey (Canondale Gemini, aka "The Pig")
Rocky: reddish-orange jersey (Titus something or other, full suspension)
Kenny: Blue and black Gary Fisher jersey, blue helmet (29″ rigid singlespeed Gary Fisher Rig)
Rick M: red, yellow, and blue Gary fisher shorts and sleeveless jersey (29″ rigid singlespeed Gary Fisher Rig)
Rick Sunderlage (not his real name): white and black jersey (29″ Gary Fisher Rig with a suspended fork)
Me: Black orange, blue, gray jersey (29″ rigid singlespeed Gary Fisher Rig)
[youtube]eXsd6fdG-Ds[/youtube]
Dug says he's going to upload a couple more video installments to cover the rest of the weekend. I'll post them as he does.
But I've still got my story to tell.
The Importance of Gold Bar Rim
Almost everything in Fall Moab is subject to change. Which ride we do on Friday changes, which ride we do on Sunday changes. Where we eat changes.
But riding Gold Bar Rim on Saturday is not up for discussion. We do it every year. And we always will. And for good reason: It's an all-day ride with something for everyone. It's got desert singletrack. It's got slickrock. It's got moves galore. And it's tradition.
I had planned to ride the geared bike on Gold Bar Rim this year, but when it came down to it, I've just been having too much fun on the Rig (my rigid singlespeed). Plus, there was that whole peer pressure thing. Kenny, Dug, Rick M, Rick S, Gary, and Brad were also on singlespeeds — basically, if you had one, you were riding one.
It starts with a long dirt road, punctuated with deep sand. Unlike previous years, I rode right through that deep sand. In fact, everyone with 29″ wheels did. Big advantage there. Before long, though, you leave the sand, and the rest of the day will follow a preset pattern:
Ride for three minutes to the next move.
Try the move until everyone has completed it or has satisfied themselves that they won't complete it.
Go back to step 1 and repeat the whole day.
Timid Fatty
A few years ago on Gold Bar Rim, I tried doing a technical double-ledge drop. This resulted in one of the best pictures that's ever been taken of me: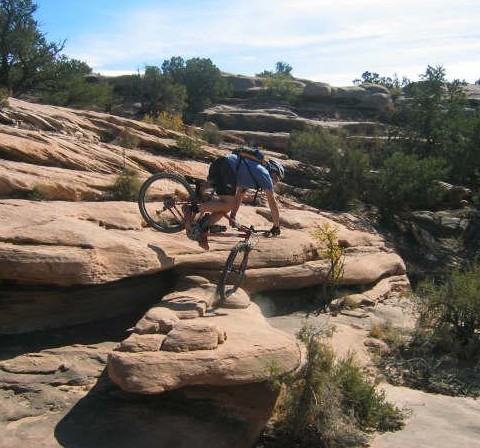 Of course, that great picture came with a cost: I got smashed up pretty good. And as a result, I've had an irrational fear of doing high risk moves. Not just on Gold Bar Rim maybe, but definitely especially on Gold Bar Rim. So, time after time, as everyone else was working on tricky moves, I'd content myself with watching and taking pictures.
For example, here's Rocky doing a move I didn't try: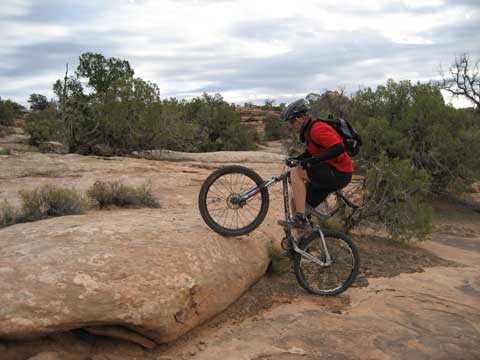 And here's Rick M, cleaning a move I didn't try: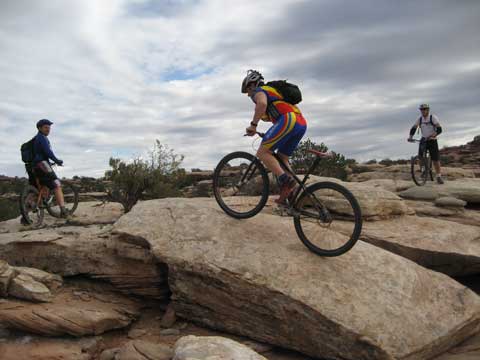 Which isn't to say, however, that I didn't try anything. Once I decide to work on a move, I'll keep trying it over and over and over, long after everyone else has cleaned it, memorized it, lost interest, and moved on. Eventually, though, I will get it. Rocky did a great job capturing a series of me finally getting a nice ledge move, complete with an overhanging lip: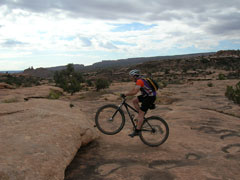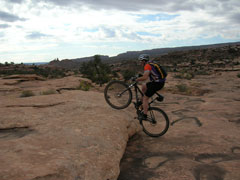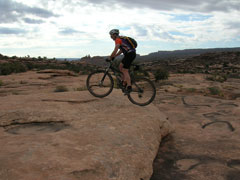 I think I tried that move nine times before I got it.
The climbing moves are my favorite. The thing is, with a singlespeed, you can't shift into the granny gear and finesse your way up at 0.5mph. You've got to jam up pretty hard. The great thing about this approach is it forces you to commit. The bad thing is if you fail, you crash quite a bit harder. Here's me climbing a wall (thanks again to Rocky for the photos):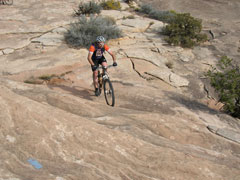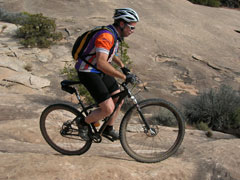 You can bet, though, that I didn't even attempt the scariest (in my very wise opinion) kind of move of all, though: a wheelie drop across a gap. Here's Dug, bravely attempting the move (he's not even close to getting it this time, though he eventually does clean it):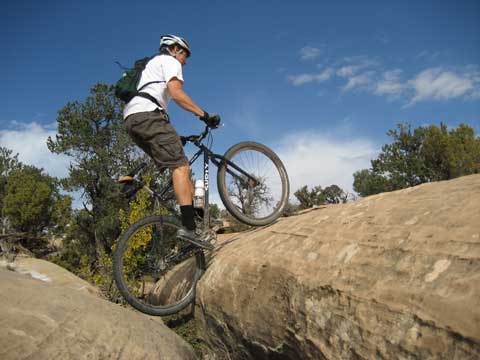 And here's Kenny, in mucho mucho trouble: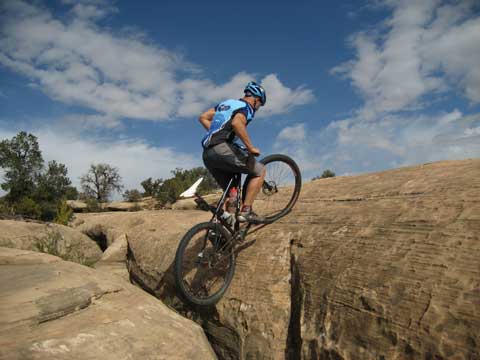 After I took the above picture, Kenny fell into the crevice, then fell forward. I was certain he was going to break a leg. But he didn't.
Thus Far, I Lack Souvenirs of the Trip
As the ride wore on, I started noticing something: everyone but me was scraped and bruised up. A couple people had borrowed a couple inches of duct tape off my seatpost, to be used as bandages (yes, duct tape makes a fine bandage). Tom, typical of the group, was sporting a fine bruised and bloody elbow, gained in a fall so bad that he lost all feeling in the left side of his body for a while: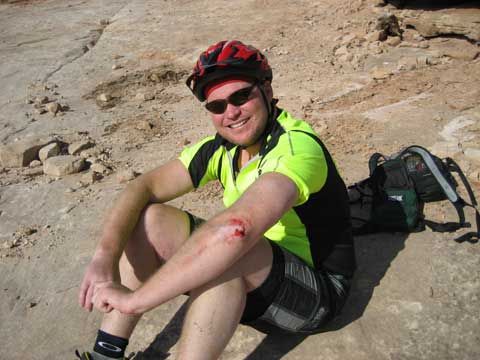 I, on the other hand, was hardly scraped up at all. All I had to show so far was a barely-skinned knee. In fact, I hadn't even dislocated my shoulder even once during this trip.
What a pansy I am!
By the time we got back to the car, I resolved: on the last day of the ride, I would try every move. I would not worry about consequences.
One way or another, I would have something to show for this trip.
The Best Restaraunt in Moab
After the ride and a shower (nothing in the world is quite so nice after a long day in the saddle), we headed out to La Fiesta Mexicana, a newish (just a couple years old) restaraunt in Moab.
This place is, without question, the best place to eat in town. Here's why:
They serve Mexican food. After a long day of riding, nothing is as good as Mexican food. Except maybe Italian. No, I'm going back to my original position. Mexican wins.
They serve good Mexican food. I wouldn't go so far as to say it's the best Mexican food I've ever had — because it isn't — but it's good. Moderately authentic. Really good salsa, too.
They serve a lot of Mexican food. Their portions were enormous. I got the Chicken Fajitas, and could not finish them all, even after a long day of riding, when my appetite is at its most powerful. The burrito Botched ordered was so big it took a couple of people to carry it in.
The service was extraordinary. Really, really nice, helpful, and attentive staff.
In short, if you go to Moab, you must eat at La Fiesta Mexicana. I hereby decree it as law.
Tomorrow: I make good on my promise to find technical glory, either through completing moves or crashing while trying. Or both.