A Note from Fatty: If you've entered the "It's Nice to be Nice to Dave Nice" raffle, thanks! If you haven't, you still have time. Click here to go to yesterday's post and buy a ticket. There are hundreds of dollars' worth of prizes, and you'll be helping a good guy do a really cool race.
Another Note from Fatty: As many of you know, I am currently traveling for work, and don't have a huge amount of time to write. However, I did have a few minutes to have an instant message with my friend Dug about the race my friends did last weekend. It was an interesting story, and I thought lots of people should hear it. So I asked him to write up the story for use in my blog.
Dug — overachiever that he is — copied and pasted the transcript of our IM chat into an email message.
Nice.
So, here you go. Dug's recounting of The Desert Rampage, in all its instant message glory.
Elden: ririe [Ed note: dug's middle name is Ririe]
dug: clyde [Ed note: my middle name is Clyde]
Elden: good race?
dug: very fun, great course, great event. i had two flats and an exploded pedal.
dug: had to carry my bike across the finish line.
dug: rode the last half mile on the rim.
dug: kenny, who i hate now, because he's so obviously on steroids, took third in SS category, brad, who i can't bring myself to hate even though he's also obviously on steroids, took 5th.
dug: there were about 20 in the SS category. i've never seen so many singles. and they lump us all together, just "Singles." so we schmoes were racing against semi pro, expert, and the like. lots of em.
dug: sunderlage took 6th in his age group in sport.
Elden: was he on ss?
dug: no
dug: his new cool 29er hardtail. maiden voyage. he was worried about racing it for its first ride, but had no problems.
Elden: how many were in his class?
dug: not sure, lots though, very large field in all categories it seemed.
Elden: he's strong like bull
dug: brad would have been 4th, but jamie pogue passed him at the line.
Elden: well, that's not very respectful.
dug: no.
dug: not respectful at all. extreme lack of manners.
dug: drafted him up the finishing straight, and came around at finish.
dug: brad didn't know he was there till it was too late.
dug: i didn't expect to have so much fun. i enjoyed myself much more than i expected.
dug: i remember racing as being nothing but a cloud of pain. it's been years since i've done anything like this.
Elden: especially with so much going wrong.
dug: i dunno, maybe because of that. the time spent fixing flats and such might have meant more oxygen to breathe i guess. although, i still avoided the DFL. two singles behind me.
Elden: how'd your pedal explode?
dug: i don't know, never seen it happen before. i have regular eggbeaters.
dug: it just collapsed. the tines turned floppy, like the t-rex's jaw in king kong.
dug: some spring must have exploded
dug: happened right at the beginning of the second lap.
Elden: sounds like the main spring that wraps around the axle died.
dug: okay, mr mechanic. anyway. each lap had two major climbs, i had first flat at the top (!?) of the first climb.
Elden: i like to imagine the pedal snapped with a tangy boioioioioing sound.
dug: boom, the rear tire exploded off the rim.
dug: nobody ever told me you couldn't pump up a stan's tube more than about 40/45. remember, kenny put stans in my rear tire after the tube kept exploding out of the tire on bartlett wash in moab last november. i haven't messed with it since.
dug: anyway, before the race, i went to 50.
dug: like in the princess bride.
dug: "NOT TO 50!"
Elden: did it explode, spattering you with gooey stans creme filling?
dug: did explode, didn't spatter me so much. but my surly horizontal drop out and oversized rotor disc is a rube goldberg to take off.
dug: i put a tube in finally. had two air cartridges.
dug: unfortunately, one was threaded, one not threaded. and i had the little thread-on doo hicky.
dug: i put the threaded one in, but that gives you onlyl about 20 lbs of pressure in a fat tire.
dug: i tried to put the unthreaded one in, but since it wasn't threaded, once i punctured, it just flew away like a balloon. i never even found the cartridge. it's under a cactus somewhere out there. make a nice home for a desert snail. are there desert snails?
Elden: you're not using the big air cartridges?
dug: um. no. i haven't looked inside that seat pack since moab in november.
Elden: audible laughter on the jet-propelled co2 cartridge.
dug: thanks. so i rode rest of first lap with about 20 psi in back tire. i'm not a delicate rider, so i was worried. this was a rocky, ledgy desert course.
dug: but it seemed to be working out okay.
dug: then, at the start of the second lap climb, suddenly, my left left foot woudn't engage in the pedal.
dug: i didn't want to stop, i was feeling really good, passing people back, so kept trying to feel the bottom of my foot as i rode, to see if the cleat had broken.
dug: i finally realized at the top that the pedal was the culprit.
dug: during the climb, i inadvertantly kicked myself in the hand and face a couple times as my foot would fly forward off the pedal on technical uphill ledges.
dug: i'm pretty sure i punctured my left knee.
Elden: battle of the century. dug against bike. who will emerge victorious?
dug: i also had to stop to re-align the back wheel which was turning sideways, cuz i spazzed putting it back on. you have to actually loosen the disc brake assembly to install/remove the back wheel on this bike, because the discs are from my old c-dale gemini, and are ginormous. also, i have a surly nut on there, to keep it aligned. which, ironically, i can't figure out, so my back wheel always seems to be about an inch out of alignment.
Elden: this is, in fact, an awesome story.
dug: it's just what happened. i was lucky to have allen wrench with me. as you know, i normally don't carry anything but bit-o-honey.
Elden: the big lie of the singlespeed is that they're simpler than geared bikes. trickery.
dug: yeah, i try to treat it as if it's simpler, when, in fact, only difference is no shifting to worry about. anyway, finally at bottom of last downhill on second lap, the course gets very technical and ledgy. i was being careful, but i didn't want to get passed either.
dug: on what seemed like the final drop-off of the downhill, i let it go too much.
dug: rear tire blew like a gun shot.
dug: totally dented the rim.
dug: i said "screw it" and just kept riding. only had a half mile to go.
dug: so i rode for almost half mile, and was getting passed a lot.
dug: the final hairpin turn is rutted and such, then there's about 100 yards to the finish, along a spectator alley, lots of spectators there.
Elden: at some point you get to a place where you're willing to sacrifice your entire bike, just to get across the line.
dug: yeah, i had literally already planned out my strategy for using this to tell kim that i needed to buy a new singlespeed. i was hoping the bike would just implode to strenghten my argument. so i stayed high on the idehill on the last turn, to let someone pass me.
dug: the tire and tube just rolled all the way off the rim, catching in the spokes and chain, throwing me off the bike. yes, in front of cheering crowd.
dug: tire and tube were dragging behind the bike like a cat caught in the gears.
Elden: like a giant black snake attacking your bike.
dug: so i had to stop, get off, pick it all up and drag it to finish line.
Elden: you've got to watch out for those giant black snakes. they're both subtle and voracious.
dug: anyway, the whole race felt exhilirating.
dug: i really enjoyed it.
dug: i had my ipod shuffle on.
dug: clipped to my cool new swerve knickers pocket.
Elden: you were racing AND making a fashion statement.
dug: i was, i had the knickers and a bright yellow beatles tshirt. i kept accidentally hitting the back button when i would try to do a ledge.
dug: i must have listened to "my name is prince" like 8 times.
dug: at least it wasn't enya.
Elden: because then you would have had to stab out your eardrums.
dug: brad wore black knickers he made himself from dress pants, dress socks, and a button down office type shirt
dug: it was beautiful.
dug: everybody else seemed so totally lycra.
dug: like a gay pride day parade.
Elden: though in actuality you put a lot more thought into what you were wearing they did.
dug: anyway, we missed you. it's a really good event. good course, good organization, great weather.
Elden: wish i could have been there
dug: hang on a second, i'll go to the garage and take a pic of the bike with my cameraphone.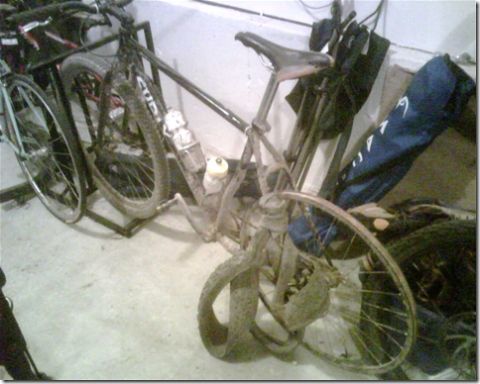 Elden: holy smokes. you should have no trouble selling the new bike thing to kim.