Fed Ex just left nineteen boxes full of jerseys at my house. They (the jerseys, not the boxes) are beautiful. So of course I had to try one on and get some photos.
Here's front: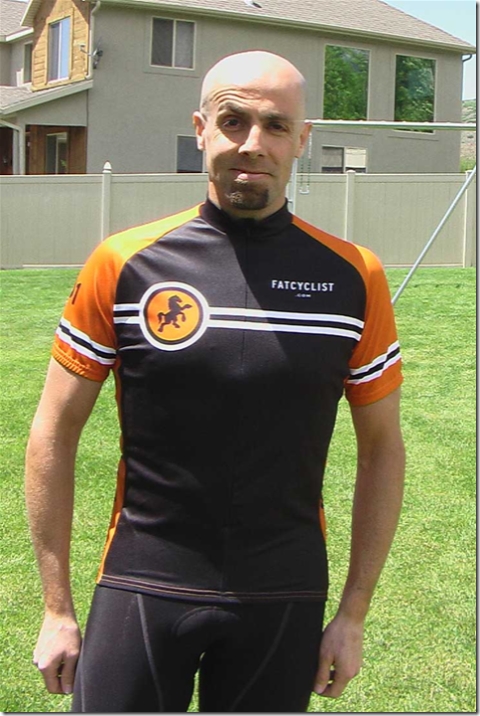 And here's back: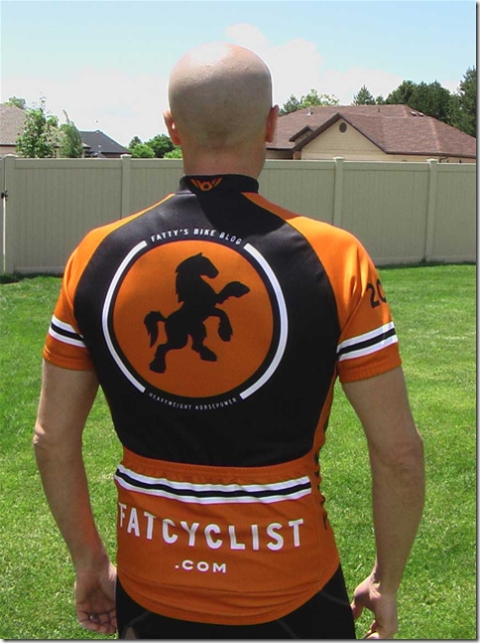 And here's me mugging it up (and showing off what an awesome view I have from my backyard).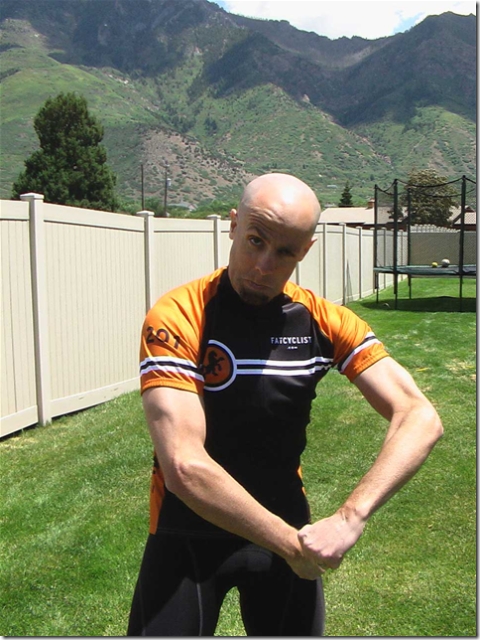 Twin Six did an awesome job, no?
Q&A
With the jerseys in, I expect some of you have some questions. I'll try to answer the ones I can anticipate right now.
Q. How soon will you be shipping them?
A. I'm going to start tonight and hope to have shipped all of them by Tuesday (Monday's a holiday).
Q. I've got a race / event this weekend and I'd like to wear my new jersey. Can you be sure mine is one of the first you ship?
A. Sure, I'll try, but I can't guarantee it'll get to you in time for your race. If you email me with the reason yours should be one of the first few I ship out and promise you'll email a pic of you wearing the jersey at your race / event, I'll do my best to bump you up.
Q. What size are you wearing in that photo?
A. Medium. Yeah, I'm wearing Medium now. Check me out.
Q. So what's with the shaved head?
A. Well, the little peninsula of hair I had up top was looking thinner and thinner. I figured it was time to either shave it or do a combover. I think I made the right call. Plus, I want to be just like Kenny when I grow up.
Q. I really want one in XL or XXL or XXXL. Do you have any?
A. I don't, but Twin Six will have a few for sale once I send them their portion of the jerseys. I'll of course post on my blog when they put those up for sale on their site. I'd recommend moving fast, because a lot more people have asked for that size of jersey than they'll have available. If you don't manage to scoop up one of those, you should be able to score one of the special pink "Fighting for Susan" edition jerseys, which I'll have more info on soonish.
Q. Am I one of the people who gets a free box of Matisse and Jack's Bake-at-Home Energy Bars?
A. If you were one of the people who bought a jersey the first day they were available and you live in the U.S., yes. Otherwise, no.
Q. Am I one of the people who gets a free Banjo Brothers Pocket Messenger Bag?
A. If you pre-ordered a jersey, yes. All 300 of you.
Q. I'm local. Can I just come pick mine up?
A. That would be awesome. If you don't know my home address, email me and I'll let you know.
OK, I'm off to the Post Office to figure out how to ship these without breaking the bank.
PS: I'll post part III of the KTR race late tonight or tomorrow morning. Not being coy, I just haven't written it yet.