I am a nice person. An accepting person. A tolerant person. While "Live and let live" is not my motto, I think I can safely say that this is more due to the fact that I have never seen the value of having a motto than it is a repudiation of the sentiment. In short, I tolerate practically everything and am not quick to judge.
That said, I hereby assert that knee warmers are idiotic and must — without exception — be immediately destroyed.
I shall now prove my thesis, through the medium of making several irrefutable observations, and also with some highly persuasive photographic illustrations.
Observation 1: The Intended Function of the Knee Warmer is Ridiculous
Here is a photograph of a cyclist's legs: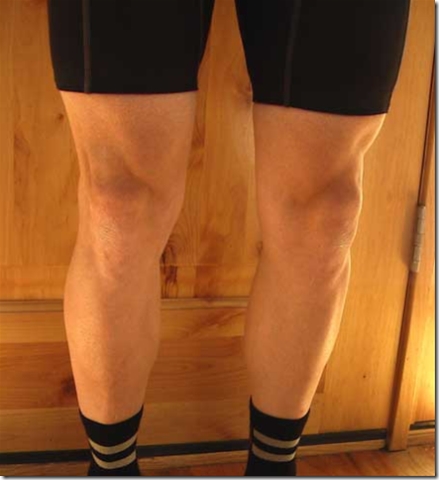 Apart from the non-relevant observations that these are my legs, that my legs have not been shaved in nearly a week, and that I am flexing so hard that my knees are likely to explode any second, we can tell from this photograph that my knees are uncovered.
Now, let's take a look at how my legs would look if I were wearing some pale green knee warmers.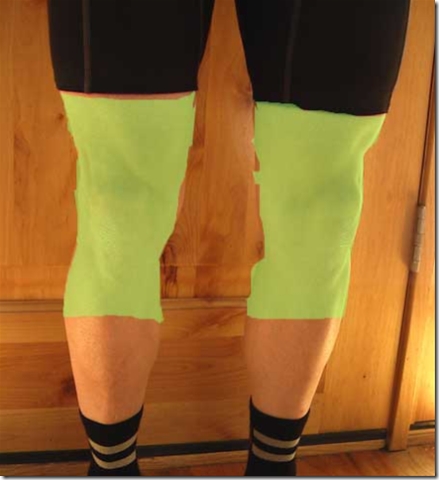 An impartial observer of a cyclist wearing knee warmers would be right to ask the following questions:
What is the temperature range for such clothing? At what temperature is it warm enough for you to expose your shins and calves to the cold, but cold enough for you to cover your knees? (Answer: never)
How comfortable is it to have an elastic grip constricting around your quads? Knee warmers, while ostensibly keeping your knees warm (because we do not want chilly knees!) are in reality applying a gentle tourniquet to the quads, the muscles you use most when cycling. As a rider, you must ask yourself: which will help me stay warmer: a thin layer of lycra, or not having my limbs turn blue and falling off?
What are you supposed to do with these things when / if you take them off? Of course, the (supposed) benefit of knee warmers is that you can take them off part way through the ride. Which means, if you're with a group, you get to make everyone stand around and start hating you as you try to wrestly your knee warmers over your shoes, sticking and ripping as they go over your bike shoe cleats. Awesome. And then, once you manage to get the blasted things off (by which time a couple of the people in your group have grown bored and left), you need to find a place to put those knee warmers, which is going to be your jersey pockets. Unfortunately, the bulk of the wadded-up knee warmers is going to be so great that you will now have two unsightly humps just above your butt. It doesn't sound attractive, and it doesn't look attractive, either. It does, however, make your jersey stretch and pull against your stomach, making you look like you bought a jersey two sizes too small. Super awesome.
Observation 2: Knee Warmers Do Not Keep Your Knees Warm
Everything we've mentioned so far presumes that even with their inherent logistical disadvantages, knee warmers at least do their job.
Except they don't.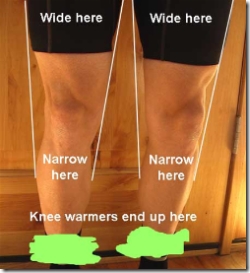 Suppose, like most human beings, you have legs that taper from wide to narrow (see helpful illustration at right). Furthermore, suppose that gravity pulls things down. Now, just for the sake of crazy argument, suppose you start flexing your leg about ninety times per minute. Under these bizarre circumstances, do you think it's safe to assume that anything that can settle, will settle? (The correct answer is "yes.")
Translation: Since your legs are wedge-shaped and you're constantly pumping them up and down, it's not going to be long 'til your knee warmers become ankle warmers. Unless, of course, you hike them up every three minutes or so.
But I'm sure you've never experienced that effect, have you?
Observation 3: Knee Warmers Slow You Down
While it's true that knee warmers serve precious little practical purpose, and it's also true that knee warmers fail to serve the dubious purpose for which they were created, we can all at least take comfort in the fact that they do make you a slower cyclist.
You think it doesn't take extra effort to stretch that extra lycra twice (once for each leg) per crank revolution? And you think that at 90 crank revolutions per minute, that extra effort doesn't add up?
Let's conduct a little thought experiment. Say a knee warmer increases pedaling resistance by 1%. Fine. Now say you turn the cranks ninety times per minute — that's 2 (because you have 2 legs) x 1% x 90 turns per minute. Yes, the math proves it: your knee warmers increase pedalilng difficulty by 180% per minute.
Really, what's amazing is that when wearing the stupid things you can move at all.
Repurposing Options
The only question is the manner of disposal. Are knee warmers entirely useless, or can they be repurposed into somehing with actual value? I have a few ideas:
Mask: Poke a few holes in a knee warmer, pull it over your head, and you're all set to rob a convenience store. And since your mask does not have a top, you're less likely to overheat or have your dark glasses fog.
Headbands: Cut your kneewarmers into strips. One kneewarmer should be able to make up to 14 headbands
Handbag: Sew one end of a kneewarmer shut, then use a spiral cut to transform the other kneewarmer into a shoulder strap. This is neither stylish nor practical, but it's at least better than their original purpose.
I am willing to entertain other possible uses of knee warmers. I am not an unreasonable man. For the love of all that's good in the world, though, just — please — keep them off your knees.
PS: Today's weight: 158.2.