A Note from Fatty: Thanks, everyone, for your votes yesterday, and thanks even more for your comments. Here's what I'm thinking:
We'll definitely do a jersey.
Considering the number of votes, the color of the jersey, and the fact that the money from this will go toward fighting breast cancer, we should have a women's-sized version of the jersey.
We will tweak the design slightly from the mockup in yesterday's post.
The Twin Six guys and I are working on it and will have something to show soon, along with info on how to order.
Plus, don't be surprised if you can round out your look with matching socks.
OK, on to today's post. This one's a special request. Mine. I asked my friend Bob (of Bob's Top 5 and Random Reviewer fame, now blogging without the constraint of a theme at Bob's Web Log) to describe what it's like to own and ride — in public! — an electric bike.
I Sing the Bicycle Electric
Fatty may have a large fleet of bikes – two road bikes, a mountain bike that folds up to fit in a suitcase, a single-speed, and one of those fixed-gear bikes that you ride in a velodrome – but does he have an electric bike? I don't think so. For that matter, Botched, Brad, Kenny, dug, Rick Sunderlage (not his real name), and the rest of Fatty's riding buddies have this in common – they fail to own an electric bike.
I have one.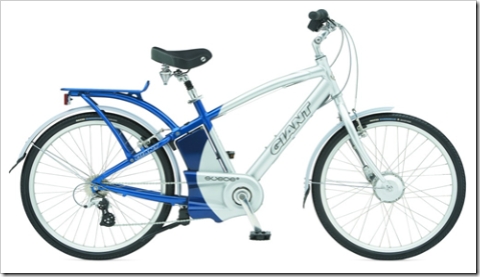 I know what you're thinking. You admire me. That's perfectly natural, as long as you don't get carried away with your envy and try to negotiate by violence.
I know what else you're thinking: How does an electric bike work? It's elegant in its simplicity. First off, this is not a moped – an electric bike cannot propel itself. It helps to imagine a bike with an enclosed drive train that houses magic ferrets. When you start pedaling, the ferrets are shocked into action, and they begin running on their little treadmill that generates extra power. The 5-speed bike includes 3 self-explanatory battery settings, which I'll explain parenthetically: Off (no power), On (full power), and Lo (econo-mode).
If you're riding on a flat street, you can cruise along at 13-14 mph for about 3 hours with minimal effort. If you weigh 300 pounds, you could ride 5 miles on a flat surface without breaking a sweat. If you're going up a steep hill, you have to put in a little more effort — but not much more — and you can climb faster than all but the strongest riders. In fact, it's kind of embarrassing to ride up past decked out roadies over the West Seattle Bridge, especially when you're wearing overalls and carrying a parasol, like Mary Poppins.
Next question: How is the electric bike helping you, Bob, to train for the 100-mile mountain bike race in Leadville? Answer: It's not. Riding the electric bike 10 miles to work gives me about the same amount of exercise as going on a brisk 20-minute walk. But when I'm getting over a cold, or when I'm physically drained from having had vigorous sex with a batch of wood nymphs, the electric bike is a nice commuter alternative.
Drawbacks
You can't go much faster than 15 mph. Once you hit 17 mph, the battery automatically stops generating power, for safety reasons.
The bike isn't built for aggressive pedaling. If you're nearing a green light that's about to turn yellow, you don't really have the option of accelerating. And if you want to push it really hard going up hill, you just end up riding past your power supply, if that makes sense. But there's more to the fact that you can't go fast. I get the feeling that if I mash the pedals really hard, I'm going to break something.
Maintenance may be a problem. I work close to a store in Seattle that sells nothing but electric bikes, so whenever there's a problem – like when I mash the pedals too hard and break something – I can just take it into the shop. I'm not sure what I'd do if I lived in a place like Utah, other than complain about liquor laws.
If you're on a hilly ride, the battery lasts only about 90 minutes. I have to bring the charger with me to work so that I don't lose power on the way back.
There's something odd about riding an electric bike. You feel goofy and other-worldly.
Advantages
Comfortable and easy to ride, like a beach cruiser.
Excellent commuter bike for someone who wants a mild workout without having to take a shower.
Good "gateway" bike that can help your out-of-shape friend or spouse get addicted to a stronger bike.
The roadies don't acknowledge you. No head tilt, no hand wave, not even a finger wave. The homeless guy with the shawl made from a sleeping bag will wave at you, but he waves at everyone.
There's something cool about being on an electric bike. You feel pampered and other-worldly.