Last week, I posted a story about how I had won the Sport class in the local weekly race. It was my first win ever, so I was ecstatic. How could I not be?
There's just one problem: I didn't actually win.
While official results haven't yet been posted (don't really know if they ever will be), I just found out from the race director of the series that Larry Bollschweiler spent the entire race so far off the front of the pack that the pack didn't even know he existed.
So: I am still winless. Sigh.
One could take a lesson from this. Something like: "Don't count your chickens before they hatch." Or possibly: "Don't say you won a race until the results are posted."
I choose, however, to take a different lesson. It is, "Claim victory early, and then avoid people who might know better."
I'm happy to report, by the way, that Larry has moved on up to the Expert category.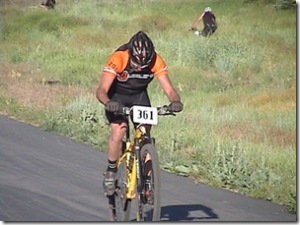 I Continue to Not Win
Yesterday was my debut as an actual real-life sponsor of a sporting event. Which means that I gathered up all the cool stuff I could get my incredible Ads-for-Schwag partners and Microsoft to send me (Thanks Twin Six, Banjo Brothers, and Matisse and Jacks!).
I'm pleased to say that these prizes were a huge hit, and thanks to my partners' generosity — every one of them sent me more than I asked for! — I actually was able to provide enough prizes that pretty much everyone with a raffle ticket walked away with something, and the Utah Chapter of the MS Society raised thousands of dollars.
Very cool.
So let's talk about the race, very briefly. Soldier Hollow is where the 2002 Winter Olympics Biathlon and Cross Country Ski events happened. And now it's a fun place to have a rolling, dusty fast-paced race with quick, short climbs, quick descents, tight curves, and plenty of places to pass.
I didn't ride my singlespeed yesterday; I'm trying to put some hours into the Weapon of Choice so I feel comfortable on it for Leadville.
Right off the bat I got into about second place. By the halfway point of the first lap (Sport did three laps), I had moved to third place. By the end of the first lap, I had moved to fourth.
But then something happened to me. Or rather, something didn't happen to me. I didn't fade. I kept my first lap pace up on the second lap, by which time I had moved back into second place.
The guy in first place wasn't even in the same zip code as the two guys I was mixing it up with.
The third lap began with some embarrassment. The singletrack at the beginning of the course briefly puts you on a paved walkway. I was getting punchy and looked on the wrong side of the sidewalk for the course markers and blew right by it. If the guy behind me hadn't yelled out, I would probably still be out there, riding off yonder.
By the time I turned around and got back on course, I was back in fourth place. All the singlespeed riding I've been doing, though, has given me some high-torque legs and I was able to blast up steep short pitches in a high gear, putting myself back into second, which is where I stayed for the rest of the race.
After which, I went and congratulated the winner on his fast time, and asked him how much he beat me by.
"Oh, I don't know. A few minutes."
I politely suggested he might want to consider Expert next time.
Hey, if the only way I'm ever going to win is by pushing the top of the stack into the next stack, so be it.
PS: My Son Cracks Me Up. My thirteen-year-old son kills me with his sense of humor. For my birthday, he made me the below electronic birthday card, using Adobe Flash. It's his interpretation of the time I saw Bob hit a deer on a bike. Check it out:
I hereby declare that "Plentysix" is my new favorite number, and will be used anytime I do not know what speed I was actually going.