You know how there are certain rides you don't do very often, because they're really, really long, and they're really, really hard work? You probably don't do that ride more than once or twice a year because you know it's going to take up most of the day, and any part of the day it doesn't take up it may as well take up, because you're going to be good for nothing but laying on the couch for the rest of the day. Even so, doing that ride at least once a year is something you really look forward to, because it's epic. It tests you, and then it rewards you for taking the test.
The Nebo Loop — 110+ miles, with a climb and descent of Mount Nebo as the centerpiece — is that kind of ride. And it's what Kenny, Linde, BotchedExperiment and I rode last Saturday.
It was a perfect day for an epic road ride. The morning started out cool — but not cold — and rapidly became warm, without ever getting really hot. And — for me at least — it was one of those days where everything about both my bike and body felt right. I just felt great the whole day. I'm not sure why, but the Nebo Loop seems to do that to me practically every time I ride it. It's just an incredibly epic, inspiring ride.
Originally, I planned to give you a play-by-play of the day, and — even as I was riding — I started taking note of events as they happened.
And then I noticed something: I was enjoying certain things maybe a little too much. Which is to say, I was taking far too much pleasure in some silly stuff, some vain stuff, and — in a couple of cases — some downright mean stuff.
And so, I herewith present my Seven Guilty Pleasures of Last Saturday's Ride.
Guilty Pleasure 1: Singing Out Loud
I should preface this by clearly stating: I have a remarkably poor singing voice. I do not believe that anyone in the whole world enjoys hearing me sing, with the possible exception of my daughters, who seem to like having me sing for them at bedtime.
And they may just be humoring me.
So anyway, I tend to save my singing for private moments, and even then I don't sing really loud for fear of the likelihood that the moment isn't as private as I'd hoped.
But when you're blasting down a mountain on a roadbike at 45 miles per hour, things are different. The wind whips my voice away so nobody can hear, letting me sing my lungs out with impunity.
So as I flew down the Nebo Loop, I sang loud and proud (mostly I was singing 30 Seconds to Mars' "All Attack," just in case you were wondering).
One of the times I belted out the chorus, I passed a cyclist in the other direction. He seemed startled, leading me to think my "you can't hear someone singing if he's going 40+ mph" theory might have some holes. But I don't want to find out. Hey, everyone's got to have a place to rock, even those of us who have been barred for life from karaoke bars and church choirs.
Guilty Pleasure 2: Shouting at Cows and Deer
Whenever I see a deer on the road — or anywhere near it — I yell, "venison!" at the top of my lungs. The deer should consider this both a warning for the moment and a statement of intent if I ever see that deer again. Cuz I like venison.
I don't shout words at cows standing in the road, though. I figure they're used to that; they sure don't seem to react to my yelling, "pot roast!" at them. So I do a bandito-style rallying cry, trilling my tongue while yelling in as high a voice as I can go: "Brrrrrrrr-eeeee-HA!"
That usually gets 'em to move out of the way. Though not always.
There are almost always cattle on the road when you descend the Nebo Loop. You're carving a hairpin at 25 miles per hour and straighten up just in time to see a cow looking at you from the center of the road, disinterested. The bandito trill usually does the job.
I admit to being disappointed at not encountering any cattle on the road last Saturday.
Guilty Pleasure 3: Eating for Cheap with Wild Abandon
This may come as a shock to some of you, but I love to eat. I just love it. And my superpower is the ability to eat huge quantities, practically anytime. I would be a marvelous sumo wrestler, if it weren't for the embarrassingly immodest outfits. And the need to be good at wrestling.
Anyway.
One of the great things about riding the Nebo Loop is that after climbing and descending this monster-sized mountain, you're in the tiny town of Nephi, which has a Wendy's (for you non-US types, that's a hamburger franchise that's one step above McDonalds).
Last Saturday, Dan and Kenny forgot to bring money; I had brought $20. So the question was, could all three of us eat our fill, keeping the total under $20?
The answer? Yes. Easily. Everyone just had to order items from the dollar menu. I don't think any of us ordered more than $4.00 worth of food (I got two chicken sandwiches). In fact, we had plenty of money to each get a Frosty Float. Highly recommended when you're in the middle of a giant ride, it's hot outside, and you want a kratillion calories.
This is exactly the kind of food I avoid on a day-to-day basis. But when you're on an epic ride, all diets are off.
I should note that Linde did not eat anything at Wendy's. This may be read as foreshadowing.
Guilty Pleasure 4: Giving Smug, Useless Advice
After eating at Wendy's, I was full and a little bit sleepy. I made an appeal to the other riders: let's ride nice and easy for a few minutes while we digest.
Shortly thenafter, Linde rode to the front and took the biggest monster pull I have ever seen anyone take in my life. He pulled us at 25mph — no headwind — for probably 15-20 minutes.
And this was after we had already put in 60 miles that day, including ~7000 feet of climbing.
I looked at Kenny and Dan, trying to see if they were as amazed as I was. Linde was either going to singlehandedly pull us all the way back home, or he was going to implode spectacularly.
Linde exploded spectacularly. He faded. He cramped. He suffered.
So I offered advice. Advice like, "Maybe you should have had a Frosty, man. Those things are delicious." And, "Hey, maybe you should eat this Honey Stinger Peanut Butta Bar. They're delicious. Oh, the thought of that makes you want to hurl? Sorry, dude." And, "Try to pedal circles. It's more efficient."
I tell you, there's nothing like a good cycling bonk to add excitement and drama to a ride, provided you're not the one bonking. It gives you a chance to relay all your cycling wisdom, knowing full well that the person you are informing is too woozy to successfully punch you.
Guilty Pleasure 5: Fooling Myself Into Thinking I Can Hang With Kenny
While I love pretty much everything about the Nebo Loop, the whole reason we do the ride is for the climb. It's twenty miles long, with 6000 feet of climbing — which means it's consistently challenging but only rarely is it brutally steep.
As you know, I've been working hard on losing weight and getting strong. Saturday, I wanted to see whether I was now fast enough that I could ride with Kenny.
And you know what? I did. I rode with Kenny the whole way from the base of Nebo to the summit. Side by side. He never dropped me.
Of course, a part of me fully realizes that if he had wanted to shell me, he could have. I was right at the edge of my red zone; he was in his all-day cruisin' groove.
But still: I hung with Kenny for a twenty mile climb. And nobody can take that away from me.
Guilty Pleasure 6: Being in a Group of Four People Wearing the Fat Cyclist Jersey, Without My Having Had to Say, "Hey, Wear My Jersey, OK?"
All four of us were wearing the Fat Cyclist jersey on this ride, and I didn't even have to call ahead and offer bribes. Whenever I was in the back of the paceline, seeing us lined up, I'd think, "Hey! I have a really cool jersey!"
I also love thinking about what people must have thought, seeing a group of four cyclists — all wearing jerseys that say "Fat Cyclist" — summit a 6000-foot climb. Or lined up for Frosties at Wendy's.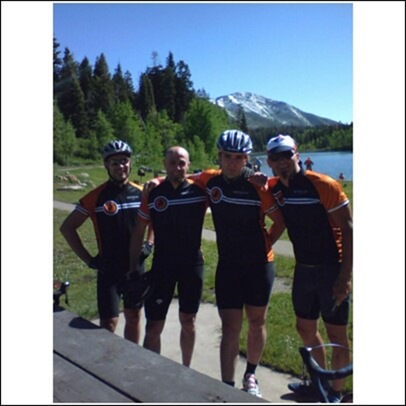 Guilty Pleasure 7: Knowing My Friends Who Missed This Ride Would Be Eating Their Hearts Out
110 miles, guys. Beautiful climb. Screaming descent. Perfect weather. Frosty Floats. This ride had it all. I hope you had fun doing whatever it was you did instead.
Ha.
PS: The Twin Six guys tell me they've been kept really busy with all the jersey, t-shirt, and sock orders. Thanks to everyone who's made a purchase. I appreciate it! Of course, the pink jerseys won't be shipping 'til the end of this month (or so), and the t-shirts and socks should be arriving within the next couple weeks, so expect your orders to arrive as they become available.
PPS: Thanks to everyone who picked up their fatcyclist.com email account. And a big thanks to Banjo Brothers for putting up the very cool Messenger Bag (Fat Cyclist Edition!) as a prize. I'll choose a winner and announce it Wednesday.