What is it about the first time you ride a bike? You notice everything, thinking constantly about how it feels, how it's different from your old bike, how it's the same, how it climbs, how it descends.
Looking for confirmation that, yes, this was the right bike.
Well, that's what I was going through yesterday as I rode my brand-new Waltworks Custom Stock — a collaboration between WaltWorks and Twin Six.
Check it out (image pops to larger version):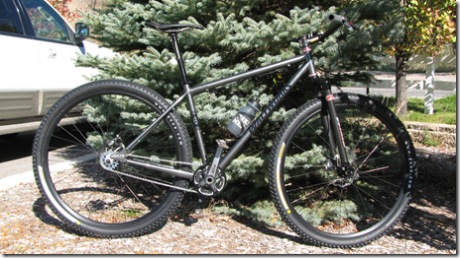 I went with the "Custom Stock Complete," with a few modifications — I moved my XTR cranks, Chris King Pretty and Strong headset, carbon fork, and SLR saddle over from the Weapon of Choice.
Oh, and one other modification: I put on the On-One Mary bar sent to me by one of the B7 contestants (whoever you are, thank you. Somehow, I lost your name and email. because I'm a loser). More about the Mary bar in a moment.
It's a very sexy bike. As in, the sexiest bike I have ever owned. WaltWorks makes a great frame, and Twin Six went with a steel-grey and black color scheme that just looks stealthy cool.
Brad is Cool
So Brad and I got together for a lunch ride yesterday. Brad already rides a WaltWorks, so I showed up with a spare WaltWorks jersey for him. Which meant that we had this whole matching jersey thing going on, which is ordinarily best to avoid. But this was a special occasion, so what the heck.
"Did you bring a camera?" Brad asked. I pretty much always have my camera with me when I ride nowadays, so I said yes.
"Let me have it," Brad said, and went on to say he was going to take a bunch of pictures of me riding today. "It's not every day you have a first ride on a bike like this," Brad said.
And so, for the duration of the ride, Brad would in turn shoot ahead to get photos of me coming up the trail, then take pictures as I went by. From time to time, he would ride side-by-side with me, risking a crash for action photos.
Let's take a look at what he got (click any image to see a larger version in a new window).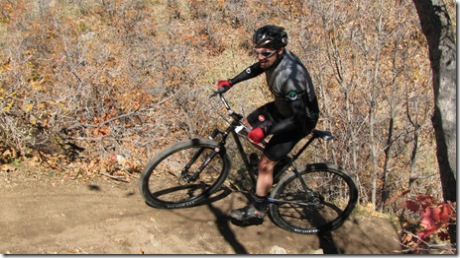 Here I'm rowing up a steep hairpin turn. I've only been on the bike for twenty minutes, but I've already decided I love the feel of the bike. Steel feels good, the geometry feels natural, and the bike fits great.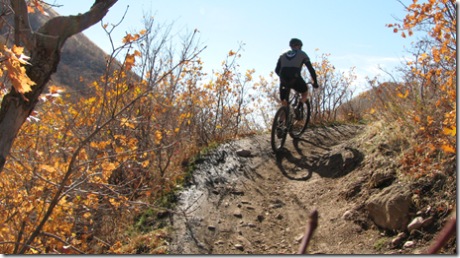 It took exactly one climb for me to decide I like the Mary bars for out-of-the-saddle climbing. The position of the grips puts your hands in a comfortable position with great leverage.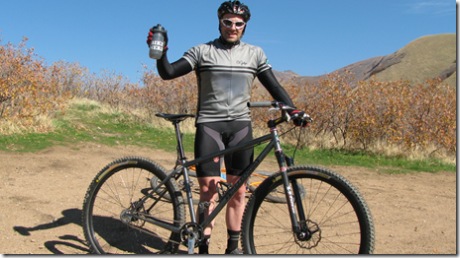 What new bike camera shoot would be complete without a posed photo? Say, what does that water bottle say?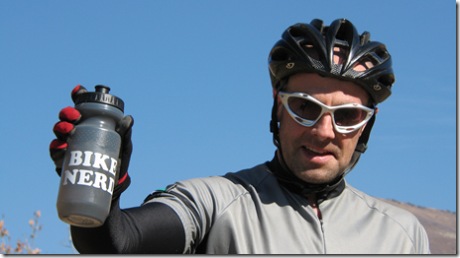 Oh. Well, that makes sense. So far, everyone who has seen this bottle wants one. Naturally, Twin Six sells them.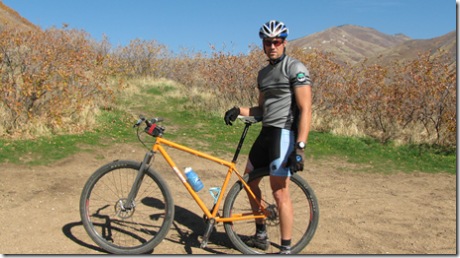 Brad and his self-painted WaltWorks. Creamsicle orange. Sassy.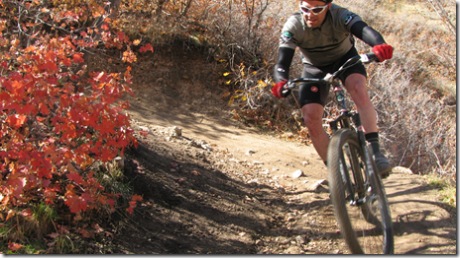 I'm not totally comfortable with the Mary bars on the downhill yet.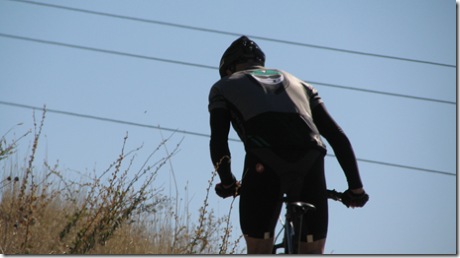 Must…keep…turning…cranks….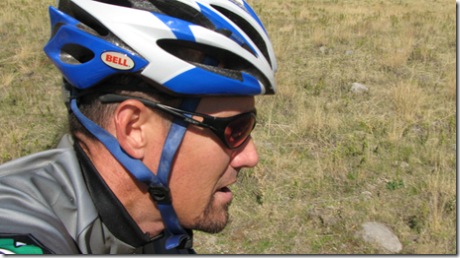 Brad takes a self-portrait while riding his bike. Don't try this at home, kids.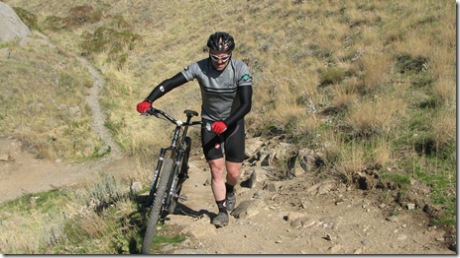 I didn't clean this one. Brad says it's good to have a "humility shot" as part of the series. Fair enough.
Two Declarations
After my first ride yesterday, I hereby declare the following:
I really, really like this bike. I need to put a longer stem on (i.e., I should've put on the one that the Twin Six guys sent me instead of the shorter one) to compensate for the sweep of the Mary bar, but otherwise this bike is already dialed. I can tell that Fall Moab is going to be a great success.
Brad's Photo Shoot Idea is Genius. The next time I ride with someone who's just got a new bike and is taking it out for the first time, I'm going to make sure I bring my camera and get lotsa pictures. Cuz it's very cool to have these.