A Note From Fatty: Yes, I really am sending this letter to Oakley today.
Dear Oakley,
First, I'd like to introduce myself, even though you have no doubt already heard of me (because I am the Award-Winning author of the Best Sports Blog in the World). I am Elden Nelson, the owner, primary contributor, and CSO (Chief Strategy Officer) of FatCyclist.com, an extremely popular and intelligent road and mountain biking blog dedicated to making lots of fart jokes.
I am also a big fan of Oakley.
Specifically, I have owned and worn the same pair of Oakley Racing Jackets — outfitted with my prescription — since 2002. Or maybe it was 2001.
Let's just say I wore them before Hincapie did, and leave it at that.
Here I am, wearing them at the end of last year's Leadville 100.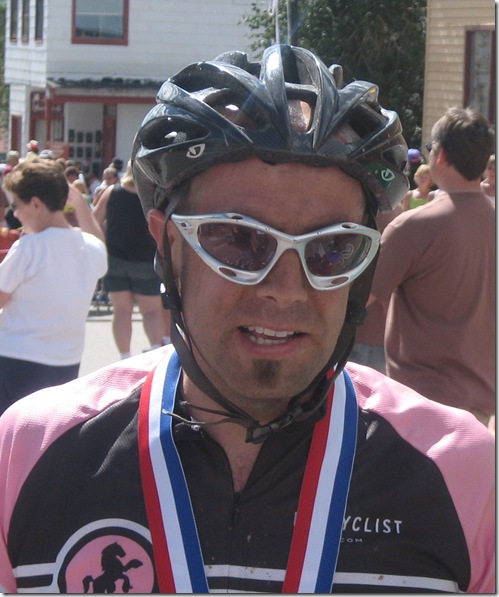 Until I had these Racing Jackets, Oakley, I have never kept any pair of glasses — prescription or not — for more than 18 months. But these things have stood up to everything.
Including, I should point out, at least one spectacular face plant. Here I am, half a moment before impact (click to see a larger version of the image and you'll be able to tell that I am in fact wearing those Racing Jackets).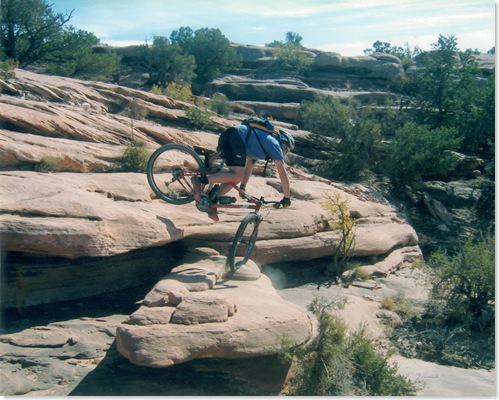 These have been fantastic glasses, Oakley. I get great peripheral vision from them, they're comfortable, they're durable, and they don't fog.
But I've got a problem. They're old, and they're starting to show it. Take a look: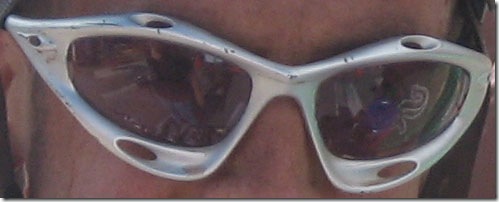 It's not just the wear and tear, though, Oakley. It's the whole look. It's like I've had the same haircut for six years (or it would be, if I had any hair). People are starting to point fingers at me and laugh behind my back in my blog's comments section.
I'm worried, in short, that my Racing Jackets just aren't very cool anymore.
The Real Problem
I wouldn't waste your time, Oakley, if this were just about me. I would either just continue to wear the glasses I have, content in my well-established nerdliness, or I would suck it up and buy a new, different pair of glasses.
But this isn't just about me. Far from it.
Oakley, I would like to introduce you to my good friend Kenny.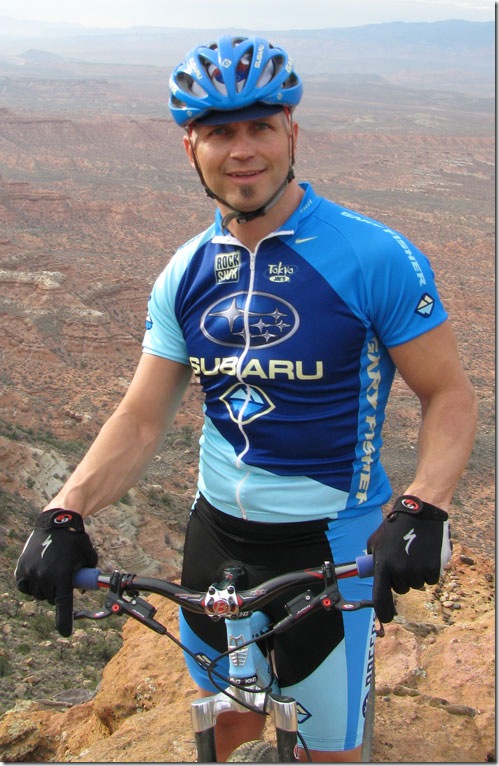 Kenny is everything about biking that I wish I were. Fast. Skilled. Sponsored.
And he's good looking, too. Every time I post a picture of Kenny on my site, my traffic goes way up.
Yep, Kenny is one handsome man.
Or, I should say, he used to be. Check out Kenny with his new glasses.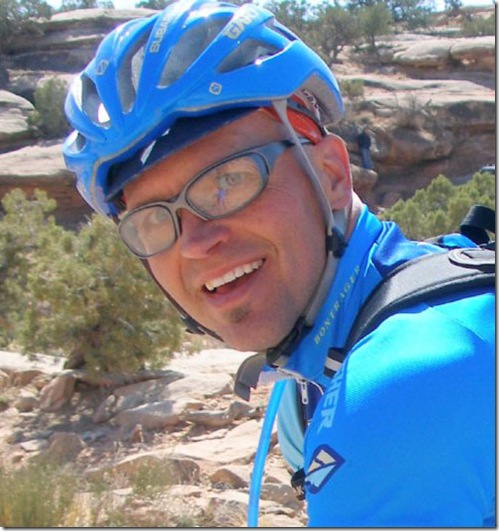 You may think this is a joke, Oakley, but it is not. These are Kenny's actual new mountain biking glasses. I cannot decide which of the following these make him most resemble:
A high school wood shop teacher
A kid who's about to have his lunch money stolen
Someone who's on his way to a Squash tournament
Regardless, you will have to agree with me that the impulse to wrap a piece of electrical tape around the bridge of the glasses is practically irresistible.
What I'm Asking For
Oakley, I would love to sing your praises for another five years. And all it's going to take for you to get me — the world's greatest sports blogger — to do this is to comp me two pair of your new LiveStrong Radar Path glasses (one pair set up for my prescription, one pair set up for Kenny's).
Consider the good you'd be doing, Oakley. For yourself, you'd be getting fantastic exposure and publicity, which I know is otherwise a huge problem for your company.
For me, you'd be keeping me in Oakleys, and reducing my outdated nerd quotient by 18% (estimated).
And for Kenny, you'd be rescuing him a life of looking like Fred Garvin.
Thank you for your consideration,
Elden "Fatty" Nelson
www.fatcyclist.com / Winner of the 2008 Bloggies Award for Best Sports Blog in the Whole World